The New Heritance Aarah All Inclusive Resort Leading The Way For Sustainability In The Maldives
Best Luxury All Inclusive Resorts in the Maldives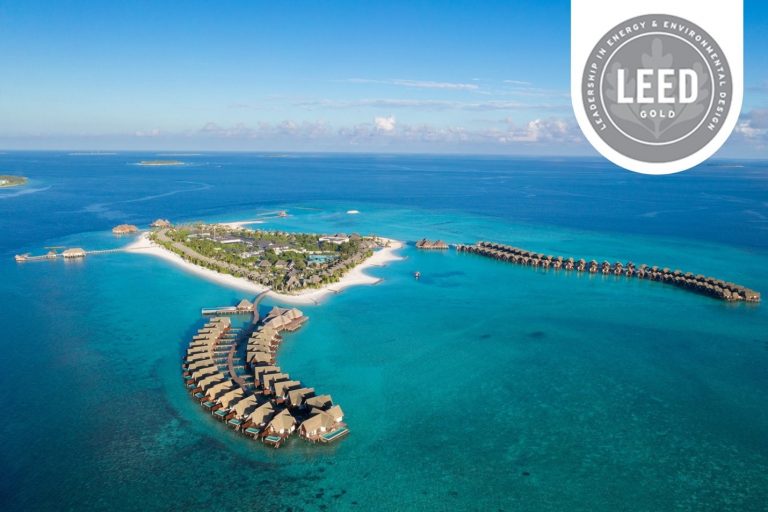 10 January, 2020
New Heritance Aarah All Inclusive Resort has celebrated international recognition for its sustainable initiatives and culinary excellence.
Placing the Maldives at the forefront of the global subject of sustainability is Heritance Aarah. Recently celebrating international recognition for its sustainable initiatives and culinary excellence, the premium all-inclusive resort is the newest addition to the Aitken Spence Hotels portfolio after opening its doors to guests earlier last year.
In September 2019, Heritance Aarah became the first-ever property in the Maldives to be awarded the internationally recognised Leadership in Energy and Environmental Design (LEED) Gold certification, which complies with the US Green Building Council rating system and is awarded to properties that save energy, water and resources; generate less waste; and support human health.
The design of the resort compliments the policy of sustainability by implementing components such as fuel saving generators, energy saving LED lighting, water saving fixtures and energy efficient air conditioning.
Heritance Aarah was also acknowledged for its exceptional cuisine offering in October, after the resort's chef team competed alongside the best of international brands in the South Asian region to become Overall Champion at the Culinary Art Food Expo 2019. The Expo, known as South East Asia's biggest food and hospitality show, is organised by Chefs' Guild of Lanka together with World Association of Chefs Societies.
The resort was awarded with a remarkable 29 Golds, 11 Silver and 5 Bronze medals. Overall, the properties were awarded with an impressive 130 medals collectively. This is a second culinary win for the new resort, after claiming the highest number of awards won by an individual property in July at the Food and Hospitality Asia Maldives 2019 competition, where the resort competed alongside reputed global hospitality chains in the Maldives.
Check Availability and Rates
Heritance Aarah - Premium All Inclusive
Best Experience: Couples, families, gourmet dining, beach, diving
Offering the perfect combination of exclusivity and comfort, Heritance Aarah is all about exclusive luxury with a touch of Maldives' traditions. One of the best luxury resorts in the Maldives, the main attractions of Aarah are beautiful white beaches, crystal clear turquoise waters and a hipnotic marine life on a house reef. Heritance Aarah is al about full privacy and an ideal tropical beach experience on a paradise island. For guests seeking a haven for pure relaxation or an active holiday retreat with the whole family, Heritance Aarah promises to offer endless choices with a unique Premium All-Inclusive holiday plan and some of the largest beach villas in the Maldives.
Accessible by a scenic 40-minute seaplane flight from the main Velana International Airport, Heritance Aarah offers 157 villas and suites separated by tropical vegetation for privacy, and designed and built with a fusion of indigenous Maldivian and modern architecture.From evocative flavours that will have your taste buds in raptures of delight to gourmet creations that combine authentic local ingredients, the resort's restaurants offer something truly distinctive, start from France and Italy to the Middle East, Sri Lanka, India, Turkey, Mexico and Japan – and three bars including space exclusively for Ocean Suite guests, a poolside bar and an open-air rooftop venue.. Be it intimate fine dining to candlelit dinners on the beach, each experience embodies a culinary journey of discovery. Read Full Review...