LUX Tennis brings a series of Tennis Star Events to the Maldives
Activities and Experiences in the Maldives
07 November, 2022
As part of its Tennis Star Events program, LUX Tennis will run unique experiences with some of the most famous tennis stars in the Maldives.
Starting from the month of November, multiple grand slam winners, current as well as former stars will be visiting LUX Tennis partner resorts in the Maldives such as Patina Maldives, Anantara Kihavah Maldives Villas, Joali Being and Fairmont Maldives Sirru Fen Fushi.
Whatever skill-level, beginners to budding professionals, the tennis masterclass packages will offer tennis enthusiasts an extraordinary opportunity to benefit from private tennis lessons with the tennis legends, partaking in some fun group tennis clinics as well as meet and greet events with the tennis champions. Moreover, all guests will have the opportunity to take additional lessons with the LUX Tennis Resident Professionals in each partner resort to perfect their own tennis skill sets.
LUX TENNIS STAR EVENTS IN THE MALDIVES
LUX Tennis will be hosting four LUX Tennis Star Events in the Maldives in the upcoming weeks:
Garbiñe Muguruza at Patina Maldives November 2nd-10th 2022
Garbiñe Muguruza reached a career-high ranking of world No. 1. She won ten singles titles, including two majors at the 2016 French Open and the 2017 Wimbledon Championships, and the 2021 WTA Finals. She defeated then-world No. 1, Serena Williams, in the second round of that year's French Open.
Patina Maldives harnesses the power of nature, wellness, creativity, and exploration to lay bare an unimaginable euphoria during your stay, offering more than just a luxury water villa in Maldives. The beating heart of the Fari Islands, guests can gather to share the experience of restaurants and bars, art immersions by renowned international names, the freedom of music, and boutique shopping featuring curated artisanal finds.
Check Availability and Prices
Marin Čilić at Anantara Kihavah Maldives November 7th to 15th 2022
Marin Čilić is a professional Croatian tennis player who won 20 ATP Tour singles titles, including a major at the 2014 US Open. He was also a finalist at Wimbledon in 2017 and the Australian Open in 2018, and also won a Masters 1000 in Cincinnati in 2016. Čilić won a silver medal at the 2020 Tokyo Olympics in the men's doubles tournament.
Located on the Baa Atoll in a UNESCO Biosphere Reserve, Anantara Kihavah Maldives invites you to imagine your own barefoot luxury paradise. Savour the luxury of space in your private pool beach villa or over water villa. Snorkel with mantas and Hawksbill sea turtles. Stargaze into the night. Dine on a deserted sandbank or beneath the ocean's surface at this enchanting sanctuary.
Check Availability and Prices
Donna Vekić & Iva Majoli at Joali Being November 15th-22nd 2022
Donna Vekic reached a career-high ranking of world No. 19. She has won three singles titles on the WTA Tour: the 2014 Malaysian Open, the 2017 Nottingham Open, and the 2021 Courmayeur Ladies Open. She has also won five singles titles and one doubles title on the ITF Circuit.
Iva Majoli reached a career-high ranking of world No. 4. She won Zurich Open in 1995 and the Tokyo Open in 1996. In June 1997, she won Roland-Garros against number one world champion, Martina Hingis.
Nestled on the secluded island of Bodufushi in Raa Atoll, amid crystalline lagoons, pristine beaches and lush coconut palms, JOALI BEING is a 40-minute seaplane journey from Malé International Airport. With 68 villas, each with its own butler or "Jadugar", they are the region's first nature-immersive well-being island retreat.
Check Availability and Prices
Nicolas Almagro at Fairmont Maldives, Sirru Fen Fushi December 26th to January 3rd 2022-2023
Nicolás Almagro Sánchez is a Spanish former professional tennis player. He reached the quarterfinals of the French Open in 2008, 2010 and 2012, as well as the quarterfinals of the Australian Open in 2013. Almagro won 13 singles titles and he achieved a career-high singles ranking of World No. 9 in May 2011.
Located on the Shaviyani Atoll, which boasts one of the country's largest resort lagoons, Fairmont Maldives, Sirru Fen Fushi is more than just your personal hideaway. The "secret water island" as dubbed by the locals glistens like a pearl. Poster white sand beaches fringed with swaying palms, kissed by the turquoise waters of the 600-hectare lagoon that gives way to the tranquil blues of the Indian Ocean and a never-ending horizon.
Check Availability and Prices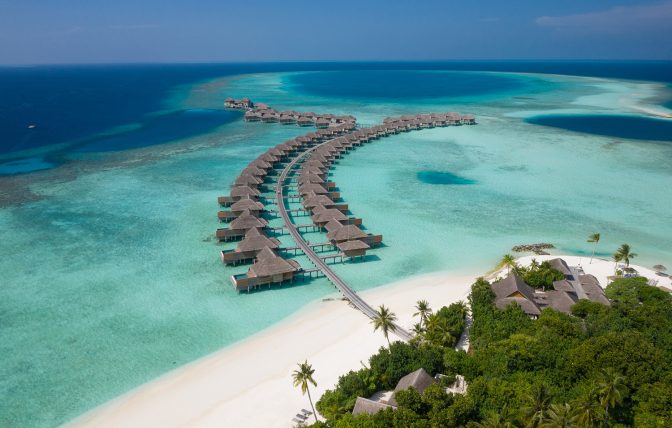 About Vakkaru Maldives:
Located in Baa Atoll, a UNESCO Biosphere Reserve renowned for its spectacular sea life, Vakkaru Maldives is a timeless sanctuary recently named the Indian Ocean's Leading Resort in the World Travel Awards. An awe-inspiring 30-minute seaplane ride from Velana International Airport takes you to this secluded reef island, shaded by coconut palms and blessed with calming ocean views and powder-soft white-sand beaches. Here 113 beautifully appointed Over Water and Beach Villas are elegantly designed to respect their surroundings, while exceptional dining experiences and amenities await. Among our industry-leading offerings is overwater Merana Spa, complete with an Ayurveda practice and a regular host to residencies by the world's most inspiring wellness practitioners. Children and teens are generously catered for in the Parrotfish Club and Coconut Club respectively, while guests of all ages can play against world-famous pros through a best-in-class coaching partnership with Tipsarevic Luxury Tennis. Threading all those services and facilities together, our unique hospitality concept Vakkare places a sincere, proactive commitment to care at the core of all we do.
Stay a minimum of six nights at Vakkaru during Oliver Steeds' residency. Prices start from US$1,185++ per night in an Overwater Villa, inclusive of breakfast and dinner, plus complimentary stay and meals for up to two children under 12 years old. For more information visit www.vakkarumaldives.com.
Vakkaru Maldives
Best Experience: Couples, Families, Water Villas, Service, Beaches, Swimming with Mantas
Vakkaru Maldives is a brand new luxury resort located within the crystal clear waters of the UNESCO Biosphere Reserve in Baa Atoll. Vakkaru is a lovely island combined with a real Maldivian atmosphere and offers many high-end options in a comfy ambiance.
Surrounded by lush, vegetation, beautiful beach and stunning lagoon, the 5-star resort offers an extensive selection of luxury accommodation, with 125 beach and overwater villas and suites catering for couples and families alike, all come with butler service. A great choice of indulgent dining choices allow guests to enjoy flavours from Europe to Asia in four restaurants and two bars, all offering a delicious culinary experience and an amazing, talented, professional team of friendly staff. With an array of energetic or relaxing indulgent activities in and around this Maldives resort, it's an ideal place for both couples (romantic and idyllic with an adult-only area ) and as well families (kids club, family villas beach & overwater and nanny service). The island, with its pearl shores and ambundant marine life is just a 25-minute seaplane ride from Malé Airport.
Read More