Anantara Kihavah Maldives Villas
Best Experience for: Ultimate in Luxury, Over Water Villas, Privacy and Tranquillity, Wildlife
Updated August, 2023
Discover Anantara Kihavah, a luxury island resort with all the advantages of a paradise island of dreams you can imagine - white beaches with fringed palm trees, turquoise waters, dedicated butlers, fine dining and luxurious Over Water Villas - and you will not be disappointed. In fact, the reality will surpass all your fantasies with the world's first underwater wine cellar and restaurant, six over water spa suites, and a 49-meter long infinity swimming pool, one of the longest in the Maldives. Built on a naturally formed island, the island of Kihavah is entirely encircled by a magnificent house reef that is widely regarded as the best house reef in the Maldives, and easily accessible direct from the beach or even from the steps of the resort's idyllic over water villas.
Kihavah was designed to attract wealthy people and is built on a blank canvas of an uninhabited island with a fantastically picturesque location. Anantara Kihavah seems to have everything: over water villas, the best underwater wine cellar and restaurant, the finest overwater stargazing observatory in the Maldives, and something that is always bigger and better that other hotels in the Maldives probably do not have. And there is more. Discover new meanings of paradise and luxurious seclusion at this unforgettable Maldives resort.
The 80 spacious ultra-luxurious villas and residences are either poised over the water with sweeping ocean views or nestled along a pristine stretch of private beach. All overwater villas are built out of groove-lined timber, with high ceilings and hardwood floors, and feature expansive terraces with private pools, from where to take in the horizon and catching sightings of turtles in the lagoon and dolphins in the Indian Ocean. The beach pool villas are enveloped with lush vegetation, offering the ultimate seclusion and privacy, and provides generous space ideal for families and couples.
The Island
Most of all, Anantara Kihavah singles out "green" efforts. The resort was built on the site of a former coconut plantation, but not a single tree was cut down during the construction, giving the palm-fringed island a well-established sense of unexplored. stuffed with palm trees. The paths between the trees are looped under canopy foliage, and some palms have become an integral part of some villas, with the light hand of architects.
Ecological impulses of the hotel easily go beyond the architecture. The kitchen is stocked with organic vegetables grown on the island's farm and recycled materials are widely used. There is a wide range of motorized water sports, and divers have to observe the principle of passive interaction with sea life. Marine biologist, hired by the hotel oversees the restoration of coral reefs. LEARN MORE
On the island there are 80 private pool villas, which are distinguished by large spaces with high ceilings, interiors of wood and marble. Those on the ground have their own stretch of stunning white beach and infinity pool, and those that are over water, instead of sand, offer direct access to the turquoise lagoon. Each hideaway is equipped with a private pool, high-end luxury items, and free wifi internet.
The vegetation around most of the island is a low pandanus, although there is a line of picturesque tall fine palm trees on the beach near the resort and many ideal coconut palms around Anantara Kihavan' main public area. It's a beautiful simple and open space swinging between the restaurant, the pool, and the bar.
Bold abstract designs of the artist, Christopher Hogen (worked on the island in 2012), act as bright counterpoints with a strong modern design of glass and black lava. The artist's works are inspired by the underwater world, as is the decorative theme of the resort. There is a wonderful set of lamps from sea urchins hanging over a restaurant in the pool, and a sculpture of soaring Manta Rays into the "surface" of the above-water restaurants.
The beach runs free around the island, but the widest and best on the north side, so the guests of the Beach Villas on this side catch the sun most of the day. Also on the north side is the best snorkeling.
A popular meeting place for guests is a swimming pool, possibly the largest in the Maldives where sunbeds have an adequate interval and where staff are always on hand to offer cold towels, drinks and fruits or a light lunch. Facing south guests can sunbathe here all day, but the corner still allows you to see how the sun sinks into Indian Ocean away from the Over Water Villas.
Small but fun pleasures at the villas resort are yoga mats, beach bags, swing beds, and IPTV system.  As for the nationalities – guests are from around the world, but most visitors from USA, United Kingdom, the Middle East and from Asia.
The hotel also takes care of the small guests of Anantara. Children's Club Boli Thiththi (Beautiful Shells) is for children under 12 years old, and parents can leave the kid under the supervision of qualified personnel - at no extra charge. The restaurants offer a wide range of popular dishes among children, including delicious pizza.
Hotel facilities: Private beaches, diving, water sports, library and choice of DVD, boutique, underwater wine cellar, six overwater treatment rooms at the spa, hairdresser, kids club, fitness centre, tennis courts, free WiFi, iPads and bicycles on request . .
Location
Set on Kihavah Huravalhi, one of the most pristine Maldivian islands, the resort is a 30-minute seaplane flight from Velana (Male) International Airport, an unforgettable experience in itself as the plane flies over a string of glowing coral islands amidst turquoise waters. Anantara is located in Baa Atoll, the world-famous UNESCO Biosphere Reserve. Epicenter of marine biodiversity, Hanifaru Bay is the main attraction of the Baa Atoll, where Manta rays can be observed throughout the year. Àlternatively, if you arrive in Maldives after 15:30 the hotel can arrange a domestic flight transfer for you to Dharavandhoo Airport (DRV) followed by speedboat short trip to Anantara Kihavan.
Villas
Ecological philosophy of the hotel does not imply any compromises for the comfort of guests. With only 78 villas on the island and over the water, Anantara Kihavah blends a detailed style with large spaces and full privacy. Each room has its own private swimming pool, high ceilings, wood interiors and marble floors. Over Water Pool Villas are even equipped with a bathroom with a transparent bottom built into the floor. For gadget lovers, there is a Bose system and an iPod station, while cautiously placed sun loungers, hammocks and luxurious baths indulge those that are not looking for anything other than absolute relaxation.
Setting a new precedent in naturally inspired design and luxurious living in the greatest aquatic paradise on earth, Anantara Kihavah Maldives Villas unveiled in 2021 a collection of the largest private pool residences in the world with the completed renovation of the resort's two-bedroom overwater pool residences. Read More
In 2021 Anantara Kihavah Maldives Villas has launched new family-style Beach Pool Villas for travelers seeking their next winter sun escape. Learn More
All ultra-luxury, large villas (from 259 square metres) come with ocean-facing royal king beds, spacious dressing rooms, large baths and pearl pools with a mosaic palette. Guests will be crazy about huge Overwater Pool Villas with a 24-hour TV series about the sea – snorkeling on house reef right from the terrace of your Villa, or a lazy day in a stretched hammock, or swing overlooking the ocean. For "land inhabitants" Beach Villas with a swimming pool are complemented by their own patch of soft white sand. Everyone's favorite, "bath for two" in the garden go with built-in wine with built-in wine coolers.
In the rooms expect to find: king sized bed with the finest cotton and a pillow menu, expansive bathroom with outdoor shower, bath and rain showera minibar, His and hers walk-in dressing roomsstocked a wine cooler, iPod docking station, wifi, flat screen cable TV with DVD player, espresso machine, espresso machine and tea making facilities, luxury toiletries.
The island is roughly in the direction of east-west at the edge of the canal, which cuts the top of Baa Atoll. Most of the Beach Pool Villas and a good half of the Over Water Pool Villas are facing north, while Beach Pool Residence faces east, and Over Water Pool Residence every evening is admiring the sunset.
The rooms are huge. Over Water Villas are as big as the Beach Villas and each room has its private swimming pool. These pools are visible and easily accessible through glass doors from the bathroom on one side, and from the bedroom to the other, and there is access from the deck. You can soak views all day, book food in your room and never leave your luxury villa. DOWNLOAD RESORT MAP
Beach Pool Villas (258 sq. m.) are located right on the sand and the interiors are complemented by Thai silks in rich earthy tones and elegant wooden decor. The open air bathrooms have large baths above the shallow pool, especially those perfect for two under the stars. Around the infinity pool there are sun loungers, there is a Bose sound system and a wine cooler, an iPod dock and an espresso machine. The Beach Villa offers an ultra luxury, cool design and an outstanding comfort.
Beach Villas are more private and cozy, but their view of the beach and the lagoon is narrows, through the shade of the trees, unlike the Over Water Villas where you can admire the stunning beauty right from your double bed, your swimming pool and sun deck.
Sitting on stilts over the water, designed of wood, with high ceilings and parquet floors, an area of 259 square meters, Over Water Pool Villas make you feel one on one with the ocean. With a separate wardrobe for him and her, a wine cooler, a private pool and a wide sun deck with perspectives of sparkling azure lagoon, these spacious villas create an unparalleled experience of a super-luxury accommodation. The bright, spacious rooms are filled with local colors and a sweet scent of the tropics. Sleep in the cradle of Egyptian cotton, with the support of an individual pillow - what could be better! In 2023 after a multi-million-dollar refurbishment Anantara Kihavah takes this reputation to an entirely new level with the completion of of their Overwater Pool Villas, solidifying its place as one of the most opulent destinations in the Maldives.
The roomy Family Beach Pool Villas are ideal for a luxurious family holiday, with 412 sq.m. comfortable living space for two adults and up to three children. The master bedroom has a comfy double bed and a bathroom with indoor and outdoor showers, and there is also an outdoor bath in a shallow pond. The second bedroom has two single beds and a sofa, and a second bathroom with a semi-open and open shower adjoins it. Both bedrooms look out onto a spacious sun deck with sun loungers, a dining table in the open gazebo and an infinity pool that faces the white sandy beach.
From walking barefoot on the cold marble floors to a swing-couch in the shade of vegetation next to your own pool. As one of the best luxury 5 * resorts in Maldives, Anantara Kihavah Villas can open up to you a new meaning of the word "freshness" under the cascades of indoor and outdoor tropical showers or in the bathroom in a partially open bathroom. The 785 sq.m. living area, large and comfy bed, a guest bedroom with two beds, as well as a separate living room, two bedrooms, and a nice white sand beach. Two Bedroom Beach Pool Residences is the perfect choice among beach accommodation options in Maldives for families and small groups. There is a big TV that will rally in the evenings, and having a 24-hour butler makes your vacation in Anantara really perfect.
Suited for 6 Adults + 6 Children or 9 Adults, Anantara Kihavah's 1,050 square metre three-bedroom Beach Pool Residence and connecting private one-bedroom Beach Pool Villa offers guests the ultimate in luxurious accommodation.
Secluded in a green cocoon of island lushness, beach access points pierce the walls of greenery leading to the island's immaculate white sands and coral house reef. The Residence is designed to host fantasy-filled holiday escapes in a private sanctuary for families and intimate groups.
Inside, guests find themselves in a designer styled haven borrowing elegant accents from Thailand, Morocco and India. Teak columns punctuate spaces of pristine white purity. Daybeds float over the infinity-edge pool and the water features of courtyard bathrooms. Swaying palms rise through the sprawling wooden deck.
By day, guests can luxuriate in Anantara Spa treatments, delivered in the privacy of the Residence's spa sala, and a variety of imaginative indulgences. In the central villa living area, a full multimedia suite provides a private cinema experience on the 55-inch 3D LED TEV with Bose home theatre system. A wine humidor adds a distinctive touch to the central bar, while a painting easel waits for colourful bursts of inspiration.
By night, guests are welcome to immerse themselves in the two pools, twinkling with fibre-optic lights to mirror the night sky of the Indian Ocean. An adjacent Jacuzzi pool and sunken dining cabana invite with more spaces to relax. Retreating to each of the bedrooms, guests can drift to sleep in oversized king beds or enjoy a late-night soak in two-person bathtubs while savouring an exquisite bottle from their bedroom's own custom-stocked wine humidor.
Restaurants and Bars
There are six stunning dining options to choose from. The view from your breakfast table is simply the most famous picture of the Maldives, taken off the air: a straight line of beautiful small islands, each with a high emerald canopy, surrounded by creamy beaches and turquoise lagoons with spots of coral. With the staff giving you the iPad to find out the latest news or send a tweet, and with a free champagne' glass in the other hand - the morning couldn't be better than Anantara. Immerse your toes in the sand and enjoy a sumptuous breakfast at Plates, or order a delicious Mediterranean and Italian fine cuisine under the palm trees by the pool at Manzaru. Michelin starry chefs and world - famous winemakers are regular guests of the resort. Local sommeliers, called "gurus", are specialists in good wines, olive oils (especially in the Italian restaurant), and salt (the Salt restaurant bakes some dishes on the salt blocks).
Sea.Fire.Salt.Sky - the collection of signature restaurants offers a quartet of culinary pret-a-porter for true gourmets, where each restaurant offers a different atmosphere and unique views over (and under) the water. Conical Fire whips up teppanyaki in an open central kitchen, or even better try their beef "tajim wagyu" and royal prawns; spicy Asian food in Salt restaurant are supplied by the 'salt sommelier' below the huge ceiling fan;
What is really hard to resist is The Sea, an underwater wine cellar and restaurant. Located right on the edge of the reef, is even more impressive than at Conrad Maldives.
Signature The Sea stands out from all the best dining experience with a seasonal five-course lunch and a set menu for a four-course dinner served in the glittering glass walls three meters below the sea level. Take a table by the window in the Sea for an amazing food at the ocean's bottom without getting wet, where you will dreamily swim by fish while you feast on lobsters or degustation menu, coupled with a good selection of 6,500 bottles of wine. The international gourmet menu accompanied with a choice of wines spanning nine decades is truly world class and paired by their resident Wine Guru.
In 2023 the resort has launched a new underwater-aged wine tasting experience. The guests sample Dom Perignon champagne that has been aged submerged in open water for 365 days.
Manzaru, open all day, the pool bar is the main socialization center, lit by red, warming candles at night. Sky is a two-story, Thai-designed over water bar with rocking chairs on a dreamy deck. At both of these two hangout spots, you can twist your lips around sommelier-selected wines, top brands of alcohol and a creativity tropical cocktails. Try Sea Siren Slush, a torsional tongue blend of basil, vanilla, lime, strawberry and vodka, with crumbly ice covered and then with the addition of sparkling - it perfectly goes with the iconic sunset over the Baa Atoll, but gets more challenging...in general - do not overdo it!
Breakfast at Plates - 07:00-11: 00; lunch in Plates and Sea - 12:00-14:00; all dining places are open for dinner from 19:00 - 22:00. Atmospheric Manzaru is open 12:00-17:00 and for dinner until 23:00. Advance booking of the "underwater" table for dinner (and for lunch at Sea) is extremely important. As for the dress code, do not bother much: light flax for yourself, billowing silk for the second half.
The resort's mouth-watering range of restaurants and bars offer plenty of variety, especially if you include the extensive in-Villa dining menu available 24 hours a day. They include breakfast with champagne and well as many dishes from each of the restaurants in Anantara Kihavah. It is not surprising that more guests prefer to 'dine at home'.
Wellness Retreat
Anantara Spa offers a series of short "Well-being Retreat" packages, offering new two-plus day options for healthy, active experiences across several of its luxury resorts in the Maldives.
Guests who stay for a minimum of two nights can dive into the Thailand-based hotel group's global well-being initiative, which rather than an immersion boot camp style programme, is designed to offer a flexible approach to feeling good on holidays, with guests splitting vacation time between wellness activities and regular leisure activities and sightseeing.
The three-tiered programmes are based on a notion Anantara calls "Balance Wellness," intended to balance mental and physical health using cuisine, signature spa treatments and dynamic or mindful exercise. Each package showcases the resort's own indigenous experiences and are designed for two people in order to entice couples, best friends, or families to acquire inspiration, knowledge and practical experience they can incorporate into their daily wellness routine once they return home.
In 2023 Anantara Kihavah introduced new tailored healing programmes with a
focus on Naturopathy and Nutrition
. The new transformative experiences include nutrition and lifestyle consultations, wellness talks, functional testing, and holistic therapies
Activities
Voted most Instagrammable hotel in the world, staying in Anantara Kihavan Maldives Villas is much more than just enjoying the luxury of your private area. Strong swimmers can go for snorkeling around the edge outside the house reef. The drop off is an exciting abyss in deep blue water, with overhangs, caves and many other things. Nevertheless, in the past there have been some events related to coral bleaching, against the background of stress from the resort's construction, so the quality and scale of the coral cover is not very impressive. Sea life is beautiful, with large schools of fish, including perches and triggerfish, but not too much of pelagics? including turtles, sharks and rays. With a sandy bottom, the beautiful lagoon is free of corals, and is ideal for swimming and water sports. Another reason - the rooms are so gorgeous that guests are only occasionally seen on a house reef or snorkeling
Clear, absolutely turquoise waters around the resort, require further exploration - try your skills at snorkeling, water skiing, wakeboarding, windsurfing, kiteboarding, kayaking and sailing. There are diving courses with PADI certification. Dolphins, turtles, manta and whale sharks are often spy in offshore waters, and speedboats can quickly get you to the best dive/snorkeling sites. READ MORE ABOUT DIVING
For the vistas of Baa Atoll from a bird's eye go for parasailing. Under the waves, thrill seekers can try underwater adventures in James Bond style or join the program of protection and reproduction of corals, re-grafting precious polyps to the underwater structure sponsored by you. Do not miss the exciting Manta rays snorkeling in Hanifaru Bay (the best time to go is May - October)!
A couple of speedboats - the luxurious 25-meter ocean yacht Whisperer and Duet, as well as traditional dhoni - are always redy to go for private adventures, including island hopping, sunset sailing cruises and cultural visits to local inhabited islands. You can also be dropped into a desert island or a sandbank during the day for a picnic ... and do not forget about champagne. A sailfish, wahoo, dorado and a giant trevally (GT) thrive in these waters and so give the fish a chance to shake you up literally on deep-sea fishing or trolling (Big game) - a popular kind of activities. Just throw the fishing rod and wind the line! Night fishing is purely Maldivian entertainment. Back to the hotel, chase the ball around the tennis courts or play badminton, work in the gym or enjoy a culinary class with the chef.
Do not miss the chance to pamper yourself and book a magnificent Anantara Spa, where treatments and recovery takes place in six seductive two-storeyed double over water apartments. You can start with a back massage watching through the glass in the floor after playing the fish below, and complete the therapeutic package in the sauna, steam or Jacuzzi. The spa is easy to play on all 5 senses - in its villas, guests will not only have massages and other treatments, tailored to individual needs, but also has a healthy eating restaurant, a remarkable jacuzzi suspended above the ocean. The menu offers guests to create their own meal, from three parts of the menu: Restoring, nourishing, revitalizing. The choice of one dish from each part guarantees a perfectly balanced diet. READ MORE
Lazing in the sun in front of the Manzaru restaurant, a gigantic, light-flooded fiber optics 49-meter swimming pool flickers a meter from the surf. 'Shining Butlers' offer guests dying from laziness on retro style chaise lounges and on large overhead swing-beds, cooled towels and skewers with exotic fruits.
Make a statement with an underwater wedding. Your altar is a coral bed, your rings presented in a white shell. Exchange vows with a dive-certified minister your witness, each moment captured by our underwater photographer. Adopt a coral to memorialise the occasion, returning on an anniversary to see how it blooms.
Finally, in the sports and recreation program there are some delightful excursions, and unreal snorkeling picnics on those ideal uninhabited islands. This is a special kind of resort where ordinary organized excursions and events "by the whole crowd" usually do not apply, because couples prefer to do them themselves, privately, including booking the whole yacht.
Reviews
In our opinion, Anantara Kihavah Maldives Villas has all the elements of the ultra luxury resort including the longest swimming pool in the country, but what really distinguishes Anantara is its ecological philosophy.
Reviews of the Anantara Kihavah Villas are nothing short of impressive, as you'd expect from the Anantara chain, including their other Maldives resorts. Nearly every review is 5 stars and everything seems to get praise from the villas to the location to the staff to all the restaurants. Many also state that they'll return for a second visit. If you can afford it would be hard to imagine a better choice.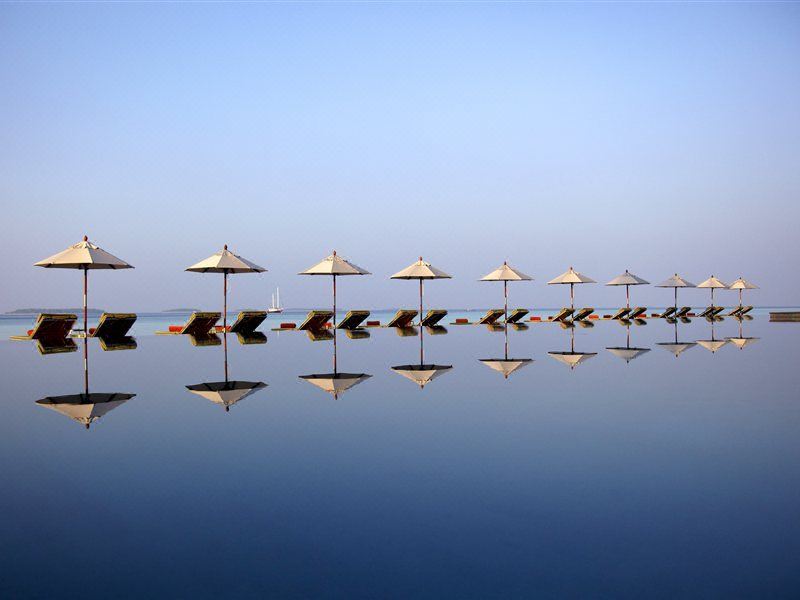 Pros: What We Like
Convenient, a scenic 35 minute seaplane journey from Velana (Male) airport, giving you a chance to sample some stunning views from above
Huge the main swimming pool with snacks and drinks
Exclusive service, friendly and helpful staff
Beautiful and clean beaches with soft white sand
Large and spacious Over Water Pool Villa and wonderful sea views
iPod for breakfast instead of a traditional newspaper is a great way to learn the world news. Guests can use the iPad all day if they so wish (free internet access).
Delicious and varied food, excellent breakfast with champagne and strawberries
Underwater The Sea restaurant
Unforgettable dinner on a desert island
Snorkeling with Manta rays in Hanifaru Bay and snorkeling excursions to neighboring reefs
Excellent diving
Great children's club
Relax and unwind in the Anantara Spa
Villa master (butler) is available 24 hours a day.
Architecture and the concept of Sea.Fire.Salt.Sky restaurant
What You Need to Know
Discover the very best of paradise with Anantara Kihavah Resort's packages and SPECIAL OFFERS
Anantara is located in the Baa Atoll, one of the best diving spots in the Maldives
Check out at 12:00 but flexible if possible and pay 50 percent of the daily rate. The earliest check-in time is 14:00.
The hotel is the owner of the Green Planet certificate
Soon to be the only hotel in Maldives to have both an underwater restaurant and their own observatory for star gazing
Pack in your luggage items of basic necessity - swimsuits, sarongs, dresses, silks and other calm, breathable threads. Do not worry about summer hats, beach bags or slippers, as you will find them - and a yoga mat - in your room.
Children - Welcome! One child under 12 years stays free of charge when using existing bedding.
The best place to snorkel is between the water sports jetty and the spa. It's a great place to introduce kids to snorkelling too as you can see so much without going too deep!
The mask and the tube are in water sports center, but if your plans are to go deeper, do not forget your diving PADI certificate and the logbook.
Guests can participate in the reef landscaping program by planting their own coral gardens on the reef, and later monitor the progress using their website.
Smoking is allowed in public places.
There is a compulsory gala dinner on Christmas Eve and New Year's Eve.
Learn the secrets of the kitchen and enjoy watching one of the professionals during a cooking course, suited to your tastes
In 2018 Anantara Kihavah Maldives Villas has won prestigious titles as Maldives' Leading Villa Resort award at World Travel Awards.
In 2018, Anantara Kihavah Maldives Villas has been recognised as the 'World's Leading Underwater Hotel Restaurant' for the fourth consecutive year
Check Availability and Prices in Anantara Kihavah Maldives Villas
Maldives Luxury Guide
Here's the best of Maldives for luxury travellers. We've compiled the finest recommendations of places to stay, ranging from the most celebrated five-star resorts to luxurious private islands Read More
Maldives Romantic Guide
The ultimate 'flop and drop' and honeymoon destination, the Maldives is the playground for the most amazing and finest utilization of each second of this extremely valuable and hopeful time with each other in tota Read More