Oaga Art Resort announces activities for the upcoming Eid Al Adha Celebrations
Best Family All Inclusive Getaways in the Maldives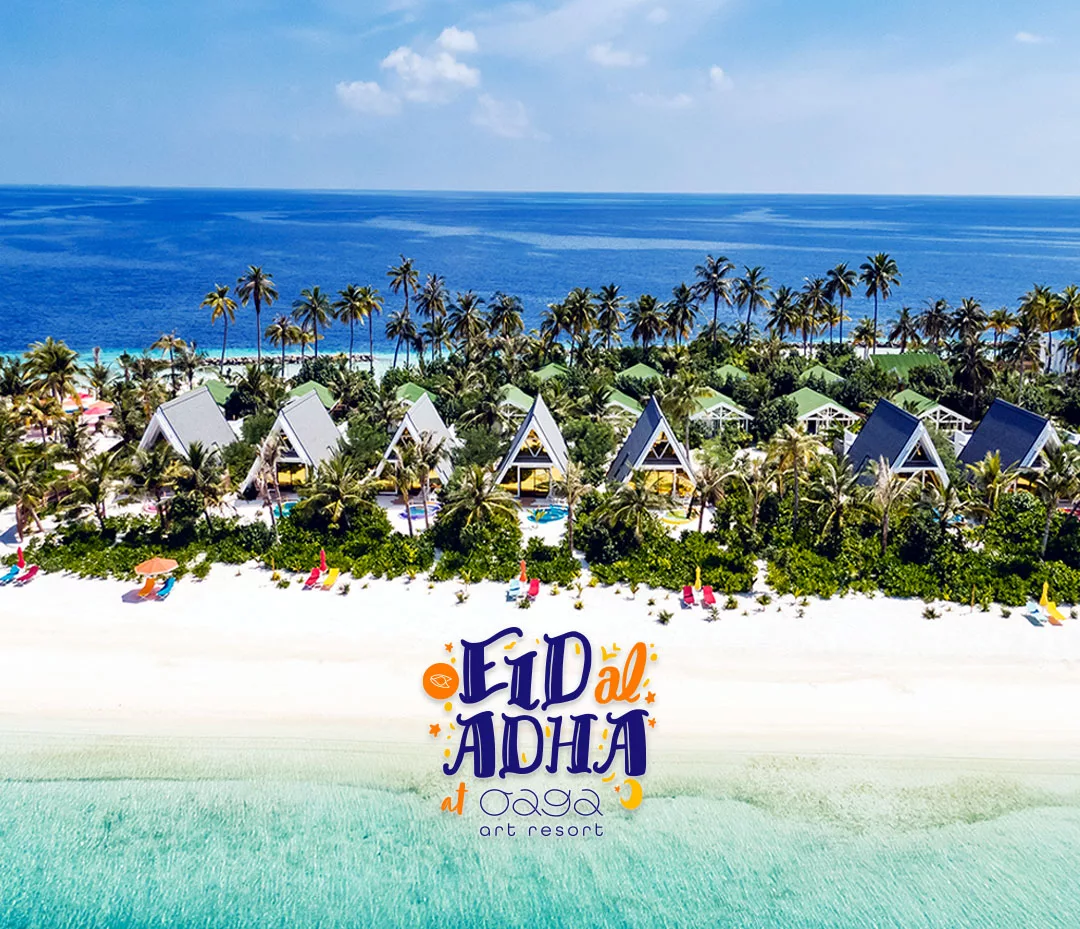 18 June, 2023
With the upcoming of the great Muslim holiday celebrate Eid-al-Adha in Maldives at Oaga Art Resort with a series of events and activities to mark this special occasion.
Oaga Art Resort is pleased to announce their three-day celebration of Eid al-Adha this year 2023. From June 27th to June 29th, guests will be able to indulge in a series of cultural events and experiences accompanied by a special plan with added benefits commemorating the special occasion.
The celebration starts on June 27th, with a cocktail party celebrating the hoisting of the "Gidige", a celebratory decorative archway traditionally used as a sign of grandeur during similar festivities. Guests can enjoy refreshing beverages and mingle with fellow travellers as the colours of the setting sun paint the sky. Later in the evening, the bonfire at Raa Baa beach is set to create a cosy and enchanting atmosphere to welcome the auspicious night.
On the day of Eid-Al-Adha, early morning starts with the sound of the 'sangu' or conch shell as per tradition, followed by Eid prayers and morning tea with the senior Rahvehin team extending their heartfelt Eid greetings. The day continues with a range of activities including creative expression sessions of palm weaving, take notes 101 sessions of Eid songs and a special lolly station to cool down at Raa Baa (the resort's main pool and bar). An Eid special Maldivian lunch buffet is to be served at the main restaurant, Kaa Kada.
In the evening, guests can immerse themselves in the festive spirit with a 'Maali' parade accompanied by boduberu beats, followed by an Eid cocktail party at Raa Baa. The day concludes with an Eid Special Dinner Buffet and an unforgettable Eid Show featuring live performances by local talents.
On the following day, June 29th, the celebration continues with some fun in the sun; 'fenkulhi' or water fights and other festive activities combined with a pool party. The celebration ends with the opportunity for guests to showcase their talents along with the resort's team, at the Fannuveri Rahvehin Talent show.
To make this celebration even more enticing, Oaga Art Resort is offering a special discounted plan for the occasion, that includes a range of exclusive benefits. The plan includes a warm Eid welcome greeting upon arrival, a Sisha Experience at Raa Baa , 20% discount on rejuvenating spa treatments at Hoba Spa in addition to accommodation in the beach villas and experiences offered by the greatest all-inclusive plan in the Maldives such as unlimited dining, premium beverages, complimentary return speed boat transfers and access to thrilling water sports activities or artful experiences.
For Maldives lovers searching for an all-inclusive holiday, Oaga Art Resort's Greatest All-Inclusive plan re-defines the limits of what All-Inclusive is all about; with inclusions such as Creative Expression (art) classes, Take Notes (music) experiences, Thashibari In-Villa Dining to floating meal, choices of excursions, motorized water-sports and many more.
BOOK NOW
Related Pages:
Maldives Luxury Guide
Over a million tourists visit these islands every year for once-in-a-lifetime experiences. Now it's your turn to experience Maldives, the gem of the Indian ocean to discover plenty of hidden treasures. You can experience different experiences of luxury in Maldives best resorts, mingling with celebs in your best beachwear, dining in style, and falling in love with the underwater world. For those seeking romance, the Maldives offers enviably luxurious private accommodation and indulgent spas. Maldives makes the best holiday experiences year after year after year.
Read More