Sun Siyam Olhuveli
Best Experience for: Couples, All Inclusive, Value, Activities
Updated November, 2022
Olhuveli Beach And Spa Resort Maldives is a modern luxury resort with a great range of facilities. It is able to cater for all needs, regardless of the preferences of the guests, be it an active holiday with water sports and the 2 infinity pools, or a quiet and romantic honeymoon for the newlyweds.
With various activities, beautiful beaches, and above-average food, Olhuveli Beach & Spa Resort is a good value for money for the Maldives. 164 rooms range from a basic beach villa to high quality Water Villas, and an adjoining rooms for families. Those who are interested in a seaplane trip should also check Kuredu Island Resort, that has even more amenities and rooms with free wifi.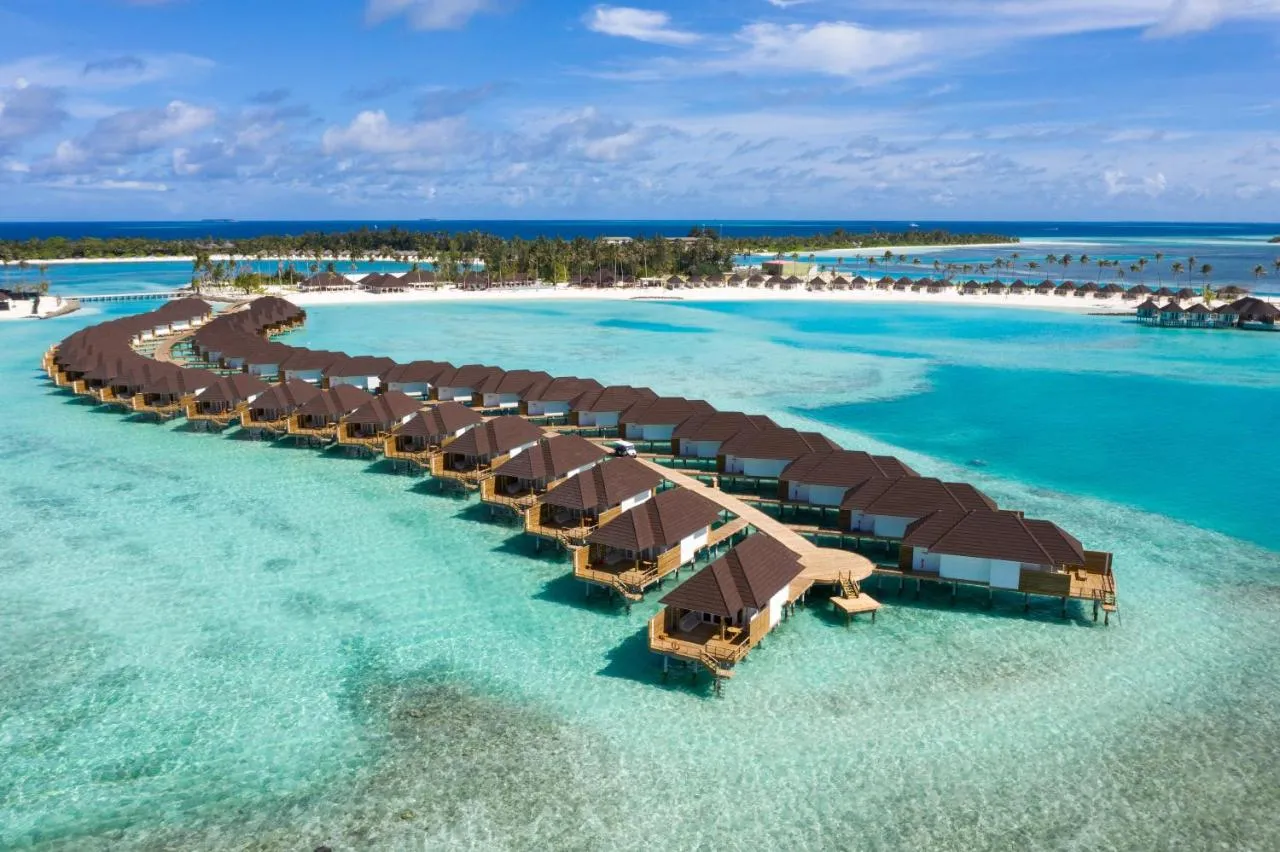 The Island
On 1st of November 2022 Sun Siyam Olhuveli opened its third island:
TUI BLUE OLHUVELI ROMANCE
. The island is a remarkable new addition to Olhuveli's exciting and vast playground of experiences, with 111 villas where guests are able to choose between romantic beach or water villas with private pool, all featuring dreamy round-shaped beds and impeccable views.
Built in the 1990s, Olhuveli Beach is located on a beautiful, almost kilometer long island and is 45 minutes from Male airport by speedboat. This resort-veteran feels almost new, in large part thanks to the large-scale reconstruction after the tsunami of 2004 (when many of the beach numbers were destroyed). Four restaurants, three bars, two swimming pools and a nice spa, Olhuveli has more pros than many resorts in this part of the Maldives.
All accommodation on the island is especially picturesque, with an arrangement on the beach or completely over the water. Beautiful design shows beige tiled floor, simple wooden furniture, seats with colorful pillows and high ceilings with exposed beams. Many of the buildings on the island also have traditional straw roofs that remind guests where they are.
Most guests are couples, but families are also found thanks to the availability of family villas in the resort (technically two adjacent deluxe rooms), as well as services and activities for children.
A little less than a third of the numbers are occupied by British guests, but Olhuveli is mostly filled with a wide range of nationalities. Europeans (especially Britons, Germans and Russians) also prefer beachside rooms, while Asians (many of whom are on a honeymoon) almost always prefer to be over the water.
Thanks to good service the resort steadily retains its buoyancy. It is soft, straw, barefoot, a place where the landscape grows, and the facilities are smart and impressive. The billiard room and the gym have their own facilities, and ping-pong and darts are located next to the illuminated tennis and badminton courts. It is important to note, however, that even for "All inclusive" customers, most of the offers go for an additional fee.
Two souvenir shops sell paintings and souvenirs, as well as a first-aid post for emergency care. The most interesting feature of the resort is the 2 swimming pools on the beaches (in the center and near the southern end), which adjoin the bars with fully packaged drinks. There is also a children's pool and a playground for kids on the island.
Location
Beaches, as descended from the pages of glossy magazines, warm lagoons with turquoise water and one of the best diving in the Maldives - all this about the South Male Atoll. South Male Atoll (South Kaafu) is a group of islands in the Maldives, which lies just south of the North Male Atoll and is separated from it by the Vaadhoo Kandu channel. Showing the best of the Maldives, South Male region offers everything you can need for a memorable and comfy holiday. The days here revolve around swimming, relaxation, water sports and snorkeling - and nothing more. Read More...
Olhuveli Beach is located on the private island in South Male Atoll. The resort can be reached by speedboat from Velana (Male) Airport. In some places a bumpy, 21 km sea transfer takes about 45 minutes. The island is half a mile long, from the tip to the tip there are 450 people who live and work at the northern end of the island all year round. 
Villas
Most of the 164 Olhuveli's rooms are Deluxe Rooms, Deluxe Water Villas, or Jacuzzi Water Villas. Starting from 50 sq.m. these spacious apartments include a minibar, free bottled water, electric kettles (with tea and coffee), bathrobes, flat-screen TVs, DVD players and a patio. Room facilities improve depending the rates: Deluxe rooms and Deluxe Water Villas have white walls and bedspreads, pretty attractive wooden furniture, bright sofas and accented pillows; Deluxe rooms also have four-poster beds. All accommodation is equipped with an open area overlooking the sea; Beach villas have their own piece of beach.
There are 2 categories of Water Villas in the lagoon, and even more expensive rooms, the further they are from the bustling center of the island. 2 Presidential Water Suites proudly sit on the end of the pier near the southern end of the island. Together with them there are 5 Honeymoon Water Villas. The rest of the oval-shaped quay is formed by 32 Water Villas with a Jacuzzi. In the shape of a petal, the second jetty of water bungalows grows from the middle of the island towards the sunrise, with a collection of 21 Deluxe Water Villas.
Honeymoon Villas are almost apartments, with a 'cloakroom' entrance and a separate living room with gold and dark purple curtains. Their sun decks are very large and there is not only a jacuzzi, but also a sauna and a massage shower. DOWNLOAD RESORT MAP
Jacuzzi in the Jacuzzi Water Villas are baths with jets, but their position on the sun deck is simply excellent, especially for those villas who are on the west side. The sea views from the bedroom offer surveys of nearby sandbanks and distant islands. Inside, the rooms boast a marble floor, blue-gold upholstery, swag curtains and dark wood furniture. The elegant bathroom is equipped with two metal twins sinks.
Deluxe Water Villas is simpler and in fact more attractive rooms, especially with their canopy beds. The sun deck offers good privacy and is big enough for 2 soft sun loungers and chairs. The sea views are no less good, although on the one hand, the artificial "peninsula" and the sand bank are drifting, and the other side is looking at another pier of water villas. That is, expect some such pictures against the turquoise background, except for the numbers on the tip of the leaf (109-113), which have unobstructed ocean views.
Rooms on the beach are divided into 2 categories: 8 Luxury Beach Villas and 96 Deluxe Beach Villas. Luxury Beach Villas (401-408) - more individual and private, with their own quiet beach area. Inside and outside they have large bathrooms, that is very nice, even though the empty pergola at the end is an extra element. Facing east, their position close to the main bar can be regarded as a bonus or diminishment.
Deluxe Beach Villas go in blocks of 4, 2 up and 2 down. 3 blocks (12 rooms) with a connecting door for families. They are the smallest rooms on the island, but are beautifully decorated and well maintained. All villas are just a few steps from the beach. These rooms are closer to the center of the island, and the beach is less attractive to the area where the staff live.
The Grand Water Villa and Grand Water Villa with Pool are accessible via Olhuveli's new Dream Island development, which opened in December 2018. This little island, which connects to the main island of Olhuveli by a walkway bridge, is home to an overwater spa, a buffet restaurant, an a la carte grill restaurant, a bar, a swimming pool and a conference centre.
The 80 sqm Grand Water Villa offers direct access to the lagoon via stairs and come with a chaise lounge for private sunbathing. These overwater villas have a private en-suite bathroom with rain shower and bath tub. Guests are treated to either lagoon or sea view, providing them with the perfect Maldives getaway experience.
The Grand Water Villa with Pool takes that experience to a new level. At 92 sqm, affordable luxury cannot get better than this; a room over water, private sundeck and your own private pool. Guests can access the lagoon via stairs directly from their room or choose to relax on a chaise lounge whilst taking in the breath-taking views of the lagoon or sea.
Restaurants and Bars
With a selection of the buffet and three à la carte restaurants, Olhuveli offers more restaurants than most of its competitors. The main resort's dining place, Sunset restaurant offers an international buffet for breakfast and dinner. Guests can always update their meal plans to include dinner at sunset and a lunch buffet in the Lagoon restaurant. The à la carte menu's options can also be ordered at three other restaurants: Lagoon (Italian and international cuisine), Plankton Grill (seafood), and Four Spices (Japanese, Indian, Thai and Maldives). Island Pizza is all the favorite spot near the Sunrise Pool. In general, I want to say that food in Olhuveli is above average.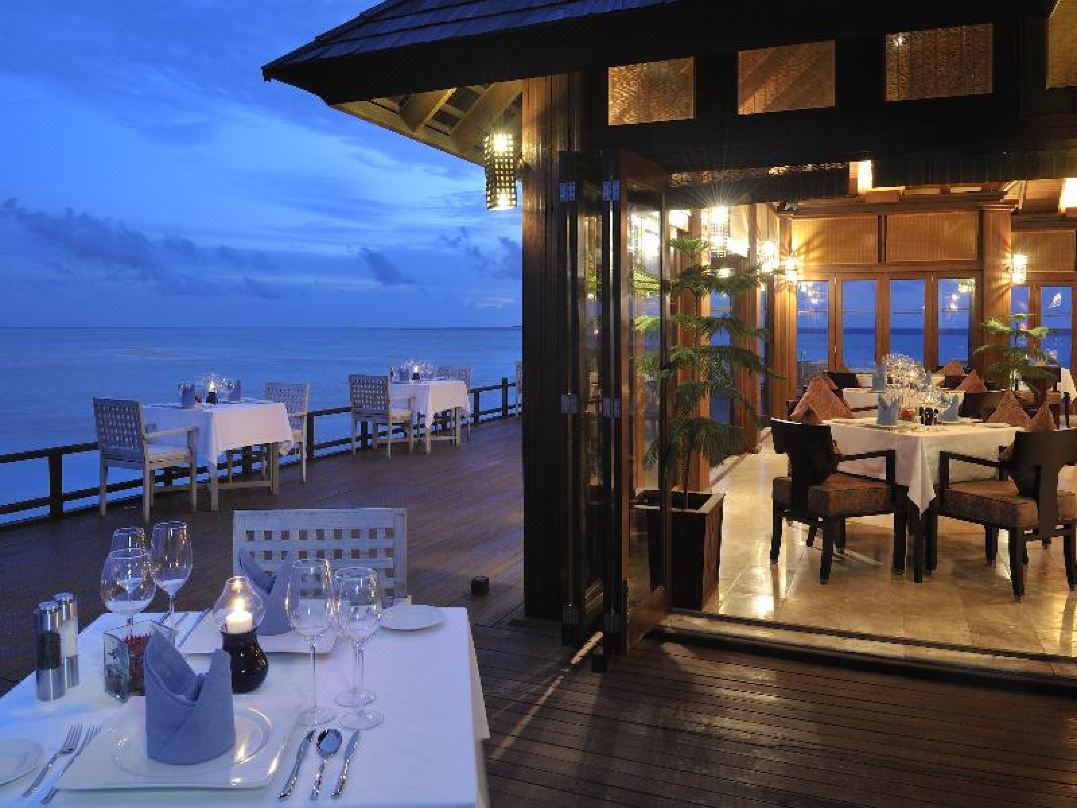 The resort has three bars: Dhoni Bar (beach), Sunrise Bar (near the pool), and Lagoon Bar (connected to the Lagoon restaurant). All Inclusive packages include drinks, but they only apply to a list of cocktails and drinks in every bar and restaurant. You can also shell out the Emerald package to get a better variety of alcohol, plus unlimited flow of soft drinks, six daily cocktails, and two bottles of wine (for two per day). The package also includes discounts for spa treatments, excursions, snorkelling gear, free Wi-Fi, daily afternoon tea, and at à la carte restaurants' deals.
The island does not have much to do after sunset, but the Lagoon bar offers music and entertainment programs a some nights a week. We recommend to visit the "white party" in marriage with a smoke machine, a DJ and a laser show.
In 2022 the resort launched another unique dining experience for romance seekers! With an amazing and delectable menu, this floating platform dinner is exactly how it sounds, a secluded beautiful setting floating in the lagoon where you can embrace the beautiful night view and share an intimate dinner with your loved one. The menu has a great selection ranging from pepper seared Australian angus beef carpaccio to fresh Maldivian lobster.
Kitesurfing
The best activity in Olhuveli is over (or under) the water. With constant winds in the lagoon, especially from June to October - the resort is the Mecca for kitesurfing and the home of one of the few certified kite surfing school in the Maldives.
Dive center PADI offers lessons, courses and trips to the best dive sites, and the water sports center offers rental snorkeling gear, kayaks, catamarans, jet skis and other equipment. Sports facilities on land include badminton, volleyball, tennis courts, and a modest fitness center.
Activities
The water sports center is very active, flexible and full equipped with new facilities (including kite surfing and surfing), the resort also has many sport offerings, plus a good choice of adventures. Safaris with dolphins, snorkeling and fishing, diving and an islands hopping are just some of the day trips. But in general, the resort can be called calm and private. Most nights in Lagoon Bar take place some nightlife. There is a children's club and babysitting, but kids are not allowed to stay in Water Villas, and in truth it's not a family friendly resort.
The lagoon is good for water sports, being large, fairly shallow and with a sandy bottom. At low tide the water is knee-deep, but there are large canals dug, that remain good for swimming. Snorkeling is on both sides of the main jetty for a total of about 500 meters. The house reef can not boast of coral gardens, but a fish life is beautiful. There are sharks, rays and turtles. In the resort's menu activities there is also a weekly snorkeling safari for 3 excellent reefs of South Male Atoll. For those who do not like swimming with a mask and snorkel, a daily fish feeding provides ample chance for a close acquaintance with marine life. Room service is available 24 hours.
Olhuveli has a decent Sun Spa with eight treatment rooms in the open air. Built almost entirely above the water, all the buildings of the spa are connected to each other by wooden footbridges. The spa is built in Chinese style, but the masseuses are from Indonesia, Thailand and India. The spa offers everything from massages for two to facials, and includes a beauty salon, a sauna, a steam bath and hydromassage pools. Ayurvedic techniques while encompassing the five elements. The prices are approximately average for the Maldives.Maldives.
Reviews
Reviews about Olhuveli Beach Resort & Spa are mostly very positive, although there are a few negative comments that seem to be related to specific incidents that do not affect the tastes of many guests. Usually, villas, facilities and staff, as well as food options get very high marks ... "An Excellent place.. a part of Heaven", "Great island. Overpriced items on the menu." , "Would recommend for a romantic holiday, but not for a holiday with a young family." Superb, "Paradise on earth!"
Pros: What Guests Like
Location. Close to Malé aipor
Staff is helpful and friendly
Excellent Swimming Pools
A clean and beautiful island with white sandy beaches and clear turquoise water
Large over-water villas with great views
Wonderful staff
Delicious food buffet with life-cooking, a great breakfast
Good spa
A marine life-rich house reef
Kitesurfing School
Wide range of water sports
Sport facilities
Live music and DJs in the eveningsh
What You Need to Know
Sun Siyam Resorts has launched a new health and safety programme ahead of the reopening of its resorts in 2020. The Sun Siyam Cares programme is based on guidance from the World Health Organisation and national authorities, and is designed to offer guests a minimal contact experience.
Olhuveli is situated at the tip of South Male Atoll, accessible by a 45-minute exhilarating speedboat transfer from Male airport
Expensive transfer
Some water villas are located far from restaurants and island's facilities
Check-in from 14:00, Check-out before 12:00
Nightlife is limited to a few entertainments
The daily fee for Wi-Fi Internet (which is often slow)
There is a doctor on the island
Maldives Luxury Guide
Here's the best of Maldives for luxury travellers. We've compiled the finest recommendations of places to stay, ranging from the most celebrated five-star resorts to luxurious private islands Read More
Maldives Romantic Guide
The ultimate 'flop and drop' and honeymoon destination, the Maldives is the playground for the most amazing and finest utilization of each second of this extremely valuable and hopeful time with each other in tota Read More