Park Hyatt Maldives Hadahaa
Best Experience for: Honeymoon, House Reef Snorkeling, Diving
Updated Nov, 2021
With some of the best diving in the archipelago to be enjoyed on the island's house reef, Park Hyatt Maldives Hadahaa is the pioneer of eco-design in the country. Nestled within natural vegetation and only steps from the Indian Ocean, the resort was designed, developed and built to be as environmentally sensitive as possible, within a reasonable framework. Park Hyatt Hadahaa is truly a tropical island paradise set in the North Huvadhoo Atoll, 400 km south of Male international airport. Surrounded by only the vast expanse of sky and sea, the resort's 50 Park and Water Villas offer the ultimate hideaway and secluded luxury.
Park Hyatt Hadahaa has one of the best house reef snorkeling in the Maldives. The resort offers the ultimate Maldivian experience of turquoise and azure waters and fine white beaches, complemented by tranquil settings and easy access to more than 30 pristine dive sites to explore, all filled with rich marine life. Succumb to the healing sensation of holistic wellness at Park Hyatt Hadahaa, where every experience is centred on bringing your mind, body and soul towards a new equilibrium. Two restaurants and bars provide multiple options for a unique culinary experience tailored to all age groups. The resort also offers luxurious amenities, a host of recreational activities, and relaxing and rejuvenating treatments. You can drop the idea that something worthy should be boring, or if it is environmentally friendly, it is probably uncomfortable but this place generously exudes the reputation of luxury and expensive taste of Park Hyatt.
Diving Mecca
Hadahaa offers one of the best house reef snorkeling in Maldives. The clear warm waters are ideal for all types of diving, and the marine biological variability amazes even the most experienced divers.
Start from 2017 Park Hyatt Maldives Hadahaa offers a new Stay and Dive package, giving guests the chance to explore one of the Maldives' best-preserved atolls at a reduced rate with fantastic complimentary benefits.
5*- star PADI dive center is likely to be a key attraction factor for many guests. An easily accessible house reef lies no more than 50 m from the beach. With untouched reefs surrounding Hadahaa, the island is a great place for both beginners and experienced divers. The dive centre also offers a unique à la carte diving program enabling guests to customise their dive experience. Dive wherever you want, go whenever you want and all this with your private instructor and private boat as an option.
Design and the Island
Designed by a team of prestigious SCDA architects, the hotel was perfectly formed to reflect the sense of space and minimize the impact of the resort on the environment.
To complement the spirit of environmental stewardship, the design promotes rainwater harvesting, minimises disruption to the corals around the island and preserves and reinforces the existing foliage of the island. A generator provides power for illumination and light-duty air-conditioning, and water used to cool that generator is recycled as hot water for showers. Rainwater is collected to irrigate the plantings that check erosion. A desalination plant provides fresh water, and the owners are exploring the potential of solar and tidal energy. Waste treatment plants ensure that pollution of the island is minimised. The Park Hyatt is the first resort in the Maldives to receive Green Globe certification for Building, Planning and Design Standard
Like the perfect location of Hadahaa, the resort's architecture is quite unusual - successfully combining a modern look with the local Maldivian style together with a rational exploration of the needs of guests for comfort and privacy. Minimalism in a rustic style, where interiors use wood and stone, and high, inclined wooden roofs of villas retain inside the coolness. The form of the main arrival space is inspired by the Maldivian Dhoni boat, traditionally used for inter-atoll navigation.
The view of the island as you walk down the arrival dock is outstanding. The primary resort beach to the right is all beautiful, fine, white sand the provides a bright strip between the lush tropical foliage and the light to royal blue gradient of the gently breaking ocean. You can almost always see parrot fish and occasionally even one of the resident reef sharks as you amble along the dock. A path runs along the perimeter of this green island. You can walk or on a pre-ordered buggy. Upon arrival, you will be assigned a butler, whom you can contact on all issues, including ordering a buggy.
Park Hyatt has a "back of house" tour where they take guests behind the scenes to show how the resort desalinates, filters and sterilizes sea water into drinking water, generate their own electricity, sort their waste and sends them appropriately to be recycled or disposed of, treat their sewage properly, how they manage their staff and keep them happy to work there, the staff's living quarters, and how they do their electrical, carpentry, engineering work - all in-house! The island itself is like a self-sustaining city and it is committed to being eco-friendly, and it is not just a company tagline on marketing materials. You'll be impress!
As for setting, it is a gorgeous island, with brilliant public areas that felt friendly, intimate and welcoming. All guests relax into the homely, unstuffy but still sophisticated atmosphere. This resort is a truly barefoot. There is no need to ever wear shoes, as you simply walk from your villa to either the beach, or on a sand path to the main area, and all the dining is open air.
Location
Gaafu, or Huvadhoo is not only the second largest atoll in the Maldives it is also on the list of the top 10 largest natural atolls in the world. Located in the southern part of the Maldives 50 km above the equator Gaafu Atoll is administratively divided into two parts: Gaafu Alifu (North Huvadhoo atoll) and Gaafu Dhaalu (South Huvadhoo atoll) and has 235 islands with capitals: Villingili (North) / Thinadhoo ( South). Read More...
Located in the heart of Huvadhoo Atoll, the largest and deepest atoll in the country, Hadahaa is a small, round and greenery island surrounded by some of the best, soft white beaches and a stunning house reef in the Maldives. Nothing else. The nearest inhabited island is 10 kilometers away. Far from artificial light sources, stars above the head, in the night sky are always beautiful for contemplation. The island is so close to the equator that you can see the constellations of both hemispheres. Aircraft and boats are very rare ... absolute peace.
Guests embark upon a comfortable domestic flight, taking between 60 and 105 minutes depending on the route, with domestic carrier Maldivian to Kooddoo Domestic Airport located in the North Huvadhoo (Gaafu Alifu) atoll followed by an enjoyable 30-minute speedboat transfer to reach the resort.
Villas
Since the five-star resort began welcoming guests in 2009, it has undergone several refurbishments to offer guests a rare escape to a barefoot luxury experience. Most recently, it has launched three new luxury villa categories, including the resort's two-bedroom family villas and villas with deluxe private pools, as well as the Park Sunset Ocean Pool Villas.
A total of 50 villas, 3 categories, rooms at least 100 m2, peacefully share this piece of paradise 420 m long and 300 m wide. Park villas, Park pool villas and Water Park villas with two bedrooms, between modernity and tradition, beautifully emit a luxurious "ecology", that in recent years is becoming a fashion trend. In 2018 Park Hyatt Maldives offered families more space and couples more privacy with the launch of two new luxury villa categories, including the resort's first two-bedroom family villas and more villas with private pools. DOWNLOAD RESORT MAP
The property has 14 over-water villas and 36 Island Villas, 20 of which have a private pool. Highlights of the Water Villas are floor-to-ceiling windows with panoramic sea views, as well as spacious terraces with direct access to lagoon. Beach Villas are located in the shadow of the natural vegetation and are fenced off from each other by a garden, each with an outside bathroom and a sun terrace.
With an additional 100 square metres of space, the eight new Deluxe Park Pool Villas offer guests a more spacious and luxurious experience than Park Hyatt Maldives Hadahaa's existing Park Pool Villas. Nestled within natural lush vegetation, the new 265 square-metre timber and stone villas boast floor-to-ceiling windows and a private outdoor bathroom, with a terrazzo bathtub and rain shower. The villa's very own plunge pool and semi submerged sunbeds offer guests the ideal place to cool off in ultimate comfort, surrounded by peaceful and idyllic surrounds. Guests can relax and enjoy an intimate evening drink in the villa's tranquil outdoor seating area or take advantage of the soft sandy beach with two loungers just a few steps away via a private pathway.
Far enough from each other, they guarantee full privacy, and have all facilities that you can expect from a luxury hotel, with an Ipod docking station, a mini-bar with champagne, and wi-fi free of charge everywhere. Butler service in each villa, attention, always when necessary and at the same time very discreet service. The bathroom overlooks a private garden where you can enjoy refreshment under a large outdoor shower, or better, relax in a beautiful oval bathtub.
Park Hyatt Maldives Hadahaa offer families the chance to stay at the resort under the same roof with three new Two Bedroom Park Pool Villas. Set within Maldivian greenery, these villas include a second bedroom with twin beds and an additional bathroom, so families can enjoy precious time away together, without compromising on space, style, luxury or comfort. Both bedrooms are designed with floor-to-ceiling windows and the master bedroom features a king bed with an outdoor terrazzo bathtub and rain shower. The private plunge pool is perfect for children to play in, while parents can relax on the two semi submerged sunbeds or cosy up with a book in the outdoor seating area. With private beach access, fun and games in the sand and sea are only a stone's throw away.
In 2018 Park Hyatt Maldives Hadahaa also has reinvented and unveiled refreshed Park Sunset Ocean Pool Villas. The sunset water villas now feature a freshwater plunge pool with semi-submerged sun loungers and a cabana for guests to experience the Perfection of Pool and Ocean At The Park. The reinvented villas allow guests to take a dip to endless vistas while basking under the Maldivian sun or choose a romantic late night dip under the starlit skies.
Restaurants and Bars
Park Hyatt Maldives Hadahaa is home to two excellent restaurants, including the resort's signature restaurant, The Island Grill. The latter serves regionally inspired dishes and features an open kitchen's where guests can watch the chefs at work, with tables and swing chairs set on a blanket of fine white sand. The resort's other restaurant, the Dining room, is located along the main pool and serves all day dining, including the breakfast, which is composed of lovely buffet spread complemented by an à la carte menu with a variety of Western, Maldivian and Asian breakfast dishes.
If you are celebrating something special there are a variety of private dining experiences, including Nature, Lagoon, Starlight and Maldivian, each showcasing a unique aspect of the Island. There is well designed, smart, and comfortable seating everywhere.
However, given private villas with goregous outdoor areas, there is great inclination for in-villa dining that is available at any time during your stay.
Open daily for breakfast, lunch and dinner The Dining Room is at the heart of the Park Hyatt Maldives, facing the main pool. This contemporary à la carte dining restaurant serves a range of international cuisine for unique dining experiences in Maldives. An extensive list of fine wines is also available for your dining pleasure.
Breakfast at the Park Hyatt Maldives is definitely the highlight for many guests, and better than most of their dinner experiences. You can pick from two a la carte meals from an extensive list as well as access the buffet. The cold breakfast buffet features cut fruit, cereals, yogurts, smoked salmon and breakfast meats, and also includes your choice of fresh squeezed juices, coffee and tea. There is a cold buffet, priced at $25 (if you're paying for it and don't have it free as a Virtuoso guest or Hyatt Diamond), that you can help yourself to. The full breakfast is also complimentary as a Virtuoso or Hyatt Diamond guest, and includes the cold buffet plus a choice of two dishes from the a la carte menu, juices, and tea, coffee or espresso drinks. If you're paying for it, the cost is currently $38 per person.
Guests staying with the All-Inclusive Package are able to dine on Chef's Signature Specials such as The Sea and The Maldivian Pizza, Scallop Risotto or Lobster Tagliatelle Hadahaa.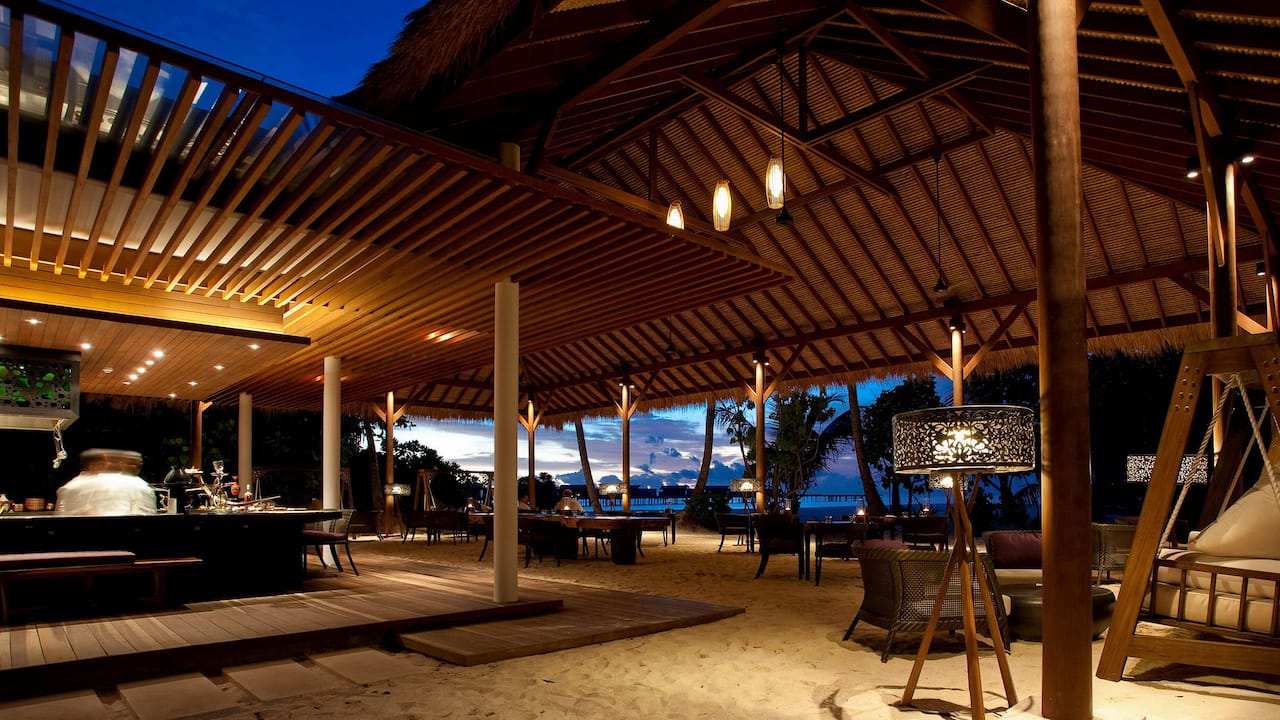 The Park Hyatt Maldives' signature restaurant The Island Grill is open for dinner Saturday to Thursday only and special events for featured food like Island BBQ & authentic Maldivian cuisine. A traditional grill combined with a wood fired oven complements the open kitchen décor where guests can watch chefs at work. Tables and swing chairs are set on a blanket of fine white sand.
Perched directly over the lagoon overlooking the Indian Ocean horizon, The Drift is a dining experience redefined with an exclusive seating. Set your palates adrift with cuisines from Italy, China and Thailand. Discover your unique journey of flavors today.
Guest also love the cocktail party & beach BBQ held every Saturday night - this is not to be missed so make sure you stay there over a Saturday! As for the cocktails, they are made by professional bartenders some who worked at 5 star resorts in Dubai, most importantly they taste before they serve which is something you don't get at the other more crowded destinations here in the Maldives. Feel free to ask them to make it strong as drinks do come at a premium here.
In 2021 Park Hyatt Maldives Hadahaa has introduced an innovative dining concept for the conscious traveller, Chef's Garden Treehouse – now open for all guests. Featuring a menu of ingredients all sourced from the Chef's organic garden or within the atoll, this dining experience will amaze you.
Embrace the simplicity of living off the land as you pick your own tasty and nutritious organic vegetables for your dinner. A six-course set menu and eight-course set menu are available with an array of delectable dishes for you to savour. See the full menu here
With views of the resort, pool and beach, The Bar offers a broad selection of signature refreshments from around the globe. Enjoy a refreshing drink throughout the day along with small bites from the bar snack menu. Relax in one of the beach cabanas underneath star-studded skies or whilst watching a spectacular Maldivian sunset.
This traditional yet contemporary lounge area is a true architectural masterpiece for Maldives resorts. The Dhoni bar, designed to resemble the upturned hull of the Maldivian fishing boat from which this stylish watering-hole takes its name.
Spa
Embrace the serenity of the luxurious Vidhun Spa located at Park Hyatt Maldives Hadahaa. Freshly harvested herbal, botanical, and marine resources add to a pure Maldivian healing experience designed to rejuvenate your mind, body, and spirit.
Take this sweet options to relax in the tranquillity of the island and reawaken the memories of your first encounter. Let the beauty and the tranquillity of the island inspire you as you pen your vows. Relish a scintillating spa treatment in one of our serene spa villas or enjoy sunset refreshment on the terrace and take in the endless horizon as you prepare for the most memorable moment of your life.
DIVING & SNORKELLING
All guests are welcome to collect their snorkelling equipment from the water sports centre where the instructors will give snorkelling techniques and tips, conduct snorkelling lessons and provide guests with more information about the marine life.
Although there are no specific child care facilities, children are most welcome at Park Hyatt Hadahaa. Food and meal times can be tailored to suit the younger guests and babysitting can be arranged for those that require it. The instructors at the dive centre will help with snorkeling techniques as well as sailing or kayaking instruction.
Reviews
In our opinion, Park Hyatt Hadahaa concentrates on luxury, but the resort also offers authentic Maldivian experience: turquoise waters, white sandy beaches and some of the liveliest and healthiest corals. Generally, the island exceeds expectations: it's much better in real life than on photos. Overall, it is as close to perfection as you will get in the Maldives. Facilities aside, it is also a stunningly beautiful, picture-perfect little island.
"This hotel is creating a new service level which is unbelievable...." , "Once in a lifetime experience. Expensive but worth it. Especially the scuba diving." "Perfect in every sense."
"unbelievable level of service, great attention to detail, exceptional quality and taste of food, super-white-sandy beaches, crystal clear water... I could go on for hours like that. All I can say is that this is for sure the best hotel we ever been (and we went to many luxury hotels worldwide) and we want to thank everyone for our amazing holiday. As we didn't meet the GM (he was on holiday the time we've stayed at the hotel) we also want to thank him and hope he can keep this super-high level in the future. We will definitely come back someday. If you want an amazing holiday which is outta this world - go and book this hotel!
Pros: What We Like
Beautiful and unique location
very beautiful island with unspoiled nature
The chic atmosphere, an exceptional architectural ensemble run by the spirit of the Maldives - with a cult lobby resembling a huge inverted wooden dhony boat, like the central part;
Maldives' essence: nature, ocean, sun and magnificent beaches with soft sand;
We particularly loved being able to walk off the deck of the overwater villa right into the ocean to start snorkeling over the house reef.
Excellent snorkeling! A beautiful house reef. Many fish, including sharks, rays and turtles.
More than 10 kilometers from the nearest inhabited island, Hadahaa resembles an untouched Maldivian paradise 50 years ago;
Located just 55 km from the equator and away from artificial light sources, the island is endowed with a truly amazing picture of the night sky, sparkling with myriad stars;
Food is fantastic! Varied breakfasts
One of the few luxury resorts that really cares about the environment;
Water Villas have 100% privacy;
Spa massages
Excellent staff, very caring and helpful. Service is sublime
What You Need to Know
The property is only accessible by domestic flight transfer takes 55-105 minutes from Velana International Airport to Kooddoo Domestic Airport. From there, speedboat transfer takes 30 minutes from Kooddoo Airport to the hotel.
The island is far for Male but the transfer is organized perfectly.
check-in From 14:00; check-out Until 12:00 hours
The internet barely works - buy sim card at Male airport
Children of any age are welcome but the guests are mostly couples
The resort is barefoot, low-key, yet sophisticated, luxury. The muted, calm and friendly atmosphere is perfection - unlike the size and glitz of many other high end resorts.
if you want to explore the many coral reefs and the underwater world - the minimum time to stay here about a week especially
The best Park Pool Villas are 18 - 20 perfect for watching the sunrise.
The best Park Water Villas are 49 - 51 perfect for watching the sunset.
In the evening there is no entertainment. Once a week there is a cocktail night
Park Hyatt Hadahaa has one of the best house reef in the Maldives. Best access for house reef snorkeling near arrival jetty
There is a marine biologist on site for guided snorkelling and also diving trips
If you book Beach Villas - Around the island's southern side the beaches are very narrow.
The holiday experience here is essentially about couples and privacy.
Each villa has a butler service
Even if you buy a full board, you still have to pay for drinks (even water).
Food/beverage & activities are of course very expensive... brilliant spa, though.... So, if you are a food lover consider purchasing the full board or half board meal plans which can save you money.
Park Hyatt Hadahaa offers a premium all-inclusive option
Both restaurants are amazing but make sure you have at least one dinner at the Island Grill - this place is our favourite & we highly recommend the Catch of the Day for 2! The fish is incredible!
The Park Hyatt Maldives has their own hydroponic veggie and herb garden.
You can rent snorkelling gear or kayak for free (and transparent kayak for just $25).
The remoteness of the resort gives it a real desert island feeling, it takes a bit longer to get there but is really worth it
A remote and quiet place is not for everyone - the nightlife scene here - cocktails under the moon; At night, the orange lights of the lamps give the place an ultra-romantic atmosphere.
The island does not have any wave breaks surrounding it so the beach can change from one side to another
The Hyatt Thrive programme really invests in the local community, enabling employees to contribute to their communities despite living away from home
Hadahaa is the first resort in the Maldives to be certified to Earth Check's sustainable design standards, and winner of the prestigious International Architecture Award 2010.
The Park Hyatt is the first resort in the Maldives to receive Green Globe certification for Building, Planning and Design Standard.
Due to safety and privacy concerns the operation of unmanned aerial systems or drones by any of guests including model aircraft by recreational users and hobbyists is prohibited.
Maldives Luxury Guide
Here's the best of Maldives for luxury travellers. We've compiled the finest recommendations of places to stay, ranging from the most celebrated five-star resorts to luxurious private islands Read More
Maldives Romantic Guide
The ultimate 'flop and drop' and honeymoon destination, the Maldives is the playground for the most amazing and finest utilization of each second of this extremely valuable and hopeful time with each other in tota Read More