Reethi Beach Resort
Best Experience for: Honeymoon, Beaches, Diving, Value
Updated August, 2022
A lovely, all-round resort, Reethi Beach is a lush island with an unspoilt setting and follows the relaxed Maldivian way of life. In each of its aspects, you will find a piece of all the best that makes this resort so special. And with first-class management, today it is getting better and better.
Reethi Beach might have a laid-back atmosphere, but there's plenty here if you're looking for something more active. On the water, choose from catamaran sailing, canoeing, kitesurfing and waterskiing. Under water, there's superb snorkelling on the house reef, with the chance to spot many species of fish, turtles and octopus – even dolphins have been known to come this close. Diving is another highlight, with house reef dives and multiple trips further afield on offer every day.
Built in 1998, this resort stands out for its reasonable rates (among the lowest for this caliber in the Maldives), above-average food, and plentiful restaurants and amenities. The rooms are a bit basic (with no minibars and a fee for Wi-Fi), and the additional flight from Male can be inconvenient, but Reethi Beach is an excellent upper-middle-range choice overall.
Reethi Beach Resort has been named one of the World's Best Budget-Friendly Honeymoon Destinations by Australia's leading international travel agency Flight Network in 2017.
The Island
A major renovation delivered a modern comfortable chic, echoing the style of Soneva Fushi, its neighbour. Tasteful wooden furniture backs a vibrant colour scheme based on a flower of a native tree: yellow on the bow turning to orange with a deep red when on the floor. The look and feel blend perfectly with this resort island, one of those most blessed by nature and, as reflected in the Green Award granted by Kuoni, committed to disturbing it as little as possible. Over 4,000 trees are protected and never sprayed. Their leaves are allowed to remain on the ground, merely swept aside from the sandy paths.
The resorts in Baa Atoll have a model association where environmental best practices are discussed and put in place. On Reethi Beach, there are many green initiatives, from waste disposal to glass bottles, heat exchanging and biogas generation. Both here and on Soneva Fushi there is no sunset fishing as this denudes reefs of fish needlessly. Furthermore, efforts are being made to actively protect the sharks from fishing
Most structures on the island have high, palm-thatched roofing and basic wooden furniture with beige, yellow, and red cushions. Reethi Beach doesn't have much pizazz in terms of style or design, but it's perfectly cozy for a casual island holiday. DOWNLOAD RESORT MAP
Most guests are couples from Germany, Switzerland, and other parts of Europe. Some 30% of their guests are repeat visitors and 15% are divers. With few amenities for children, kids are few are far between.
The Beach
The beach is very nice most of the way around the island and particularly good on the west side, where the Reethi Villas are and at the southern end, where the Deluxe Villas are. At the other end is a bulge of sand behind the Water Villas. This is a bonus, especially as there are loungers with umbrellas and a hut bar open all day.
Guests can choose from a number cushioned, wooden lounge chairs and palapa umbrellas that dot the island's beaches. The island's peaceful, waist-deep lagoon is ideal for swimming, kayaking, and snorkeling just offshore. Most of the sand is soft and clear, but there are some rocky areas and giant sandbags (which look like giant, smooth rocks) that are used to prevent erosion. The water is crystal clear and difficult to find a speck of trash anywhere.
Notice: The beach around the island is in constant movement – its shape is changed by the tide and wind patterns, sometimes overnight, and its entire location may be changed by the influence of the monsoons. The beach in front of a particular room may therefore be entirely different on your next visit and not resemble a picture on the website or in other publications.
Location
Reethi Beach Resort is located in the north-east of Baa Atoll on tiny Fonimagoodhoo Island measuring just 600m by 200m. Only 15% of the land area is built upon and the resort is nestled amidst lush vegetation shaded by graceful palm trees and surrounded by a white sandy beach and a lagoon of crystal clear water, with a beautiful house reef just 30m to 100m from shore.
After completing Immigration and customs formalities, guests proceed to either the seaplane terminal to board a Trans Maldivian Airways Seaplane, or the Domestic Terminal to continue their journey by Domestic Flight. Recommended Domestic Carrier is FlyMe that operates regular daily flights from Malé Airport to Dharavandhoo. The flight time on their new, comfortable and air-conditioned ATR 72-500 turbo prop aircrafts is about 20 minutes after which you will be transferred on a short speedboat ride (approximately 15 minutes) to the island – Reethi Beach Resort. If you choose Seaplane Transfers as your onward mode of transport, the 15-passenger, De Havilland Twin Otter seaplane will take you on a 35-minutes scenic flight to the floating resort platform located offshore from Fonimagoodhoo island, in Baa Atoll. Upon arrival, guests will be transferred to a traditional Maldivian Dhoni for the 15-minute boat ride to the resort jetty.
Villas and Suites
Semi-detached, detached or overwater, Reethi Beach has 120 Maldivian-style villas that start at 38 sq.m. and come in three types: Reethi, Deluxe, and Water Villas. Located a few steps from the beach, Reethi and Deluxe Villas each feature an open-air bathroom, private patio, bottled water, and a mini-fridge (but no minibar). Deluxe Villas are slightly larger and also include a bathtub and Maldivian-style swing outside.
The Reethi Villas are the standard rooms and they are noticeably less smart. They are smaller, the furniture is not as well made and there is no verandah, though the bathroom is clean and light.
The deluxe villas are slightly better, facing the sun most of the day and just a few steps from a fine beach and good snorkeling. However, the water villas are more private. These rooms are quite close to each other but they are partly screened and not in a line, so privacy is good.
Thirty Water Villas are built over the lagoon on stilts and feature patios with steps leading into the lagoon, soaking tubs, bathrobes, DVD players, bottled water, tea, teakettles, and sun loungers. All rooms have one king-size bed. Two twin beds are also available in Reethi Villas. Design-wise, villas have parquet floors, white walls with watercolor paintings of flowers or rural life, simple wooden furniture, and colorful throw pillows and curtains. Wi-Fi packages can be purchased for a fee.
However, it is fortunate the beach is nearby as only the rooms at the ends of the semicircle catch the sun, the others face north. These villas have been greatly improved with steps down thelagoon from the deck and doors that fold all the way open for a full vista of sea and sky from the bed. The interior decoration has quality furniture and richly coloured textiles of auburn and gold.
In 2020, even though Reethi Beach Resort will maintain the same design & experiences within the resort after this opening, there will be one additional exciting feature. This exciting new addition is a room category called the Reethi Family Suite! Two bedrooms with a shared spacious living space, open-air rain showers and just a few steps away from the beach, this room would be perfect for families on a holiday.
Restaurants and Bars
With five restaurants and five bars, there's plenty of food and drink to choose from at Reethi Beach. The cuisine in all the outlets is remarkably good. If you've booked Half Board, Full Board or All Inclusive, you'll eat at The Rehendhi Restaurant, which offers an impressive range of nightly themed buffets from seafood to Chinese to Tex-Mex. Guests with dining upgrades receive a 15 percent discount at the four a la carte restaurants, plus unlimited international buffet cuisine for dinner (half-board) and lunch (full-board) at Rehendhi. All-inclusive snacks are also available at main bar. There's also a Premium All Inclusive for a choice of restaurants included. The Reethi Grill and Saima Garden offer more intimate options under the stars, while the five bars include three lovely beach huts.
An open-air restaurant, Reethi Grill, is open for dinner only and has live cooking stations and wood-fired pizzas. Alifaan Restaurant serves pizzas, burgers, and snacks poolside during the day. Saima Garden is an open-air restaurant next to the beach with just five tables; it serves dinner six days a week and specializes in meat, seafood, vegetarian, Maldivian, and lobster. Mudu Restaurant & Bar the resort's overwater, a la carte restaurant serves food and drinks 24 hours a day (but reservations are required for dinner). Repeaters and honeymooners receive one free a la carte dinner. Room service is available 24 hours a day.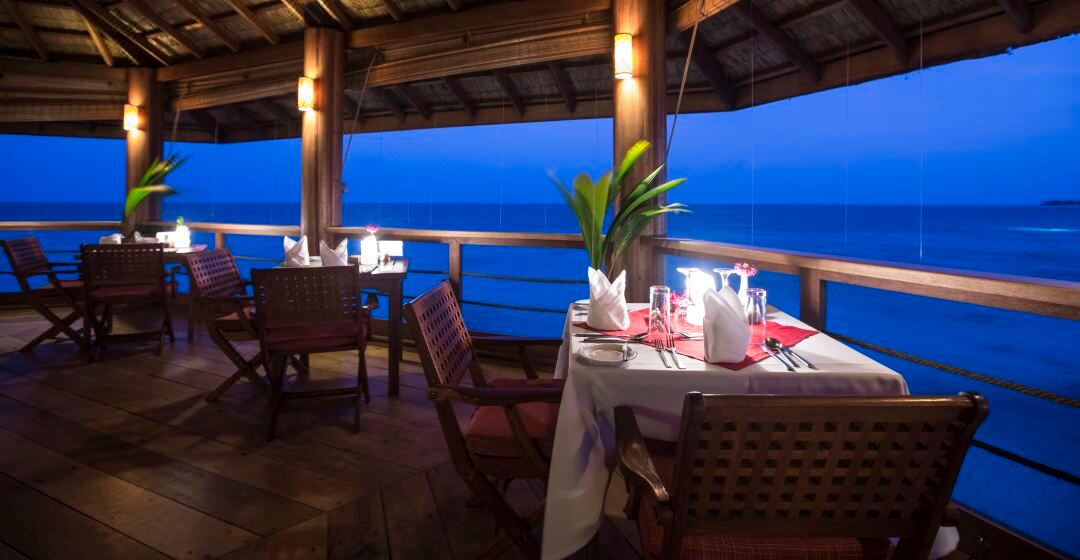 Rasgefaanu Bar is the main bar and the heart of the resort, with a popular bar area and games room, plus a quieter deck by the beach shaded by coconut palms. The Veyo Bar makes some delicious fruit juices and health drinks as well as alcoholic offerings and ice-cream. There are also three handy beach bars – great little hut-style outlets on the north, south-east and south-west beaches.
Diving & Activities
An attractiveness for many here is the diving. Around a third of the Europeans who come here go diving and that's as high as anywhere. With few resorts in the atoll, the many sites are still fresh and relatively unvisited.The Dive Centre is managed by Sea-Explorer, a PADI 5-star centre, visiting around 30 different sites in shallow reefs, the outer reef, atoll reefs and house reefs, many reached within a 20 to 30-minute boat journey from Reethi Beach. The programme includes: day and night dives, a full range of dive courses including Open Water, Referral, Nitrox, Rescue, and Advanced courses, boat trips, day and night snorkel excursions, trial dives and snorkel introductions for the novice as well as equipment rental. The great new discovery of hundreds of whale sharks and manta rays at Hanifaru bay is a massive bonus in the months of August and September especially.
The housereef of Reethi Beach lies on a channel and stretches out along the west side of the island. A beautiful reef wall that drops down to 30m is waiting to be encountered. On the east side there is a vast 'thundi' (sandy lagoon) with nice coral blocks and some nice artificial surprises. Due to its diversity and wealth of fish life, the house reef of Reethi Beach is surely one of the most beautiful ones in the Maldives. The regular passing of spinner dolphins, eagle rays, schools of barracudas, batfish and thousands of fusiliers are just some of the highlights. You can also encounter turtles, octopus, lobsters, moray eels and of course our black tip and lemon shark families.
For a relatively small island, Reethi Beach has lots of great amenities. Highlights include an outdoor pool with food and drink service and a fitness center with a weight room. The resort also has plentiful sports courts -two tennis courts , two squash courts, two badminton courts, and a beach volleyball court – and games like table tennis, snooker, and foosball. Other perks include a small garden, jewelry store, 24-hour doctor, business center, multilingual library, and a gift shop that will paint pictures on T-shirts and wetsuits.
For those willing to pay extra, the resort offers plenty of special services. Sunset cruises, fishing trips, scuba lessons , and tours of local islands are just some of the excursions available. The resort rents water sports equipment (for a fee), such as kayaks , snorkels, catamarans, windsurfing boards, and floats. All guests receive a free 30-minute snorkeling excursion and a diving lesson. Guests who prefer to stay dry can check out the sea life during a fish feeding that happens every evening off the end of the jetty. Staff can arrange private candlelit dinners on the beach or a nearby deserted island. Free Wi-Fi is available in the lobby and most of the bars. The island's main bar, Rasgefaanu , offers late-night entertainment, such as disco and karaoke.
The watersports centre, prominently position on the beach, is active and very well stocked. This is one of the few places you can try out kitesurfing. Sailing or windsurfing trips go to one of several nearby sandbanks and desert islands. The resort looks after 4 desert islands that are also used for 1-couple-only Robinson Crusoe picnics.
Alternatively, you could go to the Coconut Spa. Nothing much to look at maybe but all reports are that the Balinese therapists are superb and the prices, as everywhere here, are reasonable.
Reviews
Reviews for the Reethi Beach Resort are mainly superb to excellent, which is actually a bit surprising considering the modest room rates here. Most guests are very impressed by nearly everything, including an amazing beaches and excellent house reef and snorkeling opportunities. They also seem very impressed by the views from each of the water villas along with the spacious amount of room in each villa. Some point out that this is an older resort (for the Maldives) and that things are a bit more worn than they are at most of the newer ones, while others understand that this is to be expected in this price range for a private-island Maldives resort. The food gets high marks from most, whether on the bed and breakfast plan or the full all-inclusive plan.
..."Excellent price performance", "Fabulous resort with friendly staff on an idyllic island", "Highly recommend", "Highly recommend", "Amazing!", "Fairly priced hotel with wonderful house reef", "Family vacation", "Super satisfied!", "Another fantastic stay at Reethi Beach!", 
"Perfect place for family holiday.", "Maldives Honeymoon", "Absolutely perfect", "Thank you Reethi Beach Resort for the best hooneymoon ever!", "Wonderful, relaxing resort in a paradise location", "The best resort in whole Maldives to spend your honeymoon.", "Great Get-Away, at Good Value."...
What Guests Love
chill and laid back location
Staff extremely friendly and helpful.
beautiful island
Comfortable, clean and amazing bungalows. Rooms are very spacious and well decorated
The breathtaking views and water activities
Excellent beaches with soft white sand.
dining options, good breakfasts.
All Inclusive plan
Diving
What You Need to Know
Book directly and enjoy the following benefits: Early check-in / Late check-out (Subject to availability); Fruit basket
View the New Safety Protocols
The resort is located in the unspoilt Baa Atoll, UNESCO Biosphere Reserve in te Maldives; Airport transfer time: Approx. 35 minutes by seaplane from Malé airport
Check-in from 14:00; Check-out untill 12:00
Fees for snorkeling and water sports rentals
No playground, kids' club, or kiddy pool
No minibars in rooms
No Jet Ski rentals
Fee for in-room Wi-Fi
No TVs and Internet in the rooms
Tea and teapots are only in Water Villas
Expensive, 35-minute seaplane transfer - it's cheaper to book local airlines + speedbot.
some of the water villas may seem shabby
drinking water - chargeable
To ensure privacy for the guests and staff and to keep within common safety parameters, Reethi Beach does not allow any drones to be operated on or above the resort.
Check Availability and Prices in Reethi Beach Resort
Maldives Luxury Guide
Here's the best of Maldives for luxury travellers. We've compiled the finest recommendations of places to stay, ranging from the most celebrated five-star resorts to luxurious private islands Read More
Maldives Romantic Guide
The ultimate 'flop and drop' and honeymoon destination, the Maldives is the playground for the most amazing and finest utilization of each second of this extremely valuable and hopeful time with each other in tota Read More