Reethi Faru, Bio Luxury Resort
Best Experience for: Couples, Families, House Reef Snorkeling & Diving, Beaches, Activities
Updated Aug, 2022
With an amazing house reef, Reethi Faru is a new 5-star resort opened in November 2017 in Raa Atoll. Stunning beach, palm trees and natural tropical vegetation form this paradise island of Filaidhoo. Meaning in Dhivehi "Beautiful Reef", Reethi Faru fully justifies its name and boasts a vibrant house reef not far from the shore. With excellent accommodation, both on the beach and over the water, with five restaurants to choose from, a spa, a wide selection of water sports, including diving and snorkeling, A member of Preferred Hotels & Resorts Reethi Faru Resort is the perfect holiday escape for couples or for families or friends traveling together with an excellent value for money. The new resort has 150 spacious villas, all with a traditional design that blends well with the environment, your home away from home can be found on soft sands or on stilts in the crystal clear lagoon. The island measures 600 x 350 m and its stunning reef stretches only 30 - 80 meters from the shore.
The Island
Reethi Faru resort located in Raa atoll. There are two ways you can reach the island.
After completing Immigration and Customs formalities, guests proceed to either the seaplane terminal to board a Trans Maldivian Airways Seaplane, or the Domestic Terminal to continue their journey by Domestic flight to Dharavandhoo airport. The flight time on their new, comfortable and air-conditioned ATR 72-500 turbo prop aircrafts is about 20 minutes after which you will be transferred on a speedboat ride (approximately 30 minutes) to your holiday island – Reethi Faru Resort. If you choose Seaplane Transfers as your onward mode of transport, the 15-passenger, De Havilland Twin Otter seaplane will take you on a 45-minutes scenic flight to the resort. Note: Seaplane & Domestic Flight reservations are automatically confirmed at the time of booking accommodation.
The main beach is very large and in the right place with a view to the south and not far from the jetty, reception and water sports, from where the music is pumped out. On the west side there is also a beach, but the rest of the island has a small wall between the sand and water to protect against further erosion. DOWNLOAD RESORT MAP
The resort is suite not only for couples, but also for families that is unusually good. Priority is the attitude of staff to children, and here it is impeccable. Then it's a question of opportunities and activities. On the south side of the island there is a swimming pool, but the lagoon is pleasant and shallow, and also large enough not to worry about waves and currents.
Location
To get to the island you can: either a picturesque 45-minute seaplane flight from Male airport; or a short domestic flight to Dharavandhoo airport and then a 30-minute boat ride to the resort. The guests is mainly international crowd from Europe and Asia.
Villas and Suites
The spacious separate and semi-detached villas are built in traditional Maldivian style with all the modern amenities that you would expect from an island resort. The villas that dot the interior of the island, its beaches and lagoon, are spacious and comfortable in a modern style. Each villa has a covered porch or, if you choose a water villa, a separate terrace with direct access to the sparkling waters of the lagoon. The rooms are beautifully decorated and offer a tropical atmosphere, with comfortable beds and a seating area. Amenities include a flat-screen TV, tea and coffee making facilities, partial open-air bathrooms, terraces or balconies. The upgraded parts add views to the ocean, and some have a jacuzzi.
Particular attention was paid to the design and location of each of the 150 villas to ensure guests the perfect stay on the island. From family beach-front accommodation to perfect romantic over-water cocoons you will find here your favorite place that meets all your needs and desires. The accommodation blends perfectly with the natural beauty of the environment and the unique setting amidst the tropical vegetation fringing the long space of the soft sands, or on stilts over the crystal clear lagoon, and you will definitely want to stay or return to the island. 
New Deluxe Beach Pool Villas for guest who wish to indulge in the finer things in life, the new Deluxe Beach Pool Villas have uninterrupted views of the Indian Ocean and are equipped with a private pool next to the terrace. The 68sqm rooms are ideal for honeymooners and even families with teenagers. Relax and recharge your batteries, dip in the pool savouring the ambiance with utmost privacy.
Restaurants and Bars
Eat, drink and have fun. Breakfast is included in the price and restaurants on site offer a variety of tastes and moods. The resort's main buffet restaurant, Vakaru is open daily for breakfast, lunch and dinner. A talented international team of chefs creates a diverse, appetizing theme with Lebanese, Spanish, Italian and Asian dishes. The chef can tailor your special dietary requirements with the appropriate notification so that everyone can experience the richness of the taste and creativity that the team produces with such love and devotion to their craft. The sumptuous breakfast combines traditional 'mas huni' with smoked fish and coconuts with a variety of fresh fruits, pastries, cheese, meat and, of course, eggs cooked the way you like.
A truly romantic spot, you will find at Huvandhu Garden. Right on the beach, and just a few tables in a beautiful tropical setting where you can enjoy gourmet cusine flavored with excellent service. Huvandhu is the most exclusive and romantic restaurant on the island, therefore booking is required.
Open around the clock, Dhiyavaru is a over-water bar and a restaurant located near the island's southern tip. Expect premium wines, pastries and fragrant coffee, breakfast, light snacks or international fare. Choose from two tiers to appreciate the picturesque panoramic views of a beautiful turquoise lagoon.
Haruge is the main bar, divided into three parts, comprises an open-air deck, a semi-closed bar and a games room. A wide range of cocktails, alcoholic and nonalcoholic drinks is available from the bar. Table tennis, pool, darts, carom, many board games as well as books are available in the games room. The Reethi Faru Bar also hosts disco nights and other evening entertainment
Nala bar is located among the dense tropical vegetation in the eastern part of the island near the garden villas. With a wonderful setting, the bar offers a wide selection of specially mixed cocktails, fine wines, selected beers and numerous soft drinks. This is the perfect place to relax and enjoy the sea views. Veyo is poolside bar that offers a wide range of fruit juices, non-alcoholic and health drinks, cocktails, beers and ice creams.
Raalhu cafe is ideal for a quick snack, including hamburgers, pizzas and pancakes. Ideally located next to the resort's swimming pool on the south edge of the island, Veyo bar is a good place to relax when you leave the water or immediately after training at the sports complex.
Reethi recently introduced speciality gin cocktails exclusively available at their west-side bar: Thari Bar.
What is Included
Premium All Inclusive: Enjoy a buffet breakfast, lunch and dinner at the resort's main restaurant - Vakaruu. Afternoon tea is served in Haruge, where you can also enjoy delicious sandwiches and pastries. Guests can eat in all the a la carte restaurants on the island, including Reethi Grill, Huvandhu Graden, Raalhu Café and Dhiyavaru. Please note that these restaurants may require book the table, and lobster dishes are not included in the All Inclusive Premium plan. A wide range of drinks is available with All Inclusive Premium, from home-made wines, local beers, local spirits, soft drinks, tea, coffee, water, etc. Guests also have a wide selection of premium brand drinks and a choice of more than 50 wines . (Please note that the minibar in the room is not included in the All Inclusive plan). Another freebie includes two free guided tours a week, as well as a fitness center and squash courts. Download All Inclusive plan: STANDART | PREMIUM
DIVING & SNORKELLING
Water sports above and under water, boat cruises or excursions to nearby islands, spa treatments or body workouts in the resort's sports complex – Reethi Faru has all the facilities and activities to ensure the guests have a memorable stay in the Maldives.
S.C.U.B.A/SSI/PADI 5 Star dive center will offer educational, recreational and nitrox diving with courses for beginners and advanced divers. The dive center will offer the possibility of diving at the house reef and organizes many different boat dives - early morning dives, morning dives, two tank dives, afternoon dives, night dives, plus snorkeling trips. Spoken languages: English, German and French.
Activities
The resort is recognized as one of the leaders in the Maldives tourism industry once it come to sports and recreational facilities and program.
Enjoy your vacation at Reethi Faru and stay active at the resort's sports complex. Reethi Faru is the only resort in Maldives that has indoor facility with basketball, volleyball, badminton, table tennis and squash courts under one roof. Along all this the resort boasts outdoor futsal, football (both turf surface), volleyball, beach volleyball and tennis courts as well as Olympic size swimming pool. just above the pool, looking at the beach and ocean they have one of the biggest gyms fully equipped for the guest to use.
Reethi Faru's the watersports center allows the guest to fully explore and experience Maldives. It is one of the biggest in size in the whole of Maldives as well as probably one of the best equipped centers in the country. Water Sports Centre offers catamaran sailing, windsurfing, kite-surfing, canoeing, stand up paddle, waterskiing, banana boat, fun tube riding and much more. With more than 70 excursions, activities and rentals that the team is providing they are striving to maintain highest standards and keep being recognized as leaders in the industry once it come to sports and recreation.
The resort's spa is located in a coconut grove on the west side of the island will feature air conditioned 'couples' rooms with bath tub and 'singles' rooms, detached free standing massage huts , a steam room and a Jacuzzi.
There will be also a Manicure / Pedicure and hair treatment room as well as a spa boutique in the reception area.
Reviews
Reviews for Reethi Faru are extremely high, letting us know that this 5-star resort is a great choice for a number of different types of travelers, making it very well rounded indeed. Guests cite over and over again how nice the rooms are, both the overwater and land rooms along with how clean the beach is and house reef snorkeling. The food is also given high ratings along with the staff.
... Exceptional, Excellent place for a summer vacation, yes, it really is beautiful, Nice, Amazing place to spend a vacation of your life time with your whole family, The best holiday ever with our kids, Superb, Paradise on Earth, Amazing resort with lots of water sport activities to do. Staff were great and food was good, Incredible experience in an amazing place. Highly recommended, One of our most enjoyable Trip. Our compliments to the management of Reeti Farru, Excellent location excellent staff excellent views, Perfect get-a-way for couples and divers ...
What's Guests Love
a great location
wonderful barefoot island
Well maintained property
the waters is that beautiful shade of blue
The staff is very helpful and friendly. Excellent services
The beaches are fabulous and the sand is white and it really is truely fine.
The accommodations is fantastic. Beach villas are great for the extra space and your own private space on the beach, together with some shade
the overwater villas are the most luxurious
Varied and delicious food in the main restaurant, attentive staff, there is always a variety of vegetarian food.
The house reef snorkelling is exceptional with turtles, rays, sharks, moray eels and thousands of colourful fish.
Watersports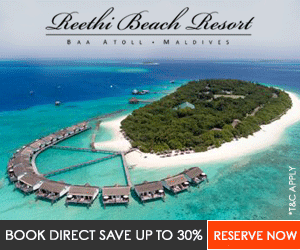 What You Need to Know
Choose from a wide range of exclusive Maldives resort PACKAGES with Reethi Faru Resort
View the Safety Protocols
The transfers from Male airport to the property via domestic airplane and the speed boat take a lot of time. A Good advice: to take seaplane insted of a domestic flight + speedboat. It costs a bit more, but you will save a few hours that you can spend on the beautiful beach and especially will save yourselves the unpleasant 1-hour speedboat ride.
Check-in from 14:00, Check-out before 12:00
all children are welcome
Island is really green, there is bush everywhere, various of palms, trees and flowers
there is a lot of places along the island suitable for kids to play in the water - sandy shallow with no corals, mostly without waves and without sting rays hidden in the sand
The beach villas are spaced apart, it's make you feeling that you alone in this amazing island ( even the hotel is almost full )
Happy hours are good between 5:00-7:00pm daily, 20% off all drinks at all bars
The area is cleaned several times a day and the white sand is thoroughly cleaned
There is spa with pool with beautiful see view , there are yoga lessons also, massage
Reethi Faru, Bio Luxury Resort has been ranked to a Top 10 finalist of the 'Best Sport Tourism Destination Campaign of the Year' at SPIA ASIA 2019
Doctor available 24 hrs
Reethi Faru Resort has introduced in-house coronavirus testing service. The test will cost $150 per person, and will be available for guests who are required by the airline or home country to provide a negative PCR test result.
Time is set an hour ahead on the resort. This is reported on the resort itself, your phone, computer change time ones in Malé.
There is live music some nights
No USB charger points in the room
The high fees, 23% of everything you buy
Check Availability and Prices in Reethi Faru, Bio Luxury Resort
Maldives Luxury Guide
Here's the best of Maldives for luxury travellers. We've compiled the finest recommendations of places to stay, ranging from the most celebrated five-star resorts to luxurious private islands Read More
Maldives Romantic Guide
The ultimate 'flop and drop' and honeymoon destination, the Maldives is the playground for the most amazing and finest utilization of each second of this extremely valuable and hopeful time with each other in tota Read More