Robinson Club Maldives Adults Only
Best Experience: Couples, House Reef Snorkeling, All Inclusive
Updated March, 2023
Robinson Club Maldives Adults Only is all-inclusive resort set on a beautiful island in the heart of the Indian ocean with amazing blue waters and white beaches — all the ingredients for your perfect honeymoon.
Located in Gaafu Dhaalu atoll a remote southern part of the Maldives, the 4-star resort occupies its own private island and offers 121 beach and garden bungalows and over-water villas with living areas and terraces. Most have big outdoor bathrooms with separate soaking tubs, while others come with private infinity pools offering panoramic sea views. Food gets excellent reviews from guests, and Sundowner Bar is a favorite for afternoon drinks on bean bags placed along the sand. Surrounded by greenery and a big wooden deck offering sea views, the pool is another property highlight. With an amazing house reef snorkeling, a wide range of activities and programs, excellent entertainment options, this is a great all-inclusive pick for couples, but keep in mind that getting there requires a 70-minute domestic flight from Malé airport followed half-hour speedboat transfer.
The Island
It definitely is a long trip; especially the waiting time from Malé to Kaadedhdhoo airport. Once you arrive at Male airport, you must take a lengthy domestic flight and then a long, sometimes bumpy speedboat transfer to the Robinson island. The domestic flight (rather than seaplane) means transfers can happen after dark, and may explain the number of Asian guests who have discovered the island. Guests of the Robinson Club are welcomed in Male Airport and escorted to the lounge that is a large air-conditioned room with some food and drinks. However you will most likely be left in a "lounge" for 2-3 hours for waiting boarding but once you've set foot on the island ... it's paradise! 
The resort's grounds cover the 107,000 m² of private island in the Gaaf-Alif Atoll about 60 km north of the equator, the resort is surrounded by a spectacular, almost untouched coral reef teeming with fish life. Robinson Club's island name is Funa Madua and there should be 'smile' as well as 'fun' its name. The island has many tall palms lining its shore and a wide, deep and soft beachbeach without a wall orgroyne. There is a small but sufficient clear swimming area. Snorkeling is excellent and easily reached (the resort's house reef is 20 to 200 m away). DOWNLOAD RESORT MAP
Opened in 2009 and renovated in 2013 (floorings, jetty and terrace rebuilt), 2015 (jetty rebuilt with 20 additional Lagoon Villas with Private Pool), the hotel is overall in good shape and decor is pleasant without being luxe, drawing heavily on wood furniture with clean lines and local architectural elements and building materials. All paths are fenced with short wooden boards, coconuts and beautiful plants. After renovation the paths' lights are changed to new bright ones, so now it's easy and safe to go in the night time anywhere. The only blemish to a perfect resort island is the vegetation in the middle of the island that was cleared quite unsympathetically for the buildings. Today very big work was done by gardeners to replenish the plants and flowers. They put a lot of new plants, trimmed big trees, took care about sand on roads. In the middle of the island a garden with exotic tropical plants was landscaped. Evidently, environmental matters are taken seriously across all the Robinson Club properties and here a permanent Environment Officer is assisted by 2 other members of staff. We are sure in some years it will be the most beautiful part of the island. It's a lot of work else to be done of course, but the changes are noticeable from the first look.
This is a barefoot place but the buildings are a bit straight and strict as Robinson Club had to finish a half-completed resort. The built environment doesn't have a natural, cosy, thatched feel but you would rarely remember that as you fill your days with good memories. Designed for couples seeking a relaxing retreat, the island's vibe is quiet and peaceful, with just some fitness and wellness classes during the day, live music in the evening, and no kids.
Very familiar to Germans, who make up some 70% of the guests, the Robinson Club style has been adapted to the Maldives to create a really great product on a near-perfect island. The Robinson club concept is to mix different nationalities people, and it's great because everyone feels easy and comfortable chating to each other, staff encourage people to seat together at the meal times at big tables and have conversations. And it really works! Every 3d day or so is seeing decent party night, everyday about 11 o'clock is free snorkling/canoeing with guide. If you like yoga, it's well organized too. Expect 60% asian people and 40 % european people, but the summer time sees more europeans are there.
The resort produce all it's own drinking water and water for showers etc. on the island from ocean water. If you're usually fussy about the taste of water and hate anything that has a hint of a chemical taste - the water here is amazing and in abundance. Even though the place is been there already more than a decade, amazingly, all the wood in the villas, walkways etc is like new - you don't need shoes to walk anywhere and not a single splinter. Even the sand-bags used are of a special technology that allow coral and marine life to grow on them and become part of the natural environment.
Although it is true to say that staff make a resort, there are not many companies that have a clear philosophy of service and high standards that all staff buy into, but at Robinson Club it seems to be the case. The staff at this resort are so friendly and helpful and really do their best to help in any way they can. From front desk, waiststaff to diving Instructers etc everyone is lovely and importantly, is calm! Smiles and an easy air of helpfulness pervade the resort, from the boat crew to the General Manager serving at the pasta counter. The whole team there (around 250 staff) is like one big family, speaking every language under the sun.
Location
Gaafu, or Huvadhoo is not only the second largest atoll in the Maldives it is also on the list of the top 10 largest natural atolls in the world. Gaafu Alifu is personal favourite atoll for many visitors, thanks its ideal round islands in the interior and its storied inhabited islands around the edge. One such inhabited island is Gaadhu, which produces the best grass mats in the world, it's neighbour is Gan, which has the ruins of a Buddhist temple lost in the jungle, and another is Fiori, which grows yams and the grass for the mats and has one of the country's best surf breaks. LEARN MORE
The resort's location is great for those wanting to get away from it all and immerse themselves in a remote island experience. Funamadua Island, Gaafu Dhaalu Atoll, Maldives. 70 minutes by plane from Male to Kadhedhoo Island and 30 minutes from there to the resort by speedboat.
Bungalows and Villas
The resort has 121 rooms, all housed in stand-alone bungalows that are either built on land or on stilts over the water. There is a total of seven room types ranging from Economic Bungalows and Garden Villas which have garden views and are the smallest at 90 sqm to two-bedroom, 240 sqm Presidential Suites with private infinity pools and direct access to the sea. Every accommodation option has its own benefits but the rooms are practical rather than spectacular. The Garden Bungalows are closers to the "Water Sports" and have outdoor showers, the on-beach bungalows have their own beach-beds and and on-water huts have an amazing view. Overwater bungalows have the glass floor so you can see stingrays, sharks, and needlefish passing beneath. The bungalows are situated so that the back decks are completely private with sunset views. There is also a shortage of beach chairs for those in water bungalows who wish to laze on the beach.
In-room amenities include coffeemakers, flat-screen TVs, minibars, DVD players, safes, and air-conditioning, and all rooms have outdoor spaces, offering either direct access to the beach or the gardens, or panoramic sea views and steps to the water. Some Lagoon Villas and Presidential Suites feature private infinity pools overlooking the ocean. Most rooms have large open bathrooms with separate showers and tubs, while the rest have spacious bathrooms that in some cases open directly onto the terrace and the sea.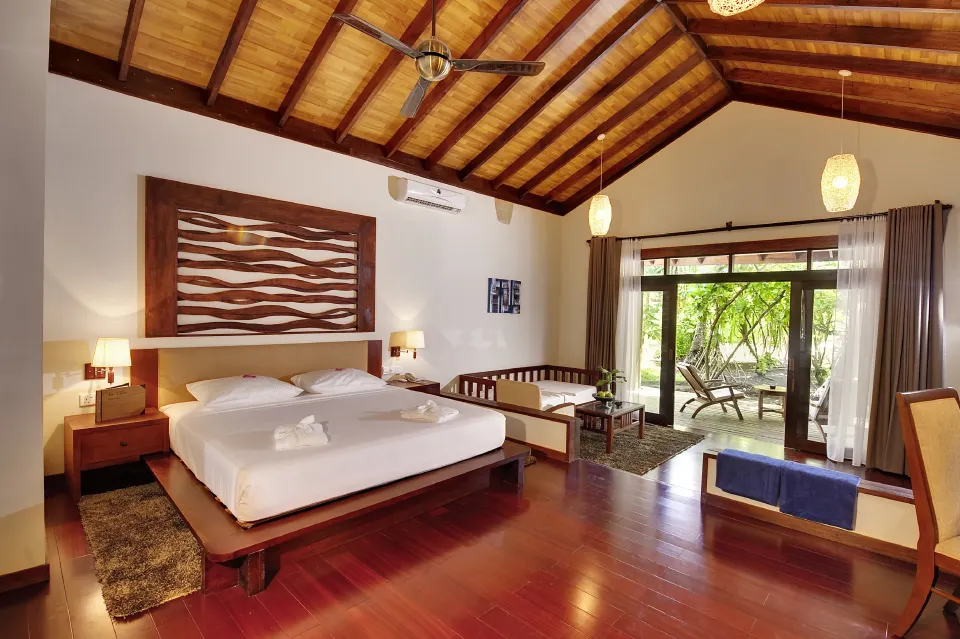 The Garden Villas are the first to be booked out. Size and status of the room is not what Robinson Club is about, it is other aspects of the holidayholiday that are emphasised here. Nonetheless these are good rooms with similar interiors to the other categories. Though a little smaller and with only 1 basin, they are more open than the other villas and have good privacy.
If you can not chose between beach villa and beach bungalow they are almost the same. Beach nearby bungalows seems more soft and beautiful for our taste, but nearby beach villas beach is wider. Opposite rooms 1315-1325 it's the widest part. Chinese people seemed to like beach bungalow more and stay mostly there for the whole day. Garden Villas are tucked away amid lush greenery in the central part of the island. Indoor common spaces are all housed in open pavilions with thatched roofs, and the lobby, with its sand floors and steep pitched ceilings, sets the mood for a peaceful, upscale Maldives experience.
After last renovation a wooden terraces in all villas and bungalows were changed to new ones, inside rooms floor were changed from wood boards to ceramics too. Stairs from bedroom area to living area are lighted up now for safety purposes. Bathroom garden is kept in perfect condition! All furniture are in good condition, bed's very comfortable. A small rail is placed on the wall outside so you can keep and dry your wet stuff. Island laundry works perfect, bath towels are replaced daily, every time spotlessly white and soft. WIFI available in many public areas and in some bungalows. Netbooks available from main bar.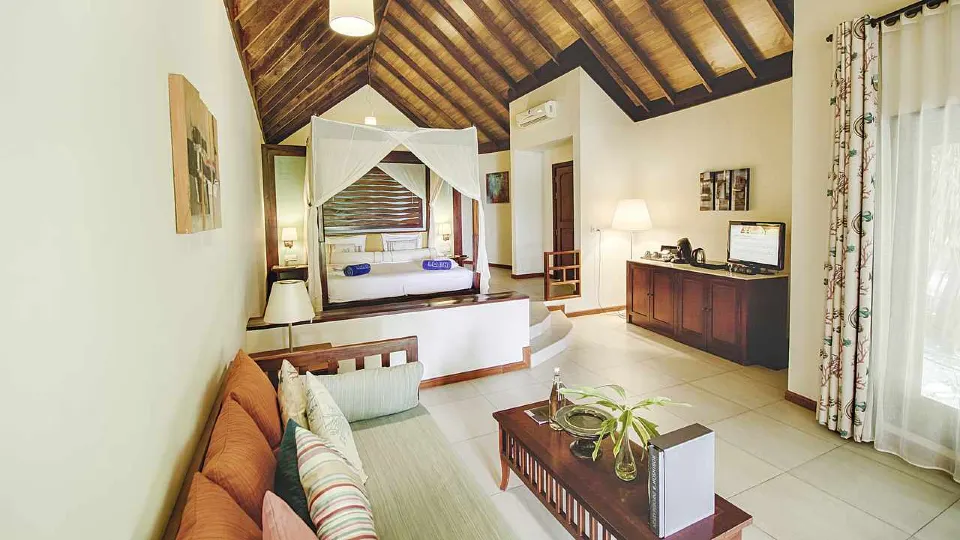 The Lagoon Villas (115 m2 ) are fairly large and have big, private decks from where you can swim to the reef drop-off. Their bathroom is smart with a minimal fuss design and a bath tub that looks out over the deck to the sea. The villas offering exceptional level of privacy so that you can literally have everything without the need to go outside, and they are cozy and spacious.
The Lagoon Pool Villas are relatively new, very comfortable, clean and well-appointed. It offers a private deck, plunge pool and outdoor seating, as well as an indoor and outdoor daybed and a freestanding massage bathtub.The guests have direct access to the crystal clear ocean from the room, with an abundance of sealife to snorkel above, on the "house reef." Snorkeling equipment is free of charge which is good if you snorkel every day.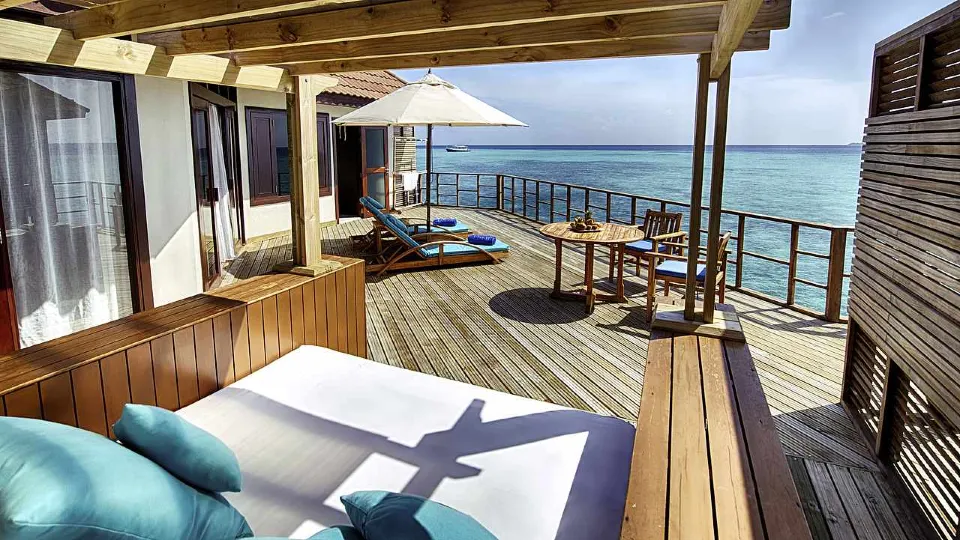 Wining and Dining
Food gets great reviews for freshness, taste, and variety from the starters and appetisers to the main meals and dessert selection.. There are two restaurants on-site: a buffet serving all three main meals, and an a la carte eatery open only for dinner. Even among the great buffets laid out each day in the Maldives, these are stand-out spreads. If you are a foodie, this is the place for you! The food is amazing - both local Maldivian dishes, Indian, European ... amazing breads, and other Asian food to suit the palates of all of you. At breakfast, soft music eases you into the day as a waiter offers you espresso, macchiato, cappuccino or filter coffee. There is a huge variety to choose from during the day, for dinner the menus change on a daily basis, ensuring that your stomach never gets bored. It's very impressive and goes from there.
Stunning views of coral reefs and beautiful beaches provide the backdrop for exelent dining experience. To create a social environment the dining room has been designed with tables of 2, 4, 6 or 8 people where sun-seekers from around the world can meet, and high standards are maintained through breakfast, lunch and dinner. Guests who prefer privacy can enjoy meals at the two and fourseater tables. Guests sit with guests, management, guest relations and other staff sit wherever. There are introductions: acquaintances made and holidays enhanced. This is a German resort and majority of the European guests are German. Hence, sometimes, be prepared for a stampede towards the tables as the floodgates to the restaurant open.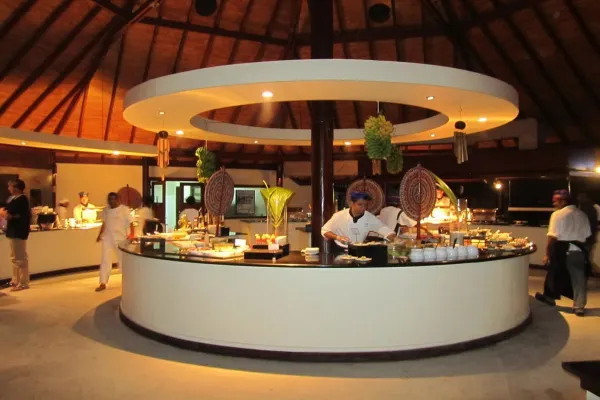 All guests are all inclusive plan which is very good, anything on top of that is expensive but we believe taxes are high there. The all-inclusive package covers all buffet meals, late breakfast, weekly gala nights, and all drinks except spirits and some wines. Drinks are not only free at meal times but the waiters come around to make sure you are topped up with beer, wine or whatever you are drinking. Wine from Argentina, service is superb, the staff is friendly. For chargeable items, the room key acts as a credit card. An excellent system as things gets logged onto your bill immediately and without fuss.
The Sundowner Bar is a guest favorite for sunset drinks, with bean bags on the beach, panoramic views, and a good drink menu. The bar is large and sociable but also has areas where you can go to play table tennis or pool or sit quietly. One area, Zero 32, is a small library that is superbly stocked with huge, hardbacked Taschen books on subjects as varied as parrots, Japanese prints, great cities and antique maps.
On the 'you're going to be bored after one day' topic - not a chance. They schedule activities and events each day where all the staff take part in running - whether it was 'jungle party', daytime 'pool side aperitif' (daytime pool party with free cocktails, games and a slack line across the pool) or 'casino night' where their club is done up like a casino with roulette, blackjack and poker and each guest is issued with $365 in 'play chips' - winner at the end of an hour wins cool prizes, or a '5 course dinner by drum beat'. There is also a movie night and a White Night, where everyone dresses up in white and feels special. The club concept is there but it is toned down for the Maldives. Unlike other 'clubs' that are known for their activities, the team at Robinson never force to you to attend or participate in anything - if you do decide to go, you're always welcome. A programme of activities and entertainments is put in each room at turn-down service and is available also at reception, the dining room and the bar.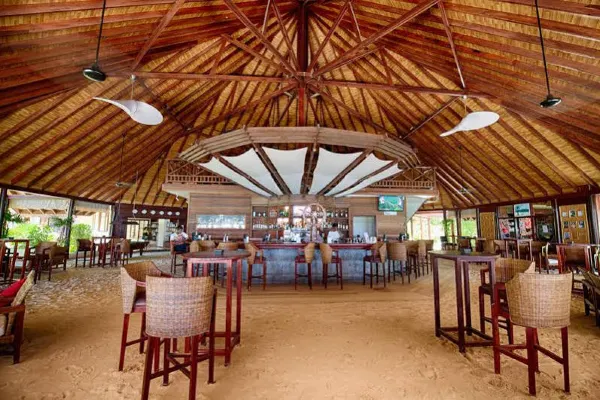 House Reef Snorkeling
The House reef is beautiful! Feels like swimming in a huge aquarium. You'll snorkel every day and always something new to discove including sharks, turtles, fish, rays and dolphins. The island is surrounded by coral reefs, but today some guests have said that the coral has suffered some damage in the last few years.
The snorkelling gear is free for the duration of your stay - which is great, especially if you stay in water villa built metres above the water had steps leading straight down into the water where you can swim and snorkel at your leisure.
There is the widest enter/exit to the corals in front of beach bungalows so here the easiest acsess to the house reef drop off. All exits are marked by poles with flags. Every part of the house reef is beautiful and interesting, but the most favorite places are shark coner nearby presidental villa and the part from the jetty to room 1315.
Activities and Pampering
Water-based activities abound! Snorkeling, diving, surfing, sailing, stand-up paddling, water skiing, and kitesurfing are just some of the options. Keep in mind that the full board package only applies to food, so many activities and water sports require an additional fee. Snorkelling is the popular activity of this club, however anything else such as kayaking, paddle boarding, diving, boating (etc.) is not included. These activities are highly priced. The diving "refresher" is (highly) priced like a lesson/training, but certainly was not that in reality. Shows, themed dinners, game nights, and pool parties also keep things lively at the resort!
The pool is large and pleasant, with a small swim-up bar serving drinks, tons of greenery around it, and a long wooden deck overlooking the sea. Massages, body treatments, and salon services are available for a fee at the spa, and the fitness center offers an array of cardio and strength-training machines, as well as a sauna and yoga, Pilates, and meditation sessions. Personal trainers are available for a fee.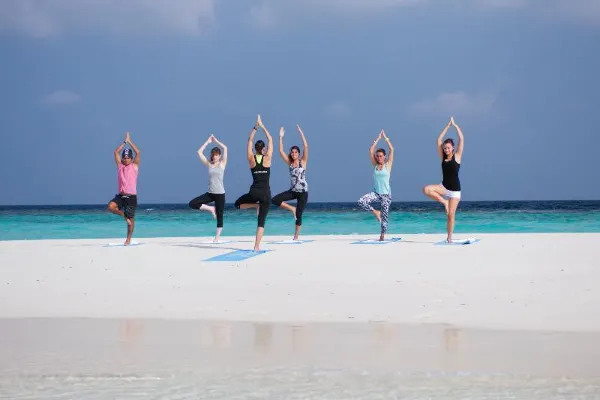 Reviews
So what make us come and come again? It's the very special atmosphere. It's just make you feel at home from the first step on the island to the last minute when staff members waving you goodbye. The very personal treatment, honest concern, unobtrusive care, jokes, laugh, fun, meals together - all of these just make your holiday! There are a lot of islands where honeymoon concept prevails, but very few islands can offer you feeling of family, like they were waiting just for you. If you usually make friends in every holiday, if you think maldives vacation can be more than simple sunbathing, if you want some new emotions, don't hesitate it's the right place for you to go.
Reviews for Robinson Club Maldives are overwhelming good, with high praises at every turn. The house reef in the lagoon itself receives rave reviews from nearly everyone, suggesting that this is one of the finest diving and snorkeling spots in the region. The food gets very high marks as well, which is encouraging for a resort that specializes in all-inclusive packages. At least one person commented that the live music on the beach makes sleeping difficult, but no one else seemed to mind. Rooms are detailed as clean and airy.
Pros: What Guest Love
Beaches
Adult-only, all-inclusive resort on private island surrounded by coral reefs
The staff
Spacious bungalows and overwater villas
Most units have outdoor bathrooms and either direct sea or beach access
Lagoon Villas with private infinity pools overlooking the sea
Big swimming pool with bar and sea views
Spa Massages
Excellent food both at the main buffet and a la carte eatery
Great beach bar with sunset views and bean bags
House Reef snorkeling
Gym with sauna and group yoga classes
Deep Breeze Dive center
What You Need to Know
Robinson Club Maldives is located in Huvadhoo atoll. Please note that the property is only accessible by Domestic flight takes 70-minutes from Male International Airport to Kaadedhdhoo Airport (KDM) then a 30-minute speedboat sea transfer to the island.
Check-in from 15:00, Check-out before 12:00
for guests aged 18 and over only.
the island has an hour ahead time difference from Male
The mostly staff only speak in german although there are a lot of asians and non-german people on the island.
Some outdoor bathrooms could use an update
Fee for all non-motorized water sports (except snorkeling)
Sparkling wine and spirits not included
You are limited to 2 or 3 bottles of drink water per day in your room. It is strange to be rationalized on such an elementary thing as water, especially in an All-inclusive
A lot of "extra" is out of the All-inclusive formula, and it could explain the "dead atmosphere", as the real service seems reserved to guests who would pay even more than they already did.
If you stay in a Water Bungalow you are a part of the night entertainment, whether you wanted or not. We don't know how is the situation in the bungalows facing the other side, but we can guess that the sounds are all very audible in bungalows standing on your row.
That included alcohol is no branded
For something even closer to Male, consider the Sheraton Maldives Full Moon Resort & Spa , which has cheaper overwater bungalows and free non-motorized water sports.
Travelers seeking something truly high-end in the same area as the Robinson Club may want to compare rates at the Raffles Maldives Meradhoo.
Maldives Luxury Guide
Here's the best of Maldives for luxury travellers. We've compiled the finest recommendations of places to stay, ranging from the most celebrated five-star resorts to luxurious private islands Read More
Maldives Romantic Guide
The ultimate 'flop and drop' and honeymoon destination, the Maldives is the playground for the most amazing and finest utilization of each second of this extremely valuable and hopeful time with each other in tota Read More