Shangri La's Villingili Resort & Spa
Best Experience for: Couples, Families, Spa, Golf, Diving
September, 2020
Shangri-La Hotels and Resorts has announced the closing of the only island resort of the brand in the Maldives indefinitely. In a memo, the GM at Shangri-La's Villingili Resort & Spa, told his staff that the owners and management were unable to find any way to restart operations after the suspension of operations in April in the wake of the coronavirus pandemic. The resort will cease its operations indefinitely and all employees, except a few needed for the general upkeep of the property, will be made redundant, he added.
Located to the south of the equator on Addu Atoll, Shangri La's Villingili Resort & Spa, Maldives is an ultra luxury resort. A very unique 5*-star hotel in the Maldives, a private hideaway in a world of its own, Shangri-La's Villingili Resort is the perfect setting for couples, with its secluded location as part of the Maldives southernmost atoll.
The lush vegetation, acres of coconut palms and 9 hole golf course sets it apart from every other Maldivian resort. With 143 rooms, 9 different types of accommodation, Shangri La's offers many options, and something for all kinds of travel, where there is plenty to choose from. The most "small" have an area of 133 m2, while the more spacious, unique Villa Laalu, reaches 952 m2! Luxury villas, devoid of any flaws of beauty reign surrounded by tropical gardens or on a golden beach, or over the translucent waters of lagoon and even this is completely new - in the trees!
Beyond luxury villas the resort offers many options for water adventurers, such as turtle-quest snorkelling, diving to a unique shipwreck site, surfing with half a dozen great wave setups or parasailing for a bird's eye view of the island. Tropical 'havenists' will also find their own piece of paradise in the unique flora and fauna that can be explored while cycling around Villingili's jungle and coastal pathways or while playing on the only golf course in the Maldives. Couples can also enjoy a range of cultural experiences like no other in the Maldives, with guided tours of the neighbouring islands of Addu atoll, visits to the local farms and samplings of Maldivian cuisine.
The brightest gem in the sparkling waters of the Indian Ocean, Villingili island is a haven for those seeking true romance. As if it was meant to be, the resort is located in the heart-shaped Addu atoll, just a five-minute boat ride away from Gan International Airport.
The Island
When taking a domestic flight from Male, your Shangri-La experience starts at the airport where you are met by Shangri-La personnel, taken to domestic terminal to check in, and then escorted to the Moonima lounge where you will find plentiful seating, a small spa, refreshments and small selection of food/snacks.
Once your flight is ready for boarding, you will again be escorted by Shangri-La staff to the departure lounge to board your Dash 8, propeller plane for the flight to Gan. Don't be surprised if you are the only holiday makers on the flight, as was the case for us. During the flight, you pass over the equator- this is announced during the flight and Shangri-La guests presented with an Equator Crossing certificate, which is a lovely little touch.
On arrival at Gan, after collecting your luggage, you are met just outside the building by Shangri-La staff who immediately relieve you of your luggage and escort you to a nearby waiting vehicle to take you to the dock, which is literally 200 yards away, to board the speedboat. We were given life jackets to wear and refreshing cold towels. On approaching Villingili, the water changes colour from a deep blue to the most amazing turquoise, and you can see coral and fish swimming in the crystal clear water before even docking.
Set in the very south of the Maldives, this fabulous and stylish property combines beautiful beaches with both local and British military history. It took a lot of confidence to take on this huge island and turn it into a super luxe resort. Shangri-La has used its experience in the Far East to bring something familiar yet distinctive, grand yet easy-going. Villingili is 30% bigger than the previous 'biggest resort island in the Maldives', Soneva Fushi. It's so large that different parts of the island have been given names. Serenity Bay has 2 water villa jetties with 20 villas each, while Whispering Palms has another 20 water villas and a number of beachbeach villas. In between these 2 is The Village. The natural, dense vegetation of the island sets it apart from many other resorts in the Maldives - the island has 12 hectares of lush foliage, towering banyan trees, 17,000 coconut trees, 45 species of plants, three natural lagoons and nature trails for guests to explore.
If the names of the first 2 regions don't quite ring true, The Village describes closely what it is. Here are little white roads curving around and between the shops, eco centre, divedive centre, health club, medical centre, tennis courts, childrenchildren's adventure centre, reception and main lounge. And just along the road is the main restaurant, Javvu, facing the sea and adjoining the swimming pool and watersports centre. DOWNLOAD RESORT MAP
Shangri-La's Villingili boasts a spa, a dive centre, watersports centre, tennis, gym, private decompression chamber, eco centre, 24-hour business centre, child care, florist, photo processing service, wifi internet, business centre, medical centre.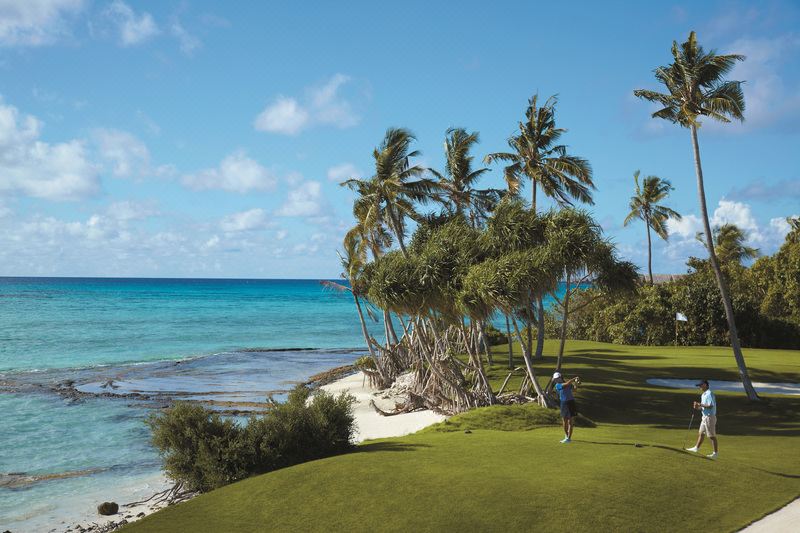 When you arrive the first thing you notice is the size of the island. Everything is huge, bold and beautiful. The landscape is breathtaking and the warm welcome from the resort's team and your butler is very welcoming. The 3km long island is absolutely gorgeous, from the jungle to the pristine turquoise beaches, from ocean side to lagoon side. The hotel takes up the whole of the island, which is great! On one side you have huge crashing waves and strong sea breezes coming in from the Indian Ocean, swimming is strictly forbidden here. On the other you get calm waters, light breezes, beautiful white sand beaches, and lifeguards looking out for you.
Walk or bikes are provided or buggies if your prepared to wait to be picked up, it's no biggie, but something to consider. We have called for a buggy a few times and never been a long wait or an issue. Bikes are very handy and used regularly. You get bikes with your villa so you can pootle round - it takes a nice 20 mins to cycle the whole resort - at a holiday speed I should say.
It's worth doing this because you will find several little areas they have created for you to enjoy, like the star gazing platform and the area on turtle beach to sit and watch the waves. I would point out that if you cycle at night, you do run the risk of being poo-ed on by the huge fruit bats that live in the trees. I experienced this on our first night, and it lead to quite a fun game of "risk" with the bats. Luckily if careering in wiggly lines down the road as fast as possible in order to avoid bat poo isn't your thing there are lots of golf buggies to ferry you around, you just call them from your villa and they will whisk you to your destination in safety. We stayed in the Whispering Palms area, and for anyone in the overwater villas - after dinner walk up and down the jetties with a torch. If you are in the same area as us I can guarantee you will see several really big turtles coming up to eat the sea grass. We were in Villa 120 - and from there to the end of that jetty we saw them every night. It was really special.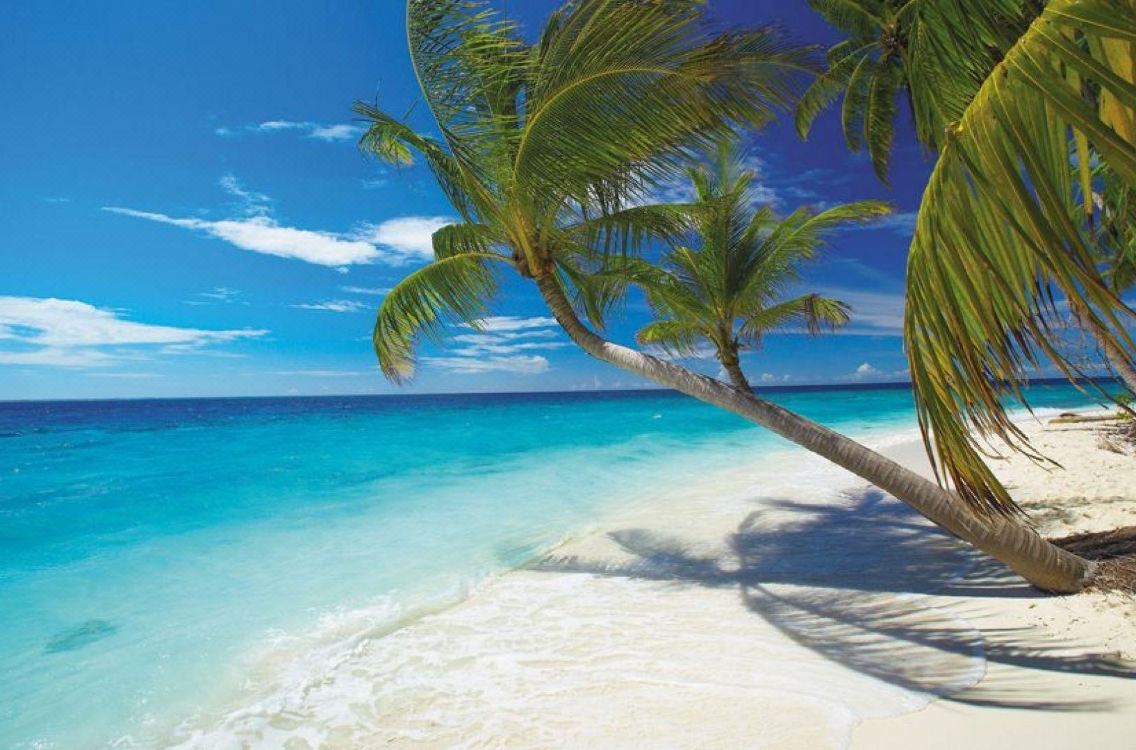 Built 10 years ago at $150m USD - 70% Chinese (Shangri-La Resorts) money and 30% Maldivian Gov money, Shangri-La Maldives has a range of 132 villas, most over water, others on land facing either the reef or the Ocean, including two Presidential Villas. The island is notable for having the highest natural elevation in the Maldives, Mount Villingili. Which happens to be the eighth hole on the only golf course in the Maldives as well, it peaks at 17ft AMSL.
There is even a coral garden to encourage the regeneration of coral, and you can even take part in helping them plant it. The island is kept clean and tidy but has such a natural feel, unlike other resorts in the Maldives where sometimes you feel they are too artificial, even though beautiful. There are not enough words to describe the beauty of the landscape in Shangri-La. Greenery to die for, perfect places to swim, with some nice sea life and stunning beaches.
The resort has many different areas to hang out. The action is centered around the beautiful bar, where one can sit at sunset and enjoy happy hour cocktails and watch the beautiful colors of the Maldivian sunset. The pool area has 6 pool cabanas on a first come first serve basis. They even provide you with an eski filled with ice and water. There are also plenty of lounge chairs on the beach. The pool bar is nearby, however, I would have preferred if they were more active in coming to seek out orders, rather then you having to go to the bar and order - even though they did deliver.
Shangrilla is amazing, a perfect island holiday with the most beautiful reefs, fishes and lush greenery everywhere. Surrounded by a striking coral reef, this boutique-style all-villa resort is home to more than 17,000 coconut trees, over six kilometres of picturesque coastline and 2 kilometres of white sandy beaches. The beaches and the resort are well maintained by the numerous staff constantly sweeping and gardening on a daily basis. Every morning the seaweed on the beach is swept and removed to maintain the picture postcard view.
There are 3 different areas of over-water villas on the Island, Whispering Palms, at the north-east, where you will also find access to the house reef for an amazing snorkelling experience, and 2 separate area's in serenity bay, the furthest ones also being near the entrance to the golf course. To the east side of the Island, you will find Fashala, the stunning fine dining restaurant, as well as many villas dotted along the shoreline. To the south side of the Island, overlooking the more rugged shores, you will find the tropical tree houses, Dr Ali's Asian restaurant and the wedding pavilion.
Plenty of very polite and cheerful staff, 600 staff in all – 150 gardeners alone, who all look very happy to be here. Management team including the GM, Philippe, his management staff led by Mei, and the Executive Chefs all take a very active, visible and obvious interest to see things are as to be expected. It's great to see and seriously, nothing is too much trouble for them. Every staff member, from the hotel manager ,chefs and waiters and waitressers were most accommodating, friendly and helpful at all times. You only have to make a request or comment on anything overlooked, and it would be taken care off.
A mix of guests from all over the world, no dominate geographic or age demographic.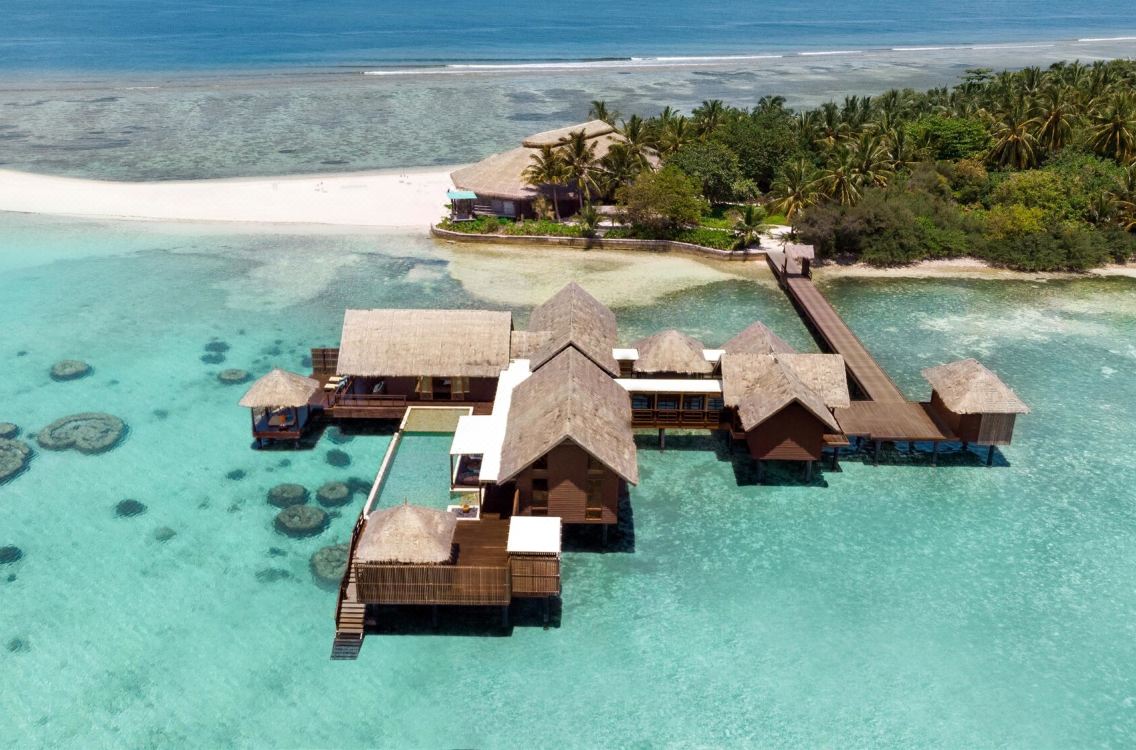 Location
Addu City also known as Addu or Seenu atoll is south of the equator being the southernmost atoll and an exclusive destination for a retreat in style in Maldives. Addu Atoll, is steeped in history and culture, home to remnants of the British colonial endeavour, a unique dialect and some of the country's most esteemed scholars and businessmen. Now more commonly referred to as Addu City, it's the country's largest population centre after Malé. Read More
The resort is a 70-minute flight from Velana (Malé) Int. Airport and an 8-minute boat transfer from Gan Airport to the resort. The Gan International airport (built by the British as an air base/staging post over 60 years ago but handed back to Maldivan Government in 1976) You can fly to Gan direct from Sri Lanka (a very recent addition, making it a great twin centre trip with Sri Lanka), or take a domestic flight from Male, which takes around 100 minutes, sometimes with a stop off at another Atoll en-route to drop off and pick up passengers.
Villas
As befits a luxury resort on a large island, all the rooms are suitably large and well concealed from each other. There are 80 land rooms, 60 over-water rooms and 2 enormous Presidential Suites. Of the beach villas, 20 are twinned for friend or familyfamily use. And this is a good resort for familiesfamilies, with facilities for young children and teenagers. All villas are beautifully built and furnished. The toiletries, amenities, facilities in the room are top notch, and at par with the best hotels in the world. All rooms include: 40 inch LCD TV, Bose DVD player, wifi, iPod docking station, open air and indoor showers, oval bathtub, phone, safe, Nespresso machine and minibar.
The decor of the rooms is very refined, made for travels in Asia, shorter ... everlasting. Typical furniture from India and the Middle East, fabrics in warm colors and everywhere ... traditional elements do not conflict with design features. Villas that are not on the water provide, between coconut palms, stunning views of the ocean, from the terrace, an open bath or patio area, ideal for dinners under the stars
These brilliant caches for high society (by the way!) offer a fantastic performance and at the same time a pleasant feeling for their owners to no longer touch the ground (literally and figuratively) hovering between the sky and the sea. Close your eyes and imagine yourself standing on a huge terrace overlooking the horizon in shades of blue. Intense! What intoxicates the most satiated luxury travelers? For individual service, each villa is assigned a butler, as it is now fashionable to do in 5-star luxury hotels in Maldives.
You come in through an ornate doorway, you are met by your butler and led up the stairs to the deck. Then you exhale a Wow! The pool, sunken in the deck, looks right out to sea. On one side is your lounge, on another side is your bedroom, cloakroom and bathroom. Both richly featured and furnished. And the sound is not that of a distant rumble off the reef or a quiet lap on the shore, but a crunch and gurgle on the rocks below, a sound I've not heard from a resort room before. It is a more immediate sea feel, enjoyed from the raised comfort of your private hideaway.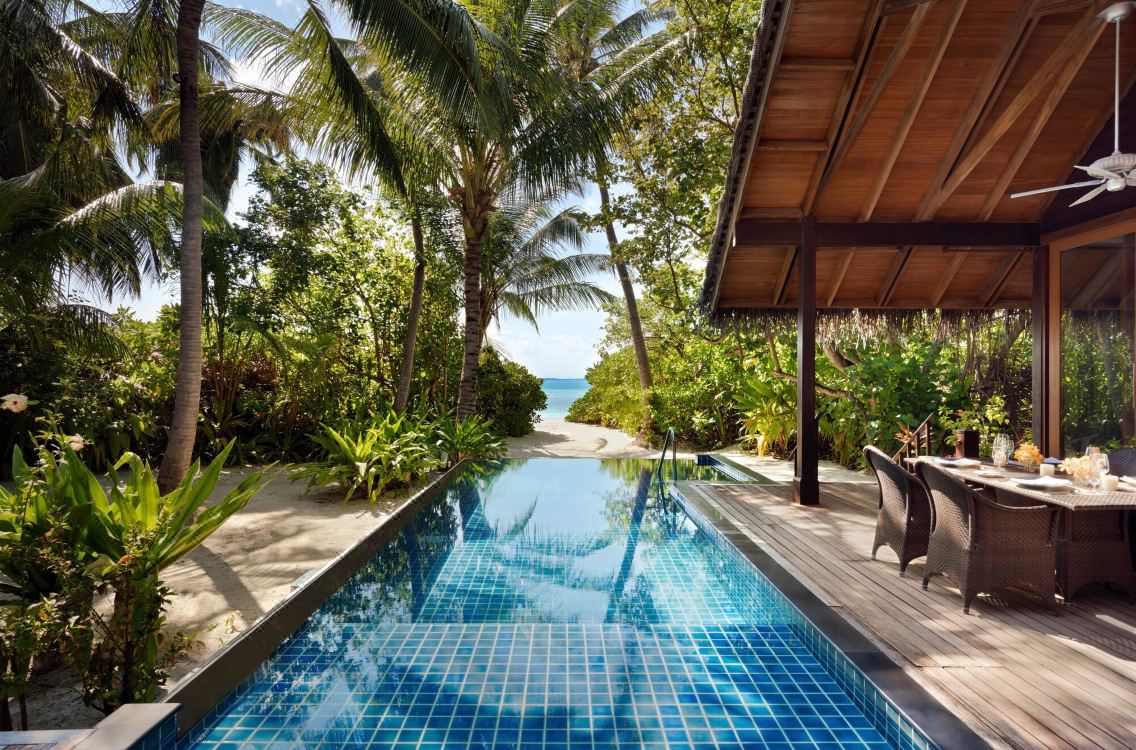 For the ultimate luxury experience, Villa Muthee, is the epitome of tropical refinement. The presidential villa nestles in its own luxurious environment with its private walkway entrance, a spacious deck with a private infinity pool and direct access to the ocean, a separate living room, yoga pavilion and even its own spa treatment room to let guests relax without leaving the villa.
Beyond Villa Muthee, the resort offers an extensive choice of accommodation, such as the unique Tree House Villas, Perched on stilts among the emerald green treetops, the villas offer intimate settings with marvellous views of the ocean and a large deck with its own private infinity pool. For true ocean lovers, the Water Villas, positioned over the lagoon, offer the perfect seascape for those who cannot resist slipping into the aquamarine waters teeming with tropical marine life. These open and airy villas come with overwater hammocks for languorous lounging.
I can only speak about the Overwater Villas in detail here. We did cycle/walk past some of the others - and actually walked through one of the vacant beach villas on our way to our private beach dinner. If privacy is your thing, I'd say the Treehouse Villas will be your best option - very private, on the Indian Ocean side and with pools. You can't even peek in as you cycle past (I tried so I know). The beach villas will be nice for families - but aren't as private. These you can peer into as you walk past on the beach, lucky there won't be heavy foot traffic though! The other thing to note about the beach villas is that the majority of them looked very shady - which will be what some people want, but if you're a sun lover maybe ask in advance for one that has lots of sun on the pool.
The overwater villas are lovely. They are spacious and each balcony comes with a net across the water so you can see the fish swimming under you. My favourite pastime was lying with a book and a cold beverage on the net, spotting turtles. You can swim out directly from the villa and my husband and I regularly went off snorkelling from there. Apart from the net, my favourite thing would have to be the electric blackout blinds. HURRAH! I love these. Not that you really need them, as there isn't much light to block out, but still - a nice touch.
The beds are quite squishy, so if you have a bad back you may have some issues, but other than that very comfortable. They also have a very extensive pillow menu, which I kept forgetting to order from, though the lavender one sounded lovely. The privacy here isn't great - not least because the people in the room next to us kept trying to fly a drone around the area which seemed to always coincide with when I was using the outdoor shower. On the outdoor shower – it is pretty private, however I wasn't sure about the environmental impact of it to be honest. There is a shower base that captures most of the soapy water, however whenever anyone used it, the water around the villa would be a bit foamy so I don't think it got it all. Can't be great for the fishies. Other than that you can hear some noise if people are out drinking/playing music on their balconies or whatever, but we didn't have too much issue with this.
The Villa has a wow factor. It is very large and is well divided into different sections. The fit out is of excellent quality with high ceilings and wooden floors. The nighttime lighting in the bathroom is excellent. There is a huge bathtub and two separate vanities. There are also separate indoor and outdoor showers to cater for all tastes. The resort attempts to be eco friendly and the room has a feature which switches off the air conditioning when the door to the outside deck is opened. Outside there is a two tier deck with plenty of comfortable furniture to lounge around and direct entry into the ocean. Everything you could think has been accommodated for even the essentials such as toothbrush, shaver, women's beauty accessories and also baby products and nappies are provided complementary. The minibar has a wide range of drinks and snacks to choose from. On the first night housekeeping prepared a decorated bed and bath. There is a complementary fruit basket that is replenished daily to help with healthy snacks.
Beach Villas are fabulous, with the most enormous, comfiest bed I've ever slept in, the room has automatic black out blinds which make for a great nights sleep. From the bed you look out onto the Indian Ocean. The deck is very large with outside lounge bed, table and chairs, on the lower deck are 2 loungers and the hammock (my favourite place to relax). Our villa was located in Whispering palms just off the house reef, the perfect place for snorkelling and exploring the reef from your villa. The outside shower was amazing you could look down into the ocean and see the parrot fish swimming by. Each villa comes with its own bicycles these were invaluable for travelling from one end of the island to the other and such good fun!
The over water villas are huge and amazing – on the reef. Dive off your deck into the crystal-clear warm waters. We took a tour through a 'Tree House' and the 'Beach House' villas, all in a similar style to the over water villas' but these two have their own swimming pools – but either of those two could be done anywhere else as well. The over water / reef villa's is why we're here, and after seeing the other two, definitely the pick in our opinion. Getting from our overwater villa, right down near the golf course, to the main resort to eat / drink could be problematic for some, particularly if it's raining. It would have to be a good 1.5 km journey each way. I like the coral reefs in Shangri-la the most as they are huge and lively and really close to villas. They put orange floating balls to locate coral reefs . I think Villa 107-109 are the closest villas to the coral reefs at our side of the island. Not sure about other side of the island .
Restaurants and Bars
There are three F&B outlets on the island - and of course room service and destination dining. The restaurants rotate their openings - so when Javvu is open the other 2 aren't, and vice versa. I'm not sure if this is all the time or because it was off season and not busy. Service in all the restaurants is excellent.
Guests of Shangri La's Villingili eat at three exquisite restaurants: Indian, Chinese and Arabic, grouped under the names Dr Ali's, Fashala and Javvu, where breakfast is served in the form of a beautiful and eclectic buffet. You can also have drinks in three bars and lounges with different atmospheres, Endheri, Manzaru and the famous M Lounge. When the occupancy is high enough, a buffet appears at the Javvu restaurant, usually on monday, wednesday and saturday. Dining can be arranged throughout the island: on the beach, while playing golf, in the garden or at your villa. The yacht is also luxurious, and offers the opportunity to go on a cruise with dinner at the equator.
The food is great with healthy fresh choices in abundance. Facing the ocean and close to the main pool the breakfast buffet that is full of a wide selection of hot/cold foods, fresh fruits, pastries and plentiful fresh juices with generous squeezes of ginger for that extra energy boost is served at Javvu. Mr coconut always ready to hand over a fresh coconut with a big smile! Because of this early overindulgence in chocolate croissants, smoked salmon, poached eggs, Maldivian snacks and glorious plates of fruits the mostly guests usually skip lunch. Barista coffees and juices are also included. One slight downside is that the buffet is rather similar every day, with one or two changes only - however, there was such a wide variety of choices that you could change your selection daily. Lunches have lighter burger, salad, pasta, pizza, asian cuisine and grill. Dinners are more formal and offer many more grilled options - many of which require an extra monetary supplement. We also liked very much the atmosphere of Javvu Buffet evenings, a table in the sand and local musicians in the background. The evening BBQ at Javvu is great, with lobster, fish, scallops, crab, and more on NYE. The special seafood buffet on the Monday night is excellent with plenty of seafood and meat variety.
Our favourite restaurant by far was Fashala. Perched right on the northern tip of the island, it serves modern fresh food, including possibly the best ceviche I have ever tasted. The menu has a range of international styles but are varied enough to suit most peoples palates. The food is sensational we would highly recommend the crab starter and the tuna main course, absolutely delicious. The tables look out over a beach and there are sunken lounge areas and lanterns all around. Just gorgeous and romantic. This is what you are expecting when you come to the Maldives I think, a drink watching a stunning sunset with the sound of the waves around you, followed by a lovely dinner as the stars come out. We have to mention the hotels Sommelier Pauline, she is so knowledgeable and so friendly we would highly recommend her wine tasting evening in Fashala great fun and a chance to meet other wine loving guests. Gorgeous.
Dr. Ali's leads the restaurant selection with three distinctive living rooms that focus on fine cuisine from the Indian Ocean, the South China Sea and the Arabian Gulf that offers a unique Maldives dining experience. Dr Ali's is an interesting restaurant - I think it caters to the Middle Eastern and Chinese clients more than anything. It has 3 menus, Chinese, Middle Eastern and South East Asian/Indian and you can eat outside or inside. You can pick and choose from each so if you have a group wanting different things it's a good option.
Final place to note would be the M Lounge (a bar) - another good option for sunset watching. They do great cocktails. Very chilled and comfortable.
One of the signatures of Villingili is its Dine by Design philosophy – where you are encouraged to discover new dining experiences in some of the resort's most secret locations. Whether you opt for a torch-lit dinner under the banyan trees of the resort's jungle, a memorable lunch on the equator aboard the resort's own luxury yacht, a spa dinner in the privacy of a meditation pavilion overlooking the ocean, a romantic in-villa evening or a lunch of local ingredients fresh from the chef's garden, the island's culinary team will help you create memories that last a lifetime. If you are on honeymoon we recommend to book a private dinner on the beach – there are a number of places you can do this around the island, but the beach is most romantic. It is money well spend. It will be a really beautiful evening.
We were on the all inclusive food and beverage rate which I would strongly recommend to all, as it takes the worry out of getting an unexpected bill at the end. It entitles you to buffet breakfast at Javuu, 2 course lunch at Javuu and a 4 course dinner at Javuu or 90USD credit per person for dinner at Dr Ali or Fashala. The all inclusive beverage menu can be had at all bars and restaurants (except room minibar) includes a selection of white wines, red wines, whiskies, gin, vodka, tequlia, beers, cocktails and all non alcoholic drinks.
Things to Do
If you aren't up for loafing the entire time, there is plenty to do. You have everything possible to occupy your time, all water activities, 2 tennis courts, crocket, 9-hole golf course with the highest mountain of Maldives (5 meters high!)...There's activities both chargeable and complimentary on the resort. There are free of charge paddle boards, kayaks and snorkelling equipment, and you can pay for other things like diving, dolphin cruises, snorkelling trips, jet skis etc Be sure to check the board near javuu restaurant or ask your POC person assigned.
The atoll is fairly small so the diving is not as extensive as some other areas, but the corals here survived the bleaching event and continue to astound with their beauty and variety. For diving enthusiasts, there are more than 25 dive sites teeming with marine life. And anywhere with Manta rays year-round and one of the best wreck dives around, has to be counted as world class. Unfortunately there is no access to the house reef from the resort beach, although there is some decent snorkeling to be had in the lagoon around Whispering Palms. Also you can see baby sharks swimming in the shallows - super cute!
There are a range of water-based activities such as wave-surfing, kite surfing, kayaking, windsurfing, sailing or deep-sea fishing. Flat seas and dependable trade winds guarantee ideal conditions for sailing and windsurfing. .
The land based activities include a fully equipped gym and Health Club, an entertainment centre, an Eco Centre, a children's cool zone and two tennis courts. The Shangri-La boasts the only golf course in the Maldives, covering nine holes. There are also five neighbouring islands which are linked together by a 17-kilometre road along which guests can do cycling trips.
Mention must be made of Chi, the Spa. And because you are in a Shangri-La Spa Resort, no excuse you have to go to there. The architecture looks alike every Chi in the world with personal luxury pavilion by the ocean, but the treatments are localized with special bravo the shell massage. Shangri-La are serious about their spas and you feel this straightaway. Their philosophy is based on the 5 elements of fire, earth, water, wood and metal. A sixth could almost be added here, as the signature treatment is one made up specifically for the Maldives, using the Tiger Cowrie shell and coconut oil. The therapists are carefully selected and highly trained.
Unusual activity which is the must is the visit of the back-stage of the island, power plant and de-salinization plant. You will be astonished! This resort is much more eco than any of the marketed eco resort that we have been like Six Senses or Gili Lankanfushi.
Addu is a special atoll at the southern tip of the Maldives archipelago. It has its own long and proud history, culture and language. Guests here have the rare opportunity to explore neighbouring islands and enrich their own holiday as a result. On one side is Meedhu, which has the oldest cemetery in the Maldives and some people claim it was the first island to convert to Islam. On the other side is the only causeway in the country. It joins 6 islands together, was built by the British and runs from the international airport of Gan, passed quiet coconut groves and beachesbeaches, up to Hithadu, with the second largest population after Male. The resort offers a variety of ways to discover and enjoy the possibilities.

Reviews
Reviews for the Shangri-La's Villingili Resort & Spa, Maldives are overwhelmingly positive, which is not surprising given that it is one of the most luxurious 5-star resorts in the Maldives. Nevertheless, the location, service, rooms and food are very appreciated by almost all previous guests. In general, the main opinion raves about this resort and promises to return, so this is one of the best hotels in this part of the Maldives. Overall - if you do choose this resort you will not be disappointed. ... Superb, "Honeymoon to Remember", Exceptional, "As close to paradise as can be", "We feel very much at home in our stay. Thank you so much", "This place is heaven on earth."
Pros: What We Like
A very beautiful island. Peaceful quite place, with great privacy.
Wide stunning beaches
a treehouse villa with a unique accommodation option
Delicious breakfasts, dine on the beach
Excellent villas, pool villa was superb with private pool and ocean view
A comfortable, big and clean rooms
the staff are very polite, nice, always smiling and provide the support needed.
kids club and provide different activities
Snorkelling and scuba diving trips
spa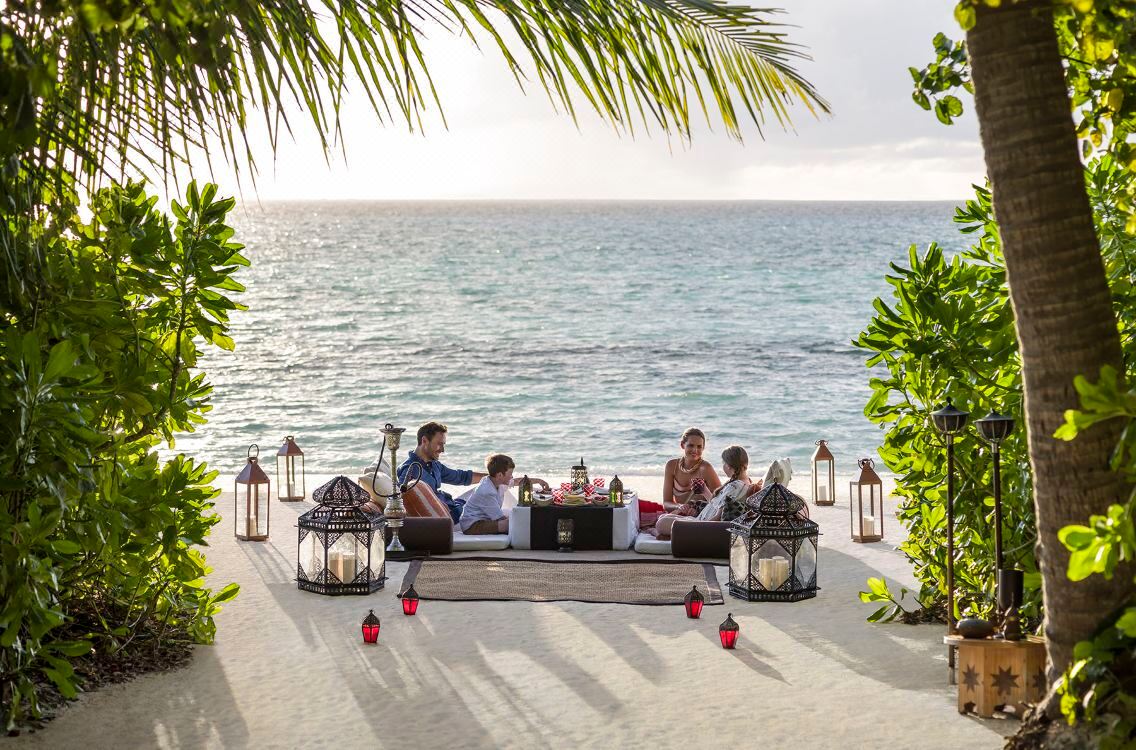 What You Need to Know
The resort is just a 10 minute speed boat ride from GAN airport.
Pro tip— do not fly into Male. The 'domestic flight' from Male to GAN is really not a good idea and the lounge in Male is really substandard. You're much better off flying straight into GAN from Colombo.

Check-in From 14:00 hours; Check-out Until 12:00
The resort timing is one hour ahead of local time
All Children are welcome
No need to pack your clubs to enjoy Shangri-La's nine-hole golf course with views of the Indian Ocean as an added bonus.
The best way to get around the island is by bicycle.
The first of its kind in the Maldives, The Villingili Golf Course is nestled on seven and a half hectares at the southern end of Villingili Island - spectacular sights await at each of the nine holes
The creation of a snorkelling garden close to the resort's shoreline is an ideal site for snorkellers and children
Shangri-La's Villingili is a fantastic spot for kite surfing
Perched on stilts among the treetops are the Tree House Villas - secluded, private island hideaways
breakfast is only until 1030am although if you go for 11 and let them know you'll be able to still catch a bite but will feel rushed.
Prices for activities: $150usd for a 60-minute massage, $65usd for golf, $90usd handline fishing, $900usd deep sea fishing, Jet Ski's $190usd for 30 min.
Traveling here without some sort of food/beverage package would become very expensive very quickly.
Check Availability and Prices in Shangri La's Villingili Resort & Spa
Maldives Luxury Guide
Here's the best of Maldives for luxury travellers. We've compiled the finest recommendations of places to stay, ranging from the most celebrated five-star resorts to luxurious private islands Read More
Maldives Romantic Guide
The ultimate 'flop and drop' and honeymoon destination, the Maldives is the playground for the most amazing and finest utilization of each second of this extremely valuable and hopeful time with each other in tota Read More