Top Spring Summer 2021 Swimwear Trends
What to Pack for The Maldives
February, 2020
New season brings new fashion trends. After Miami Swim Week over, we can finally predict the summer 2020 swimwear trends. The one perfect swimsuit can make you feel super confident, but if you live in the Maldives, you might want multiple bikinis that fit into a few of the summer swimsuit trends. These swimsuits will be out on the market soon enough, so have a look and find your favorite summer swimsuits.
There is something in there for everybody, with bright colors and unique designs for those who like to stand out and darker solids in more traditional cuts for those who like to quietly relax by the beach or pool without drawing attention.Do you want to know what's going to be hot this season and what are the top Spring Summer 2020 swimwear trends? Keep reading!
Bikinis and Swimsuits, back to the 90s style
Is the swimming world back to the 90s? That's what we thought when we first saw Gottex's 2020 collection for the first time. This style above, in particular, Gottex Lily High Leg Swimsuit, brings back some 90's vibes because of the ties, which allow you to show off curves. A high leg cut like this makes your legs look longer, so it's ideal for shorter women.
This swimsuit also puts together two more Spring Summer 2020 swimwear trends:
Floral prints: More 70's than the 90s, florals are, along with the geometric prints, huge in 2020. We just can't help it. We love a good floral print!
Tank swimsuits: For 2020, less is more. Minimal tank swimsuits seem to have their moment in the sun. Gottex Profile has some gorgeous tank swimsuits if you fancy a look.
And, back to the 90s style. Aside from the tie-front bikini tops and tie-side bikini bottoms, there's another trend from the 90s we've spotted: the deep V neckline. Just like this picture below.
The deep V neckline isn't the only neckline style that's on-trend at the moment. The one-shoulder swimsuit is still hot for 2020 and, following this minimal swimwear trend we mentioned before, strapless swimsuits are similarly hot. To be fair, there isn't a single neckline style that will lead the spring-summer season, like previous years. 2020 is all about diversity. Buy Now
The Comeback of Animal Print
Animal prints have been going strong in all categories for a few seasons now, so we weren't surprised at all to see them as part of the summer 2020 swimwear trends. We saw all manner of animal prints used, including snakeskin and zebra, but of course the most ubiquitous were leopard and tiger prints.
At VDM Swimwear, models strutted the runway in tiny string bikinis that could surely rouse some animalistic urges, in part because of their wild prints. We saw classic leopard print at Kai Lani, while at Cia Maritima and Vitamin A the tiger print reigned.
There were many other runways that included animal prints, making this one of the biggest summer 2020 swimsuit trends. Buy Now
Spring Summer 2020 Swimwear is More Diverse
We aren't the only ones who think so. Harper's Bazaar agrees with us that the swimwear world seems to move towards a more inclusive and diverse world. Not only size-inclusive, with plus-size models and a larger range of DD+ swimwear, swimsuits for taller women and bikinis and swimsuits for the larger sizes, but also modest swimwear, tankinis and swim dresses, for those who don't want to show too much skin.
Comfort over style. That's the motto for spring-summer 2020. For example, long-sleeved swimsuits and high-neck swimsuits were unthinkable in the past, but, nowadays, they are now a must-have for many women. After all, these offer more protection against sun rays (essential if you are off to some snorkelling or surf holidays). With the addition of embroideries or a simple front zipper, you can look sophisticated and feel comfortable.
Top swimwear colours for Spring Summer 2020
Orange is the new black? Not, but it's almost like the series. Orange, along with other citric colours, such as mandarin, amber and lemon, are the top colours for the Spring Summer 2020 season.
For those who don't get too excited about bright colours, check these alternatives:
Black, especially for bikinis. The tinier, the better, this season. The Little Black Bikini is a thing this season.
Chocolate brown. It may not be the most obvious colour for swimwear, but chocolate looks fav paired with yellow, lime, beige and ivory, so it's ideal to find the perfect matching beachwear. Plus, our beloved leopard prints in chocolate are just perfect! (Yes, you guessed it. Animal prints are also hot for swimwear!)
Classic Blue. Pantone's colour of the year is an elegant but simple dark blue shade. Darker than Cobalt Blue, close to a navy. Ideal for those who love the sailor style. Pair it with white and bright red, of course.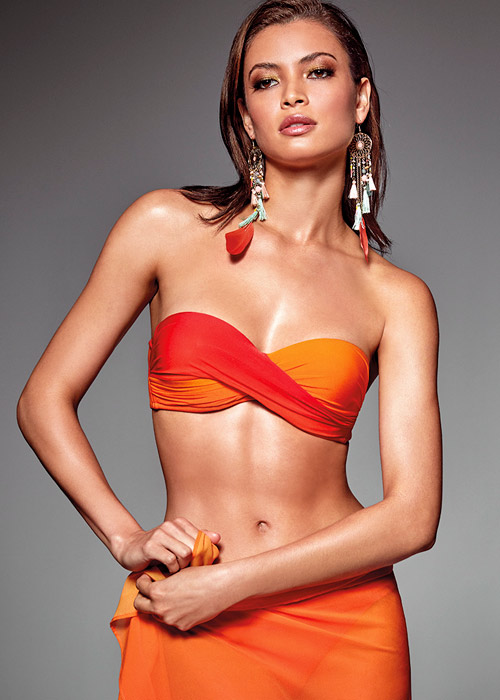 Swimwear from Day to Night
A swimsuit is more than a garment for swimming and sunbathing in 2020. This is the season to wear your swimwear as a bodysuit, with your favourite shorts, jeans or skirt. Our Gottex Couture range has the most perfect luxury one-piece styles, ideal to rock this fashion trend. And remember, you can always wear your kaftan and your sun dress outside of the beach, for the ultimate boho look.
We hope our swimwear trend insights help you choose the right swimwear and beachwear for you. So, tell us. What are your favourite Spring Summer 2020 swimwear trends?
Black Bikinis
MIMI the Label debuted a collection that included a little series of black bikinis in different styles, including string, one-shoulder, and high-cut options. At Revival, black bikinis combined trends by having peek-a-boo cut-outs along the bottoms. Others to present black bikinis included Liliana Montoya, Sonya Swim, and Agua de Coco.
Chocolate Brown
The other color to catch our eyes for the summer 2020 swimsuits was chocolate brown, which can look positively delectable on so many skin tones. If you'd like something understated but not mundane, this is a great choice.
It was all about comfortable, sporty chocolate brown bikinis at Vitamin A. Light brown bikinis at Frankies Bikinis had a sporty style as well, with sports bra-style tops that offer excellent control. The Sports Illustrated show featured some taupe-colored bikinis that we felt were a great option for those who would be washed out by warmer brown tones.
Stringy Bottoms
One of the most revealing and sexy trends from the summer 2020 swimsuits was extra stringy string bikini bottoms. Many designs featured small patches of fabric to cover the crotch, with a long piece of string used to tie it together.
One such example is the white, ruched bikini at Natasha Tonic. Macaed also gave us lots of extra string bikini bottoms, made all the more seductive by an additional string wrapped around the ribcage or midriff. Others to give us revealing bottoms that relied mostly on string to stay together include VDM the Label, Tropic of C, and Devon Windsor Swimwear.
High Waisted Bottoms
Much like high waisted jeans and shorts, high waisted bottoms are continuing to go strong for the summer 2020 swimsuit trends. These swimsuits are great for adding some coverage, especially around the belly, while still allowing you to show off a lot of sexy leg or cleavage.
The swimsuits presented by Lelloue, for example, had both high-rise waists and high-leg openings, which is a design that elongates and flatters. Notably, at Revival, an ultra-high-rise bikini set showed off a lot of skin thanks to a slim waistband that may have hidden the midriff but showed off the entirety of the hips. We also saw high waisted swimsuits at TJ Swim, Gottex, and Monday Swimwear. Buy Now
Maldives Luxury Guide
Here's the best of Maldives for luxury travellers. We've compiled the finest recommendations of places to stay, ranging from the most celebrated five-star resorts to luxurious private islands Read More
Maldives Romantic Guide
The ultimate 'flop and drop' and honeymoon destination, the Maldives is the playground for the most amazing and finest utilization of each second of this extremely valuable and hopeful time with each other in tota Read More