Adaaran Select Meedhupparu
Best Experience: Couples, All Inclusive, Value, Beach
Dec, 2020
With luxuriously warm seas and powder white beaches, Adaaran Select Meedhupparu offers an incredible all-inclusive holiday for the discerning traveller in the Maldives. Here you will get the Maldives' main components at a very good price. First of all, this is relaxation, the sun, the beautiful beach and the lagoon, and the service with a genuine smile.
With plenty of on-site activities, beautiful beaches, and decent all-inclusive food on offer, the Adaaran Select Meedhupparu is a great upper-middle-range value for the Maldives. Its 215 rooms are spacious but basic, there's no free Wi-Fi, and the remote island location takes 40 minutes to reach by seaplane from Velana Airport, Male. It's also worth to check Adaaran Select Hudhuranfushi (accessible by speedboat) or Kuredu Island Resort (which has more amenities and in-room Wi-Fi).
The Island
Opened in 2000, the resort is located on a 42 acres private island with 3 restaurants, a big swimming pool, a spa, a garden, tennis courts and badminton, as well as 4 bars (three of which sit on the beach). All 215 resort rooms are located next to the beach, and another 20 bungalows are built over the water - although technically they are part of a top category of sub-resort accommodation called Adaaran Prestige Water Villas.
The journey to Adaaran Select Meedhupparu begins with a (possibly lengthy) wait at the Male Airport to catch a seaplane transfer. The 40-minute flight is incredibly scenic, if you can stay awake for this final leg of the journey. Upon arrival, guests are greeted at the end of a pier that's surrounded by dazzling aquamarine water and then given fruity welcome drinks at check-in. DOWNLOAD RESORT MAP
There is children's playground on the island but Meedhupparu is primarily focused on couples and newlyweds. There are many guests from Europe and Asia. The resort's vibe is laid-back, with most of the guests gathering at the pool bar, sunbathing on white sand beaches or house reef snorkelling.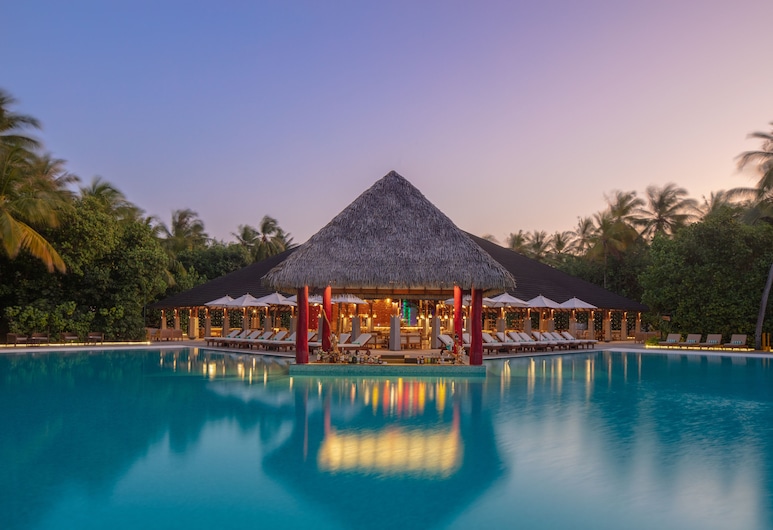 Location
Adaaran Select Meedhupparu is located in Raa Atoll, 136 km to the north of the capital of the Maldives, Malé. A seaplane journey will cover this distance in 45 minutes. Time on the island is one hour ahead of Male time -- an artificial time zone difference that many resorts use to make the days feel longer. At 750 meters long and 670 meters wide, the island totals 43 square acres. A staff of about 380 lives and works on the island year-round.
The pace of life is sublimely carefree and your troubles and worries will seem as distant as the tropical horizon. The gleaming waters surrounding the Island are irresistible, inviting the visitor to experience the underwater world which lies beneath the waves. Swimming and snorkelling are ideal pursuits in this pristine location, with a beautiful coral reef visible in the waters. All manner of marine life, from vibrantly coloured fish to rays and turtles are readily seen in the seas bordering the island beaches.
The great location of Adaaran Select Meedhupparu also makes it an ideal venue for water sports. An officially certified diving school offers programmes and courses for divers of any ability, from beginners to experts. Exceptional diving sites are available in the vicinity of the resort.
Villas
With the exception of one four-bed room, all Meedhupparu villas are located on the beach with one king-size bed or two single beds. Since most rooms are designed for couples, families usually book villas next to each other. The spacious rooms (46 sq.m) are equipped with open-air bathrooms with indoor and outdoor showers. All rooms have a TV, mini bar, complimentary bottled water, electric kettles, beach towels, beach patios and plastic sun loungers. A simple, island style consists of cream walls, white bedspreads, parquet floors, common wooden furniture and high turquoise headboards. More stylish Ocean Villas with a personal butler and Wi-Fi are also available, but these rooms are part of the Adaaran Prestige Water Villas.
The rooms on the south side facing to the sun all day, whereas guests on the north side will be turning their loungers to face into the island to catch the sun some of the time. Having said that, the rooms are built in an arc set back some good way from the beach, so there is plenty of space to catch the rays. On the other hand, only the rooms at the ends of the arcs are near to the beach, the others are set behind some pretty scrubby vegetation.
Beach Villas are clean, neat and unpretentious. The decor is bright and cheerful and has everything you need. The bathroom has 2 basins and an inside and outside shower. The main thing that you need to remember is to plan ahead and ask for a better location. Water villas - all are magnificent. They are in another class, and actually used to belong to another resort. The attempt to run 2 different resorts on the same island, however, has been abandoned and yet the dividing wall has not yet been taken down and guests are obstructed from going all the way around the island on the beach. Not only are these rooms with thatched beautiful interior, but they are also right on the reef edge. Just a few steps, and a few strokes will take you to the drop-off where you will find very good snorkeling.
The Beach
Partly thanks to the low wall in the western lagoon, the beaches at Meedhupparu island are almost perfect. Unseemly sandbags (used to prevent erosion) sometimes float out of white sand, and wavebreakers are installed almost along the entire perimeter of the island. Guests are provided with white plastic sun loungers, as well as drinks at three beach bars. The island is very clean, and it will be difficult for you to find even a speck of trash anywhere.
Restaurants and Bars
Expect feast on scintillating buffet spreads at the Main Restaurant which offers a selection of international cuisines. The resort's main all-inclusive restaurants, Jaafaiy and Sufura, serve buffet food for breakfast, lunch, and dinner. Let your taste buds enjoy a celebration of mouth watering flavours as they combine to conjure up a culmination of dishes for the food lover offering a truly memorable experience at these signature fine dining restaurants.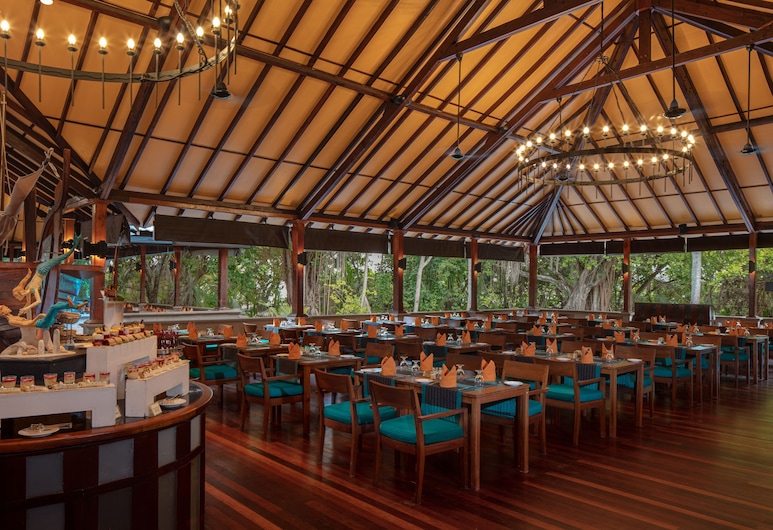 The food is solid overall, with international dishes that range from fish curries to Italian pastas. Free snacks are provided at the main bar three times a day, and guests can purchase bar food at the beachfront Grill Bar. For a more romantic atmosphere, guests can pay extra to have an a la carte dinner over the water at the "Fine Dining Restaurant," which is technically part of Adaaran Prestige Water Villas. Fresh lobster and seafood barbecue are available on select nights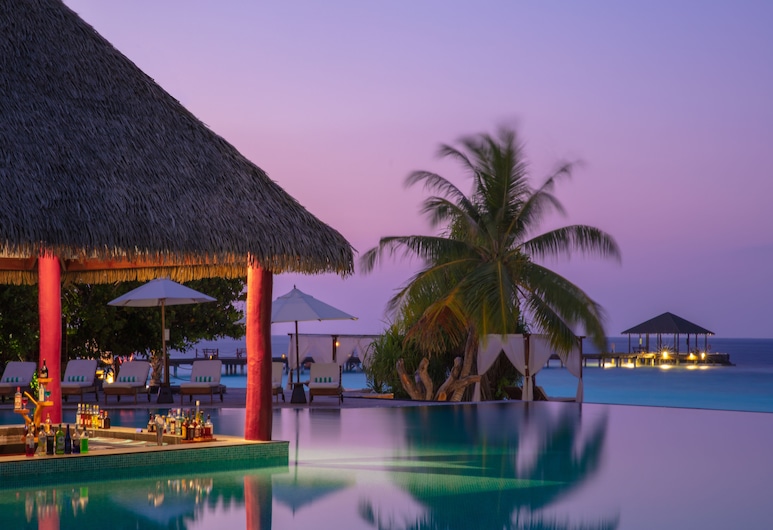 What's Included
Meals included are
Sufura Breakfast / Lunch / Dinner (Buffet)
Cafee Mass a la Carte 11.00 am – 10.30 pm
Thavaa a la carte 07.00 pm – 10.30 pm
Beach BBQ events are also included except Lobster and Jumbo Prawns – extra charge; $15.00 USD per person
For all A la carte and Beach BBQ 24 hours prior reservation to be made and seats 
are on availability
MINI BAR ITEMS – Included Refill once per day
4 Beers / 4 Juices / 5 Soft drinks / 2 Chocolates / 2 Bottles of Mineral Water
ALL INCLUSIVE BEVERAGE
ALL INCLUSIVE BEVERAGES – SERVED IN ALL BARS EXCEPT THE WATER VILLA 
LOUNGE AND BAR
Whisky (Johnny Walker Black Label / Jack Daniel / Chives Regal 12 years / Glenfiddich)
Gin (Gordon's / Beefeater)
Rum (Bacardi – White & Gold / Captain Morgan Dark Rum)
Vodka (Absolute Blue / Smirnoff Red / Stolichnaya)
Brandy (Napoleon / St. Remy Authentic VSOP)
SPARKLING WINE (Served by the glass)
De Bortoli Sparkling Brut – Australia
Jaume Serra Cava Sparkling – Spain
HOUSE WINE – ROSE (Served by the glass)
B&G Partagar – France
Gallo California
Garland Crest Grenache Rosé – Spain
HOUSE WINE – RED / WHITE (Served by the glass)
Robertson – South Africa
B&G Partagar – France
Gallo – California
Garland Crest – Spain
CasaSubercaseaux – Chile
Two Oceans – South Africa
Appetit de France
Chucaro– Chile
SEASONAL FRESH FRUIT JUICES (Served by the glass on availability)
Papaya / Banana / Pineapple / Watermelon / Orange
AN ARRAY OF LOCALLY AND INTERNATIONALLY INSPIRED COCKTAILS AND MOCKTAILS
Choice of 10 for cocktails & a choice of 5 for mocktails
BEER (Served by the glass)
Lion / Carlsberg / Heineken / Corona
SOFT DRINKS (Served by the glass)
Coca Cola / Sprit / Fanta / Soda / Tonic / Bitter Lemon / Ginger Ale
OTHER SERVICES AND FACILITIES
Pickup via buggy from the jetty
Complementary bottle of sparkling wine
Complementary fresh fruit & mixed nuts platter served on arrival in villa
One complementary spa massage/ reflexology offered per guest per stay
A complementary Sunset Cruise tour or Night Fishing tour
PLEASE NOTE THAT THE FOLLOWING IS NOT INCLUDED IN THE ALL-INCLUSIVE (AI) PACKAGE (EXTRA CHARGES ARE APPLICABLE ON THE BELOW)
Beverages provided are for your own consumption, served one glass at a time, while at the Resort's restaurants & bars
Please note that fresh fruit juices, mini bar items (excluding the 2 mineral water bottles which will be replenished on a daily basis),
Theme nights and specialty coffees such as cappuccino, espresso etc are not included in this package
All guests registered in the same room must be on the all-inclusive package
Alcoholic beverages will not be served to anyone under the age of 18
There are no refunds or substitutions, nor are any benefits transferable to another guest
The all-inclusive package entitlements will end on the date of the check out at 12 noon
House Reef Snorkeling
The corals are growing well and there are lots and lots of fish, from butterfly fish to reef sharks. The reef stays easily accessible from the beach all the way down this side of the island (another good reason to get a room on this side). And the beach is fine and lovely underfoot. You can look out across the lagoon here and enjoy the sun, sand and sea that is as good as on any resort in the country. The loungers, however, are the white plastic ones without a mattress so its difficult to lie in them for too long.
The DIVE POINT diving school is the ideal spot to try on a scuba diving. Dive Center SSI offers diving courses and fun dive trips to the best sites of Raa Atoll at very affordable prices ($ 55 per dive).
Things to Do
Meedhupparu boasting a wide range of facilities. Surrounded by the resort's lush landscaping, Chavana Spa offers everything from couples massages to scrubs and includes its own beauty salon, sauna, and steam room. Fresh floral aromas will soothe and calm your senses, whilst our unique blend of traditional Balinese music with contemporary tones playing in the background will surely lull you to sleep or to a relaxed state of mind. Chavana Spa's range of signature body treatments, facials and packages are inspired from the freshness of a Balinese garden. The resort and spa also offers Pevonia Botanica facials, an elite natural skin care brand focusing on prolonged skin health and rejuvenation.
Guests residing at Adaaran Select Meedhupparu have the chance to explore vibrant Maldives like never before. Play a game of soccer on the beach or some beach volleyball to get the adrenaline pumping. Those who need a little more motivation have various other things to do in Maldives such as venturing out to sea for a tour around Maldives which will take you to some of the most beautiful islands found in this corner of the world. For those seeking a thrilling escapade, revel in the myriad of water sports the island offers. Go out on a fishing trip and try your luck at harvesting the bounty of the plentiful Indian Ocean. Wind surfing is ideal for those who seek excitement in generous doses. Feel the rush as you power along the surface of the azure waters. Sports facilities on the island include billiards and ping pong tables, badminton and tennis courts, as well as a beach volleyball.
Popular excursions include sunset photo cruises, night fluo dives, and inhabited island hopping. Staff can also arrange private candlelit dinners on the beach or full-day picnics on a deserted island (20 minutes away). Guests can use Wi-Fi in the lobby and main bar by purchasing a prepaid card from the gift shop . Weekly events include a Mexican food and music night, karaoke night, crab race, beach party, and lobster barbecue. Food and drinks may cost extra on theme nights.
Reviews
First of all - amazing location. Paradise on earth. White sand. Turquoise water. Lots of exotic fish. Extremely well maintained and cleaned resort. Spotless room cleaning, done twice a day. One of the most customer-oriented resorts we've ever been in. Amazingly friendly and professional staff, that would go above and beyond to satisfy tourists' demands. There's much more to say but I will stop by saying that it was one of our best holidays ever....
Pros: Why Stay Here
A great location on a private island with white-sand beaches and crystal turquoise water
Seaplane scenic trip with stunning aerial views
Deserted picnic island (20 minutes away)
House reef snorkeling
Two all-inclusive buffet restaurants and four bars
All-inclusive alcohol, soft drinks, and water
Spacious outdoor pool with swim-up bar and hot tub
Spa
Water activities
Live music and karaoke night
What You Need to Know
Adaaran Select Meedhupparu has a range of special offers and attractive Maldives resort rates that let you enjoy the very best the Island has to offer. View the deals
All Adaaran Resorts properties and Heritance Aarah will reopen in July and September 2020 with enhanced health and safety measures, under parent company Aitken Spence Hotels' Spence Safe initiative.
A pricey, 40-minute seaplane transfer to reach the island
Check-in from 13:00, Check-out before 12:00
Rooms don't have Internet
Minibar items and fresh juices cost extra
No children's pool, playground, kids' club, or babysitting services
Fees for water sports rentals
All-inclusive buffet food can get monotonous
Weak selection of all-inclusive wines
No room service
Bungalows - duplexes. Between the bathrooms there is a partition without a ceiling. It is clear that you experience some discomfort when your neighbors go shower / toilet.
Check Availability and Prices in Adaaran Select Meedhupparu
Maldives Luxury Guide
Here's the best of Maldives for luxury travellers. We've compiled the finest recommendations of places to stay, ranging from the most celebrated five-star resorts to luxurious private islands Read More
Maldives Romantic Guide
The ultimate 'flop and drop' and honeymoon destination, the Maldives is the playground for the most amazing and finest utilization of each second of this extremely valuable and hopeful time with each other in tota Read More