COMO Maalifushi
Best Experience for: Water Villas, Families, Surfing, Diving
Updated Jan, 2022
A beautiful pearl in the pristine corner of the Maldives, the magnificent COMO Maalifushi is a state-of-the-art resort built for lovers of sun, spa and scuba diving. COMO Maalifushi is the first resort to open in the pristine Thaa atoll in the archipelago's southwest. With overwater villas and garden suites, the 5-star resort is the ultimate away-from-it-all destination for families, couples, surfers and divers. There are some excellent breaks nearby as well as a string of uninhabited private islands, where whale shark sightings are common. Slip into the blue from your water villa, explore the best coral reefs in the world or enjoy quality, first-class food at this luxury resort.
The 66-room property features a mix of overwater and garden accommodations, which are ideal for families with small children. It offers seclusion and an abundance of underwater experiences. The island's white sand and bright turquoise lagoons are surrounded by a string of uninhabited islands, including another small piece of land belonging to the resort that can be booked for castaway picnics and romantic private dinners. The sister resort of the more classy Cocoa Island, Maalifushi represents the style of the ecological brand COMO, following the refined luxury. Its design and atmosphere show the average between the minimalism of the Aman resorts and the ecological chic of Six Senses - a perfect place for a happy holiday.

The Island
Maalifushi is more wild than some other islands in the more developed Maldives atolls. With a tall palm grove, wide beaches and natural healthy corals, it has a unique undiscovered feeling, so rare in our day. This is just one of the most uninhabited islets, whose green silhouettes are strung like beads one by one until the last one disappears in the sea haze. The nearest neighbor is an ideal emerald spot - and guests can easily swim there, or wade.
Maalifushi is good for couples, but this resort unlike Cocoa Island, is more family friendly. In the menu of children's programs: a fun picnic on the beach, snorkeling excursions, exciting games, as well as a wonderful kids club.
Nevertheless, Maalifushi is basically peace and tranquility, and the island itself is a serene place that you can only find. Yoga classes, luxury spa, fitness on the beach and healthy dining options are all components for the beauty of the body and the restoration of the mind.
Maalifushi's ecological credentials are visible not only on paper: fruits and vegetables are grown in the resort garden and drinking water of very high quality; Getting around the island you can by bicycles, trishaws and electric cars, reducing carbon emissions to a minimum. DOWNLOAD RESORT MAP
A free-form swimming pool 44 meters long sparkles between the bar and restaurant, and was designed to weave around 'island' palms. The pool is surrounded by sun loungers with soft mattresses and beach umbrellas. The shrewd staff responds to your every need, relieving the hunger and thirst of the pool.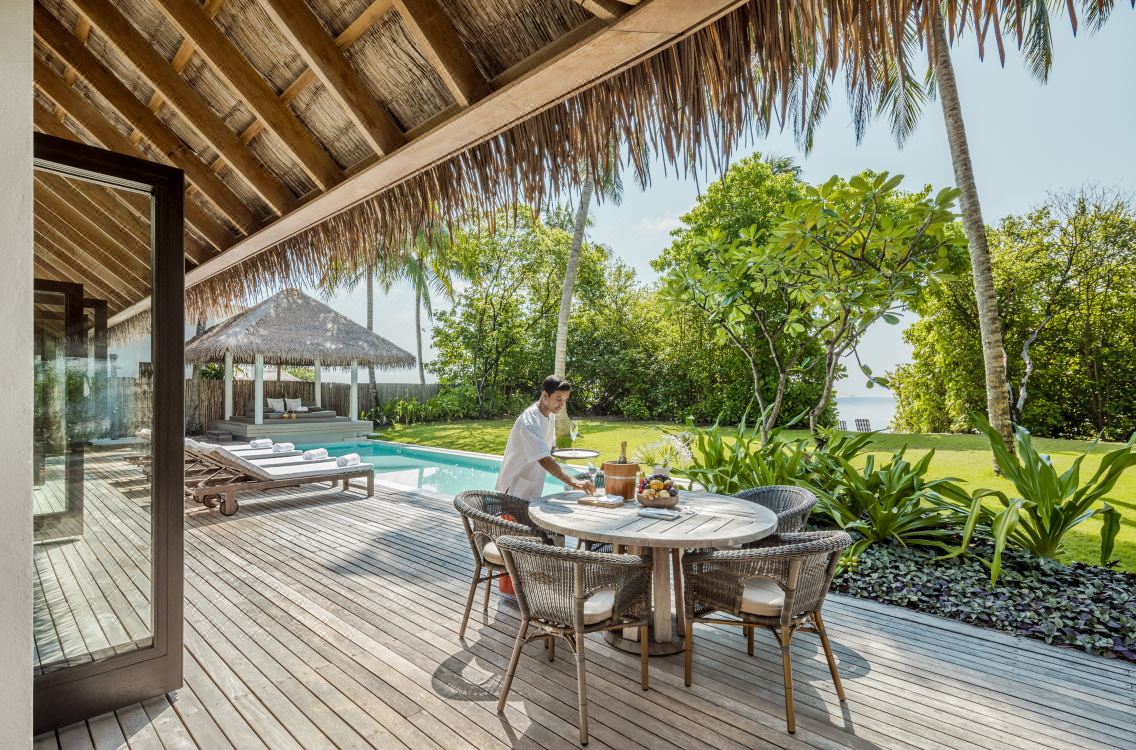 Location
Well regarded for its diving and surf breaks, the unspoilt Thaa Atoll (Kolhumadulu Atoll) is home to COMO Maalifushi is the first and only resort in the archipelago's southern atoll. Most of the islands of Thaa Atoll have not been touched by man yet preserving the unspoilt surrounding nature and marine life of coral reefs. The atoll is also home to the longest island in the Maldives - Fahala Island is located on the eastern edge of Thaa and is blessed with beautiful white beaches. Read More...
From Malé airport, guests will take a 60-minute seaplane transfer to COMO Maalifushi. A return seaplane transfer to COMO Maalifushi is priced at US$655 per adult, and US$327.50 per child (aged between two and 11). Infants younger than two years old are free of charge. 
Accommodation
Maalifushi has 66 villas. Half of the accommodation is a water villa (ideal for couples), the rest are located on the beach or in the garden - they are perfect for families with young children. All rooms offers privacy and luxury in a relaxed setting. The interiors are designed with wood floors and elegant furniture, and the beds are protected by anti-mosquito nets.
Many guests prefer overwater suites and villas, painted in white, with a lot of sun light, with large sunbeds and thatched gazebo outside, and their infinity pools reflect the color of the lagoon and sky.
Beach Villas are a more peaceful and secluded place, with mini-jungle-like gardens and pretty paths leading to a white sandy beach
It's hard to turn away from the Water Villas located on their own dock in the west of the island. Each key has its private pool, sun deck and large windows, giving you the opportunity to enjoy the best colors and music of the Indian Ocean. Baths is a recessed marble bath, large enough for two, marble floors and stone walls. There is also a shower in the open air, surrounded by wooden panels. Beach Villas are no less impressive; with a private pool, an open veranda, an open bathroom and french doors from floor to ceiling ... you will be surprised.
COMO Villa: These 408m² two bedroom over-water villas are ideal for families or couples sharing. Complete with their own large private pool and sun deck, the large spacious rooms in these villas make for an ideal layout with a private butler service to ensure your every need is met.
Maalifushi Water Villa: This 213m² villa is one of the most spectacular choices for accommodation at Maalifushi. It is very spacious with two large bedrooms and bathrooms with separate showers and bathtubs, making this a great choice for families or couples sharing. The light and bright villa is located at the very end of the jetty, allowing for peace and privacy with a totally undisturbed view of the Indian Ocean. The villa is complete with a private pool and sun deck.
Restaurants and Bars
Housed under a nice thatched roof, open-sided, Madi is main restaurant, open all day, serves a palette of mouth-watering dishes from local, Mediterranean, Indonesian and Thai cuisine, drawing inspiration from the region's fresh produce and food from the sea. Overwater Tai restaurant (closed on Mondays, Wednesdays and Fridays) demonstrates Japanese culinary art on local seafood, with a generous assortment of sashimi and sushi, plus a fantastic list of cocktails ... sake too. Guests who take care of their health even on vacation can try Como Shambhala's dietary cooking; selection of raw, steamed and fried dishes, available in Madi, and included in the room service menu.
Delicious drinks are offered near the swimming pool in Thila bar next to the Madi. There are many comfortable seats, low tables and board games. The family menu serves fresh salads, crispy pizzas and desserts accompanied by melodies selected by an experienced music concierge. Watch the children in the pool with a cold beer in your hand, or you can play Monopoly game, after a shot or two.
Breakfast in Madi between 7:00 and 10:30. Cocktails at sunset are best between 17:00 and 19:00, do not miss dinner, which is served from 19:00 to 22:00. Almost everything on the Madi menu can be delivered to your room, including salads, sandwiches, pastas, and refreshing juices and lassi (service is available from 07:00 to 23:00, daily).
Each table in Madi offers breathtaking views of the ocean, but the place on the edge is more popular. For an unforgettable culinary adventure, you can ask the staff to arrange a private breakfast with champagne, a private picnic on a desert island, or a romantic dinner at your villa.
Childcare
As well as the excellent family accommodation, the resort also has a fantastic Kids Club which has both indoor and outdoor play areas. For older children, there is a games room with TVs and a pool table.
Children of all ages will find something to their liking in a large children's club, and there are also childcare services, a safe pool for families and many exciting children's programs and games that can attract younger guests. Water villas are not recommended for kids, it is better to choose a family suite on the beach.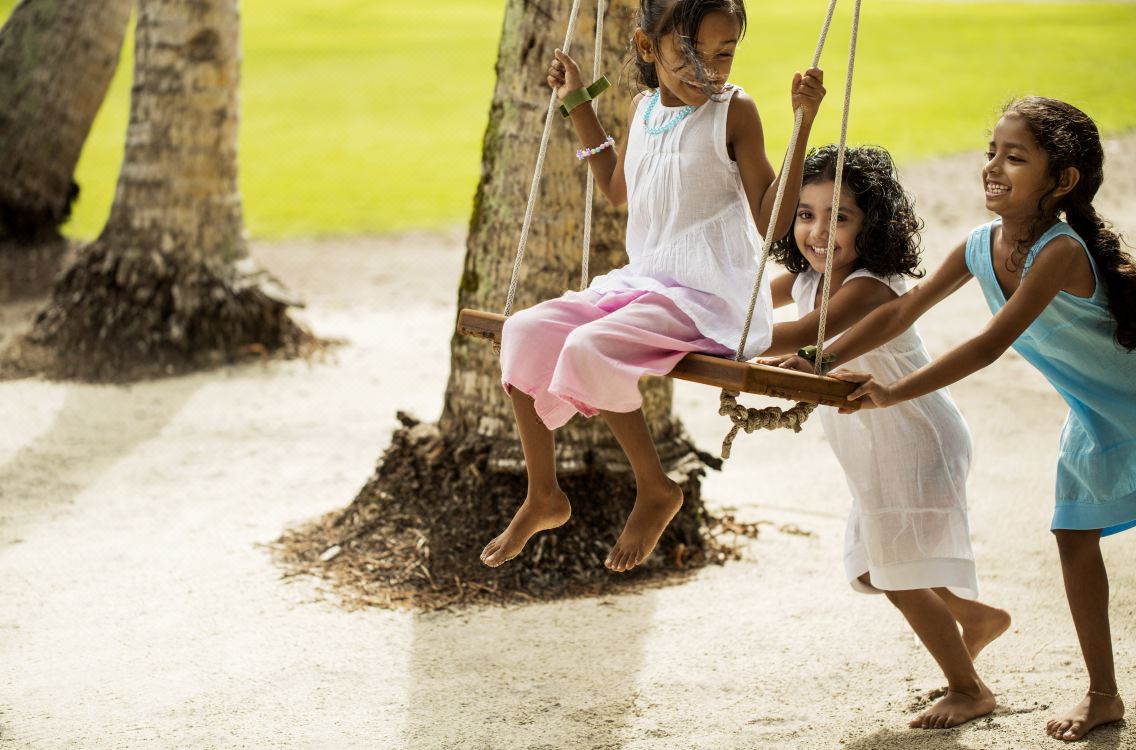 Spa & Wellness
The source of eternal youth is Como Shambhala Spa that offers a range of traditional and modern Asian-inspired treatments including signature massages, facials and Ayurveda in eight overwater procedural rooms. Evaluate hot stone massage or Guinot Hydradermie Plus facial before practicing free yoga in an open pavilion. The lessons of meditation, pilates and bicycles are also all free.
Workouts are intended to provide a comprehensive set of exercise modalities that will noticeably improve body composition, strength, endurance, balance, agility and range of motion. Exercises include aqua fitness, core strength training, Pilates, circuit training, cardio and stretching, with each exercise making the most of COMO Maalifushi's natural gym: the ocean, beach, jogging trails and cycle routes.
Alongside the physical activity the spa's team hosts a range of talks and group sessions on good nutrition, led by expert nutritionist. Her approach is holistic, capturing the latest advances in science and medicine, with the understanding that each individual's nutritional needs are different.
They provide personalised therapeutic dietary recommendations, guiding with meal planning and preparation, and supplementation as needed. Sessions focus on anti-inflammatory foods that counteract the effects of stress and chronic degeneration, ways of controlling blood sugar and metabolic function, therapeutic superfoods, antioxidant-rich foods and more.
This supported by a carefully curated á la carte menu, designed especially for the workshop. The menu will complement the nutritional priorities of the retreat, which include weight control, improving lean body mass and longevity, though this is never at the expense of good flavour.
Read More
Activities
In order not to spoil your holiday, do not delay the study of local sights on the last day. All the main adventures on the island are underwater and are managed by the resort. Imitating mermaids and "watery", guests can go in for private snorkeling, or order fun diving trips, catch a wave at a local "break" or try your hand at sailing on a catamaran, kayaking and soup. In the menu of water sports center are the picnic tours to neighboring islands, excursions for watching dolphins, fishing or a cruise at sunset.
On any given day, Thaa Atoll, Maldives is a tableau of cobalt water, soft white sand and swirling tropical foliage. COMO Maalifushi was the first resort to be built in this large, almost circular atoll, one of the least developed atolls in the Maldives. This is exactly its allure: here, dive sites are still being added to the growing list of 32 – each one as diverse as they are beautiful, many freshly found. READ MORE
The resort is host to a Tropicsurf centre; the world-renowned surf school.
Snorkelling, kayaking and paddle-boarding are all complimentary, and there are also three complimentary snorkelling boat trips per week. Water-skiing, wake-boarding and tube rides can be arranged at the dive centre, as well as a number of fun boat trips, including sunset dolphin cruises, sunset line fishing and game fishing. This means you can be as active or relaxed as you like during your stay, and there is something to enjoy for everyone. Guests can arrange beach picnics on a neighbouring deserted island, a real treat for families or honeymoon couples.
Reviews
In our opinion, COMO Maalifushi is the perfect combination of a relaxed atmosphere and reduced views at any time. Great for couples who are looking for peace and quiet..."Barefoot in paradise", Fabulous, "Exceptional"... Best holiday we ever had. Amazing staff - everybody knew our name on the second day, fantastic facilities. It was such a delight to see my child playing with shells, driftwood and palm leaves! The perfect plastic-free holiday. No plastic bottles, no adds, everything was so subtle, so tasteful, in such harmony to nature. Diving center and the trips ( we did turtles, coral garden and house reef snorchelling) were amazing.
Pros: What We Like
A house reef, natural and amazing for exploration - a short walk along the main pier and a few steps down to the shallow reef, which then falls to 20 meters. The site provides excellent snorkeling, not to mention the exciting diving;
Spacious, but cozy, luxurious villas, especially the beauty of villas on stilts (with pools). Inside, all the ultramodern facilities that you can imagine;
Magnificent water villas with decks sliding into the sea;
Really great resort and very fresh renovation;
The food is hearty, varied and tasty, especially liked the breakfast menu, with an assortment of healthy dishes from Como Shambhala menu; Very delicious food in a Japanese restaurant;
This island smells good! Known for its Shambhala Spa, COMO has its own assolinium of high quality medical cosmetics, distributed in tiny bottles in the bathrooms, and also available in a small spa boutique; By the way, COMO Shambhala spa may seem even better than you expect. Excellent massage, pleasant atmosphere;
Three times a week, a complimentary yoga class;
A water bar with a beautiful design and sunset views, as well as healthy fruit juices and creative cocktails based on champagne;
Free bicycles for trips around the island;
Excellent service, nice and helpful staff, quickly responds to all requests. The staff is well-trained, despite the fact that the resort hotel is relatively young.
Groves of tall coconut trees!
What You Need to Know
BOOK DIRECT and receive exclusive benefits to enjoy. The Maldives resort deals at COMO Maalifushi includes special experiences, complimentary nights and honeymoon offers, as well as a combined stay offer with the sister property, COMO Cocoa Island.
COMO Maalifushi is located in Thaa Atoll, one of the best diving spots in the Maldives
Check out at 12:00 but flexible. The earliest check-in time is 14:00.
The only resort on the untouched Thaa Atoll
Como has opened direct flights by seaplane from Male, and the flight will only take one hour.
All Children are welcome
The COMO Villas are absolutely spectacular and a real treat for families or couples travelling together
Water villas overlooking the sunset are less private on the decks, since snorkelling lovers often splash outside in shallow water;
People looking for a festive atmosphere can find this place too quiet;
There are so many excursions and activities available, meaning you can be as relaxed or as active as you like
The sand is not always silky and smooth, as on some other islands - in some parts of the beach, it can even be too rough for your sensitive feet;
The choice for breakfast is excellent, but it eventually becomes boring;
Easily combine Maalifushi and Cocoa Island with direct seaplane transfers between the two resorts
Most of the island is fenced, as an area for staff (the hotel employs about 300 people).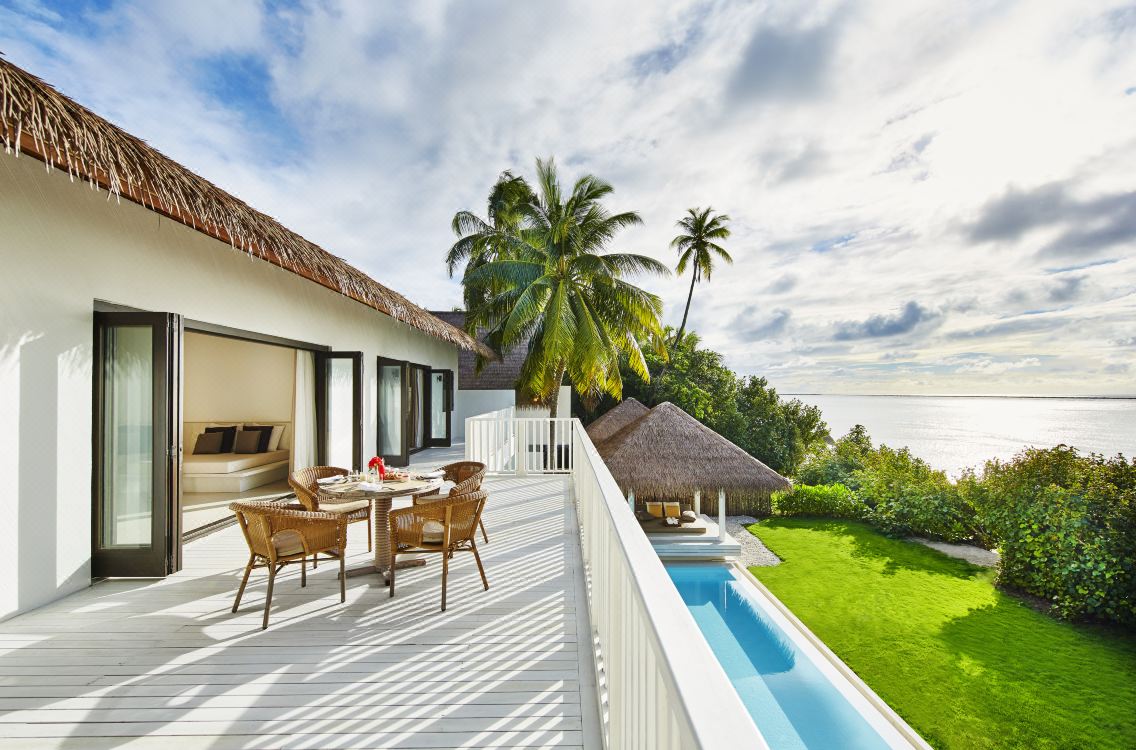 Check Availability and Prices in COMO Maalifushi
Maldives Luxury Guide
Here's the best of Maldives for luxury travellers. We've compiled the finest recommendations of places to stay, ranging from the most celebrated five-star resorts to luxurious private islands Read More
Maldives Romantic Guide
The ultimate 'flop and drop' and honeymoon destination, the Maldives is the playground for the most amazing and finest utilization of each second of this extremely valuable and hopeful time with each other in tota Read More