Constance Halaveli
Best Experience for: Family, All Inclusive, Diving, Spa
Dec, 2020
With one of the longest water villa jetties, luxurious facilities for families and 5-star diving, Constance Halaveli has everything you would expect from a luxury resort in the Maldives. With a shape of a curved dhoni (a traditional Maldivian boat), where white sandy beaches in combination with turquoise water, perfectly contrast with the emerald of green vegetation, the resort elegantly drifts in North Ari Atoll.
Accessible by a 35-minute seaplane flight from the main Velana International Airport the beauty of Constance Halaveli is matched by the exceptional hospitality renowned of the Constance brand. Quiet and luxurious, it has a range of attractive facilities. The resort offers beach and water villas, family villas and a presidential villa, which can include luxurious amenities of private terraces, plunge pools and more. A range of superb fine wine-and-dining options are available, as the resort features five restaurants and bars, including the Asian and European fusion cuisine of Jing and Jahaz. The hotel exudes an idyllic and tranquil atmosphere, and its very private beach and over-water villas blend Maldivian design with a contemporary flourish.
The Island
It's no wonder so many guests refer to this private island resort as "paradise." As land creatures, on a planet where more than 70% is water we are rarely aware of the land-sea ratio. This non-existence does not belong to the Maldives, with a shortage of land in the middle of the Indian Ocean. Water, everywhere water, all tones, depths and shades of blue - a sample of the color of indigo, turquoise and sapphire. And for us, the northerners, hungry for the blue sky in the middle of winter - this is pure color therapy.
Right in the heart of this natural design, Constance Halaveli is a luxury getaway, where the sea is as blue as the sky, and the sand is white, like fluffy clouds. The only visual hindrance - villas are the color of coconut (and your budding tan). A classic barefoot-style Maldivian resort built upon an island of coconut palms latticed by sandy lanes, with one long overwater jetty. If luxury is determined by what you need, then when you need it Halaveli embodies this definition; no more and no less. It is an emerald-green island, delicious food, very private villas, a hammock, a sofa or giant bean bag chairs cleverly scattered along the shoreline, exactly where you want. Some of the excellent facilities on offer here include the Spa, 3 restaurants, 2 bars, a fully equipped gym, a tennis court, main swimming pool, 2 boutiques and Dive Centre (5* PADI). The hotel caters for families as much as honeymooners with some of the world's best diving, watersports, a tennis court and kids' club. It's your own dream, almost at full power. DOWNLOAD RESORT MAP
Wildlife is the star attraction of the island of Halaveli. Stingrays, sharks and various reef fish provide endless entertainment beneath the ocean's surface. Above the water, the local herons play along the beach; will be frozen like statues for a minute, and then gently tiptoed to the side, curiously exploring the roots of the trees or the splashing of waves at the coastline, where the schools of tiny fishes cluster into countless clouds. Children will be delighted with the ballet of colorful fish dancing around their feet.
In the resort: Pool and Beach service, 2 boutiques, courtesy lounge for early check in and late check out with Internet access, TV and library, Pharmacy & doctor available at the hotel, laundry is available 7 days a week with same day return, Photo and video services, the hotel also offer a wedding organiser.
Location
Ari Atoll is 89km in length and 30km in width and has 105 islands and is administratively divided into two parts: North Atoll Ari and South Ari Atoll. South Ari Atoll, a Protected Marine Area, remains one of the best places in the world to see whale sharks, which are spotted year-round on the outer reef, while North Ari Atoll is famous for its hammerhead sharks, although these are far more elusive and require deep diving to see. Most of the islands are home for the luxury resorts while others are uninhabited, the rest are inhabited by local residents. The main occupations of Ari Atoll are fishing, sailing, harvesting and processing of corals. Read More...
The five-pearl Constance Halaveli is almost too good to be true. Situated in the North Ari atoll and surrounded by the warm waters of the Indian Ocean, the hotel is a 25-minute flight by seaplane from Male, the capital. The Ari Atoll is particularly noted for the high quality of its diving experiences. Surrounded by a gorgeous lagoon and stunning views, Halaveli makes for a breathtaking escape. As is the norm in the Maldives, the resort takes up the entire island. Sister property Moofushi is a 30-minute boat transfer away; both resorts are part of the French-owned Constance group which also has hotels in Mauritius and Madagascar.
After arriving at Velana International Airport, guests are welcome by Constance Airport Team. If arriving after 15h30, guests can arrange a transfer with the team to be escorted to the hotel they have pre-booked on their side for their layover on Malé. If arriving before 15h30, they are taken to the seaplane (Trans Maldivian Airways) check-in counter approximately 20 meters away from arrival desk. The guests along with their luggage will be checked on the pre-booked flight to Constance Halaveli. Airport transfer time: Approx. 25 minutes scenic flight by seaplane from Malé airport. 
Villas and Suites
If you give people everything they need, it's no wonder that you will not see them from dawn to dusk. And let me assure you, in Halaveli's villas that are some of the most spacious in the Maldives there is absolutely everything you can need. In fact, these villas are so comfortable that you would not want more: two sun decks, an infinity pool, easy access to the 360º aquarium, music, movies and room service are at your service at the first call. So why leave these luxurious cocoons?
Unusually the 57 entry-level rooms are the overwater villas, each 100 square-metres with a private plunge pool and deck. The 28 beach villas are extremely private and good for families: some have a master bedroom with adjoining bunk room, and the double-storey villas have a second-level bedroom with separate outdoor access suitable for older children. All come with an iMac entertainment system and a well-stocked minibar and wine cooler. The design is polished wood and thatch with architectural lines echoing the curved traditional Dhoni boat.
Constance Halaveli is small compared to many of Maldives resorts only with Beach Villas, but it increases in size with the rest Water Villas anchored along an impressive jetty, 856 meters long from the beach - definitely the longest in the Maldives. The result is a peaceful village, spacious and very private dwellings on stilts. All 86 villas breathe space and luxury, with desire without showy. In all the villas you will find: air conditioning, hair dryer, 42-inch TV with satellite channels, wifi, iPod docking station, telephone, work desk, minibar, tea and coffee making facilities and safe.
Want to wake up from sounds on the beach, or in a overwater villa? We recommend the latter, because the water villas have luxurious pools, and a chic palette of the sea-sand type. Room 90 is the most recent villa on the jetty, where no one will bother you (but be prepared for a 1 km walk for breakfast, or you can call an electric car ... maybe just order food in your room).
With bright blue features throughout, Water Villas (100 m2) open interiors that blend perfectly with the views of the lagoon. On the terrace of the ultra-comfortable upper deck, the pool of your dreams is made of black stone with a magical crystal clear sea view.
Hidden in lush greenery Beach Villas invite more to contemplation, where 8 of them are ideal for families or groups of friends of 350 m2, with a refined interior on two floors (410 m2), all with its own pool and a luxurious garden.
Family Double Storey Beach Villa easily able to accommodate a family of five. In fact they are huge. These are very well-designed villas. Downstairs there's a central bed area with glass doors opening onto a patio area. Then there's an open-air bathroom, complete with huge bath and shower. Upstairs there's a second bedroom with plenty of space for three beds and another bathroom. Outside is a patio area with table and chairs, and sun loungers, as well as a plunge pool and garden area. These villas fronted directly onto the beach, with your very own section of sand complete with sun longers.
The large space between the villas ensures privacy and quiet, optimal to feel lonely in this world. Facilities, of course, a maximum, and should also be noted Ipod and Imac docks, wi-fi.
There is also a stunning luxury Presidential Villa with a private pool, its own gym, spa treatment room and with a well-stocked wine fridge, designed for a maximum of 6 adults and 3 extra beds (child up to 12 years old). Also comes with a dedicated butler, this spacious premium villa has open-plan areas as well as providing areas of seclusion.
Dining
Three dining options and bars, including sushi bar, cover a range of international and fusion menus. Dine inside the high-ceilinged dining room or outdoors with your toes in the sand at the main buffet restaurant, Jahaz, offering diverse international cuisine and themed evenings. Especially it should be noted Jing, halfway along the jetty - a restaurant that specializes in healthy Pan-Asian dishes, the East meets the West, fusion cuisine; and barefoot Meeru in an al fresco setting with an emphasis on simple but very delicious classic grills during the evening, with a wide selection of à la carte dishes, fresh fish, seafood and meat. It is worth mentioning an extensive wine list, with wines from the old and new world.
Thanks to the quality 24-hour room service, you really can never leave your villa and your favorite pool. Lazy morning can start with ordering breakfast in the room between 6 am and 11:30; then the main menu is also available. It's worth upgrading to the All Inclusive package here, for inclusions like a choice of over 150 wines served by sommeliers, premium brands and fine dining.
Half Board
• Breakfast at Jahaz 
• Dinner at Jahaz, Jing or Meeru
All Inclusive:
• Breakfast and lunch at Jahaz 
• Dinner at Jahaz, Jing or Meeru (reservations required) 
• Selected drinks including juices, soft drinks, mineral water, beer, spirits, cocktails, house Champagne and wine 
• Minibar refilled daily 
• Afternoon tea 4-5.30pm 
• 2 scheduled excursion per stay 
• Snorkelling equipment 
• Non-motorised watersports 
• On-demand movies on Mac mini system 
• Private bus transfer to Constance Hotels & Resorts seaplane private lounge 
• Use of seaplane lounge on arrival and departure from Malé.
Imagine that you are sitting in Jahaz inside a giant inverted boat with the dome is scattered with lanterns of all rainbow colors. For breakfast and lunch a rich and varied feast on the buffet; dinner with a set menu. The breakfast buffet has tropical fruit platters and live cooking stations with waffles and eggs, as well as charcuterie and Chinese dumplings. The best tables at Jahaz are set outside the pool, slip, crunch with warm soft sand between toes, and do not leave this divine place for hours. Wagyu beef tenderloin and seabass with peppered calamari are highly recommended. Dress code: beach clothing plus something to put on top for Jahaz; light and floral at Meeru; Jing is a place for discerning clients.
Bars
The resort has three bars, among which one turns into a night disco, often with live music. Two open pavilions next to the pool form Jahaz bar that is open from 10:30 until late. You can just sit or dream on one of some round sofas here blowing bubbles into creative Halaveli cocktails (try Honey Chuckle Suckle, honey and saffron syrup, white rum, fig liqueur and lime topped with champagne). Gin lovers will be happy to hear that there are 11 G & T to choose from, including the intriguing, proprietary Earl Gray. In a small bar menu there are sandwiches, salads and hot dogs. Drinks are served at the bar until the last guest. Jahaz closes at 22:30 pm; Meeru and Jing at 22:00.
Family
For a luxury family escape, Constance Halaveli is one of the best. Even the natural environment, with its gently sloping lagoon and wide beaches, will suit little ones. The "Kuda Club" welcomes children aged from 4 to 12 years with age-related activities, both outdoor and indoor. A kids' club is open daily from 9am to 9pm, unusually long hours in the evening and free of charge, offering supervised free play and structured activities including treasure hunts, face-painting and hermit crab-racing. Usually children love the beach, swimming pool and water sports (wakeboarding, water skiing, windsurfing, sup and catamarans are on the menu). Diving courses from 7 years. The children's club offers intriguing classes for the child, including cooking pizzas, arts and crafts, pirate adventures and much more. The club is also a great opportunity to find new friends. An imagination space for 4-6 year olds with playhouses, kitchenettes, tool workshops and even some 4-wheel transportation rides. Under-fours must be accompanied by a parent or babysitter.
For accommodation, there are Family Beach Villas (great for younger families, with a kids' bunk room) and Double Storey Beach Villas with 2 bedrooms. There is a children's menu available in all restaurants as well as in-villa dining. Babysitting can also be arranged.
The resort can provide beakers / feeders cups, stuffed toys, books, pencils / colors and paper, outdoor toys, vests and inflatable swimming toys, board games and puzzles.
Scuba Diving
Scuba diving in Ari Atoll is relaxing, adventurous, sometimes challenging, and always stunning. After North Male, Ari (also known as Alifu) is considered the most visited atoll in Maldives, and this contributes to a high degree to the quality of diving. With white sandy beaches and crystal clear waters, many divers rate Ari Atoll's sites to be the best in the country, and they also feature prominently on many Maldivian liveaboards routes. Read More...
Halaveli is definitely one of the true gems of the North Ari Atoll. Here you can find beautiful white beaches and wonderful local plant life. Its position in the Ari Atoll is excellent, with access to many of the best dives in the Maldives. Dive locations close to Halaveli have been included in the lists of the World Best Dive Sites. A PADI 5 star dive center offering courses from beginners through to instructor level. The warm tropical waters around Constance Halaveli Resort teem with a rich diversity of marine life - there are thousands of colourful fish, corals, turtles, rays and sharks.
Do you love the ocean? Explore it in the most natural way and learn how to free dive. TGI Halaveli created one of the first Free diving centres to propose this unique experience via easy workshops.
Activities
With a white sandy beach, a beautiful island is surrounded by a house reef, so you can always go snorkeling, learn to tracks on the warm sand or experience yourself in some water sports. Complimentary activities include: a fully equipped gymnasium, tennis, badminton, beach volleyball, non-motorised water sports such as top cat (catamaran – compulsory orientation at a cost), pedal boats, windsurfing and kayak. Other activities that are available include a romantic getaway, sunset cruise with a traditional Dhoni, all day deserted Island, dolphin search, local villages, traditional night or big game fishing, water skiing, kneeboard, wakeboard, banana boat, fishing and diving (PADI).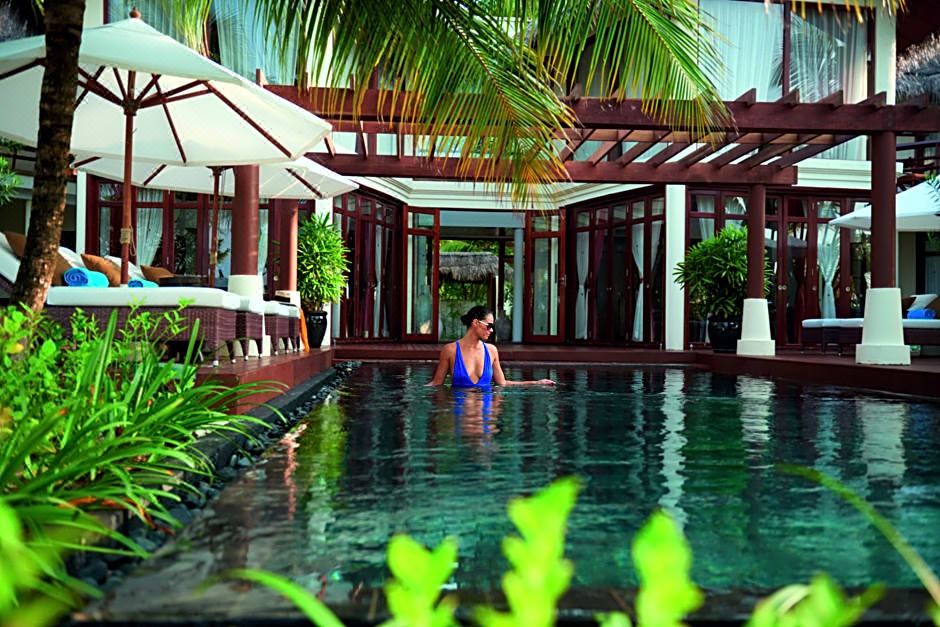 Spa
Open to the infinity of the Indian Ocean, the spa includes 11 treatment rooms, including massage rooms specially designed for couples. The U Spa ("U" as unique, by the way) is a place to wake up the body and spirit, with an emphasis on natural healing and the education of inner beauty, using the Ymalia therapeutic cosmetic, aromatic oils, massages, scrubs and wraps. Try the 'From Skin to Within' treatment, which combines the ancient healing methods of Ayurveda and classical techniques.
Looking to explore yoga at Constance Halaveli? The price is dependent on the timing of the session, so please do contact our Spa receptionist or yoga instructor directly. Read more
Reviews
In our opinion: With an ideal location in the unspoilt part of the Maldives, ultra-modern, spacious luxury accommodation, good facilities for children and the world class dive sites - the generous provider of pure pleasure - Constance Halaveli Maldives offers an unforgettable vacation for families and couples alike. You will appreciate the luxurious experience in this private paradise, and fully enjoy the magical atmosphere of the resort. Reviews for the Constance Halaveli Resort are overwhelmingly positive. Nearly all guests rave about the personal service from the staff, who seem to learn names and relate to guests almost immediately. The water villas in particular stand out as excellent and large.
"Don't feel like coming back after staying here", "I have just one word: HEAVEN ....", "a great place for a getaway , honeymoon , vacation , anniversary trip", "Just perfect!", "Wonderful island!", "This is my first review ever, I left and I want to go back already it was so relaxing.", "Honeymoon", "Magnificent", "Very very very Nice experience....", "Best hotel ever", "5* 10/10 paradise resort. Must go back soon.", "Heaven on Earth", "An enjoyable and memorable honeymoon "...
Why Stay Here : What Guests Love
Stunning and secluded private island location with a beautiful beaches. A convenient access to the lagoon, almost no coral. Ideal for swimming.
Phenomenal service
Very friendly and helpful staff with smile all the time
Gorgeous, airy Water Villas with private pool or on the beach
Design and comfortable space of water villas, sea views, full privacy, cleaning by 5 points;
Family villas and two-storey beach villas are ideal for families
Epic infinity-edge pool overlooks the beach
Huge variety of water sports available
Delicious, quality and varied food, every day a new cuisine, a rich buffet, a great wine selection. A wonderful Japanese buffet on Fridays.
Vast breakfast buffet is included in room rates,
all-inclusive package
Top-notch gym and spa, plus outdoor tennis courts
Kids' club has activities and menus for children
Masks, fins, boards, even a catamaran all that does not have a motor - for free!
Breathtaking diving with manta rays and whale sharks
What You Need to Know
Constance Halaveli is a 90-minute speedboat ride or a 25-minute seaplane ride from Male Airport; Upon arrival at Velana International Airport, you will be greeted by the hotel's staff and escorted to the Constance branded lounge. You should know that seaplanes operate only during daylight hours (from 6 am to 4 pm).
Check-in from 14:00 hours; Check-out Until 12:00 hours
The former Halaveli Holiday Island was completely modernized in 2009, becoming a 5-star Constance Halaveli. The resort has Green Globe certificate.
Constance Halaveli is named after the flower of Halaveli - look for them all over the island
Sky-high nightly rates and some pricey amenities
Did you know that Constance Halaveli has the longest Water Villas jetty in the Maldives, 850 meters long. A good opportunity to get to house reef snorkeling on foot.
Some villas can be a far walk from amenities
Ari Atoll (Alif or Alifu atoll) is the best place in the Maldives to observe whale sharks. The location of Constance Halaveli makes it an ideal site for divers due to the abundance of marine life, including sharks, turtles and manta rays;
If you travel with small children, you can pack a little easier, since the hotel has a lot for kids, including diapers, sterilized bottles with a heater, baby cots and high chairs, strollers and baths - all included in the price!
Water villas are better to take on an odd side, there is the best snorkeling spots. Equipment for snorkeling is always at hand.
Unlike most other luxury resorts in the Maldives, Constance Halaveli water villas have the best value;
In the beach villas the some pools are in front of the villa and some in the depths of the garden;
On Fridays in the evening - Japanese buffet - do not miss the wonderful sushi!
"U" Spa in Constance Halaveli is located in the center of water villas jetty;
The tennis stars can leave their rackets and balls at home - there is a stash in the hotel, a tennis set for guests.
Bathtub placement in villas can compromise privacy
in 2018 Constance Halaveli Maldives has been crowned the leading luxury water villa resort in the world.
in 2020 Constance Halaveli gets Green Globe certification for the sixth consecutive year.
If you are still hesitant, read on and find out more about Constance Halaveli through Kiki
Check Availability and Prices in Constance Halaveli
Maldives Luxury Guide
Here's the best of Maldives for luxury travellers. We've compiled the finest recommendations of places to stay, ranging from the most celebrated five-star resorts to luxurious private islands Read More
Maldives Romantic Guide
The ultimate 'flop and drop' and honeymoon destination, the Maldives is the playground for the most amazing and finest utilization of each second of this extremely valuable and hopeful time with each other in tota Read More