Why We love VARU by Atmosphere, Maldives resort
Maldives Inspiration guide
August, 2023
Perfect stays for everyone, all inclusive Maldives resort VARU by Atmosphere combines holiday into one seamless experience with an ultimate VARU Plan™. A luxury, romantic and a scenic Maldives getaway, VARU is nestled on a lush green island in the North Male Atoll, and a collection of private beach and water villas encircled by miles of blue sea and beaches allows you to enjoy awesome sea views from any point. Beautiful and extremely clean the island really has it all: splendid luxury, amazing service, and an outstanding food. VARU by Atmosphere is all about offering the best of the best, and it is our big favorite in Maldives. Read on to find out what to expect on your trip.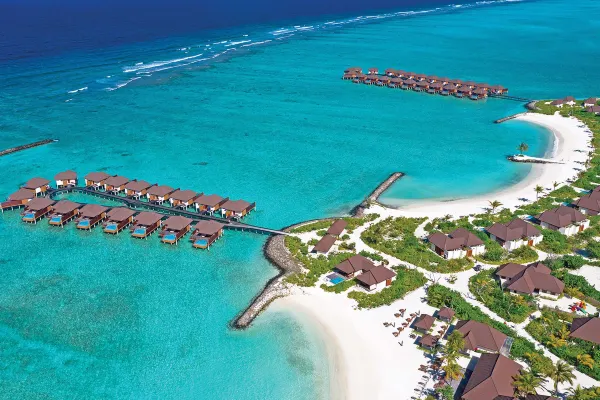 All guests at VARU stay on the unique premium all-inclusive The VARU Plan™ with an array of food and beverage options and amenities, activities and excursions and much more the island has to offer! With an unique all inclusive concept which combines your entire stay into one hassle free experience you don't have to think about anything just enjoy holiday.
VIEW VARU PLAN
What sets this Maldives resort aside from any other is the staff. We cannot speak any more highly of the kind hearted men and women who maintain VARU. A pure Maldivian, every single staff member greets you with a genuine smile and heart. They take pride in their culture and wish to make their guest's experience the most memorable. From an amazing video about Maldivian culture & cuisine at Kaage restaurant to your personal concierge and everyone in between all they are absolutely fantastic.
VARU is filled with the luxury villas and suites, a some come with a private pool – perfect for a refreshing swim surrounded by the romantic lagoon views. The resort offers both land accommodation and overwater villas, all designed to bring new excitement to a magical Maldives escape. Blend comfort with natural beauty these meticulously designed spaces offer the best of modern living with state of the art comforts. Spacious and clean rooms each feature a plush king bed, private outdoor deck, signature open-air bathroom, luxury Elemis bath products, a minibar and wine refrigerator, flat-screen television, and free Wi-Fi. A coffee machine and a handpicked Basilur tea service add to the comforts. Expect daily bonus from your room attendant: chocolates, baths and towel creatures on the bed.
No 5-star Maldives experience is complete without gourmet dining. There are 5 eclectic restaurants and bars on the island that bring the world to you on a plate through choicest culinary experiences. In addition to delicious food The Varu Plan™ gives you unlimited drinks and really good wine range and loads of cocktails.
For international cuisine, the main buffet is Lime and Chili, known for its colorful Indian, Chinese and Western cooking live stations as well as great and very friendly staff. There's a full bar there so you can get any drinks with your meal. On Wednesday evening there is an Asian theme night and Friday sees the gala dinner where there's an amazing spread of food and also a bit of a beach bar before a feast opens.
VARU has a three a la carte restaurants. How many included visits depends on your length of stay. NÜ is an over-water restaurant features Mediterranean, Italian and French-inspired menu. The lagoon crab risotto and tuna steak are highly recommended. Open only for dinner CHARCOAL intoxicates with aroma of char-grilled meat and seafood transport you to gourmet heaven including a some vegetarian options on the menu. With an unique artistic presentations by VARU' skilled chefs, Kaagé offer a Maldivian cuisine. You have a welcome drink and then watch a video about Maldivian culture/cuisine. You then get a selection of starters, soup, 3 out of 5 mains and a dessert sampler.
Honeymoon in VARU Maldives resort is the greatest pick! VARU's unique venues are curated to create the most romantic ambience for couples who seek an extraordinary setting to exchange their eternal vows. Whether your special day is an event just for two, an intimate ceremony with your closest friends and family, or an extended gathering, the resort promises ideal locations for all occasions.
As one of the most sought-after kid friendly resorts in the Maldives VARU have a host of activities lined up for the young guests. While you enjoy the best of time at VARU, your kids need not miss out on any fun and if you bring them the resort staff makes them feel special as well. The resort's world-class kids club, On The Move, offers scheduled activities, monitored play areas, and guided art and craft workshops to entertain your little ones.
VARU by Atmosphere does not disappoint when it comes to facilities. They truly have it all – a world-class ELE|NA spa, beautiful infinity pool, an array of activities, and 5-star Dive & Waterspots center to explore the reefs and an amazing lagoons. Non motorized water sports and snorkeling are included in your all inclusive plan and every day brings a new adventures above and below the water.
VARU by Atmosphere takes sustainability seriously. The resort's team has implemented various green initiatives such as reducing plastic usage, using energy-efficient appliances, and promoting recycling. Additionally, VARU is proud to support local conservation efforts to protect the Maldivian ecosystem. The goal is to minimize an environmental impact while offering the guests an exceptional eco experience.
Experience the ultimate luxury getaway in the Maldives by booking directly with VARU! As our valued guest, you will receive a generous 20% discount on your All-Inclusive Holiday- VARU PLAN stay.
BOOK NOW
Related stories
Best Experience: All-Inclusive Resort, Couples, Family, Diving, Spa, activities
VARU by Atmosphere is Premium All-Inclusive Resort found on the north-west edge of Malé Atoll. The brand new hotel reflects the local heritage and culture of the Maldives throughout its estate, with signature Maldivian-style design elements informing the look and style of the property. The 'VARU Plan' goes beyond the typical All-Inclusive concept, and includes villa accommodation, all food and beverages, special dining experiences, in-villa services, excursions, spa treatments, and more. As for the name VARU is a term from the local language Dhivehi, meaning "strength, resilience and life in abundance. Accessible by a 45-minute speedboat journey from the main Velana International Airport, VARU by Atmosphere boasts 108 luxurious villas and four restaurants and bars. Additional resort facilities include a dive and water sports centre, ELENA spa, gymnasium and kids club.
READ MORE
Maldives Luxury Guide
Here's the best of Maldives for luxury travellers. We've compiled the finest recommendations of places to stay, ranging from the most celebrated five-star resorts to luxurious private islands Read More
Maldives Romantic Guide
The ultimate 'flop and drop' and honeymoon destination, the Maldives is the playground for the most amazing and finest utilization of each second of this extremely valuable and hopeful time with each other in tota Read More