JA Manafaru Maldives
Best Experience for: Honeymoon, Family, Beaches, All Inclusive, Spa & Health
Jan, 2021
With ideal mix of luxury and natural perfection, JA Manafaru is a total Maldives all inclusive holiday and a top choice for travellers seeking adventure, a family time or a honeymoon experiense in secluded settings. Fringed with exquisite powder beaches in pristine, lagoon ringed Haa Alifu Atoll, at the northern tip of the Maldives, the chic tropical hideaway features 84 luxurious beachfront and overwater villas and bungalows, each with their own private plunge pool. Seven scenic dining destinations provide a gourmet food and world-class recreational facilities include Calm Spa, a fully equipped dive, water sports and excursion centre, plus a Marine Research Centre to conserve local ecology.
Accessible only via a 70-minute seaplane flight from the main Velana International Airport, JA Manafaru is a peaceful haven situated in the northernmost atoll of Haa Alif, where world-class service is delivered amidst dazzling turquoise waters, white sand beaches, distinct Maldivian architecture and lush vegetation.
The Island
One of the Maldives' most extraordinary luxury retreats, JA Manafaru lavishes its guests with luxury from the moment they arrive to the moment they depart. Delivers both family fun and romantic intimacy without one encroaching on the other, the resort is located on the Haa Alif Attol approximately 199 miles north of Male and is accessible via a 75-minute seaplane journey from the terminal that is about a five-minute bus ride from Velana International Airport, Male. The seaplane transfer is a real treat as it flies over the many other island resorts enroute to JA Manafaru giving great views ops.
Once you have gone through customs and have been reunited with your bags you walk through to the outdoor arrivals area and find your resorts representative. This area is quite a bottleneck as arriving passengers attempt to transfer to their island resorts either by seaplane or boat. Suitcases need to be rechecked and hand luggage assessed for weight if flying and you'll very happy head away to the lounge to await your next flight. Standard Transfer Times: Departure from Male to JA Manafaru - 11:00 and 16:00 hours;
The lounge at the airport where you needed to wait an hour or two for our seaplane is a typical airport lounge, nothing fancy but adequate for a short stopover with access to wifi, snack food, and beverages. Good news: The resort are building a more luxurious purpose built lounge at the dock area so this step will hopefully be improved in the coming months.
You can walk round the whole island along the beach in 30 minutes. There are cycles for each villa if you don't fancy walking. The island with its beautiful white beaches and delightful huts over the clear turquoise colored water really is picture postcard perfect. Unsurprisingly idyllic, the island features the obligatory soft white sands, house reef, over-water villas and beach bungalows ("sunrise" or "sunset"), with a verdant interior that's home to squawking crows and "flying fox" bats. A series of paths wend their way through it, linking rooms with restaurants - there's even a fleet of golf buggies on hand to ferry guests around. Sitting on the back as they whizz through the dense vegetation is reminiscent of that jeep chase scene from Jurassic Park. It's all beautifully kempt, not least at the vast, dreamy spa, guarded by an enormous Oriental-style gate and navigated using meandering stone footpaths framed by artificial streams. There are other nice touches - notices teach you about the local flora and fauna, while replicas of traditional wooden homes show how Maldivians lived before the arrival of the tourist dollar. After deplanding onto the dock you will be welcomed by personal concierge who would be looking after you for the duration of your stay. DOWNLOAD RESORT MAP
On the island: 3 pools, including children's pool, wine cellar*, spa*, overwater fitness centre, tennis court, library, kids' club and playground, PADI dive centre*, watersports*, Wi-Fi
A team of 350 associates permanently resides on the idyllic five-star luxury island resort to bring the Maldivian culture to life on the island and ensure that guests experience both seamless five-star service whilst also enjoying the freedom to roam as an explorer on the raw, remote beauty of the island.
Location
Haa Alifu Atoll also known as Thiladhunmathi atoll is the northernmost group of islands in the Maldives. While other Maldivian regions over the past two decades have overgrown with resorts, Haa Alif has been opened to foreign tourism only in 2005. As a result, the atoll is home to a some private resorts, modern and especially luxurious, even according to common Maldives' hotel standards. Read More...
Accessible via a 75-minute seaplane flight from the main Velana International Airport or by a 45-minute domestic flight to Hanimaadhoo Airport followed by a 35-minute luxury speedboat transfer, JA Manafaru is a peaceful haven situated in the northernmost atoll of Haa Alif, where world-class service is delivered amidst dazzling turquoise waters, white sand beaches, distinct Maldivian architecture and lush vegetation.
Villas and Suites
Experience the wonders of Mother Nature at her best. Whether it is beachfront or water living you seek, each of the 84 villas and suites at JA Manafaru has been designed to complement the natural setting of the island. Check in time at the resort is 2pm so you loved the fact that you could go straight to your room, The personal concierge program works really well as there is no need to visit reception to do any paperwork as this is all taken care of for you.
Given the large number of celebrities and smooching couples that frequent the resort, the utmost importance is given to privacy. Each suite is perfectly hidden, with its own private pool and large outdoor space - with room for loungers, plants and even a cabaña. The style is soothing and simple, with cream walls and lots of dark wood. We highly recommend the cheaper (relatively speaking) but more characterful beach bungalows, some of which have split levels and colourful modern artwork, to the near-identical over-water options - though mosquitoes are more of an issue. The open-air, granite-clad bathrooms are all huge, and come with "his and hers" sinks, Elemis toiletries, monsoon showers and whirlpool tubs. While the Sunrise Water Villas bask in huge floor-to-ceiling windows, the idyllic Beach Bungalows are hidden tropical retreats, with a private beach cabana and open-air bathroom just steps from the pristine white sands. As for extras, try to avoid silly "pillow menu" (increasingly a superfluous staple on the high-end hotel circuit) thanks to the complimentary Nespresso machine and fast and free Wi-Fi. For those unfamiliar with budgeting, there are a handful of truly enormous suites - including the "Royal Island", which comes with a snooker table and its own spa and bar.
Each of the 83 villas has an expansive outdoor bathroom, a plunge pool, sun loungers, and a shaded daybed that are entirely private, along with the requisite room technology of Wi-Fi, iPod docks, DVD players. The well-stocked fridge that meant you didn't need to venture out other than at mealtimes or to visit the gym plus the stunning infinity pool and idyllic outdoor deck work perfectly for your needs. Bathroom amenities are all by Elemis. Housekeeping comes in a few times a day, rooms are very clean. Water pressure in shower is awesome.
Beach Bungalows – Offering spacious accommodation just steps away from the beach with private beach cabanas complete with a plunge pool. The surrounding tropical greenery makes this quite the private hideaway and perfect for families. Room for up to 3 adults plus 1 infant.
Beach One Bedroomed Suite – A larger beach option that can accommodate up to 4 adults. A private deck area with infinity pool and an open-air bathroom are just a couple of the luxurious features of this class of accommodation. Room for up to 4 adults plus one child.
Sunrise and Sunset Villas – As the name implies the villas are designed to offer you amazing views at the start or end of each day. The villas are set over the water and have a glass panel built into the floor so you can observe the marine wildlife without the need to venture outside of your air-conditioned sanctuary. The private deck with its infinity pool and comfy loungers is cleverly designed to offer privacy from your neighbors. Room for up to 3 adults plus 1 child. You'll probably spend around 75% of your time in the villa so this is a major selling point for this resort.
The Ultimate Luxury – There is 1 Grand Water Two Bedroomed Suite that can accommodate up to 5 adults plus 1 infant and 2 Royal Island Two Bedroomed Suites complete with a sauna, steam room, and spa treatment area that can accommodate up to 6 adults plus 2 infants.
Two exquisite Royal island Suites await world-weary travellers and spa aficionados. Perfect for a large group of family or friends, this exclusive two-storey beach residence, features its own private spa facilities and treatment room. Passing through a private courtyard decorated with ornamental ponds, the airy living and dining area opens to reveal a spectacular private pool bordered by an enlarged sundeck, while lush greenery conceals a secluded pristine beachfront with a beach cabana.
Restaurants and Bars
Dining is excellent here, with a number of innovative restaurants and bar options on the island. There are three main restaurants - Kakuni, for fish and coconut-rich Maldivian cuisine; White Orchid, for Oriental fodder including sushi; and Ocean Grill, for steak and lobster (a pool in the middle of the restaurant is filled with dozens of the blighters).
Kakuni Restaurant is the main eatery, a buffet-style restaurant that has a sumptuous selection of international and Maldivian culinary delights and selected themed dinners. Within a lush setting beside the resort's main swimming pool, Andiamo Bistro & Pool is the stylish à la carte restaurant where sumptuous Mediterranean flavours and home-style dishes entice, while the beachfront Ocean Grill is a stunning setting for mouth-watering seafood and succulent grilled meats. The award-winning White Orchid restaurant is famed for its exceptional Asian à la carte cuisine. Set in an overwater bungalow, you'll not only enjoy idyllic ocean views, but innovative creations of Japanese, Chinese, Indian and Thai specialities. There's also a Teppanyaki table here for the ultimate Asian-fusion experience. Each is reliable, and the surroundings smart, though I'd question the obvious obsession with very low lighting - the waiter don't need to clip a tiny torch to the top of your menu.
Meal upgrade options

Half Board: 
• Buffet breakfast at Kakuni Restaurant 
• Three-course lunch or dinner at any restaurant (excluding The Cellar)
Full Board from: 
• Buffet breakfast at Kakuni Restaurant 
• Three-course lunch and dinner at any restaurant (excluding The Cellar)
All Inclusive from: 
• All meals at any restaurant (excluding The Cellar) 
• Selected drinks including house wine, beer, house spirits, soft drinks and coffee 
• In-villa minibar replenished daily 
• Unlimited non-motorised watersports including windsurfing, kayaking, stand-up paddle boarding, catamaran sailing and canoeing.
However the negative is that even with an all-inclusive package there are items not included such as specialty juices (orange juice is ok but not watermelon!) As a stickler for rules you'll abide by this but you did wonder what they would have done if you have pour the wrong juice by mistake
A fourth option - The Cellar - is a must. The island's exclusive fine dining venue and available to book just once a week, it's a single table with room for around 10 diners located inside the island's beautiful (and the country's solitary) underground wine cellar to JA Manafaru. Unsurprisingly very popular, two-and-a-half metres below sea level, this volcanic stone 'wine cave' is a haven for romantic dining, and offers haute cuisine with an exquisite selection of premium vintage wines. The sommelier has an extensive knowledge of wine and he is on hand to match your wine with the food on offer. The lamb rack is divine with the New Zealand Pinot Noir. It is a dining experience unlike any You have experienced at Manafaru or else where.
For drinks, head to the Infinity Bar & Pool to enjoy delicious cocktails and appetising light snacks. Alternatively, visit the Horizon Lounge for a vibrant after-dinner setting. You'll find an extensive menu of signature cocktails and refreshing beverages here, as well as cosy sofas and live entertainment, and a serene outdoor terrace that affords incredible ocean views.
Childcare
There's a crèche, cinema and kids' club "Cool Zone" with a shallow swimming pool, table tennis, fussball, pool table, and even a fully-stocked games room with a flight simulator and Playstation with bucket seat for motor racing nuts. Babysitting is available at the resort plus a dedicated activity program for the little ones. This resort is very popular with families; in fact one look at any of the restaurants told you that as most tables were set for 4+ and was quite a contrast from our previous visits to the Maldives.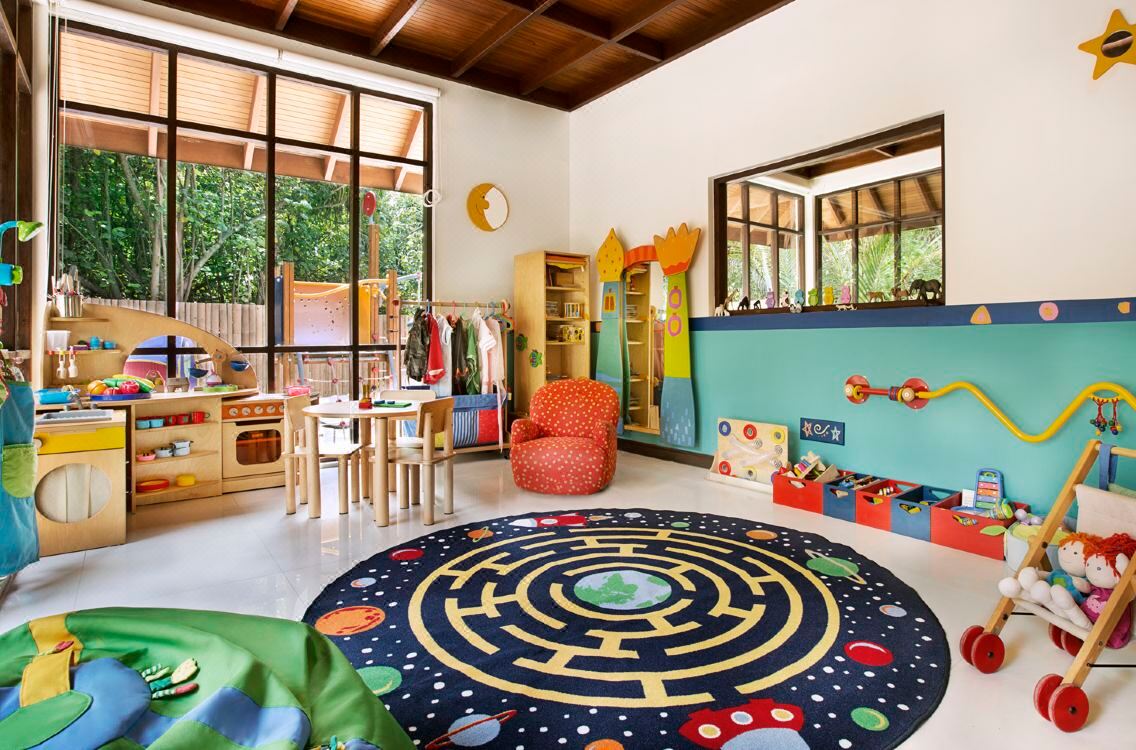 Diving & Activities
There are a lots things to do on Manafaru Island to keep the whole family happy and active. The gym is open 24/7 with access granted via your electronic room key. Although not huge there was a good variety of equipment on offer and was usually empty when my husband visited for his daily workout. If you are feeling energetic then there are a variety of other sports on offer including tennis courts, table tennis, beach volleyball, an 18-hole golf simulator and a pool table. There is a PADI dive center offering plenty of water sports including water skiing, windsurfing, canoeing, kayaking, stand-up paddling, catamaran sailing, speedboat excursions, wakeboarding, jet-skiing, mono-skiing, knee-boarding and fun tubing (motorized sports have additional charges).
The resort also offers a variety of 'special experiences' such as Maldivian cooking classes, fishing trips, romantic beach dinners, and sunset boat cruises. The nearby uninhabited islands, under the same ownership as the Beach House, are ideal for snorkeling or picnics. If you have friends who think there is nothing to do in the Maldives so I like to do my bit to dispel that myth.
The diving at JA Manafaru, Maldives, Haa Alifu Atoll is an experience in itself. As this is the only resort that operates in this part of Haa Alifu Atoll, private diving is very much guaranteed. The corals are making a great come back after the set back during the Tsunami in 2004 and at various reefs, hard and soft coral formations offer a stunning sight all along the dive. The diving is fairly easy compared to other Atolls, because of the wide channels and shallower depths: the currents are less forceful. Manta rays are very common in the season from December until May and 2 dive sites with 'cleaning stations' give the divers the opportunity to enjoy their movements at a shallow depth very close by. Large groups of dolphins are often seen inside the Atoll. The house reef is at the end of the jetty a couple of minutes away from the diving school. It has a sloping reef and abundant reef fish make your first dive a breathtaking experience.
Spa
Already famous for its crystal-clear waters, palm tree-lined beaches and commitment to providing guests with a relaxing and rejuvenating stay, JA Manafaru is count itself amongst the best spa destinations in the world.
Hidden with lush greenery, the Calm Spa & Salon is a secluded wellness retreat which offers guest pure indulgence and relaxation. Oases of calm, eight stand-alone treatment rooms including two single rooms, one Ayurvedic room fitted for Shirodhara therapies, and one massage room built specifically for traditional Thai massages. All rooms not only enjoy a private garden, but an open-air rain shower and bathtub. Experience authentic Maldivian healing treatments alongside ELEMIS facials, therapeutic Ayurvedic treatments and soothing massages, or simply head to the sauna or Jacuzzi for a bit of pampering and relaxing downtime.
You'll be impress by the wide range of treatments at the Calm Spa & Salon, creative treatments for kids and the stunning outdoor setting with picturesque spa villas dotting the tropical landscape. Treatments and rituals are held in picturesque spa villas amongst tropical flora, winding rivers, outdoor relaxation areas, romantic swings and vitality pools.
Amongst the many treatments available, the guests love the signature spa rituals which include a 'Seven Day Manafaru Journey' of luxury massages, results-orientated facials, body polishes and soothing after-sun experiences, a myriad of couples journeys' including an indulgent three-day programme and a litany of massages including Maldivian massage with locally sourced coconut and other island ingredients.
The family spa treatments specifically stand out for their focus on fun and creativity, using natural, organic products to create bonding experiences between parents and kids. In the 'Mom & Me' ritual, mothers are encouraged to enjoy a fragrant frangipani body polish while their daughter tries a natural coconut oil body massage and organic facial with natural ingredients from the Chef's Garden.
Reviews
The JA Manafaru Maldives gets mostly very good reviews, although a few previous guests have pointed out some confusion upon arrival, which could easily have been caused by an external booking problem. Generally the island and its remoteness is very highly regarded, and the rooms, staff, service, and food all get good marks as well. Considering the JA Manafaru Maldives is more in the moderate price range, its reviews are more positive than similar properties in the Maldives, so it looks like a solid choice for a honeymoon or any other kind of romantic getaway.
..."Fantastic vacation!!!", "Absolute heaven - paradise in every sense of the word. Amazing holiday", "It was amazing, "Wonderful Experience", "Overall, loved it!", "JA Manafaru is a great place to stay ", "Wow, we really said wow a lot of times, which is something hard to get from me", Exceptional, "Will back to you; lovely manafaru", "Amazing, heavinly honey moon , highlly recommend it.", "110% in every way!", "Don't think twice - book it", Superb, "Exceed all expectations", "Fantastic experience with some considerations", "Perfect little island in paradise", "Overall I felt there were other locations in the Maldives that offered more for similar costs."...
Pros: What We Love
A great location on the remote 35-acre private island
Very romantic destination
Very polite and helpful staff
Ultra-luxe powder white sand beaches
The water villa view over the sea
Good privacy
Snorkelling experience
An outstanding service from start to finish
resturants are pretty good with variety and taste
kid's club
Underground wine cave serving haute cuisine
sunset dinner and overnight sleepover on a deserted island
The spa
minimum to zero mosquitoes
The whole holiday experience
What You Need to Know
JA Manafaru is a 30-minute boat ride from beautiful snorkelling sites. It takes 70 minutes via sea plane to get to the resort from Male International Airport, which is about 320 km away.
Seaplane transfer is the cheapest, comparing to other resorts. The return rates are: Adult: USD 250, round trip, inclusive of all taxes, Child (0 to 12 years): Complimentary
Check out at 12:00 but flexible if possible and pay 50 percent of the daily rate. The earliest check-in time is 14:00.
Children of any age are welcome.
JA Manafaru is the most northern resort in the Maldives
Maximum 2 Children under 12 years will eat for free based on the rules and meal-plan accompanied by an adult, excluding alcoholic beverages.
all inclusive is recommended, since food and drinks prices are sky-high
In villa dining is 24 hours
Lobster dinner, Teppanyaki experience and beach dinner are a must!
plunge pool is a bit smaller than expected
each villa is equipped with bicycles
snorkelling gear is free of charge
Overpriced Spa
Award-winning JA Manafaru, part of Dubai based, international hospitality group JA Resorts & Hotels, was recognised twice at the Seven Star Luxury Hospitality and Lifestyle Awards in the Indian Ocean category for the third year in a row.
Manta rays are very common in the season from December until May
At the 2018 Calm Spa and Salon at JA Manafaru won two awards at World Luxury Spa Awards.
At the 2019 World Travel Awards, JA Manafaru was named as 'Indian Ocean's Leading Honeymoon Resort 2019', the 'Indian Ocean's Leading Hotel Suite 2019' and 'Maldives' Leading Hotel Suite 2019'. With a five-star rating on Trip Advisor, JA Manafaru was also selected for a Travellers Choice Award in 2019.
On October 2019 JA Resorts & Hotels appointed Scottish national Karen Merrick as General Manager to take over the operation of its multi award-winning private island resort in Maldives, JA Manafaru.
Check Availability and Prices in JA Manafaru
Maldives Luxury Guide
Here's the best of Maldives for luxury travellers. We've compiled the finest recommendations of places to stay, ranging from the most celebrated five-star resorts to luxurious private islands Read More
Maldives Romantic Guide
The ultimate 'flop and drop' and honeymoon destination, the Maldives is the playground for the most amazing and finest utilization of each second of this extremely valuable and hopeful time with each other in tota Read More