Kandima Maldives
Best Experience for: Family, Couples, Activities, Nightlife, Value
Feb, 2021
Kandima is a "new look" of the Maldives combining wild parties in the beach club, extensive dining options and even a chance to see the dolphin from the bathroom. It's about genuine hospitality with a human face and clever solutions that use the latest innovations, not to mention the playful spirit of a private island. Kandima was a late-comer to the Maldivian tourist market and is markedly different to the classic honeymooner resorts. It's aimed at sports-loving, party-going groups as well as couples and active families, and has a range of accommodation options, from affordable studios to luxury pool villas.
Located on a lush tropical island in Dhaalu Atoll, Kandima offers a choice of 266 stylishly designed studios and villas, with 11 different categories to choose from, all of which have a private terrace and endless tropical views to enjoy. The four-star plus resort has first class infrastructure, boasting the largest pool in the Maldives, tennis courts, an art studio, a marine biology school, a kids club, a game room, a library, a gym, a yoga studio and a spa. There is plenty to keep everyone occupied and the array of activities and events on offer is endless, including a huge choice of watersports, diving or snorkelling near the house reef, yoga, Zumba, bicycles, beach volleyball, petanque, arts and crafts lessons, and much more.
The Island
Forget the normal, mundane. Exit with everyday, expected. Kandima Maldives that opened in February 2017, an extraordinary - intelligent, playful and responsible. Kandima Maldives is ideal for those looking for quality, value and a modern and intelligent holiday. The goal is to help guests get the most out of their holidays, making each stay an unique, a fun and a memorable. The promise of Kandima Maldives is that all guests will get a feeling of excitement, relaxation, inspiration and, above all, happiness. What else is different about Kandima Maldives? Well, everyone is welcome to start. This resort is designed for guests of all ages; Families, couples, groups of friends and, of course, the newlyweds. If you are looking for relaxation, adventure, wellbeing, sports, spa holidays or just family time, Kandima Maldives will have something for everyone.
Ah, the Maldives: it's all about white soft sands, the turquoise sea and the newlyweds who enjoy their honemoon of an ultra-lazy dream, is not it? But not in Kandima Maldives, the resort determined to completely change the status quo. Part of the newly formed Pulse Hotels & Resorts group, led by the indigenous Maldivian businessman Sanjay Maniku, opened in the spring of 2017, Kandima declared itself as the "new Maldives" - where parties with world class DJ soundtracks, games on the waves with every kind of water sports under the sun and freedom creativity in the walls of an art studio takes precedence over a carefree holiday.
Kandima Maldives uses the latest technology to raise the experience of its guest. The new Kandima accomodation management is the first of its kind - it's a clever, unobtrusive technology, very user-friendly, and the new RFID bracelet means there's no need to carry a key or wallet. This state-of-the-art technologies will allow Kandima to serve guests at the highest level from booking to arrival, throughout their stay and beyond.
Location
Kandima is not just a hotel, but an entire island is one of 1190 that makes up the Maldives. To get to the resort from Male airport, guests can take a seaplane trip and in 40 minutes of scenic flight find themselves on the spot with a smiling staff and a welcome drink. Another alternative is to fly local airlines + 20-minutes by speedboat. After check-in at the resort expect a short buggy trip to your villa via a very beautiful island about 3 km long.
Villas and Suites
The resort offers a choice of 274 stylish studios, beach and aqua-villas with 11 different categories to choose from, each with its own terrace and endless tropical views, dominated mostly by turquoise. Their location at various locations along the 3-kilometer island makes the accommodation suitable for honeymooners and couples looking for good privacy and families alike, as well as groups of friends. Studio rooms are functional but make the Maldives experience affordable. There are a couple of honeymoon suites and several over-water villas.The beach stretches all along the eastern coast giving access to shallow waters. The pool, beach bars and restaurants are located centrally, with the beach villas off to the south and the studios to the north. The public areas are all bright pink cushions, white walls and loud music from the bars. DOWNLOAD RESORT MAP
Accommodation options vary from studios to villas, with private entrances, spacious bedrooms and huge baths overlooking the ocean. Villas have their own jacuzzis, and Ocean Pool Villas have their own infinity pool with stunning views of the lagoon. Watching a flock of dolphins diving past from your own pool or from a bath is one of those moments in the Maldives once in a lifetime. All Kandima's beach rooms overlook the white sand and are ideal for a morning swimming in the sea, before breakfast.
Ocean villas go for a rather quieter, sophisticated look, but elsewhere the décor is modern, bright and fun, with bold yellow cushions, pictures on the wall depicting sun and sea, wooden floors and light furniture. Hanging shell-shaped lights look the part but are rather low, making getting out of bed a bit hazardous. Tea- and coffee-making facilities and the wardrobes are in an alcove between the bedroom and bathroom.
Restaurants and Bars
If you want to dine in a group, or go out for private dinner somewhere in a romantic setting for two - Kandima Maldives is the perfect place for you. The island offers food in accordance with any gastronomic taste, boasting one of the largest restaurants and bars in the country, with an incredible selection of different cuisines, various world tastes from Chinese to Maldivian and Mediterranean.
Already an impressive prospect, Kandima has 10 restaurants, from the Azure Mediterranean to the authentic Maldivian Sea Dragon, and Flavor serves as the central dining room, with a generous banquet of a variety of dishes, including exquisite Sri Lankan curry and Thai beef salads, effervescent, mouth-watering and cooked right before your eyes by teams of the resort's talented chefs.
The Chinese, Sea Dragon, is sensational (try a Beijing duck; roasted crispy chicken with prawn crackers and live lobster). There is also an à la carte menu – mostly fish and local dishes – on the beach at Zest and at the grill, Smoked. The ice-cream parlour also serves coffees, sandwiches and cakes. The Forbidden Bar is for adults only and accessed through a psychedelic tunnel at Sea Dragon.
The large main restaurant, Flavour, offers themed buffets at dinner, and the biggest breakfast spread imaginable in the mornings. Around 20 counters offer fruit, yoghurts, cheese, cold meats and freshly prepared pancakes. There's full English with eggs cooked any way you want, and full Asian, with varieties of noodles and sushi. There is also a huge array of bread and pastries, from healthy seed and rye options to Middle Eastern sweet cakes. Coffees and teas are served at the table.
A melting pot of different cuisines, Kandima offers all foods for all tastes. Will this be a Full Board or Platinum All Inclusive it's love at first bite when dining at Kandima. What's Hot on Kandima's Dining Scene? Learn more
Activities
The Beach Club in which all the things start with "K" - attracts world-renowned DJs and it's an ideal spot for the legendary parties. In another attempt to stand apart from the rest of the Maldives focused on relaxation, Kandima offers a wide range of activities - from an art studio to Aquaholics, a water sports center that offers virtually all types of water recreation. Many during snorkeling will be lucky enough to see a flock of dolphins, a memory that they will not soon forget. And for children there is Kandiland, a fun children's play and education center, where nannies are available on request, and children can even learn Maldivian.
Despite the fact that Kandima is trying to offer himself as something else, he has not completely abandoned the true values ​​of the Maldives. The wellness center, consisting of a gym and a spa, is ready to relax tired muscles - and Balinese massage is strongly recommended.
There are art classes, cookery lessons and a million other things to do. The gym, Burn, is open 24/7 and the spa is suitably large and luxurious, with kickboxing classes as well as yoga. The medical centre even has doctors, nurses, dentists, X-ray, ECG and ultrasound machines, and a decompression unit.
Reviews
Though there aren't a lot of reviews just yet, the existing ones do nothing but praise the resort. Not only are the guests in love with their rooms, but the rest of the resort as well. Common praises used are 'amazing', 'exceptional' and 'fabulous'. The rooms, activities, nightlife, staff and food are all said to be wonderful. Because the reviews are so good, it seems like this resort is a great choice for its price range.
...The most beautiful island, the most beautiful colours, the best foods what I have eaten so far!", "Excellent Resort ", Exceptional, "The potential to be a great resort...", "A very nice and perfect place to go for a memorable getaway with your love ones. All the staff are f", Superb, "Excellent place for family holidays", "Fantastic resort!!!", "It was amazing, I definitely recommend Kandima for your holiday in the Maldives", "An amazing stay and we will definitely be back!", "Breathtaking and Heavenly!", "WE LOVE KANDIMA! Could only dream of coming back again!", "Above our expectations ", "Excellent two weeks stay; worth visiting again", "Must visit! Book the water villa with view to the sunset and don't forget the snorkeling equipment."...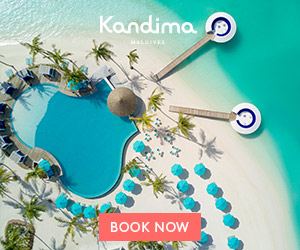 Pros: What We Like
Convenient, a scenic 40-minutes  seaplane  journey from  Velana (Male) airport
The staff is extremely professional
Great service
Beautiful island
Beach is heavenly
Rooms are comfortable, clean and stylish with a stunning sea views and a great privacy.
Food isdelicious and with a big variety.
Awesome kids club
A fun nightlife
water sports and activities
What You Need to Know
Check out & avail these really kool deals SEE ALL OFFERS
In 2023 Pulse Hotels & Resorts appointed Tom Van Tuijl as the new General Manager of Kandima Maldives
Kandima is one of several resort islands in Dhaalu Atoll, surrounded by a large natural lagoon. One of the conditions of leasing the island was that the owners had to build an airport nearby, making it a half-hour flight from Malé and a 20-minute boat ride. You can also travel by the more scenic (though more expensive) seaplanes
Check-in from 14:00 - 15:00 hours; Check-out from 07:00 - 11:00 hours
The feel is contemporary cool; unlike most other Maldivian resorts it does not get hung up on luxury or exclusivity. Most guests come here to play, have a good time and generally engage rather than close the doors and retreat. Celebrity guests love it as much as bloggers and Instagrammers.
Kandima's big boast is that it has the longest swimming pool in the country. It also has what is probably the largest kids' club, Kandiland, equipped with a pirate ship and large in-ground trampoline.
There is a medical centre on the island
Ocean villas are on the wilder coast and offer greater luxury and privacy – as well as a view of the sunsets.
The resort's rates are unique for a high-end resort in the Maldives - a family of four can have a room for seven nights, including transfers and children's food, for a good value for many. The better accommodation is more expensive but still good value.
Free Wi-Fi.
Check Availability and Prices in Kandima Maldives
Maldives Luxury Guide
Here's the best of Maldives for luxury travellers. We've compiled the finest recommendations of places to stay, ranging from the most celebrated five-star resorts to luxurious private islands Read More
Maldives Romantic Guide
The ultimate 'flop and drop' and honeymoon destination, the Maldives is the playground for the most amazing and finest utilization of each second of this extremely valuable and hopeful time with each other in tota Read More