Outrigger Maldives Maafushivaru Resort
Best Experience for: Honeymoon, all inclusive, Swimming with Whale Sharks, Diving
Updated Jul, 2023
A very special place, Maafushivaru is a unique island getaway that epitomizes all that one dreams of when thinking of the Maldives. Located in South Ari Atoll, the boutique resort is one of the best all inclusive destinations in the Maldives. All thatch-roofed 81 villas inspired by local architecture are either set amidst verdant gardens or poised over the turquoise lagoon and have an exquisite design, an espresso coffee maker, a mini bar, a private terrace, an outdoor shower, an iPod docking station, and comfortable double beds; some rooms have semi-private pools.
Combining a Maldivian paradise with contemporary indulgences, a rays, reef sharks, fish, and curious herons are the common attractions in the lagoon area, and the island's location in the southern tip of the picturesque atoll of Ari is ideal for spotting whale sharks and mantas year round. Designed for couples seeking to rekindle their romance or for families looking to spend quality time together, outstanding and unique amenities include a chic lounge at Malé Airport, an infinity swimming pool with a large bar, a laser show, a large overwater spa and gym, and a modest wine bar. Located in the same lagoon as Maafushivaru, just minutes away, is Lonubo, a stunning deserted islet, exclusively for the use of Maafushivaru guests. Maafushivaru offers an experience that elegantly combines a Maldives from times-gone-by with the contemporary luxuries of the present, distinguishing it from other Maldives all inclusive resorts. The comparable Lily Beach Resort & Spa is more convenient for families with kids.
The Island
Built in 2010, Maafushivaru works hard to maintain a luxurious appearance that, in the wet climate of the Maldives, can be very complex and expensive. The resort was forced to use sandbags and a wall was built around the east side of the island to reduce erosion caused by incessant waves. Unfortunately, this spoils the panoramic view a bit, although many reef sharks and fish are frequent guests in the sandy shallow waters.
Reopening in late March 2020 after an extensive luxury refurbishment and having joined Outrigger Hospitality Group brand, Maafushivaru Maldives is a five-star Indian Ocean gem offering small island charm perfectly matched with contemporary architecture and bespoke finishing touches.
Just 350m in length, Maafushivaru is small and romantic and the island itself is very unusual, triangular in shape with two wide beaches and a glorious lagoon. The side with public buildings, the main jetty and the first 6 rooms is fortified with a sea wall and the beach is not so wide, but there is quick access for snorkeling, while the other 2 sides with wide and fine-grained beaches with a sandy lagoon ideal for playing and swimming. The west side, that includes luxurious beach villas and a scuba diving school, enjoys beautiful sunsets. And the north, third party, has a large beach with a main swimming pool, and a water villas jetty, where even-numbered villas facing west, the rest face east. You will find many places overlooking the azure seas to relax and curl up with a favourite book, including a sundeck that doubles up as a great spot for a private dinner.  DOWNLOAD RESORT MAP
Maafushivaru beach is suitable for screensavers on the desktop, with soft white sand, in which your feet pleasantly drown and with shallow, crystal clear turquoise waters of the lagoon. Expect to find comfortable wooden loungers here, there are pillows and rolled beach towels, although you can also find a some hammocks strung between coconut trees in different places. If you don't have an umbrella for yeour deck chair and you want to hide in the shade, just tell the staff and they will bring it to you.
Guests here are usually couples, especially newlyweds, and mostly from Europe or Asia, depending on the season - although from November 2015 the resort is open to children. Families are well accomadated, but romantic couples will be the majority of guests. Large, open spaces work great, providing both good privacy and places to chat and socialize.
Location
A true island paradise, Maafushivaru is located in South Ari Atoll, home to whale sharks, which can be spot here throughout the year, as well as Mantas (in season) and dolphins. A private island drifts close to Dhangethi, an inhabited Maldives island and several other small, uninhabited islands used for diving and snorkeling trips, fishing, beach or barbeque picnics.
As for transfer: Maafushivaru's guests at Malé International Airport are met by a hotel staff and then escorts them to the seaplane terminal. Another feature of the resort is a modern, stylish and comfortable lounge at Malé airport, convenient for a short wait before a seaplane trip. Expect a luxurious and relaxed atmosphere, and good service. With white comfy sofas, snacks and drinks in buffet style, as well as free Wi-Fi - this is one of the most beautiful lounges in the TMA terminal. There are even soft lounge chairs on the open deck if you want to watch seaplanes take off and landing, or smoke. The resort is 95 km, and transfer to the island is by seaplane takes 25 minutes from Velana Airport (VIA).
Villas
Outrigger Maldives Maafushivaru Resort features 81 brand-new villas spread across five room categories.
The island offers you villas in three distinct styles: Beach Villa, Beach Pool Villa and Duplex Pool Villa, each combining elements of Maldivian architecture with stylish and chic finishing touches. In some respects, the resort's style echoes the best of what was here at the beginning of tourism: thatched roofs, sand on the floor, wicker mats and a lot of wood, including coconut palm wood. The walls are minimal, providing a good view of the beach and blue waters. At the same time, it is now absolutely modern, with high-quality amenities and fittings, elegant luxurious interiors dressed in cream, brown and ivory. Beach Villas are just steps from the beach with a semi open-air bathroom, while Pool Villas are in groups of two with a shared pool; ideal for families and couples travelling together. Each nestled under a canopy of palms, these beach front sanctuaries provide luxurious intimacy, finished with chic touches and must-have mod-cons.
All rooms at Maafushivaru have double beds, a flat-screen TV with a DVD player, an iPod docking station, an espresso machine, a VOYA cosmetics range in the bathrooms, bathrobes and minibars. In all places you will find a sophisticated and contemporary design, represented by white walls and fabrics of light colors, polished tiled floor, lots of light, and furniture made of natural wood with white cushions. Bathrooms have a chic atmosphere with whitewashed walls, a square sink bowl, a shower, and there is also a separate outdoor shower in the garden. Only Water Villas have a jacuzzi - amazing for this category.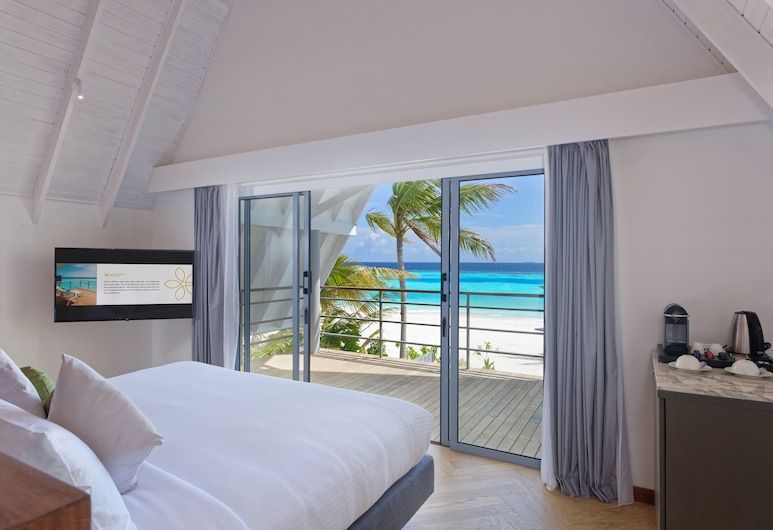 Surrounded by abundant vegetation, Beach villas are spacious, bright, fresh and with private outdoor terraces with sun loungers and high-quality wicker furniture overlooking the sea. Beach villas are less glamorous, but equally well equipped, with an iPod docking station, an espresso machine and a good TV with DVD player (there are some free DVDs). They also have a large veranda leading to the beach and the lagoon.
The entry-level Beach Villas feature private sea facing sun decks and semi-open garden bathrooms with rainfall showers; whilst those wanting their very own hideaway can opt for the Beach Villa with Pool which includes a private plunge pool overlooking the cerulean Indian Ocean.
An upgrade to Pool Villa will give you a separate dining room, a small outdoor area with a living room and your own infinity pool. On the beach side there is a deck with sunloungers. These are 4 Pool Villas (116,115,118 and 119) that are built in pairs, sharing a long, wide deck and a private pool. They are ideal for 2 families or a group of friends who are on holiday together.
Although many guests claim that there are no bad rooms on the island, Maafushivaru's Water Villas are probably the most popular choice with a freestanding jetty and views of the sunrise or sunset through large panoramic windows. Scattered on stilts over the lagoon, with direct access to the water, Water Villas are just magnificent. Floor-to-ceiling windows and glass doors on both sides bathe the room in sunshine. But with lowered blinds, spotlights and an iPod, this is a very cozy paradise. A wardrobe and a walk-in closet lead to a light and very stylish bathroom with a shower, which also leads to the deck. The Water Villas have spacious bedrooms, separate walk-in closets and their own open-air verandas with a seating area and sun loungers and with direct access to the snorkelling, although you also get covered bathrooms (with bath), a slight smell of sewage from the toilet, and DIY traces in some villas. Bungalows (even) looking to the south-west catch the terraces more sun than those that facing north-east. Water Villas can accommodate 2 adults and 1 child, while Beach Villas and Pool Villas can accommodate 3 adults or 2 adults and 2 children.
Restaurants and Bars
Dining is a definite focus of Outrigger Maldives Maafushivaru Resort, with seven bars and restaurants. The high-quality products, delicious seafood, a good selection of vegetables and fruits will completely satisfy your appetites.
Highlights include Moodhu Grill, resort's signature restaurant offering fresh meat and seafood with a range of dishes from its tandoor oven, Cielo an all-day dining restaurant with a Mediterranean-feel menu, whilst Water Bar's poolside Tapas menu will present lighter lunchtime bites and Cuisine Gallery offers Mediterranean cuisine infused with local and regional flavours. Of course, the new Umi teppanyaki restaurant is a very beloved option. Wine tasting also gives a lot of fun and benefit. And because there is always a romantic dinner on Lonubo.
The resort offers Half Board, Half Board Plus and Dine Around All Inclusive. Half Board Plus includes breakfast and dinner at the Cuisine Gallery, and daily High Tea at the Library Lounge from 3-5pm. Guests wishing to have the best Maafushivaru experience can book the Dine Around All Inclusive plan, which also includes breakfast at the Cuisine Gallery, with lunch and dinner at any of the operational à la carte restaurants on the island.
Breakfast, lunch and dinner are served in the main Cuisine Gallery restaurant. A wide selection of quality food, lots of fresh bread and tasty pastries, scrambled eggs, waffles, pancakes and live cooking stations in the morning; soups, salads, sandwiches, pasta during lunch, and mostly delicious Mediterranean fare for dinner with à la carte menu. On Tuesdays, the restaurant has a Maldives night where most of the dishes reflect the tastes of the local cuisine. There are many places in the covered dining room, but if you want to eat on the open deck - come early - these tables are the most popular. Restaurant opening hours are from 07:30 - 21:30, with breaks between meals.
Though it's not included on Full Board or All Inclusive, guests can also feast at 135 Degrees East japanese restaurant with à la carte menu, at an additional cost. This romantic dining place is located in overiwater at the beginning of Water Villas jetty. On the menu, expect sushi and teppanyaki seasoned with panoramic views of the lagoon and stunning sunsets.
Would you like a cocktail, beer or alcohol? You must head to the Water Bar. A chilled-out spot that becomes a little livelier in the evenings, with a relaxing, casual atmosphere and views of the infinity pool and lagoon, the Water Bar is a popular hangout from early morning until the last geust. Open-air, with a palapa-style setting, with a large round bar near the back wall and a sandy floor, the bar is packed with a collection of tables and chairs in a modern colonial style with white drops of lanterns hanging from high ceilings. There is also a small corner with board games, chess and the popular in Sri Lanka 'Carrom game'. This is the only place on the island to find drinks for adults outside the small, four-seater Wine Chiller Bar. It is smaller than a bar, but larger than a wine cooler with a warm vibes and a few stools. Here you will find an impressive selection of quality wines from around the world, and regular wine tastings.
Opposite the Wine Chiller is the chic Library Lounge, a quiet and cozy coffee bar with a good selection of Dilmah tea, aromatic espresso, as well as magazines and books. The space of the lounge, clad in natural wood flooring with modern white wicker seats and sofas, splashes out onto a large sun deck.
Destination dining at Maafushivaru is a craze that involves eating local cuisine in an atmosphere that defies the ordinary. It's all about aesthetics, mood and novelty.
As well as the exclusive private dining packages on Lonubo, it's also possible to dine here with others guests. This is offered a couple of times each week (unless the island is privately booked) and is at extra cost. It's an excellent cost-effective way to experience Lonubo without hiring the island privately.
Lonubo
Maafushivaru's secret delight and one of the most romantis attractions is a neighboring Lonubo Island. Every day there are three free dhoni boat transfers to and from this tiny, wild and idyllic getaway. There are not so many amenities aside from a few wooden loungers and cabins with a toilet and a shower, but there are many chances to feel yoursels in Robinson Crusoe style on a desert island amidst dazzling white sand and turquoise waters. Those guests who are not afraid of prices, can rent the island overnight or for private candlelit dinners or events, such as vow renewals or weddings, followed by a morning massage and champagne for breakfast. The island has only two small villas, so the number of beds is limited (and expensive).
There are three packages available designed to cater to your desires. Each package is based on two adults sharing one villa. To do this, there are well-designed, various options: a combination of seriousness of intentions with a local colorful ceremony and masses of homemade chocolate, sparkling wine and a 5-course dinner on the beach. For lovers of adventure, you can stay on Lonubo with an overnight stay, and sleep right on the beach, on a covered platform. Although it will not be much more romantic than the two of you under the stars in your own water villa - most importantly do not forget to bring anti-mosquito spray with you. View brochure
All Inclusive Paskage: What's Included
For ultimate relaxation you can leave your wallet behind and not worry about those 'little extras' mounting up. The all inclusive packages in Maafushivaru Maldives include the following:
• Buffet breakfast, lunch and dinner at the Cuisine Gallery 
• Selected drinks including branded spirits, cocktails, house wine by the glass, draught beer, soft drinks and mineral water 
• High tea 3-5pm 
• 20% discount at 135° East (dinner only, advance booking required) 
• Minibar soft drinks and house water 
• Snorkelling equipment
• 1 sunset cruise per stay.
The Dine Around All Inclusive meal plan ("DAA") is highly recommended. (DAAI) Meal Plan includes Breakfast at Cuisine Gallery, with lunch and dinner at any of the operational à la carte restaurants (only prior reservations for dinner are required). Unlimited selected alcoholic/non-alcoholic beverages, preserved juices, tea/coffee at all operational restaurants, and Water Bar.
DIVING & SNORKELLING
There is a relatively good house reef snorkeling and the quality is good, but not exceptional. On the house reef there are many colorful fishes, and it is not uncommon to spot reef sharks in lagoon's shallow water. The dive center staff, however, is very helpful and offers snorkeling excursions to coral gardens and a nearby reefs, including twice daily free trips to the excellent Lonobu's house reef. All trips are managed by a local marine biologist.
Lynn Jula Kessler, the marine biologist at Outrigger Maldives Maafushivaru Resort offers the following advice on viewing the Manta Rays.
Marine conservation and awareness building are a key part of Outrigger Maldives resort operations, all of which align with Outrigger's ZONE (OZONE), the company's long established global marine conservation and environmental care initiative
Diving in this part of South Ari Atoll is world famous, you can be sure and expect fun from every dive. It is in this area that whale sharks graze all year round. There are also sites with Manta rays and many turtles and sharks around an abundant "thilas" and in fast channels. The third-party dive center offers standard PADI certification courses and scheduled dives two times to the best sites of Ari Atoll, including nitrox, fluo and night diving.
Sports and Activities
Maafushivaru's infinity swimming pool is located on the north beach, near the Water Bar. Half the pool is surrounded by a wooden deck with upscale lounge chairs and white wicker seating. This is a stylish, but casual place to spend the day playing with the sun, swimming in the pool, or just enjoying a sea view with a book or cocktail. To enjoy a good sweat or find a deeper relaxation, the hotel has a large The Spa and Sports Pavilion, where guests can find treatment rooms, a steam room, a sauna, changing rooms with showers and an open deck with a hot tub and a nice view of the lagoon. The spa has 5 basic rooms for beauty and massage treatments, a small gym with modern equipment and large windows, as well as an overwater pavilion for yoga. Steam bath, sauna and jacuzzi are open for use without an appointment.
Entertainment on the island takes place in a small thatched-roofed beach pavilion, where guests can relax in bean bags while watching movies, dancing at night, watching and listening to live music (twice a week), or playing table football. There is also a laser light show and a traditional Maldivian Baud Beru show with drums, once a week at the resort.
Activities outside the island include the usual excursions, but due to the island's great location, tours with whale sharks and diving are very popular. All excursions are displayed electronically on a digital screen in the lobby. As the water sports there are only non-motorized options. Guests can choose from canoeing, windsurfing, sailing, or catamarans.
Reviews
In our opinion, Maafushivaru is ideal for couples seeking to rekindle their romance or for families who want to spend quality time together. The hotel offers an experience that elegantly combines the Maldives of the "past" with the modern luxury of the present, markedly different from other all-inclusive resorts.
..."Picture perfect getaway!! Do not hesitate, book your stay now!! You will not be disappointed!!", "Quiet Escape", "ever last memory", 
"Lovely resort and Super friendly staffs", "Want to stop my time at Maafushivaru", "Wonderful break in paradise", "Just perfect!!!", "Très bel hôtel sur un atoll magnifique", "Momentos de pura felicidade"...
Why stay here? What Guests Love
Beautiful and clean island with white beaches and a turquoise lagoon
Staff - All very polite, friendly and responsive.
Stylish and sophisticated rooms with luxury amenities.
Infinity swimming pool
Lonubo Island
Good quality of food and amazing bar facing the sea.
Evening entertainment
Snorkelling with whale shark and mantas including night snorkeling
Great diving
The spa
There are almost no mosquitoes on the island
What You Need to Know
Your getaway in closer than you think. BOOK DIRECT with special offers and save up to 40% on your next voyage to paradise.
Maafushivaru is located on the private island in South Ari Atoll, 95 km from Male Airport. Flight time by seaplane is 25 minutes.
Arrival transfers to/from Male International Airport to Maafushivaru begin from 06:00 and continue during daylight hours. Guests joining the last flight available for the day must check in by seaplane counter by 16:00. There are no night or evening transfers to Maafushivaru.
Check out 12:00 but flexible The earliest check-in time is 14:00.
All children are welcome. But No kids' club
In response to Coronavirus (COVID-19), additional safety and sanitation measures are currently in effect at this property.
Pristine ocean views obstructed by sandbags
Check Availability and Prices in Outrigger Maldives Maafushivaru Resort
Maldives Luxury Guide
Here's the best of Maldives for luxury travellers. We've compiled the finest recommendations of places to stay, ranging from the most celebrated five-star resorts to luxurious private islands Read More
Maldives Romantic Guide
The ultimate 'flop and drop' and honeymoon destination, the Maldives is the playground for the most amazing and finest utilization of each second of this extremely valuable and hopeful time with each other in tota Read More