The More You Know: Discover New Chapter of Milaidhoo Stories
Best Luxury Resorts for Couples in The Maldives
2 August, 2022
Welcome to Chapter Four of Milaidhoo Stories and the latest news from the Milaidhoo Island of Baa Atoll, Maldives.
In this chapter, the small island is proud to present some of the most exciting experiences shared with Milaidhoo' beloved guests, as well as the exhilarating times the resort's team is anticipating for next year. We look forward to welcoming you back to Milaidhoo and creating more stories and moments of happiness to be cherished.
The Ocean Stories: World Ocean Day in Milaidhoo
On 8th June 2022, Milaidhoo celebrated World Ocean Day along with our family members and beloved guests. This is a day dedicated to honouring the vast ocean and its inhabitants, the effects we as humans make on its safety and most importantly, what we can do to mitigate the damage caused by us humans every day.
Read More
Late-Night Must-Do's at Milaidhoo: Astro Retreat
A chance to marvel at the cosmic beauty of the Milky Way from a small island in the Maldives. In May of 2023, Milaidhoo presents you with a seven-day retreat, that will take a novice astronomers — as well as the curious guests on a journey to the stars like no other. Explore the night sky and all its wonders with the special guest, Valerie Stimac.
Read More
Wellness: Yoga in the Maldives
The resort islands of the Maldives are one of the most beautiful and serene destinations in the world, famed for a blissful calm and slow lifestyle. A good reason to travel to the Maldives is for guests to learn yoga or combine their love of yoga with a holiday in paradise. Here are some of the reasons why you should choose the Maldives for some Yoga Time Out.
Read More
Notes from a Chef: Have You ever tried a Maldivian Pumpkin salad?
Among the favorite local food of Maldives, 'Baraboa Mashuni' a salad made with pumpkin and tuna, is a notably exeptional dish offered at Batheli restaurant. Familar to the locals of the Maldives, this meal comes with smoked and air-dried tuna mixed with coconut, serving some savory flavours from the pumpkin.
Read More
Special Offers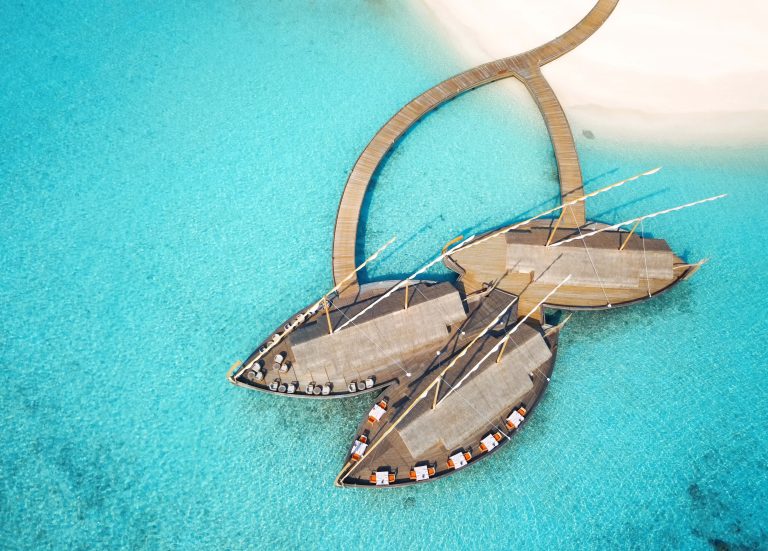 Start writing your Maldives holiday chapter with this special offer with up to 45% off on the best available rate. With a host of complimentary inclusions, this Milaidhoo Story is one of the best Maldives offers that you would ever receive.
Check Availability and Prices
Milaidhoo Island Maldives
Best Experience: honeymoon, beach, diving, swimming with mantas
Intimate and stylish, at Milaidhoo it's about enjoying the natural environment in understated luxury. Tucked in the heart of a UNESCO biosphere reserve, surrounded by powdery white sands and nestled beside a colourful coral reef, Milaidhoo Maldives is a luxurious natural wonder. Envisage upscale delights with a 'Reinvented Luxury' twist, where guests will experience an indulgent escape in the Maldives's most unique getaway. Committed to offering a unique and authentic Maldivian experience, this new child in the best Baa Atoll hotels collection that making waves with its refreshing contemporary twist on classic Maldivian style. Created for couples and romance only, Milaidhoo welcomes children above the age of 9 years only. What's more, it is only 30 minutes by seaplane from Male or a 15 minute domestic flight followed by a short speedboat ride. Read Full Review...
Maldives
Best Hotel
Deals