Villa Nautica at Paradise Island
Best Experience for: Couples, Family, Beach, Activities, Value
Updated April, 2023
One of the largest in the Maldives, Villa Nautica at Paradise Island is a popular resort. The island is just 15 minutes by speedboat from Male airport, it is very friendly, and there is a lot of activity. Add sunlight, white beaches and turquoise waters and you have all the makings of a fun holiday.
This hotel with 282 rooms, located at the top of the middle level is one of the largest in the Maldives. The incredible white-sand beaches surrounding the island are the main draw, and the there are also expansive grounds (expect to walk), excursions, a dive center, and a la carte restaurants, though most will be eating at the buffet. If the budget allows, couples should consider upgrading to the overwater units for contemporary decor and a slight spike in service.
The Island
Guests are greeted at the airport by the resort's staff and then directed to the speedboat for transfer to the island they most likely will be joined by fellow travelers from the same flight. Upon arrival to the island, someone with a clipboard will lead newcomers down the long jetty towards the reception area where they will be told to sit and wait. A welcome iced tea and cold towel will come around, and then another staff member will come around with paperwork, a map, and check-in information. Guests will have an opportunity to amend their reservation at this time; some may choose to upgrade a more contemporary Water Villa (worth the splurge).
A porter will transfer guests and their luggage to the rooms via golf cart. In the island's heart there are some shops, tennis courts , and a badminton and basketball area. On the far end of the island is another long jetty leading to Water Villas, and situated on either side are long stretches of beach bungalows accessed by garden pathways behind them. Most of the guests in these lower category rooms will be on the full-board package with all three meals taking place in the main buffet near the reception area a good walk away with assigned tables for each meal.
After dinner, the bar stays open and entertainment that may include bands, shows, or karaoke takes place between 9 and 10 p.m. every night. Though some groups might use the 24-hour bar well into the night, the resort stays pretty tame and most accommodations are out of earshot from late-night partying, if there is any.
On the day before departure, guests get a note in their rooms to let them know which boat they will be taking. Settling the bill might take time, as guests will be asked what they had from the minibar and then told to sit down and wait while someone goes to their room to confirm.
The beach bungalows are similar in size and decor (slightly less 'grand'), only they step out to beach rather than water. A beach that is not uniformly good. This is due to the fact that it is man-made and needs to be re-covered at intervals with new soft sand. A line of trees gives shade to the rooms and between it and the beach is a flat, open area with space to manoeuvre the lounger to follow the sun. Even this is not always the case, so some negotiation to change rooms may be desired. DOWNLOAD RESORT MAP
One of the resort's strong points is certainly the management and staff. The long-time general manager, Shujau, is a calm and very capable guy who is himself responsible for several guests returning here for their holidaysholidays again and again. The same would be true of a number of waiters and room boys for this is one of the keys to Paradise Island's success. A rapport is often struck up with the staff and this sets an easygoing atmosphere that encourages friendliness between the guests.
The new infinity swimming pool has a total surface area of 1200 sqm, with a water volume of 1000 cubic meters and a maximum depth of 1.2 meters. Designed for families, honeymooners and friends travelling together, the pool features a stunning open layout and unique details.
Families with young children will have the option of a dedicated kids section which measures 0.5 meters in depth and is an ideal spot for young ones to practice their swimming skills while enjoying the best of the Maldives.
Paradise Island Resort & Spa have introduced a selection of daily classes including aqua dance lessons which start at 10:30am and aqua gym starting at 11:15am. The infinity pool encourages guests to immerse themselves into various aquatic fitness activities to enhance their adventurous Maldives stay.
A large number of nationalities make up the guests, with many East Asians in particular, but the pub is mostly the domain of the Europeans, particularly the British and Germans.
Location
Paradise Island Resort is located on a large private island in North Male atoll, which is part of Kaafu atoll, next to Gili Lankanfushi (that is perfectly visible from the island). After passing through customs at Velana international airport guests are met by a representative (usually a numbered kiosk) where they will be led, luggage on a cart, to a speedboat towards the property. Depending on the wind and weather, this ride can be choppy. The transfer takes under a half hour.
The Maldives is a long and narrow country formed by 20 natural atolls. Some atolls are in the form of a number of islands by time and in the form of isolated reefs, which could be classified as smaller atoll formations. All land above the surface in the Maldives is of coralline origin. The atolls of the Maldives form a quite regular chain and, especially in the northern and central atolls, an arrayed structure is apparent. There are broad and deep channels in between some atolls. Each resort (more than 130) is set on a separate private island, and most guests come to enjoy incredible marine life through snorkeling and diving. One of the best surf spots in the Maldives is not far from Paradise Island. Beaches with white sand surround the whole island for those who just want to relax.
Villas
With 282 rooms this is one of the biggest resorts in the Maldives. Room types include Superior Beach Bungalows, Water Villas, Haven Villas, Haven Suites, and Ocean Suites. The majority of rooms are of the lowest category Superior Beach Bungalows that surround the island's beaches. These are better for those who want to have beach on their doorstep; some face sunrise while others face sunset. The bungalows are more outdated with older decor and furnishings, but new white duvets help keep things bright and clean. They come with flat-screen TVs, work desks, minibars (which include mini bottles of wine, liquor and Red Bull, soda, water and some snacks). Bathrooms are spacious but older in style. There are outdoor showers, but the touch of greenery in these areas looks unkept. In front of the units facing the sand are small patios, each with two lounge chairs and a table, and there are two lounge chairs assigned to each unit on the beach. There may be a construction happening on the beach; during our stay, there were bulldozers and trucks driving back and forth starting early in the morning, but no warning or apology from the staff.
Water Villas are the suites located on the east part of the island on both sides of a long jetty. These units are newer than the bungalows, with contemporary wood furnishings and bright red accents. Private patios have jetted outdoor tubs, and bathrooms have double vanity sinks and walk-in showers. Water Villas also have easier access to the two restaurants on this side of the water, including a nicer buffet and the Chinese restaurant. Haven Villas, and the Suites (also overwater units) come with a private check-in area and additional amenities (some have private plunge pools).
The island has been redrawn and remade by man. To protect the extended land from erosion a substantial wall of coral rubble and sand was built in the lagoon around half the island. It is unsightly and blocks the views of 100 rooms (241-341), though half of these (241-286) are some 200 metres away and, facing west, they enjoy the afternoon sun.
With 260 rooms in all, there are plenty with clear views (particularly 174-240). Of the total, 220 are Beach Bungalows and 40 are Waterbungalows. Half the waterbungalows face north and half face south. They are spacious, well-appointed rooms in great demand. Steps drop down to the lagoon, which is fine for swimming (though it gets very shallow at low tide) and there are little bits of snorkeling here and there.
Restaurants and Bars
The food in the main restaurant is fairly good but it's much better in the other outlets, so be prepared for a bit of an overspend here. A quiet seafood restaurant faces out to the open ocean and a Japanese restaurant looks authentic, but the star is an Italian restaurant at the end of the arrival jetty. This has such a reputation that guests motor in from Male and nearby 5 star resorts.
Guests who are on a full-board package will only have access to the main buffet with assigned tables. Service here, like the food, can be rather disappointing, but weekly specials such as Maldivian Night and Beach BBQ help stave off boredom (otherwise expect similar buffet spreads daily). The main reception area also offers a coffee shop and 24-hour main bar (adjacent to the beach bar) for drink service. Nightly entertainment takes place in the main bar but this tends to shut down pretty early. Each a la carte restaurant also has a bar for a range of drinks.
Activities
Your waiter at breakfast will detail the list of upcoming excursions and special events, and take your booking after you've chewed it over. The options are many and varied. Fishing comes in 4 varieties: early morning, sunset with a group, trawling for tuna and big game fishing. Being close to Male and the airport gives you the option not only of shopping and sightseeing in the capital but also of photo flights and a trip on a mini-submarine..
There is some good diving around although, as the longest established and busiest resort region, the sites are well used. Snorkeling is a popular activity and there is a large lagoon with access to the house reef. Gear will incur a per person charge (it may be worth bringing your own).
This private island is bigger than many islands in the vicinity, which means there is more space for guests to spread out and relax. Beautiful white-sand beaches are devoid of crowds and there are plenty of opportunities for swimming in the calm water for all ages. This natural setting is the highlight of the resort. There are a number of excursions available for kids and adults, such as a Glass Boat Tour and Dolphin Sunset Cruise, with per person fees. These may be cancelled at the last minute if there are poor attendance numbers. A full-service scuba dive center and water sports center with activities such as parasailing are located next to the spa. Other activities include tennis, a playground area, basketball, volleyball, table tennis, and a fitness center.
A newer but small outdoor pool is situated by the main entrance and buffet, and offers some lounge chairs and umbrellas overlooking the beach. Beach chairs tend to get snagged early here. There are a few gift shops for souvenirs, snacks and essentials, but expect prices to be high here. Many guests try to bring their own drinking water because of this!
There is often just one boat departing the resort to the airport each morning, so even guests with afternoon flights may have to take a 10 a.m. boat. The actual check-out process in itself takes almost 30 minutes. It might be worth the time to take care of the bill the night before.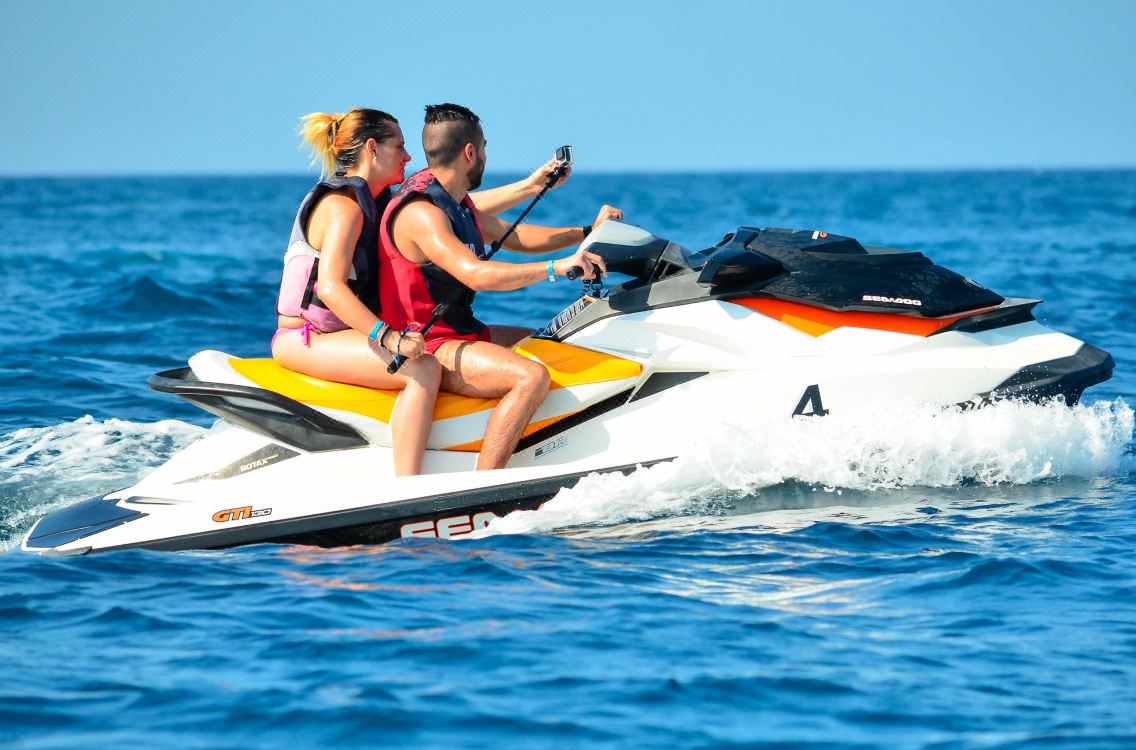 Reviews
All in all the Paradise Island Resort gets mostly good reviews, though not universally so like many other 4-star resorts in the area as there are a few reviewers that seems to have a less than ideal vacation. Generally speaking, the neative reviews seem to be based on the large number of other guests around and a few members of staff. The newer water villas in the resort's overwater area get very high marks from nearly every guest, however the older beach rooms on the island appear to be getting dated, and don't always leave a great impression. The setting is usually described as hypnotic, but some mention the house reef isn't very active, and that it's necessary to take boating trips for good snorkeling or diving. Considering that this is one of the more affordable overwater resorts in the Maldives, the reviews are quite good, but there are better possibilities out there in a similar price range.
Why stay here? What Guests Love
Close to Male Airport
beautiful nature; white-sand beaches and turquoise water in all directions
Water villas with sea views, best on the south side and luxury suites
Dining options. Two a la carte restaurants with a great views
Nice beach, swimming pool, and pool bar;
Water sports and excursions
spa
good value for money
Nightlife
Tennis courts, fitness center and a large children's playground
Feeding rays and sharks
dive center
What You Need to Know
the resort is located on a private island in North Male Atoll and is 20 minutes by speedboat from Male Airport
Check-in from 13:00, Check-out before 12:00
Outdated decor and bathrooms in Superior Beach Bungalows
Long walks around the property
Extra charges for snorkel gear and Wi-Fi
Service is not a strong point, especially not at the front desk and buffet
Purchasing bottled water will get expensive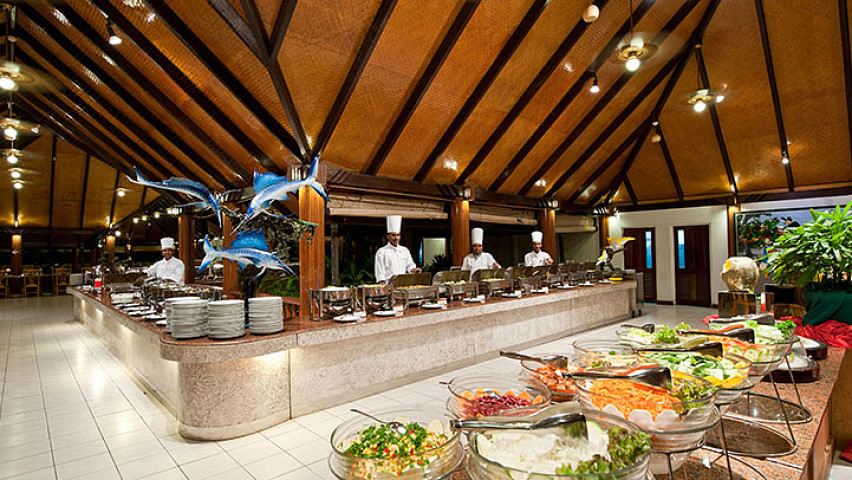 Maldives Luxury Guide
Here's the best of Maldives for luxury travellers. We've compiled the finest recommendations of places to stay, ranging from the most celebrated five-star resorts to luxurious private islands Read More
Maldives Romantic Guide
The ultimate 'flop and drop' and honeymoon destination, the Maldives is the playground for the most amazing and finest utilization of each second of this extremely valuable and hopeful time with each other in tota Read More