Rahaa Resort
Best Experience for: Couples, Activities, Value
Updated April, 2023
Rahaa Resort is a new way to experience the Maldives on Laamu Atoll. An affordable luxury Rahaa Resort welcomed its first guests on November 2019 and it's developed and operated by Maldivian company MO Hotels. They aim to make Maldives more accessible to all classes of travellers who want to experience its pristine white sands and clear waters.
Rahaa is only the second resort to open in the pristine Laamu atoll, the longest stretch of islands connected by land in Maldives. The resort's unique location is what makes them special, as the atoll offers and glimpse into the history and heritage of Maldives alongside its natural wonders.The 4-star resort is a destination which is perfect for all classes of travelers who wish to experience everything that Maldives has to offer within their budgets
The Island
Sporting architecture and design that fuses traditional Maldivian elements with modern simplicity, Rahaa aims to make the Maldives more accessible to all classes of travellers who want to experience its pristine white sand beaches and crystal clear waters. This a destination in itself — a unique island with its own natural lake, in an atoll which offers perhaps the most comprehensive glimpse into the history and heritage of the nation.
The resort itself is the main building and villas scattered along the ocean and along the adjoining lake with sea water. The lake is much warmer, it also has fish and even rays, on the morning hours it begins to tide up with the tide, and in the evening it becomes very shallow.
Location
The hidden secret of the Indian Ocean - Laamu atoll or Haddumathi is formed by the largest islands in the Maldives archipelago, three of which by local standards can be considered gigantic. Six Senses is the only 5-star resort in Laamu atoll, making it a secluded and luxurious retreat for couples and families alike. Just a domestic flight from Malé International Airport to Kadhdhoo Airport (KDO) and a short boat ride brings you to a place where among untouched coral reefs the dolphins swim. Read More
Rahaa in the Maldivian history refers to a ruler of the island or throne. The name stands for the standard of comfort experienced at the resort by its guests. Rahaa is located in the vibrant Laamu atoll, and complements the history and culture of the Maldives through its architecture, design and experiences. The property is only accessible by mandatory domestic flight transfer that takes 40-minutes from Velana International Airport, followed with a 30-minute speedboat ride to the resort. Transfers charges are $450 per adult and $350 per child (2 to 12 yrs) per roundtrip including the domestic flight and speedboat transfers.
Villas
The four-star resort offers accommodation in two categories: Deluxe Ocean View Villas and Lake View Villas. Characterised by spaciousness, modern interior and bright colours, each villa has an en-suite bathroom that is fully equipped with a bathtub and an outdoor shower. The villas have a porch for you to wake up and enjoy your coffee or read a book in the evening as fresh breeze from the lagoon and the sea soothe your body and mind.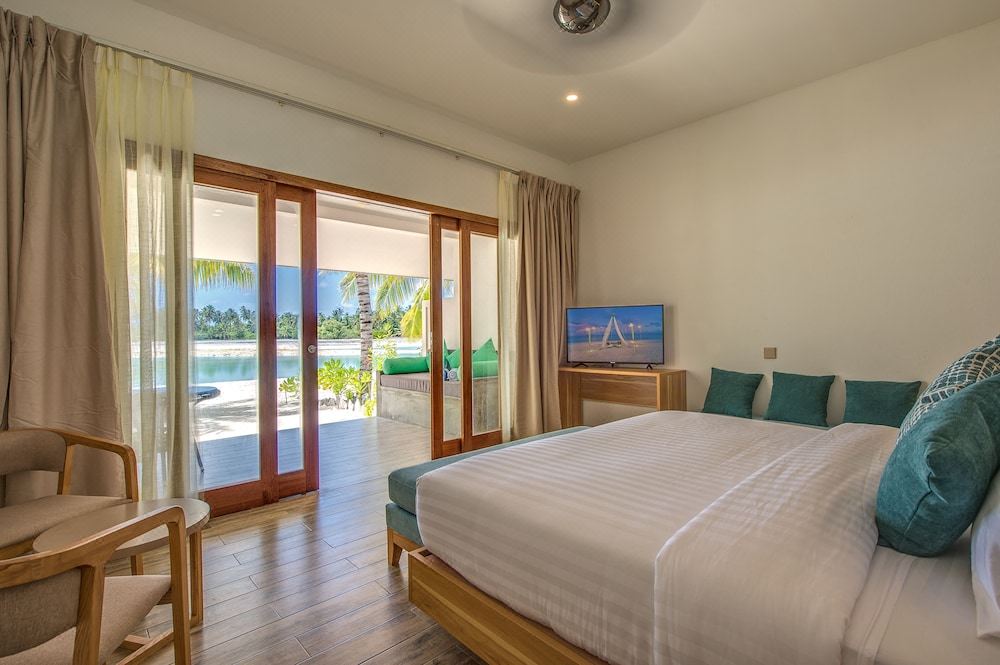 All villas are the perfect place for you to hit refresh. To make you feel at home, their linens and furniture are handpicked by industry professionals just to ensure your stay with them is unforgettable.
The hotel gives the feeling that you are alone on this island, the villas are hidden by vegetation, so you see other guests only at dinner and in the bar, so you feel the maximum privacy.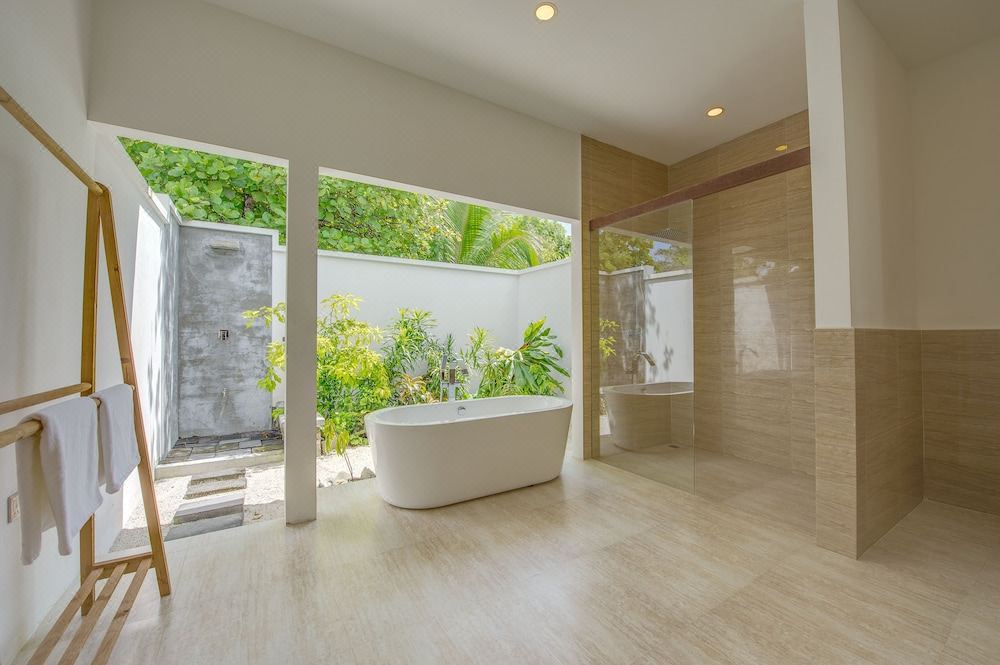 All villas are almost the same design, differ only in the location of the bed (by the lake, the bed looks at the balcony, and from the ocean side, it stands sideways). The rooms have a kettle, cups, spoons, tea/coffee, a free safe, air conditioning and a ceiling fan in the room and on the terrace. On the terrace there is a table, 2 chairs, a sofa, near the villa there are 2 personal loungers. The villas themselves are equipped with everything you need: bathrobe, towels (2 large beach towels), shampoo, hair conditioner, shower gel, soap, toothbrushes and paste, liquid soap, shaving kit, cotton pads with sticks and file, hair dryer, flashlight , an umbrella in case of rain. Just no iron.
Restaurants and Bars
Rahaa brings together the very best of the local and international cuisines prepared by the resort's multi-national Chefs. A wide range of fine wines from around the world are available to complement the dishes.
The food is varied, there are seafood every day, but one thing or a maximum of 2 (fish, shrimp, squid, mussels). Very tasty and tender squid rings, tuna fillet (boiled, fried or canned). As for meat there is always chicken and pork, occasionally beef, rarely lamb. Desserts are mostly puddings and jelly, some simple biscuit cakes. They even have gluten free bread. For breakfast you can savour delicious croissants.
In 2022 Rahaa Resort introduces enhanced All-Inclusive Premium Plan Read more
DIVING & Activities
Other facilities on the island include a spa, water sports centre and dive centre.
The Rahaa experience is tailor made to be a flexible fit regardless of whether you are on a honeymoon, family vacation, or an adventure trip. What makes the Rahaa experience unique is that alongside the natural wonders of Maldives, the resort aims to open up the local island life and culture of Maldives to tourists, offering a glimpse into the southern parts of the archipelago.
Whether it's adventure, romance or relaxation, Rahaa has something to offer everyone. Be it unwinding at the spa with a massage, night fishing on a boat or dancing the night away, you are sure to find something to suit your needs.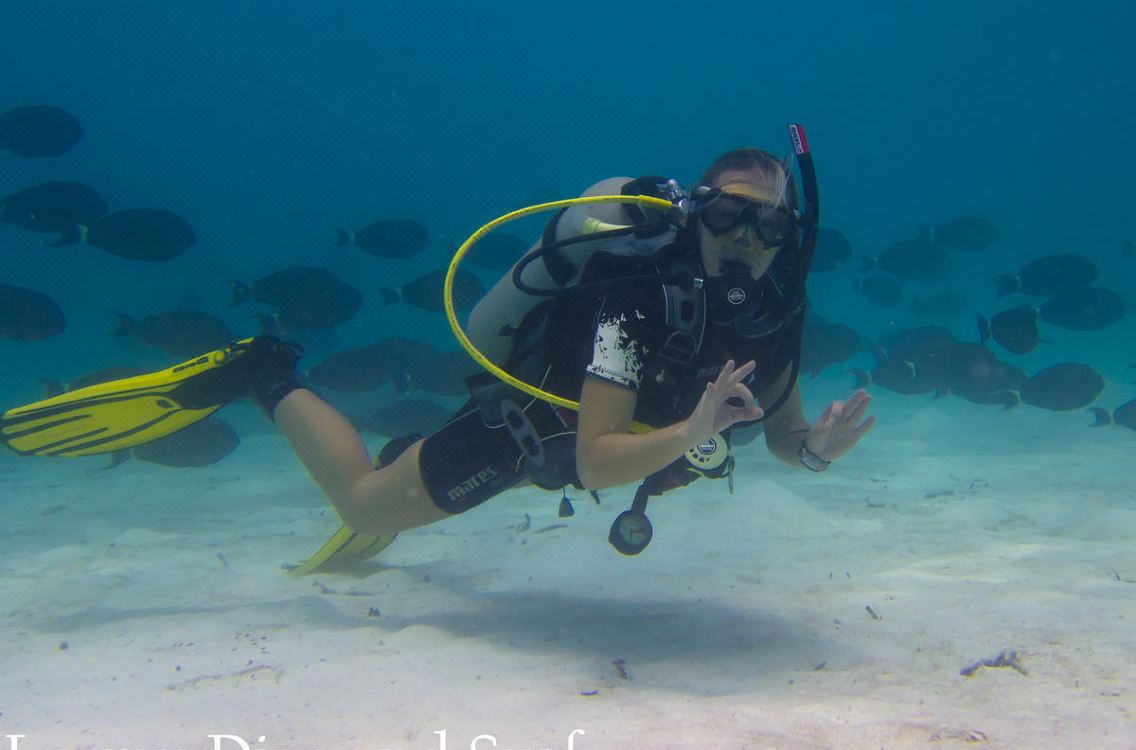 Reviews
If your dream to find a Maldives resort to enjoy the wonder of the maldivian nature, the crystal clear sea, its people and its culture in an environment that's reserved and peaceful, Rahaa Resort is a right pick! Expect to have an unforgettable time thanks to the immensely hospitable and friendly staff, the unbelievable views and amazing water sports and activities. The snorkeling and diving here get high marks, as does the genuinely delicious food. In its category, the Rahaa Resort exceeds expectations. Cozy, sincere, comfortable, with great service and amazing staff.
Pros: What Guests Love
A peaceful, natural and greenery island with white sandy beaches.
Romantic and tranquil atmosphere.
The staff is attentive, friendly, caring and indulgent - everything from the hostess to the general manager
Service
The villas are large and clean with breathtaking sea views
All inclusive meals plan
Quality, delicious and varied food.
Free snorkeling excursions
The reefs nearby for scuba diving are healthy and some of the most beautiful in Maldives
A great Spa treatments
What You Need to Know
BOOK DIRECT Best Rates Guaranteed
It is a long way to get there: Transfer to Rahaa is via a 55-min approximate domestic flight from Velana International airport to Kadhdhoo Airport of Laamu Atoll and a combined speedboat transfer from Kadhdhoo airport to Rahaa that would roughly take approximately 20 - 30 minutes.
Check-in 2:00 PM - 12:00 AM; Check-out Until 12:00 PM
Children of all ages are welcome. Cribs and extra beds aren't available at this property. For children there is a small playground and a room with toys.
Wi-Fi is acceptable for social media, but if you need to work, it is not reliable
The resorts provides a boat twice daily to snorkel out on the reef (10-15 min boat ride).
There is no swimming pool on the island
The all-inclusive meal plan includes drinks can be ordered from 11am to midnight, they offer dry white / red / rose wine, beer, spirits, alcoholic and non-alcoholic cocktails, juices on a special card.
Near the lake there is a second bar, but there all drinks are paid even for all inclusive, they also organize romantic evenings with lobsters for $250-300.
We recommend turtles excursion
The spa offers amazing massages, classic Balinese is highly recommended
For beautiful photos, we advise you to go to the other side of the lake, there are falling palm trees.
Every evening there is entertainment, great karaoke on Tuesdays and a disco on Fridays
HONEYMOON BENEFITS: Complimentary sparkling wine, fruit platter and flower decoration once per stay. A marriage certificate dated no longer than 6 months must be presented upon arrival.
Due to safety and privacy concerns the operation of unmanned aerial systems or drones by any of guests including model aircraft by recreational users and hobbyists is prohibited.
Check Availability and Prices in Raaha Resort
Maldives Luxury Guide
Here's the best of Maldives for luxury travellers. We've compiled the finest recommendations of places to stay, ranging from the most celebrated five-star resorts to luxurious private islands Read More
Maldives Romantic Guide
The ultimate 'flop and drop' and honeymoon destination, the Maldives is the playground for the most amazing and finest utilization of each second of this extremely valuable and hopeful time with each other in tota Read More