Soneva Fushi
Best Experience for: Luxury Villas, Beaches, Spa, Family vacation, House Reef Snorkeling
Updated August, 2023
Awarded with white sandy beaches of a private island in Maldives, the Soneva Fushi's eco-chic villas are the material of the romantic fantasies of Robinson Crusoe. Drop your shoes and worries: with an luxury spa, hypnotic house reef and high quality butler services, you will not need anything on this laid-back playground of a beautiful uninhabited island.
Located in the Baa Atoll UNESCO Biosphere Reserve, Soneva Fushi is a pure find for wealthy aesthetes in search of a luxurious Robinsonade in this ecological resort! Opened in 1995, Soneva Fush offers the sixty-two private villas with their own stretch of beach are hidden among dense foliage within touching distance of a pristine coral reef. Intuitive service is provided by Mr./Ms. Friday butlers. If the experiences are magical, the philosophy is simple: No news, no shoes. No pretensions either.
Highlights include the open-air Cinema Paradiso, counting Saturn's rings in the high-tech Observatory, the home-made chocolate and ice cream rooms, five hundred wines to choose from, six different restaurants and countless destination dining options. In November 2015, Soneva launched a floating villa concept, Soneva in Aqua, a treasure trove children's Den and a multi-purpose facility encompasses a glass gallery, boutique and studio where guests can learn the art of glass blowing.
The Island
Soneva made history by being the first, and still only, developer to offer luxury homes to foreigners in the Maldives. Private Residences are currently available at Soneva Kiri in Thailand, and Soneva Fushi and Soneva Jani in the Maldives.
Soneva Villa Ownership is particularly appealing to guests who return to the Maldives regularly. The villas achieve a strong cash yield when rented out while owners are away from the resort. Capital prices, especially in the Maldives, have been appreciating by around 8-10 per cent per annum.
Each residence is the ultimate expression of the signature experience and style for which Soneva has become world-renowned; understated design and luxuriously spacious accommodation, uncompromising quality and service and environmental sensitivity. All Private Residences are designed to meet its owner's specific requirements, whilst remaining true to the brand mission of Intelligent Luxury.
The accommodation at Soneva Fushi are scattered on the sunset or sunrise side of the island. While both sides boasts the Maldives' white-sand beaches and crystal clear waters, there are a few differences to stay there.
Sunset side is heaven for snorkellers. This side has three house reef access points and dolphins are more likely to be spotted in the channel. On this side the Eydhafushi island is visible on the ocean horizon away.
Guests who want more privacy may consider staying on the island's sunrise side. Enjoy virtually unimpeded views out to sea, as Maalhos, the closest neighbouring island on this side, is just a speck on the horizon. This side is perfect for early risers who want to enjoy the morning tranquillity. View Resort Map
Responsibility and sustainability are the core of the philosophy of the resort. This boutique property is designed with natural materials to blend seamlessly into its surroundings, has its own vegetable garden (with free-roaming rabbits), a recycling centre, solar power plant and a glass-blowing studio to turn waste into works of art.The resort has kept the pockets of the island's coastline intact, where sea turtles still lay eggs. There is even a dedicated waste management and recycling center, and a marine conservation program is in place. Apart from the crystal clear waters, white beaches and tropical climate the interior is dense with vegetation offering shade from the blazing sun and the resort has its own sandbank a few minutes' boat ride away with a fabulous sunset cocktail reception each week.
Service is impeccable. Each villa is assigned a Mr or Ms Friday butler who caters to every whim and fancy and this is the kind of resort where everybody knows your name. The very spacious and stylish villas are built from wood and palm thatch, beautifully furnished with natural materials yet containing every conceivable luxury and they are nestled on the palm-fringed beaches that lead to the azure lagoon contained within a house reef eef. There's never a dull moment with kayaking, stand-up paddle boarding, diving, fishing, tennis, treetop yoga, stargazing at the fancy observatory and indulgent treatments from scrubs to hot stone massages at the award-winning Six Senses spa. As there is no communal pool, you might want to upgrade to a pool villa.
Location
Baa Atoll is a designated UNESCO Biosphere Reserve, justifiably famous for its incredible gatherings of manta rays and whale sharks at Hanifaru Bay is one of the best pearls of the Maldives. A prestigious place in Maldives, until recently 5-star Soneva Fushi was the only resort in the atoll, but in recent years saw the rapid growth of new luxury hotels that have replenished the collection of luxurious accommodation in Baa atoll. Read More...
A scenic 30-minute seaplane ride from Malé. The resort is surrounded by a magnificent house reef, though the concrete buildings and tall antennas of local island Eydhafushi on the horizon are something of an eyesore.
Villas
If Robinson Crusoe could develop hotels - he would have built Soneva Fushi! A total of 65 apartments and villas were implanted in the heart of lush vegetation to ensure maximum privacy for each ones, and most importantly, that it was not visible from the sea. 8 categories of rooms, each trying to outdo the elegance of a neighbor, start with a simple Rehendi from 182 m2 to a huge Jungle Reserve villa of 720 m2, passing by Crusoe villas, apartments or even a villa Soneva Fushi.
Houses are dressed in natural materials and local handicrafts, Robinson Crusoe's 5 * hideaways are perfectly integrated into the surrounding ultra-green environment, and are equipped with top modern facilities. The wood here is a king, with fabrics in warm colors. All this is very successful, and the resort has a collection of rewards, including in 2000 "The President of the Maldives Green Resort Award". Some villas offer a personal butler service.
Sunsets in Soneva Fushi are really unparalleled, but the villas on the side of the sunrise gleam with continuous views of the ocean. All accommodation categories offer plenty of open space, with bathrooms in the garden, comfortable alfresco seating, and rustic-chic interiors made from natural wood and fresh cotton. There is no public swimming pool on the island, so take a villa with a private pool filled with sea water, or take two steps to your own stretch of white sandy beach. The only Retreat Villa (61) extends to two floors with an outdoor dining area that connects the suites to the two bedrooms of this divine abode. The main bathroom outside is equally impressive: with a pond, a flooded bathroom, a bath and a small private gym ... just your own spa.
In 2019 Soneva completed its latest villa at Soneva Fushi, the five-bedroom Villa 37 on the sunrise side of the island.
Set on the island's sunrise side the five-bedroom Villa 37 is 1,823 square metre beach house with main highlight is the 11 metre tall viewing tower, reached by a winding staircase, with a dining table called the Moonlight Table at the summit. This viewing tower is now the tallest point on the island and the ideal spot to take in the panoramic views, sunrises, sunsets, dining experiences and stargazing. The maximum occupancy for this villa is eight adults and four children or 10 adults. Architecturally this villa is very different from Soneva Fushi's other villas and private residences, and is now the benchmark for all future villa builds and renovations at Soneva Fushi.
The master bedroom is located on the ground floor, and comes with a king size bed, a dressing room with a daybed, indoor and outdoor showers, and an outdoor bathtub sunk into the water feature in the outdoor bathroom. Guests can step straight from the master bedroom and down into the pool. This villa has one more outdoor bathroom attached to the ground floor guest suite. On the first floor are three more guest bedrooms, all of which come with ensuite bathrooms. There is also a guest bathroom on the first floor, as well the TV lounge and a gym. The open plan dining, kitchen, and living area have high ceilings and many windows to let in an abundance of natural light. The support pillars in this large open space, perfect for family gatherings, have been fashioned out of upside down tree trunks with the roots branching out across the ceiling. The ceiling has also been covered in cross sections of tree branches. The breakfast bar is between the open kitchen and the 10-seater dining table. The kitchen comes with its own wine fridge, as well as housing the minibar and a fully stocked pantry. The lights above the bar are suspended from the ceiling on gnarled vines. The living room has a deep, curved daybed that has wooden fish making up the legs and backrest. On the ground floor there is also a library, sauna, shower, steam room, and a guest toilet. View Resort Map
For fun and games guests can take their pick of the pool table or the foosball table. The villa comes with a 344 square metre pool that wraps around the entirety of the front of the villa, which includes a 25 square metre children's pool and a water slide. There are two sunken seating areas by the pool, one covered and one uncovered, as well as a bridge that lets guests cross from the villa to the sand without having to go around the. Villa 37 being on the sunrise side of the island means that guests will have virtually unimpeded views out towards the horizon, with the neighbouring island of Maalhos being just visible.
Soneva has undertaken a major refurbishment of its iconic one- and two-bedroom Crusoe Villas at Soneva Fushi in the Maldives (Aug 2019).
Opening their doors to guests from December 2019, the 10 reimagined villas have been skilfully transformed to offer more privacy, more space and even more luxurious features.
The new and improved one- and two-bedroom Crusoes (with villa numbers between 20 and 30), are set within extensive tropical gardens, just steps away from pristine white sands and tranquil waves, and located on the sunrise side of Soneva Fushi. Each villa now features its own private pool, as well as open air showers and bathtubs that bring guests even closer to the islands' breath-taking natural beauty. Multiple new terraced and decked areas offer vantage points no matter what time of day – whether relaxing on a shaded swing to escape the midday heat, or enjoying sundowners with postcard-worthy views of the magnificent natural surroundings.
Soneva Fushi's original Crusoe Villas were a much-loved guest favourite, particularly with families, thanks to their castaway ambiance, whimsical desert island-inspired design and deluxe details. These two-storey villas have been completely redesigned to maximise a sense of space and luxury and make the most of the villas' stunning and secluded beachside setting.
In the 264 sqm. (2,842 sq.ft.) one-bedroom Crusoe Suite with Pool, a double-height living room features an oversized daybed and dining area, with large louvred windows overlooking the pool and expansive outdoor terrace. A garden bathroom includes an open-air shower and bathtub, while the dedicated minibar room opens directly onto the al fresco deck and pool area. Upstairs, a large bedroom with king-size bed features its own en-suite, while dormer windows include comfortable day beds, ideal for smaller guests or simply for relaxing with a good book. An elevated walkway overlooks the living room below and leads to a private terrace with double daybed.
The 649 sqm. (6,985 sq.ft.) Two Bedroom Crusoe with Pool now features an extended ground-floor living space. A dual-height living room includes an extra-large daybed and dining area, writing desk and full-height louvred windows. A large ground-floor bedroom features a choice of king-size bed or twin beds, and leads directly to the outside terrace, swing and pool. The open-air bathroom, with al fresco shower and bathtub, is surrounded by secluded private gardens for the utmost privacy. On the first floor, a large master bedroom includes a king-size bed and daybeds. Boasting its own private outdoor deck, the sizeable bathroom features dual sinks, shower, WC and dressing room. A balustraded walkway over the main living room leads to a tranquil first-floor terrace with an extra-large daybed and dining table – the perfect spot for catching the last of the day's sunshine.
Like all Soneva villas, the 10 updated Crusoes also come equipped with air conditioning, overhead fans and a personal safe. Guests can hook up their own iPods to a Bose Hi-Fi system and Wi-Fi connection is provided on request. Soneva's signature Mr./Ms. Friday butler service is also on hand to meet guests' every need.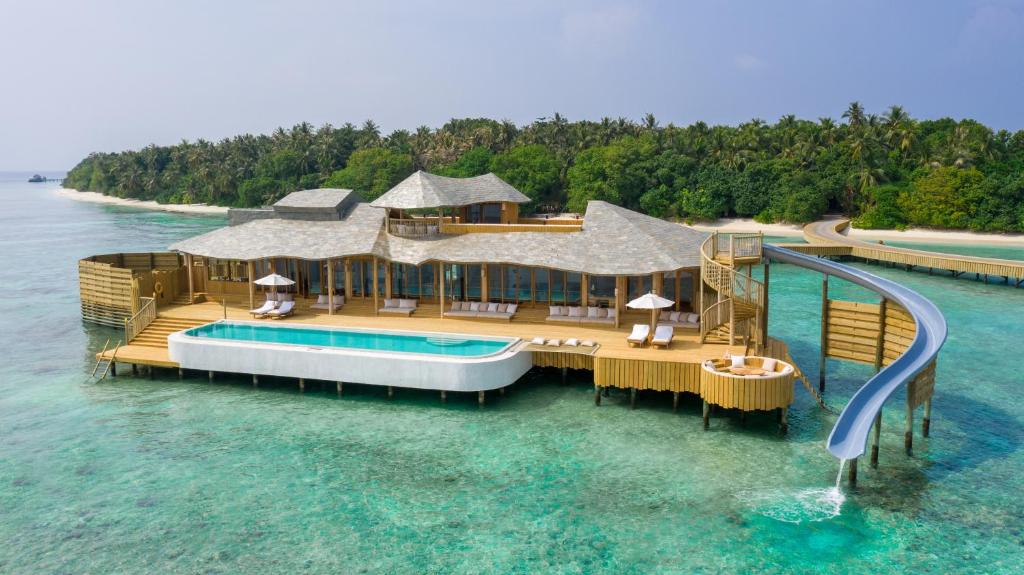 In 2020, Fushi added new Water Retreats to the luxury villas collection. The villas feature innovative designs and some new changes to the iconic Water Retreat designs that can be found at Soneva Jani. Reached by a jetty near Dolphin Beach, at the opposite end of the island to the Out of the Blue dining hub, the eight Water Retreats have been designed to ensure the utmost privacy for guests, as well as to make the most of the picture-perfect ocean vistas. The One Bedroom Water Retreats (584 sqm/6,286 sqft) and Two Bedroom Water Retreats (857 sqm/9,224 sqft) are the largest one- and two-bedroom overwater villas in the world. Read more
Restaurants and Bars
Prepare to loosen your belt buckle with dedicated rooms for cheese, chocolate, ice cream and charcuterie. There are nine restaurant on the island. With short wooden furniture right on the beach, Mihiree Mitha (meaning "it's here") is a laid-back place for a leisurely breakfast or lunch with your feet in the sand. The breakfast buffet is a generous feast of freshly baked cookies, homemade jams, and scrambled eggs; at lunch, the restaurant turns into a grazing banquet with a barbecue, a hot, and a salad bar, as well as delicious pizzas from a wood-fired oven, and an appetizing pasta bar. A magnificent cellar contains thousands of wines from around the world. All meals are free of charge for kids under six; 7-12 years old receive a 50% discount on food.
Nearby, the Nine restaurant offers dinners with generous buffet tables on tuesdays and fridays. Highly, under a jungle canopy and an open sea breeze, Fresh in the Garden is a new vegetarian restaurantwith a daily changing menu, uses only local products and fresh fish cooked with Maldivian spices and herbs. Before dining at the new vegetarian restaurant, guests take a guided tour of the garden, learning about the herbs, fruits and vegetables while picking dinner ingredients. They gather around a fire pit for an appetizer, then move to tables set beneath fruit trees to enjoy the remaining six courses. Dinner can last late into the night. Shades of Green's menu will change with the seasons and is based around the colours red, green and yellow. Chef Kyster blends Maldivian and other Southeast Asian cuisines with Nordic culinary techniques, such as salting, smoking, pickling and fermenting. The meal is designed to fulfill six categories: cleanse, raw, crispy, grain, fire and sweet. For example, mangosteen kombucha paired with plums, beetroot vinegar powder and shiso leaves is a cleansing dish. A fire dish contains hotter ingredients, such as leeks and pepper sauce.
Lovers of Japanese and Korean cuisines will receive tidbits in the form of savory snacks, behind one of the table lit by candles at the By The Beach, where daytime catch is turned into delightful culinary masterpieces. Particularly good is the curry crab in a soft shell.
So Hot and So Cool is 60 flavors of ice cream available between 12:30 and 15:00, or can be ordered during the day from the main bar. Refrigerators So Delicate are open from 7:30 to 21:00 and are equipped with ham, cheeses, meats and other canned delicacies, convenient for a snack.
Named after the chef Sobah, the best chef in the Maldives, Sobah's is a traditional local restaurant and is located on a desert island, just 15 minutes by boat from Soneva Fushi.
'Out of the Blue' is the two-storey overwater structure houses five brand new dining experiences, from intimate settings of just five diners presided over by world-famous chefs, to large alfresco shared dining areas. The new launch forms part of Soneva's Festival of Colour, where a different activity is celebrated each month across Soneva's resorts. Soneva Fushi's Out of the Blue is set to further expand upon the resorts already extensive dining options, visiting chefs from around the world will be showcasing their culinary skills and creations for guests year round as part of Soneva's Festival of Colour.
In 2019 Soneva Fushi opened its newest dining outlet, Shades of Green. The restaurant seats 20 and is open from 5.30pm till late. It is located in the resort's organic garden, with the concept and menu created by Carsten Kyster, a Danish chef who has worked alongside Jamie Oliver at the River Café and Peter Gordon at The Sugar Club in London. The experience at Shades of Green begins with all diners going on a guided tour of the garden to learn about the herbs, vegetables and fruits grown there. They will use all five senses as they pick the ingredients to be used in their meal. All diners are encouraged to examine, pick, smell, and taste the herbs, fruits, and vegetables growing in the garden. After this, the diners gather around a fire pit for the first course before being seated at tables beneath the shade of the pergola and fruit trees. The menu features simple yet experimental plant based dishes, blending Maldivian and Southeast Asian cuisines; which are then prepared using Nordic techniques such as smoking, salting, fermenting, and pickling. The menu celebrates the garden and the season revolving around colours (red, green, yellow), green umami (the fifth basic taste) or around one vegetable prepared in multiple ways. Each menu has six courses with dishes falling under: cleansing, crispy, raw, grain, fire and sweet. There will also be a cold press of the day, flavoured lemonade, fragranced iced tea, and cocktails. Examples of menu items include: aloe vera nam jim, red quinoa porridge, and screw pine fruit lemonade.
You can have fun all night long at the bar, with large pillows right on the sand and deep comfortable wooden chairs, and tables with backgammon and chessboards
The last order is at 22:30. Fresh in the Garden and By the Beach are closed during the evening with a buffet on tuesdays and fridays. Bars are open until the last guest. Dining in the villa can be ordered 24 hours from the menu of any restaurant. The same goes for breakfast. Bare feet and a touch of Nuxe oil on the shoulders - the resort's casual chic spread to the dress code in all of its restaurants. If the dinner under the velvet of the starry sky is not romantic enough, the hotel can also figure out your own secluded nook on the sandy bank of the island.
Discover
The almost untouched Kunfunadhoo island is the main attraction of this part of the Maldives, and there is little to do on the island itself, including the enjoyment of the natural charm of Soneva Fushi, and the holistic healing procedures at the exclusive Spa. Soneva Fushi opened the first open-air cinema in the Maldives! In organic gardens, they built an observatory that is equipped with Meade RCX400 astounding telescopev. There are two libraries with a wide selection of light literature and reference books, DVD, VCD and CD for rent. A fully equipped fitness center, table tennis, badminton, tennis, beach volleyball and bicycle rental are also on offer.
For snorkeling, around the island there are four access points to corals; manta and turtles, regular inhabitants of the house reef, and all the days can be easily filled with soft drift above the underwater spectacle of the rich marine life. For guests, the hotel has masks, snorkels and fins, and a local marine biologist can arrange private snorkeling excursions, including night snorkelling, to see octopuses, parrot sleeping fish, lobsters and bioluminescent plankton. There is also a 5 * diving PADI school (Soleni Dive Center) with courses for beginners and certified divers. Around Sonev Fushi, there are more than 30 world-class dive sites with a abundant marine life, that Baa Atoll is so famous for.
Located in the heart of jungle around the pond and waterfall, that set a calm tone for psychotherapy, Six Senses spa is an ideal place after an activity and the name is absolutely in line with promises. Local coconut is widely used in various procedures and massages, and seminars on massage, meditation, plus daily yoga classes are held. The menu offers a wide choice, from refreshing holistic to traditional procedures, which are carried out by highly qualified doctors using all natural products. Spa programs are complemented by a fully equipped gym, beach spa villas and a pavilion for practicing yoga for wellness therapies such as Tai Chi.
In 2023 Soneva launched the new AquaTerra center at Soneva Fushi in the Maldives, Baa Atoll. The new, state-of-the-art conservation, education and science facility will further strengthen the resort's focus on sustainability, supporting its ongoing efforts to understand, conserve and regenerate the surrounding natural environment, both at sea and on land.
Childcare
A little ones will be able to manage the riot in the new children's club The Den. The Den is a whimsical two-floor open-air playground with a Nemo-shaped toddler pool, a saltwater pool with slide and pirate ship, a music room full of instruments, dress-up area, cinema and bar for mixing mocktails. After a day spent in swimming pools, secret passages and exploring a pirate ship, or on water slides, kids will have the most powerful sleep their parents can only dream of. The most popular activities for families in Soneva Fushi: Family picnics and spa options, cooking classes for children and adults, movies, games, fishing, excursions to watch dolphins, snorkeling, water sports. The resort has a wide selection of children's and three-wheeled bicycles, and also masks, fins and water skis for teenagers. Food can be easily adapted to suit the tastes of young guests, and there are babysitting services (at $25 per hour) for those who need it. Babies get cots with mosquito nets and parents can borrow everything from prams to monitors. Restaurants have kids' menus, highchairs and drawing materials.
Soneva recently announced its plans to open a SCIE:NCE Centre in the Maldives. The objective of the new centre is to create great guest experiences and learning opportunities around the subjects of marine and terrestrial biology and astronomy, as well as Soneva's conservation efforts.
These topics are usually of great interest to Soneva's younger guests, and the centre will provide even more opportunities for learning while at Soneva or through an online learning platform.
In 2021 Soneva launched 'Soneva Academy' at Soneva Fushi and Soneva Jani, offering educational courses for children 12-year-olds and up based on sustainability initiatives.
Reviews
In our opinion: This is the first hotel created by Sonu Shivdasani and its partner Eva, a couple that owns the tourism and entertainment industry, and the driving force behind the "back to nature", luxury leisure barefoot. Soneva Fushi - the original sanctuary on the uninhabited island in the Maldives - virtually independently invented fashion for the "village chic". Seriously eco-friendly, its restrained, intellectual luxury makes staying in a hotel really a magical experience ... here they love their guests
Pros: What the Guests Like
House reef Soneva Fushi is easily accessible and has a wonderful array of marine life;
Each villa has its own stretch of white sand beach, and many rooms have a private swimming pool with sea water;
Each bathroom opens onto a private garden, with a special focus on the environment;
organic "tree top" restaurant, separate spa suites;
Soneva Fushi has its own observatory for observing the stars, the moon and the planets;
Soneva Fushi is a large island, and therefore guests are provided with free bicycles;
The resort has a number of innovative and original restaurants;
Cinema in the open air and a bar with champagne;.
What You Need to Know
Soneva - pioneers of "intellectual luxury" in the Maldives.
Ethos Soneva Fushi - 'no news, no shoes' mean that the guests' shoes are taken away as soon as they reach the island;
The resort is located on the private tropical island of Kunfunadhoo, Baa Atoll, a 30-minute seaplane transfer from Velana (Male) International airport.
Baa Atoll is a UNESCO Biosphere Reserve, with an unusually rich and diversified marine life;
In addition to crystal clear waters, white beaches, the island is unusually rich in vegetation offering a unique natural experience.
Soneva Fushi does not use motorized water sports.
Nearby is a local populated island, visible from the sunset and the feeling of being on an uninhabited island begins to disappear.
Maldives Luxury Guide
Here's the best of Maldives for luxury travellers. We've compiled the finest recommendations of places to stay, ranging from the most celebrated five-star resorts to luxurious private islands Read More
Maldives Romantic Guide
The ultimate 'flop and drop' and honeymoon destination, the Maldives is the playground for the most amazing and finest utilization of each second of this extremely valuable and hopeful time with each other in tota Read More