Sun Siyam Vilu Reef
Best Experience for: Couples, Families, Value, Spa, House Reef Snorkeling, Diving
Updated May, 2021
Sun Siyam Vilu Reef resort is superbly endowed with Maldivian nature. A nice house reef near one side for snorkeling; The sandy lagoon on the other hand is ideal for water sports. No matter where you look from - your own pool, turquoise lagoon, white beach or ocean - every day you wake up with beautiful views and in a great mood.
This small, cheerful resort built over a coral reef is a 45-minute seaplane ride from Malé International Airport. Its comprehensive facilities will appeal to couples (although there's no adults-only section) and families alike. At the end of October 2015, after an impressive reconstruction, the official opening ceremony of the Sun Aqua Vilu Reef was held, organized as a festival with dancing and live music throughout the evening. The resourt offers a relaxing beachside experience with its spacious villas, an outdoor pool and an on-site diving centre.
The Island
A wide white beach stretches across the island. In addition, an unusually good soil supports dense vegetation, many flowers and tall coconut palms. The main part of the island, built over a coral reef, is where you'll find the beach villas and main facilities. Comprehensive facilities include two restaurants, two bars and a dive school. A jetty leads to a ring of thatched water villas on stilts, built around the turquoise lagoon and surrounded by pale water that stretches almost to the horizon. The resort's manageable size means you don't need to keep calling for a buggy. DOWNLOAD RESORT MAP
Gardening is another factor that reduces the feeling of crowding. The particular interest of the former general manager, planting trees, shrubs and flowers is as good as in any other resort, but better than most. Paths in the island's interior are greenery, shady and soothing. At the heart of this is an excellent luxurious spa.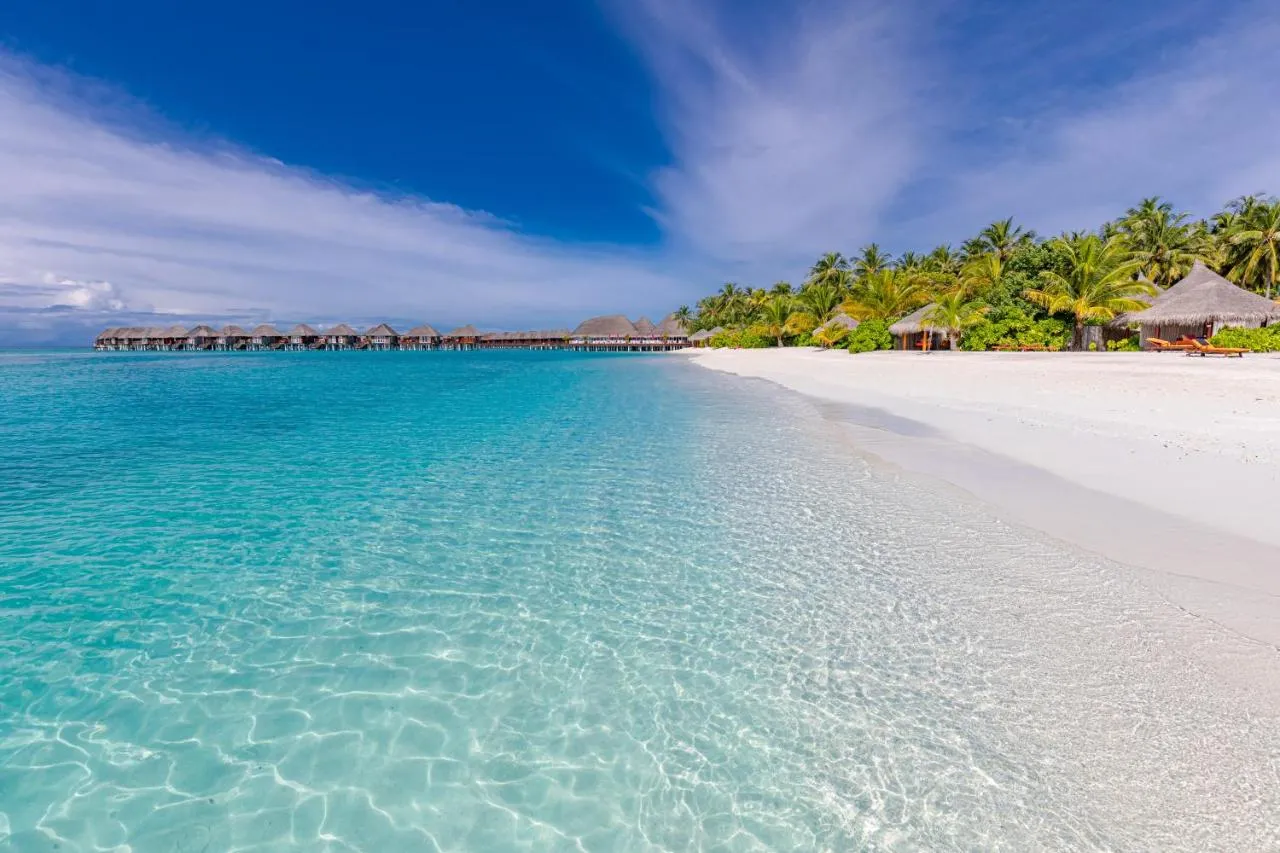 The beach is wide, beautiful and soft where it is, but mostly sand is around. The southern tip is especially good, and facing the sun during the day, these are the very rooms that need to be taken. In other villas, facing west towards the setting sun there is also a beautiful beach, but the coastline narrows around the north end, so a short but high wall was built in the lagoon.
Germans, Russians and Chinese are the majority of guests all year round, although Italians and Japanese are also numerous.
Location
Located in the northern part of Dhaalu Atoll (South Nilandhe Atoll), you will find the hotel just 145 km south of the Maldivian capital of Malé and the island is 35 minutes by seaplane ( complete with incredible views) from Velana international airport. All guests have access to the resort's lounge located in TMA terminal upon arrival. Usually the staff tries to transporteach guest to the resort within 2 hours after arriving in the Maldives. In the lounge you can get a free shoulder massage, wifi, there is a children's playroom, drinks and snacks. Friendly staff welcome you on the island with a fresh coconut drink and a garland of brightly coloured frangipani.
South Nilandhe Atoll stretches 14 miles from east to west, 24 miles north to south and contains 56 tropical coral islands – with just seven of them inhabited. Dhaalu Atoll has been known for offering exciting dive spots. The most important feature of diving here is that you will find turtles in large numbers while diving from any part of the atoll.
Villas and Suites
The fact that there are too many rooms for this island size is the only thing that distracts from the perfect picture. More than a few of the 62 Beach Villas in five different categories make it difficult to look at the beach. Inside the island there are 20 Reef Villas and 41 OverWater Bungalows with a private deck and direct sea access. If you prefer a beach scene, Beach Villas – all with outdoor bathrooms, 20 with a private pool. A number of the latter have a pool, while 29 offer an outdoor whirlpool tub.
The villas of Sun Siyam Vilu Reef give you a bite of island life – a laid back luxury that brims with warmth. Décor in an Over Water Villa is bright and simple, without being sparse: pale wooden floors, fuschia pink cushions and throws and a large granite-tiled bathroom with a walk in shower and bath. Beach Villas have similar décor, an enclosed outdoor bathroom and sliding doors leading to a private terrace. Some have a whirlpool tub or private pool and beach cabana. On- and two-bedroom suites have a separate living area, vaulted wooden ceilings and gleaming dark wood floors.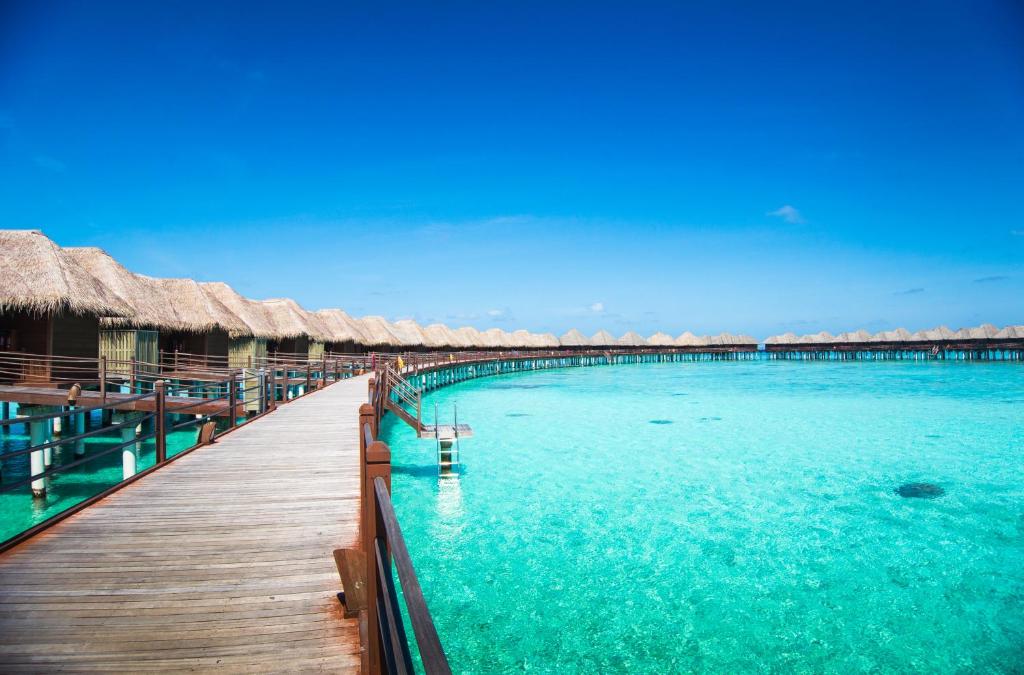 The rooms themselves are attractive and well connected. 14 refurbished Beach Villas of good size, thatched, shell-shaped, with a wardrobe and an extra bed / sofa. All white interiors are decorated with a vibrant tropical theme, with bright throw pillows, a plush bed, and a cozy divan where you can snuggle with a book. Full glass panelled doors leading out to large wooden deck with soft sun loungers and a straw umbrella, which creates a pleasant and personal space wiith the beach and lagoon view.
Deluxe Beach Villa and Jacuzzi Deluxe Beach Villa offers the same amenities as Beach Villa and additionally features Maldivian style swing and luxurious iSpa bath in the open air bathroom courtyard respectively.
Villas over water feature: 20 Reef Villas (former Jacuzzi Water Villa), 9 Sunset Reef Villas (former Sunset Jacuzzi Water Villa), 6 Aqua Villas (former Water Villa with Pool), 5 Aqua Suites (former Honeymoon Water Villas), and the only Grand Reef Suite (former Presidential Water Suite).. Charm, style and serenity – that's the unique blend of island hospitality you'll find in the rooms. The jacuzzi is installed on a large outer deck, which also has a useful shaded area. Privacy is complete, which is great, although it means that there is a little less light in the rooms. On the other hand, the bridal villas have a separate living room with glass walls on three sides, but privacy is still high. For exceptional sunset views try Sunset Reef Villas.
The 6 luxury Aqua Villas offer idyllic island escape. Inside you will find a deep, freestanding bathtub and rain shower as well as 01 king size bedroom. Outside room expect private sun deck with an infinity plunge pool, chaise longue, and stair access to the blue lagoon.
Indulge in the height of luxury in the Grand Reef Suite, a sumptuous retreat at the far northern end of the resort where the two footbridges meet. An exquisite balance of modern design and traditional Maldivian architecture, this suite will transform your stay into something quite spectacular. Bask in your private pool on the double levelled timber deck, or enjoy spectacular views of nature's grandeur from your glass-walled living room. Or simply get away from it all in either of the two king-sized bedrooms with en-suite, a kitchenette and a generously appointed dining area.
Restaurants and Bars
There are seven dining options in the resort: The Aqua, a big straw-roofed pergola right by the sea, serves buffet breakfasts that include an extensive choice of noodles, curries and soups, as well as breads, pastries, tropical fruits, omelettes and cereals. Offering an adventure into exotic flavours, lunch and dinner is also served here, with a frequently changing buffet that could feature Indian, Chinese, Lebanese, Maldivian and European options. The bar and lounge are set under a beautiful rotating thatched roof, inside await decor from cowrie shells and muted turquoise textiles over low wicker chairs on a white sandy floor. The connection is great and good-natured just right. The wooden deck outside faces west and is ideal for sunset cocktails. The restaurant is segmented so that guests are not aware of the number of people and the food is very good. Every evening during the week themed dinners are offered at a very decent level.
The Well Done, located on the beach, is the à la carte restaurant, offering locally caught fish and seafood, such as a sweet and succulent Maldivian lobster. Melted mozzarella, sweet island pineapple, rich red tomatoes grown in the resort's garden – the Island Pizza is destined to impress. Hand-stretched pizza bases are topped with the freshest ingredients, with authentic seasonings and sauces for the heartiest of meals. Nautilus bar is the place to go for cocktails and The Positive Energy serves drinks and snacks by the infinity pool. The resort grows herbs, spices and vegetables on a nearby island and hosts wine tasting sessions as well as private dinners in the modern wine cellar, where there's a good selection of international labels. The Wine Cellar is a great spot to swirl and sip by candlelight, and enjoy gourgère puff pastries, charcuterie, and cheese, where a sommelier will share his insider knowledge of the different wines.
To enjoy a sumptuous sunset beach buffet or choose from the special dinner menu featuring the sweetest, most succulent lobsters fresh from the day's catch, the staff can arrange for an intimate candlelight dinner for you and your loved one, anywhere
on or off the island.
Activity and Wellness
The diving sites around Sun Siyam Vilu Reef Maldives have everything to offer, from easy, long reef diving with the possibility to see whale sharks, tuna fish, sharks, eagle rays, mantas and turtles from thila and giri dives with stunning coral formations and an amazing variety of reef fish and gobies. The diving school offers fun diving trips (two tanks morning and afternoon). For the experienced divers there is the opportunity to dive at any time independently either in the lagoon or at the house reef. As in many other centers, Nitrox diving and PADI courses are now offered.The lagoon in front of the Island is the ideal place to start diving, rich hard coral formations and abundant reef fish make your first dive a breathtaking experience. From Try Scuba Diving, Open Water license up to SSI Instructor and a variety of specialties, including Nitrox, Photography, Videography, Turtle and Shark, gives the beginner and the experienced diver the possibility to enrich their knowledge and improve their diving skills.
Snorkeling is not the strength of a resort, with rare patches of coral inside the lagoon and easy access to the ever-living house reef. However, since it is located on the edge of a fast-flowing channel, the prevailing conditions should always be checked. Snorkelling gear and two hours a day of paddleboarding, kayaking and canoeing is free.
Excursions are offered both on a traditional Maldivian Dhoni and speed boat, featuring cultural visits to local inhabited islands, as well as traditional Maldivian hand-line fishing, snorkelling trips and dolphin watching. Nearby private islands provide the perfect backdrop for the ultimate castaway experience.
The resort's certified water sports centre, offers non-motorised water sports, including windsurfing, canoeing and sailing on catamarans, as well as motorised activities, including jet ski, water skiing, banana riding and many more. Qualified instructors provide essential guidance and refresher courses.
Not surprisingly, the new Sun Aqua Spa is very popular. Therapists, many treatments and decorative items are all from India. It is a quiet, open, airy place of natural materials, with wonderful smells and relaxing sounds. Thу spa's indulgent treatment menu includes flower baths, Ayurvedic rituals, aromatherapy massages, and scrubs that will have you glowing. Treatments are based upon the elements of earth, water, air, and fire with an inspired mix of Eastern and Western therapies and modern beauty treatments.
The resort is especially good for children, with Vilu Reef Kids' Club, plenty of shady beds, nannies, extra beds, a small park and, above all, a good attitude in everything. The hotel also offers wedding vow renewal packages and additional honeymoons, so Sun Aqua Vilu Reef is really a place for everyone ... And also, take a photo with a professional photographer.
Vilu Reef has a wide variety of evening entertainment to please just about every taste ranging from live music, discos with DJ, karaoke nights, cultural shows and movie nights on the beach. One of the highlights of the day is watching stingray being fed – they come right onto the beach – in the evenings.
Reviews
Reviews for the Sun Siyam Vilu Reef Resort are generally very positive, which is quite encouraging considering this is among the more affordable water-villa resorts in the Maldives. The setting gets high marks, as do the large water villas themselves. The views are also mentioned in most of the reviews as being spectacular. A few people have noted that the food in the all-inclusive buffet restaurant may not be up to 5-star standards, although at these prices it would be surprising if the buffet restaurant had a Michelin star. With that said, there are many who rave about the food, so it seems to be more about personal preference. Overall the resort gets very good grades, and appears to be very good value in the region.
Staff wonderful Snorkeling fantastic Great variation food, Best Ever Romantic Escape, Paradise, Superb, Perfect honeymoon destination. Everything you need is here, excellent surprising and beautiful, It was a splendid vacation and we will definitely visit again, Amazing experience, loved it , would definitely come back, Excellent accomodation & Location including great staff...
Pros: What Guests Love
Cool lounge at the airport with drinks, snacks and Wi-Fi
Beautiful, green and clean island with white sandy beaches.
Perfect service. Very helpful, friendly and smiling staff.
New clean large water villas with great views. Comfortable bed.
Good privacy
Great swimming pool
Amazing house reef with abundant marine life.
Feeding the stingrays
Delicious food and a good assortment of dishes, taste pastries. A hearty breakfasts
Night entertainment, live music.
Romantic dinner on the beach
Photoshoot
a Great Value for money
What You Need to Know
BOOK DIRECTLY to discover the incredible resort deals and packages in Sun Siyam Vilu Reef in the Maldives
Sun Siyam Resorts has launched a new health and safety programme ahead of the reopening of its resorts in 2020. The Sun Siyam Cares programme is based on guidance from the World Health Organisation and national authorities, and is designed to offer guests a minimal contact experience.
Sun Siyam Vilu Reef is located in South Nilandhe Atoll, and the resort is 35 minutes by seaplane from Velana international airport,Male.
Check-in from 14:00, Check-out before 12:00
All children are welcome.
Hotel time + 1 hour from Male
When choosing a villa it is useful to know that the rooms are 120-143 with a view of the breakwaters and the neighboring inhabited island, but near the water and the exits to the house reef. Villas 103-107 are on the leeward side, but overlook the lagoon, the large beach and the house reef. Rooms 148-162 with sunset view and close access to the water. Water Villas 401-420 dawn with a view of the shallow water, behind which the reef, 422-441 sunset with access to the lagoon.
The all inclusive isn't all inclusive. There's plenty on the menu that you can't order ( drinks or food) on the all inclusive deal. Yet they are still affordable to order and pay outside the all inclusive deal.
Wifi is not fast enough
Check Availability and Prices in Sun Siyam Vilu Reef
Maldives Luxury Guide
Here's the best of Maldives for luxury travellers. We've compiled the finest recommendations of places to stay, ranging from the most celebrated five-star resorts to luxurious private islands Read More
Maldives Romantic Guide
The ultimate 'flop and drop' and honeymoon destination, the Maldives is the playground for the most amazing and finest utilization of each second of this extremely valuable and hopeful time with each other in tota Read More