Amilla Maldives Resort & Residences
Best Experience for: Couples, Family Vacation, Gourmet Dining, Wellness, Swimming with Mantas
Updated May, 2021
Featuring more flexible approach to tropical island luxury, Amilla Maldives Resort & Residences offers a luxurious 'island home' for both couples and families in the Maldives. Younger, hipper, with a fresh and contemporary accomodation, the resort has so much to offer, from high design and inventive dining options, to stylish villas and amazing snorkelling and diving.
Hotel officially opened on Feb 2015. Founded and run by Small Maldives Island Company, Amilla Fushi stands alone, with a new modern approach to the pure authentic Maldives experience with a neat, modern architecture and a feeling of true bliss, opening up a new way of doing things on the merits.
Here are some of our favorite highlights at Amilla Maldives, all creatively and painstakingly designed to celebrate unparalleled indulgence and afford you the most luxurious ans safest vacation of your life.
The Island
Amilla Fushi has thrown out the Maldives rule book and gone all Cote D'Azur, with stark Arctic-white architecture, sculptural furniture, oversized sofas and a glitzy pool. The most remarkable thing is lush landscapes of the Island. The team has meticulously landscaped the resort to highlight its natural beauty rather than trying to give it a formal look.
Luxury Amilla shakes Maldivian style, no worse than cocktails near its pool bar. Wooden walls and thatched roofs are replaced by shimmering white modern cuboids with private pools, as if Ludwig Mies van der Rohe pavilions anchored on the beach.
However, all the relics of the Indian Ocean are saved here: incredible snorkeling and diving, beautiful nature with white sand, palm trees and blue sea, and 5-star dining ... And another Tree House at 12 meters above the land in a lush emerald foliage, in where absolutely all the achievements of the modern hospitality and wellness industry are available for you. DOWNLOAD RESORT MAP
Amilla Fushi in local Dhivehi means 'my house on the island' - and promises a sincere, warm hospitality with impeccable service from the charming 'Katheeb' (island master). As Amilla means your own, there are no 'paid extras' making it difficult for guests to enjoy the sights of the UNESCO Biosphere Reserve, Baa Atoll. All very glam and adult, although magically the hotel manages to push all the right buttons when it comes to families too, with unlimited watersports, creative children's menus and a kids' club as big as a village school in real ecstasy.
The resort's one-more USP, Space to Play, gives the place another competitive edge, particularly during the pandemic. Amilla is one of the largest islands in the Maldives, with a low density of villas on the island, so around 70% of the island is jungle and cycle tracks.
Homemade and Homegrown@Amilla are two pet projects of the resort the team is extremely proud of. Fresh fruits, vegetables and herbs are grown on the island thanks to the exceptionally fertile soil used to produce healthy homemade foods.
Location
Baa Atoll is a designated UNESCO Biosphere Reserve, justifiably famous for its incredible gatherings of manta rays and whale sharks at Hanifaru Bay is one of the best pearls of the Maldives. A prestigious place in Maldives, Baa Atoll is located north-west of Male and separated from the central atolls by the broad waters of the Kandiva Channel. READ MORE
In the Baa Atoll, a 35-minute (120 kilometres) seaplane trip from Male airport, sharing the same reef as the Four Seasons Landaa Giraavaru, Soneva Fushi and Anantara Kihava Villas. Guests will be greeted by Amilla Maldives representatives and escorted to the seaplane check-in. The resort can also be reached by domestic flight from Male. This is a 15-minute flight followed by a 10-minute speed boat transfer through Baa Atoll. It's an area known for its deep waters and wondrous diversity of marine life.
Villas and Residences
Smooth outside, stylish inside, 67 Amilla's luxury villas offer just everything you could ever dream of. The South of France styling carries through with Colgate white walls blended with nautical stripes, abstract patterns and honey-coloured woods. Bathrooms are enormous featuring dinosaur egg-sized tubs, indoor and outdoor monsoon showers and upmarket Aesop amenities, a sommelier, a wine cooler and much more, including a 42 "flat screen TV with satellite channels, Bose sound system, Blu-ray and DVD player, iPads, iPod, free high speed wifi, beach bag, private bar, mini bar and of course a not noisy air conditioner.
For those looking for a longer stay, the Residences are ideal, with a chic, fashionable home feel, large pool and fully fitted kitchen. All of the homes have a decent sized private pool and the decor is fresh with a slight nautical theme.
As well as overwater and beach villas, Amilla Maldives has introduced a third accommodation option – treehouses. All have large private pools (the ones in the treehouses are suspended 12-metres in the air) and a vast amount of indoor and outdoor space. The only problem is that such classy surrounding will have you praying for rain and an excuse to stay indoors.
Guests can enjoy the service of their own butler, known as a Katheeb, who will help to enhance their stay with restaurant, spa and excursion recommendations and bookings.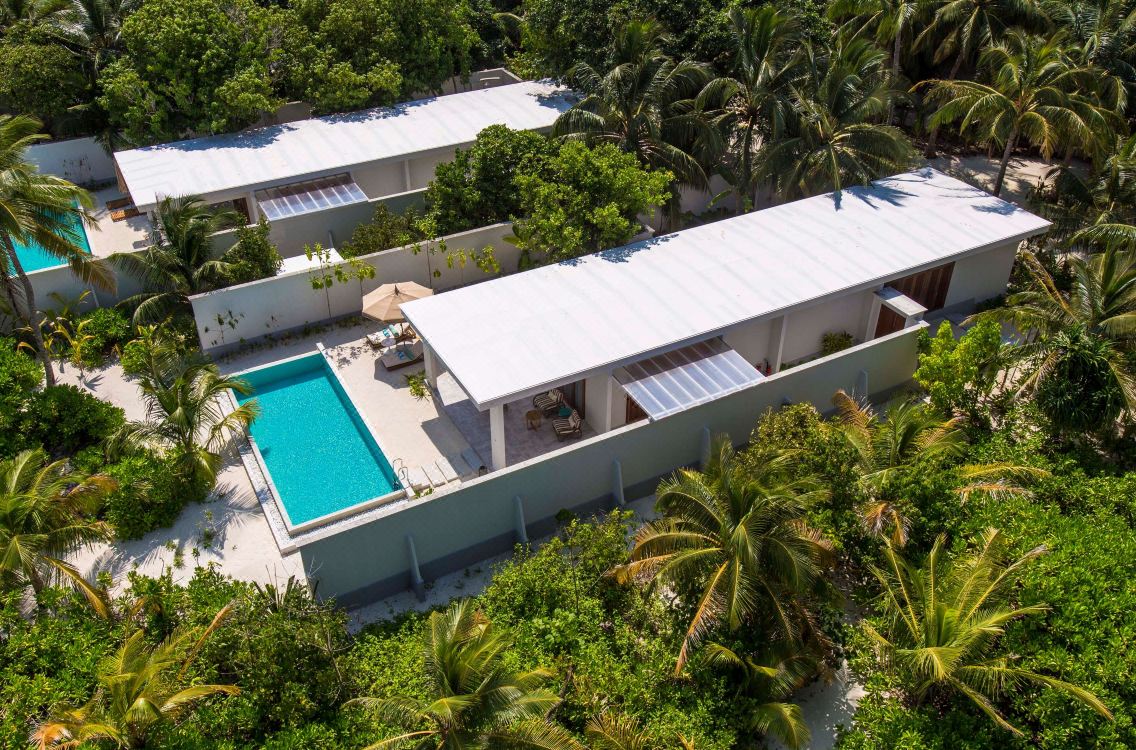 Romantics will be in love with their water villa, a sunlit deck flirting with turquoise water that dazzles with complete clarity, while families staying in a multi-bedroom beach villas or tree house will be in real ecstasy.
Hidden from the sight of palm trees and dressed in shades of aquamarine, gold and blue, the first luxury Wellness Tree House in the Maldives is a step above the others; its private pool, hammock and barbecue do everything to ensure that the owners do not leave the ultra-luxury apartments. The Wellness Tree House experience combines a secluded treetop spa with a wellness retreat and is run by global wellness and lifestyle company Bodyism. The 5 contemporary and sleek air-conditioned 220m? homes also come with a 42 inch flat-screen TV and satellite channels, an indoor living room area with sofa and work desk, outdoor showers and a daily stocked Mini Bar with a special selection of organic nuts, seed mix, fresh fruits, crudites, Amilla still and sparkling water, fresh juices and wellness teas. On arrival, guests have a personal wellness consultation, where you can choose from a variety of spa treatments or wellness classes which are included throughout the stay.
Perfect for marine life lovers, the 250m? Ocean Reef Houses are positioned right on the edge of the reef with direct access to the ocean. They also feature a spacious outdoor terrace and private freshwater pool. The contemporary and sleek air-conditioned houses also come with a 42 inch flat-screen TV and satellite channels, a separate indoor living room area with sofa and work desk, a MiniBar, in and outdoor showers and a bathroom with bath tub
Bubble tent concept is being elevated to a whole new level in the Maldives in 2019, as luxury resort trendsetter Amilla Fushi debuts its new Skyhouse with Bubble accommodation — tranquil treetop eyries with their own private transparent Bubble, breathtakingly suspended 12 metres up between a canopy of lush palms and the vast Maldivian skies. Encircled by swaying palms, and measuring four metres in diameter, the bubble's interior will feature custom-fitted wooden floors, a rotating daybed, telescope, Bang & Olufsen sound system and bespoke furnishings. A removable cover provides solar protection during the day – and come nightfall, unfettered views of the star-studded heavens above.
In addition to this spectacularly heightened hideaway, the enchanting 220sqm Skyhouse also boasts serene living spaces; a private infinity pool cantilevered out amongst the treetops; and a spacious bathroom. Formerly known as Tree Houses, Amilla's five Skyhouses are available in one- or two-bedroom configurations, providing an ideal treetop hideaway for families and couples alike. Rates for Amilla Fushi's new immersive SkyHouse with Bubble Experience are available on request, including accommodation; specially designed destination dinner; and breakfast served in the SkyHouse with Bubble, based on two adults sharing.
Residences and villas, each has a butler, a kind of fairy godmother who will organize excursions, food and almost everything else, fulfilling the desires every second of your stay. Masseuses can be sent to your villa for spa treatments in the room. Amilla Fushi is the perfect playground in the Maldives - and a luxury resort where you have to take off your shoes, relax and just give up.
A huge, with fringed coconut trees, the main swimming pool is squeezed between the beach and Baazaar dining room and bar; not hot, but the sun maintains the ready for swimming water's temperature. The pool's edge overlooks the ocean, and the sun loungers, large round pillows, and dining tables are lined along the sides. The menu around the swimming pool offers a refreshing glass of wine or a cocktail, and light snacks can be grab right to where you are lounging. For a secluded dip, each villa has a private infinity pool surrounded by huge couches. Or you can also dive into the ocean from water villas, or swim on the beach.
Restaurants and Bars
Guests are spoilt for choice when it comes to dining. For the first time, you can resist trying to leave your number, but try it, because Amilla also has six different restaurants and cafes, fine dining and delicacies. Although strangely they're all clumped together in one spot. A minor niggle, especially when all the food is consistently excellent. Maldives Sling or May Tai cocktail? Chilled prawns with salsa of avocado and mango? Soft pieces of wagu with parmesan & french truffles fried with creamy spinach? Mmmmm ... drooling ... we thought so.
Inexhaustible options for a fantastic buffet breakfast are served in Fresh; The breakfast menu of Amilla includes: Belgian waffles with smoked salmon, Feta cheese, crouton with horseradish, a turkey ham sandwich, cheese and egg, and porridge with maple syrup, cinnamon, toasted nuts and berries. Others served in the Fresh near Baazaar delicacies include: Suzette pancakes, hot ricotta pancakes, fresh juices and desserts, and also Middle Eastern and Asian delicious foods.
The casual dining's scheme of the fashionable restaurant Baazaar works around the sparkling giant swimming pool, where you can choose between 5 different dining rooms - the Fish & Chip Shop, Joe's Pizza, the Grill and Wok, and Fresh - in which the hot and cold dishes are controlled by an appetizing range of flavors: from burning curry to fish and fried potatoes. You can order from different menus and sit anywhere - indoors or by the pool. The Baazaar is a fantastic dining concept with a lively and fun atmosphere and there are plenty of choices to suit all palettes. If you want tapas, Asian cuisine or simple meals like fish and chips or Joe's special pizzas, it's all here.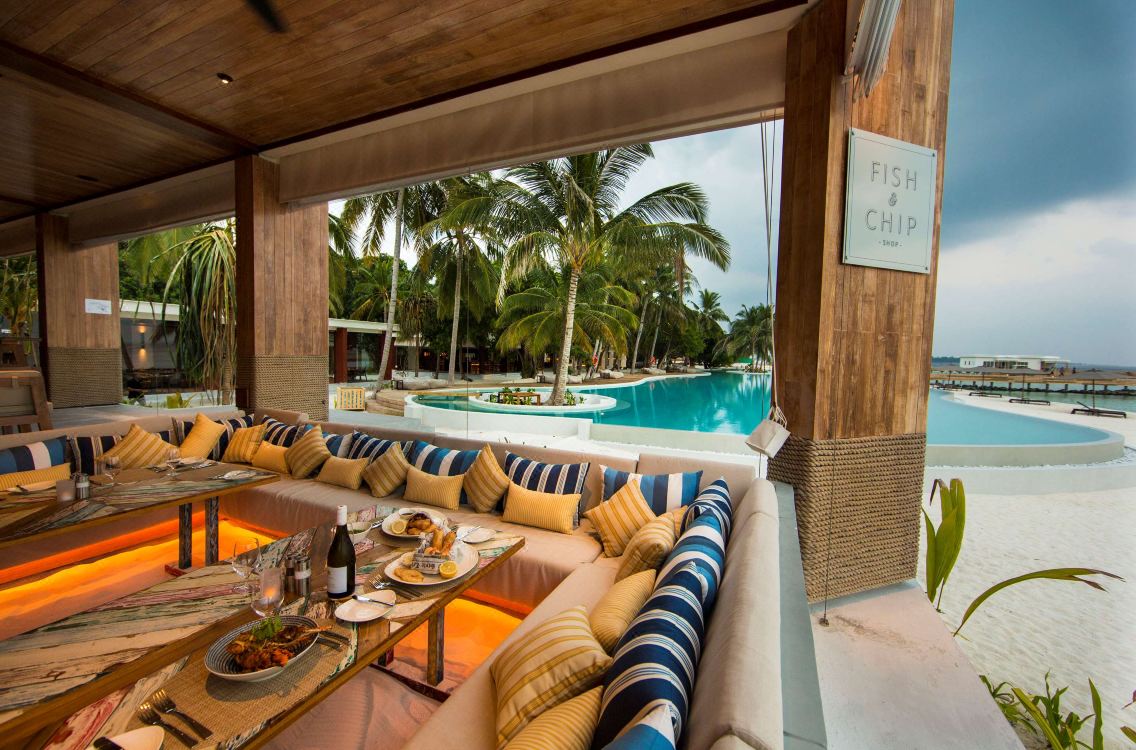 Taking influences from Mexican and French cuisine, FEELING KOI is an elite overwater restaurantthe and star of the culinary show. Everyone, including caviar, oysters, and lobsters caught on the same day (and any fish you arrested on fishing), romantic sunset dinners and eating "finger-licking", sashimi from "king-fish" is something to try) , it's all here. Crystal waters lap below Amilla Fushi's signature restaurant. Japanese minimalism on an open deck, chefs performing in a theatre kitchen – culinary magic with exquisite presentation. Izakaya-style dining comes to life with openhearted service and shared 'tapas' plates. Umami works of art in a spectacular setting. Downstairs, a lounge bar for post-dinner drinks. Smooth sounds from the DJ, moon reflecting off the seas. The upstairs terrace with a delicious cocktails is slightly dark after sunset, but still more romantic. Do not forget to check out the impressive wine cellar and taste the fabulous Chateau Sainte Beatrice wines, cheeses and sausages.
Room service, including breakfast, can be taken in your villa for no extra charge – a nice touch – and if you really don't want to leave your room or you are simply hungry, visit the Emperor General Store, a traditional vintage cafe and a gourmet delicatessen that sells fresh fruits and vegetables, cakes, bread and biscuits, and other high quality treats such as truffles in honey, and Spanish jamon. From simple comfort foods to the most decadent treats, from specialty items to life's essentials – the Emperor General Store brings delicious delicatessen goods to Amilla's tropical shores. The Emperor General Store is more than a shop, it's a place to relax with a snack, or take a break with a freshly brewed coffee. Coffee and sandwiches can also be found here. Spanish hams and French cheeses to devour in your room.
In 2019 the resort launched 'Floating Breakfast'. Guests can choose one of two options: Floating Continental and Floating Amilla. The Floating Continental breakfast is priced at USD 75++ for two, and comes with a selection of bakery items with jam, marmalade or honey. Fresh fruits, yoghurt, cold cuts, cheese, cereals, as well as juice and tea/coffee are also served. The Floating Amilla breakfast, which costs USD 89++ for two, includes poached egg on sourdough toast, avocado, pork sausage, sauteed mushrooms, bacon and rocket. Acai Bowl with homemade granola, honey, and fruits and nuts, as well as oat porridge boiled in fresh water or milk (skim or full cream) are also part of the Floating Amilla breakfast. 'Floating Breakfast' is served in overwater Houses, Amilla Residences or at the main pool.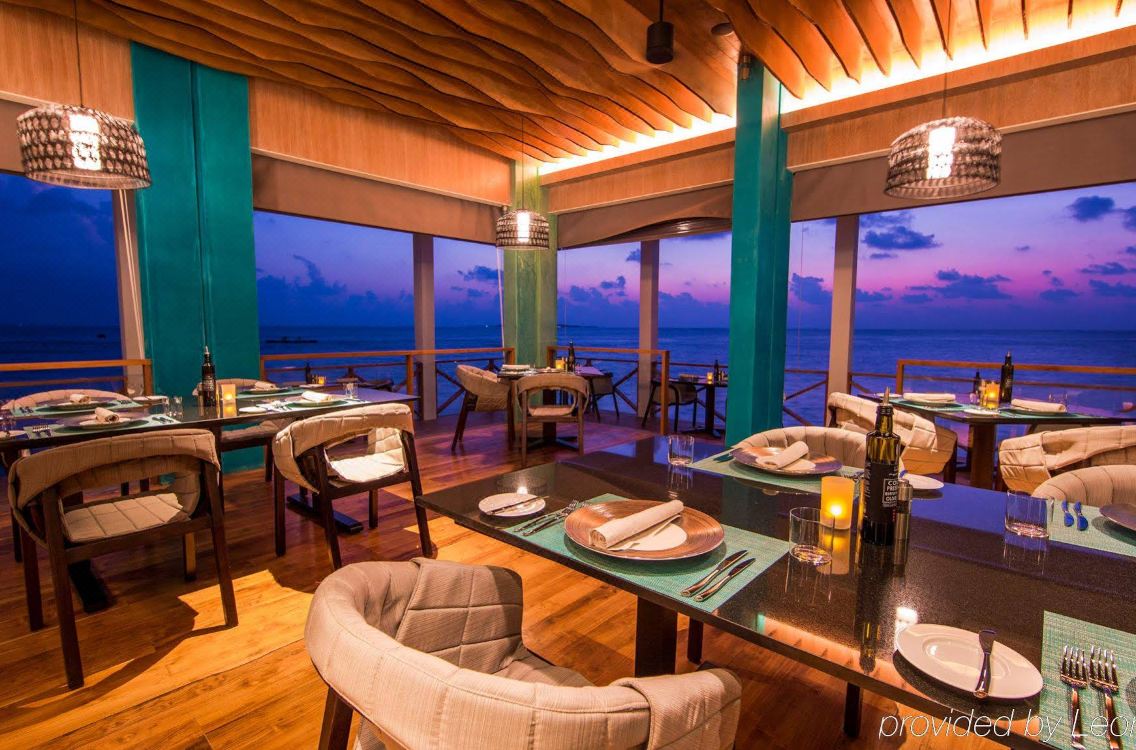 The CELLAR DOOR wine shopp features an abundance of wine – more than 8,000 bottles to sip and savour. International drops, both Old World and New. Premium bubbly, vintage reds, rare finds to share over a spectacular meal. By case or by bottle, or by curated tasting with artisanal cheese and wild honeycomb. Amilla Fushi indulges the epicure within.
Fine Italian flavours – exquisite antipasti, fresh handmade pasta, meats and seafood chargrilled to perfection. Barolo Grill pays homage to Piedmont, offering classic dishes infused with a Maldivian twist. With an open-air dining area that overlooks the pool, it's a place for lingering with a glass of Piedmont red. Sumptuous lounges under rustling palms, a toast to the heavens as the evening ignites.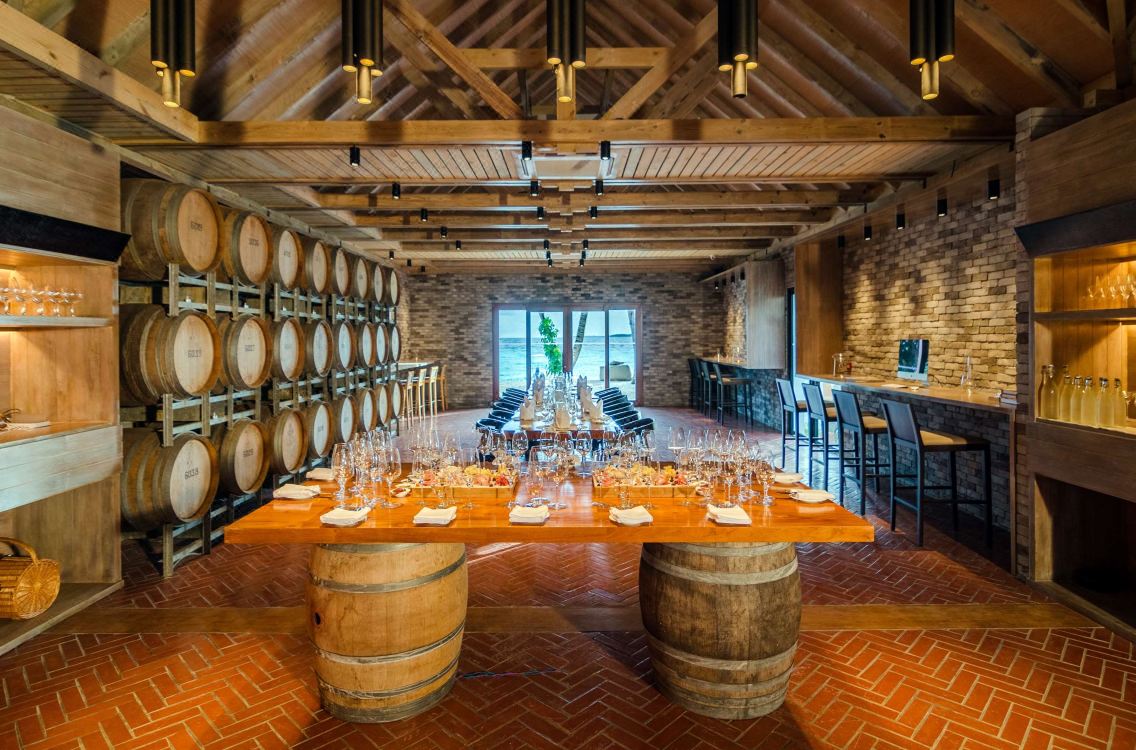 That extra Amilla Fushi sparkle, to share with that special someone. From simple fare to extravagant specialties, the resort offers dining experiences for the soul.
The Cellar Door tasting events – a bottle of refined red or white in a world-class wine cellar, a rich array of imported cheeses teasing the palate. Perfect for the wine connoisseurs.
Mystique Garden dinners – gastronomic fiestas in idyllic gardens. Exclusive affairs of barbecued seafood, meat or plant-based mains. Arabic, Asian or international cuisine. Tantalize your taste buds while enjoying one of the Maldives' romantic places.
Set at banyan-shaded Javvu Spa, the Wellness Café is dedicated to sourcing unprocessed seasonal ingredients adding a nurturing new dining destination to the island's inviting wellbeing journey. The Wellness Café caters for those on the high-fat, low-carb ketogenic diet alongside an artful mix of organic, paleo, vegan, vegetarian and gluten free snacks. Guests can relish a curated menu that promotes natural healing through gut-friendly, immune-boosting super foods with minimal salt and free from refined sugars. Cooking and preparation techniques have also been carefully selected in order to retain nutritional value and showcase the natural flavours of the ingredients.
Amilla Maldives is renowned for its regular innovation. In 2020 Amilla Fushi created a brand-new dining venue – Chill'd Café. Whatever the definition of that means to guests, they'll be able to find something to delight and nourish them – from immunity-boosting juices to classic comfort food. Chill'd is — as the name suggests — a laid-back and breezy affair by the main pool. The pavilion is open on three sides so guests can admire the tropical views in practically every direction.
The menu has been carefully crafted to nourish guests' bodies, minds and souls as well as to showcase some highlights of Amilla's pioneering Wellness Your Wa (WYW) concept. The WYW initiative is aimed at ensuring every guest, no matter what their dietary preference or 'eating lifestyle' is, will be able to easily find an abundance of cuisine and drinks they can enjoy. From low carb to vegan, guests will always be able to find a huge variety of options at Amilla to suit their preferences, whatever they may be. Read More
'Baa Baa Bar' now stands on the soft white coral sand on the western side of the island. The reason for the move is that a number of guests commented how they would like to be able to enjoy a sundowner right on the beach with the sand between their toes as they watch the sun dipping into the ocean. The sides of the stylish new bar are completely open so that guests can either enjoy uninterrupted views of the ocean from indoors or take a drink outside to enjoy on the beach, accompanied by the glorious sunset views. One of the highlights of Baa Baa Bar's menus is the Sunset Hour Martinis every Saturday from 7pm to 8pm. This special menu was created especially for Baa Baa Bar and includes delicious temptations such as a Rosemary Martini with a fresh sprig from Amilla's organic garden and 'Homemade@Amilla' Rosemary Simple Syrup, or the Oishi Oishi Martini with exotic butterfly pea flowers.

Personalised picnics anywhere on the island, choose from many romantic places in the Maldives – from white-sand beaches to private villa gardens, secluded sandbanks to hidden coves. Unparalleled cuisine tailored to each taste. A special occasion to be treasured forever. Every couple will be inspired by what they taste and see.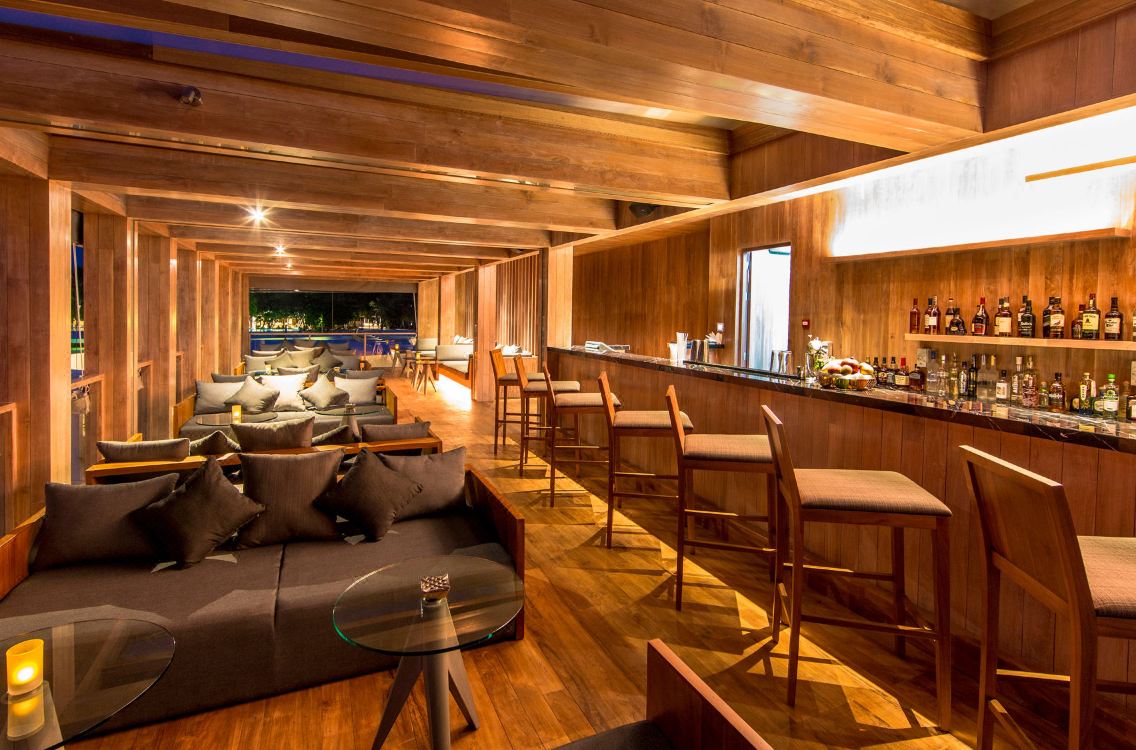 Meal Plans
Amilla Maldives Resort and Residences has unveiled new money-saving meal plan options for guests searching for an idyllic tropical escape following the reopening of the Maldives' borders.
The specially designed meal plans with new lower prices on offer range from Bed and Breakfast right through to Inclusive packages. One of the ways that set Amilla apart from other resorts is that DINE AROUND INCLUSIVE plan guests have special access to a uniquely-priced wine list, featuring very favorable prices for premium wines and even better prices than ever for in-house excursions and spa treatments.
Kids under 12 can eat from the children's menu for free every day, teenagers get reduced rates and everyone can savor a delicious complimentary breakfast daily at Fresh restaurant.
For those on the Half Board plan, the treats include sumptuous two-course lunches, three-course dinners, and a special dinner at Feeling Koi once every seven days, with a 35% discount on any additional meals at this romantic venue. And Full Board perks include (in addition to a weekly dinner at Feeling Koi and the special 35% discount), lunch and dinner at their choice of venues. In addition, the DINE AROUND INCLUSIVE plan has been beefed up with a broader range of beverages and exclusive discounts of around 20% off spa treatments and house excursions. View complete Meal plans
Childcare
This might just be the most family friendly resort in the Maldives. Family villas have been designed to ensure that both the parent's and children's bedrooms are in the same building. The villas are very spacious, and unlike many two bedroom options you might find elsewhere, the second bedrooms are large and so also work very well for families with older children.
The Sultan's Village kids' club at Amilla Fushi is terrific – all palm tree swings, finger painting and beach games – teens can play billiards and X-Box, and all childcare, including baby-sitting, is complimentary. The Kids Club caters for children aged 4 years and above and is open from 9am to 6pm with a programme of activities for all ages and an indoor and outdoor play area.
Children aged 3 and under can use the Sultan's Village when accompanied by a parent or babysitter. Babysitting services are available at an additional charge. In Bazaar restaurants there is a children's menu. There is also a children's pool and beach club close by if parents wish to relax in close proximity to the Kids Club.
Spa & Wellness
The Javvu Spa taps into the trend for more all-encompassing spa facilities. Movement, spirituality and spa – the three pillars of wellness at Amilla Fushi. The Javvu Spa is a wonderful haven where you can enjoy a divine massage or a no-booking required sauna or steam. Soothing treatments to indulge and inspire you. A harmonious place where pampering leads to holistic health, Javvu Spa has been called the best spa in the Maldives. Private pods, social zones, pots of tea, and a secluded spot on the serene shores of Amilla Fushi are the setting for relaxation and indulgence. A communal space where people meet and mingle, Javva Spa welcomes you. Whether for massage, meditation or exercise, this tranquil island sanctuary soothes with five-star products and treatments that cleanse, calm and beautify.
As well as offering a range of sigh-inducing massages. Massages are by Pure Massage, which offers a completely tailor-made approach for each guest using both Eastern and Western techniques. There are also manicure and pedicures from celebrity nail technician Margaret Dabbs, an outpost of Louise Galvin's London hair salon (try a post-sea and sand deep conditioning treatment), results-driven facials from German brand QMS and body treatments by Ila. There is also an outdoor yoga pavilion and Bodyism sessions.
On May 2021 Amilla Maldives Resort and Residences has taken its ground-breaking 'Wellness Your Way' concept to new heights, with creative and fun additions that enhance guests' holistic wellness. Read more
Things to Do
Amilla Fushi is a launch point for endless discovery. There are plenty of places to make a splash both in and out of the water. A full on watersports set-up includes everything from snorkels to stand-up paddle-boards to kayaks and Sea Bobs (a kind of underwater scooter). On land, sports raise the pulse in a number of ways. Badminton in the shade, tennis lessons with a pro, volleyball battles on the sand and soccer games against Amilla's Islander team.
On soft white sand or beneath the shimmering seas, Amilla Fushi invites adventure. There is a good Kids Club, as well as a Teens Games Area, with a billiard table, juice bar and table tennis. There is also a dive centre, large main pool and a range of motorised and non-motorised watersports available.
Amilla Fushi lies within the Baa Atoll, which is a UNESCO World Biosphere Reserve, renowned for its amazing marine life. There is a good house reef which is also home to a Blue Hole, which provides an exciting experience for both snorkelling and diving. The H.U.B. is the island's portal to the open seas, where coral reefs glint with countless colourful fishes. Dolphins, manta rays and turtles glide through this domain – a playground for any who like to venture below the surface. At the heart of the Biosphere is Hanifaru Bay, only a short boat ride from Amilla Fushi. In our summer months in particular, the high concentration of plankton attracts large groups of manta rays and even whale sharks! READ MORE ABOUT DIVING
Reviews
In our opinion, Amilla is suitable for: a large family with a bank account of increased buoyancy and newlyweds with a movie star's salary. Glitter and glamor? Not at all. Unlike other 5-star luxury hotels in the Maldives, Amilla Fushi is primarily a relaxed holiday in the lagoon's luxury. Of course, the Maldives are more suitable for newlyweds than screaming children, but when it comes to family, this place is straight to the point. So one thing is already brilliant. Other - there is an infinity pool (good selfie for Instagram) ideal for swimming and acclimatization.
Reviews praise the Amilla Fushi Resort for its numerous positive qualities including a pleasantly attentive yet never overbearing staff, delicious plates throughout the day, and beachy decor inspired rooms located right over a coral reef. In fact, most reviews are 'superb', with only a few minor complaints here and there.
"The Best Ever !!!!!", "mixed feelings", "Even better than in the pictures", "Fabulous!!!", "home away from home, "Mesmerizing resort", "Magnificent unforgettable week on this Idyllic paradise island," "Relaxing paradise.", "One of the best service ever", "Lovely, but way expensive. Pay extra for everything. Watch your wallet shrink."
Why stay here? What Guests Love
The island is magnificent in all details
Baa Atoll UNESCO World biosphere reserve is a mecca for mantas from April to November, peaking in July
Staff is very helpful, professional and friendly
Modern, clean, huge, well equipped and maintained rooms
Food is very good. Breakfast and Japanese beef steak. KOI restaurant are awesome
Wonderful Kid's club
Water activities
Snorkling with manta rays and whale shark
Spa
Diving
What You Need to Know
One of the most pertinent USPs right now is Amilla's policy of PCR Tests For All. The resort offers free PCR tests for all arrivals, with results returned in just 1-3 hours.
Amilla Fushi is located in the UNESCO Biosphere Reserve, Atoll Baa, the best destination in the Maldives for diving and snorkeling; The resort is 35 minutes by seaplane from Male airport;
Check-out at 12 o'clock Check-in at 2 pm;
Expensive. Pay extra for everything. Watch your wallet shrink
Ideal for both couples and families with children of all ages
If you'd like to try some more unusual cocktails, ask the inventive barman to make some suggestions!
Do not forget to use sunscreen if you do not want to look like a red snapper
Book a trip to picnic island and snorkel in aquamarine and cerulean seas amongst beautiful fish, coral and turtles that swim beside you
Staying in an Ocean Reef House means you can swim straight out onto the house ree
1 Oak Lounge is the best spot to enjoy one of many delicious cocktails at sunsets hours
If you have the time and desire - take a day trip over to Amilla Fushi's sister property, Finolhu. It has a really fun vibe, complete with live music and entertainment.
Amilla likes to manage the expectations of guests before they arrive on the island - and excel at surpassing them during their stay. That's why it's The Island of Surprises
The resort is run by Maldivians. As a Maldivian-owned boutique brand, the managment uplift and showcase Maldivian talent whenever we can, whether it's guest artists or staff training schemes.
Amilla votes for the Planet! The resort genuinely cares about the fragile natural surroundings and take proactive measures to reduce the impact on the environment of operations.
Wellness Your Way caters to the high-end guests of today, who frequently require special diets such as paleo, keto, vegan and low-lectin. The comprehensive WYW menus suit all requirements.
Check Availability and Prices in Amilla Maldives Resort & Residences
Maldives Luxury Guide
Here's the best of Maldives for luxury travellers. We've compiled the finest recommendations of places to stay, ranging from the most celebrated five-star resorts to luxurious private islands Read More
Maldives Romantic Guide
The ultimate 'flop and drop' and honeymoon destination, the Maldives is the playground for the most amazing and finest utilization of each second of this extremely valuable and hopeful time with each other in tota Read More
Maldives
Best Hotel
Deals