Emerald Maldives Resort & Spa, a new 5-star Deluxe All-Inclusive Resort
Best Experience for: ALL INCLUSIVE Resort, Couples, Family Holiday, Foodies, Diving
July, 2022
Emerald Maldives Resort and Spa - Deluxe All Inclusive is an unforgettable getaway for people who dream to beach experience the beautiful white sands, tropical nature and blue ocean of a Maldivian island, with luxurious ambience. All inclusive 5-stars Deluxe Resort is located in Raa Atoll and was opened on August 2019.
Managed by Rome-headquartered hotel chain Emerald Collection, Emerald Maldives Resort and Spa is set on the island of Fasmendhoo in the northern Raa atoll, which is accessible by a scenic 45-minute seaplane flight or a 30-minute domestic flight from the main Malé International Airport (VIA) to Ifuru Domestic Airport followed by a 20-minute speedboat ride. The Resort is surrounded by 1.5 km of white sandy beach on a 20 hectares private island, and it boasts 120 luxurious Villas with both contemporary and tropical design, divided into 60 beach villas and 60 overwater villas.
The Island
The Emerald has a signature lounge with drinks and snacks at the Male airport seaplane terminal. Expect a warm welcome when your seaplane arrives to the island. Your butler drives you to your room and shows you around the island, pointing out the various restaurants, spa, gift shop, pools, etc.
Built to blend in perfect harmony with the surrounding environment, the resort combines tropical atmospheres with modern design, creating atmospheres of natural and informal elegance, offering the ideal setting to build new and memorable experiences. The island itself is just beautiful, it's paradise on earth. Although the resort has only recently opened, it boasts an abundance of vegetation and palm trees. A lot of natural bamboos are used around the resort and as part of the exterior of the villas, which makes the scenery really lovely. Bamboo has also been used around the resort in the landscaping which is stunning with some beautiful flowers not only in the landscape but growing on the exterior of some of the water villas.
The Emerald Maldives Resort & SPA, by itself, is fantastic, brand new, with magnificent facilities. The architecture impresses just when we arrived. The Fasmendhoo island probably has not the best beaches in the Maldives and it suffers from erosion nevertheless for most of the island the beach in front of the villas is splendid.

The guest can use the bicycles which are provided free of charge throughout the stay to explore the island. Most of the guests are couples, many honeymooners but there are also a few families.
On top of this outstanding staff who are friendly, kind, well trained and whose mission is to give you the perfect holiday. They are a team and they work as a team and you can feel a good atmosphere!
Location
A true tropical paradise, the enchanting island of Fasmendhoo is located in Raa Atoll that's home to a some luxury hotels, on the North West district of the Maldives and it's composed of 20 Hectares of land and 100 hectares of beautiful crystal blue lagoon.
A scenic seaplane journey from Male will cover the distance in 40 minutes or alternatively you can choose a 30-minute domestic flight to Ifuru Domestic Airport where guests will enjoy a 15 minutes speedboat ride to Emerald Maldives Resort. The domestic flight option will allow guests to easily connect with their intercontinental flights during the evening.
With full Platinum All inclusive package, a powder soft sands and clear blue lagoon, surrounded by tropical nature, the family friendly resort is the perfect choice for an unforgettable stay for all guests which want to experience luxurious rooms and facilities.
Villas and Suites
The Resort boasts 120 luxury Villas with both contemporary and tropical design, divided into 60 beach villas and 60 overwater villas. Each Villa features: Two flat satellite TVs (room and bathroom), direct dial phone, king size bed or interconnecting room, modern airconditioned bathrooms with walk-in shower, outdoor "under the stars" shower, bath tub for two, separate WC and bidet, dressing room and walk-in closet, luggage rack, hairdryer, bathrobes, personal safe, tea and coffee making facilities, daily refreshed minibar, twice-daily maid service, room controlled air conditioning and overhead fans, working desk and also Wi-Fi internet access which will also be available all over the Resort. DOWNLOAD RESORT MAP
The Beach Villas with Pool are spacious and modern and the interiors are luxurious. A huge air-conditioned luxury bathroom, complete with indoor rain shower and bathtub. Two additional outdoor showers, one in a small private garden area of the bathroom and the other at the front of the villa to wash off the sand from the beach. All villas have its own bicycles to go around the island
With the best white sands (northern and eastern sides ), for families the resort has 10 FAMILY BEACH VILLA WITH POOL with bathroom exterior Garden and a kids bedroom, as well a aisle, covered and open patio and private swimming pool 8x3 mt. Each Beach Villa has direct access to its own stretch of white sand with sun beds and umbrellas
The Water Villa with pool is such a lovely room - the pool is a good size. Staying in the Overwater Villa with Pool is definitely worth it, spacious room with a luxury touch. All rooms are elegantly furnished and very specious. Amazing bathroom! Complete with indoor rain shower and bathtub. Also, the towel decorations on the bed are fantastic and unforgettable. Dip in the private pool and looking out to the fantastic view of the ocean, all the stress just melts away.
Restaurants and Bars
Beyond the relaxing atmosphere of the villas and their incredible bathrooms, the next best part is the fantastic food and excellent service at the four different restaurants on the island. The menu have a great variety of food choices and the preparation made for superior tasting. The staff is very attentive, professional and friendly.
Aqua is the main buffet restaurant is set right on the beach facing the crystal clear lagooon and featuring indoor (air conditioned) and outdoor dining at its best.
Expect an incredible culinary adventure where all your delicious wishes come true: an indoor lavish buffet will be available for breakfast , lunch and dinner and it will include several different cooking stations each with individual international cuisines to stimulate guests palate: Mediterranean, Japanese, Italian, Chinese, Vegetarian corners and lots more to discover!
Amazònico ia an other place for gourmet cuisine is a specialty a la carte fine dinner only. All the exquisite dishes are made according to the South American tradition using only fresh ingredients. At this South American restaurant the guests will be able to enjoy their dinners and discover the variety, freshness and the natural health benefits of this legendary cuisine. The restaurant has a typical South American dining environment with natural stones and wood interiors. Read More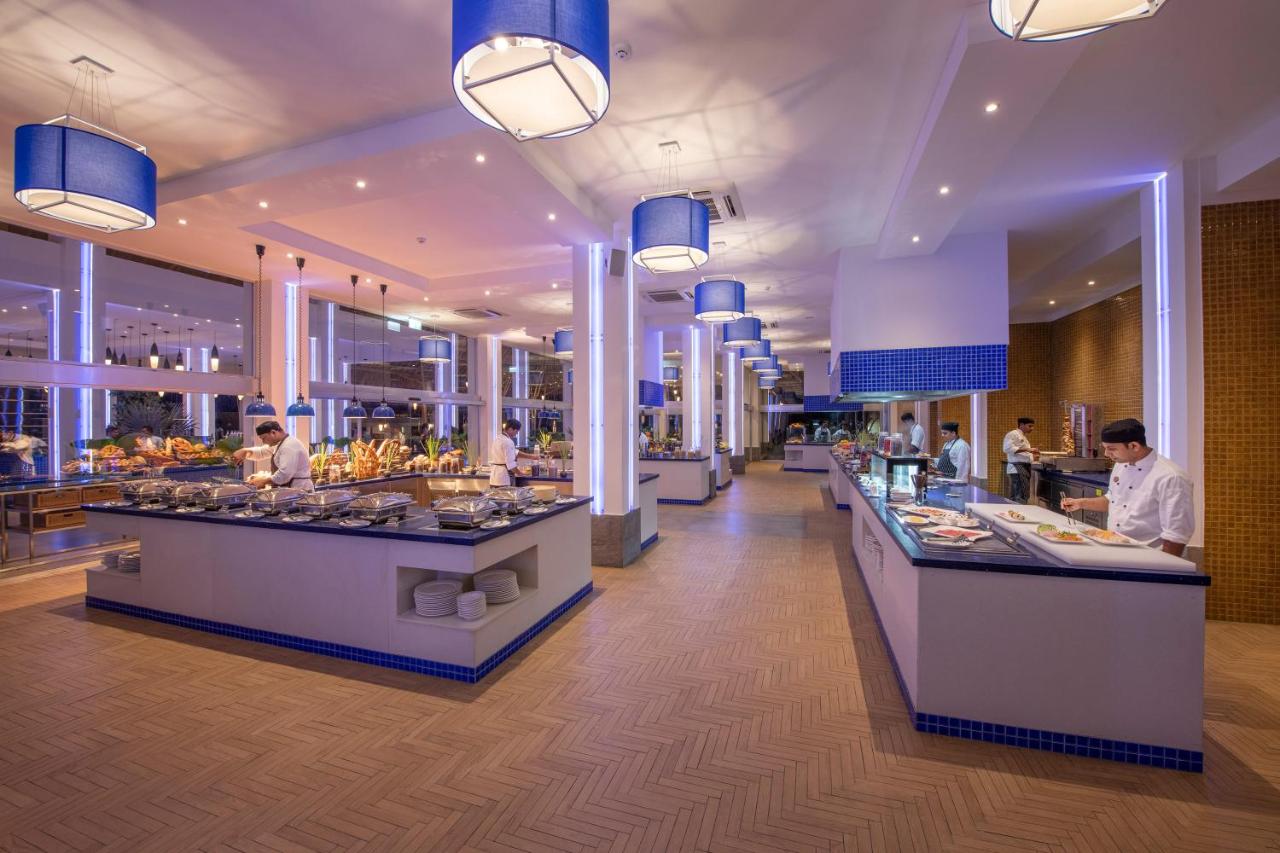 The resort's signature Le Asiatique Restaurant is the perfect choice for guests who want to discover the tasty and delicious creations of our Asian Chefs whose main objective is to deliver people an authentic flavor of the East, while respecting the traditions of Oriental culinary cultures and history. Guests can also enjoy the live cooking show around the Teppanyaki grill. The Asian Restaurant is located in the heart of the Island within the forest creating a spectacular and innovative natural environment.
A real find for carnivores, Beach Grill Restaurant serves lunch and dinner in one of the best location of the island facing the lagoon clear blue water. The uniqueness of the restaurant is to be found in both the lavish interior design, and the vast selection of fresh meat, fish, shellfish, and vegetables cooked on a stone grill, which gives the dishes unique flavors. The Lobster Thermidor dinner - a whole large lobster absolutely perfectly cooked with the light Gruyere creamy sauce.
A pizza and Pasta station also is available in the beach club area.
Veganism has hit an all-time high in 2020 and Emerald Maldives Resort & Spa has unveiled new plant-based dishes and mocktail menus at all the six of its exceptional restaurants and bars, available as part of the Deluxe All-Inclusive offering.
The wine list in this all inclusive concept is impressing and the quality is on high level as well . The inclusive wines are very good and served by a bunch of young, enthusiastic and knowledgeable sommeliers who remember your preferences and will try to surprise you with wines accordingly.
The all inclusive package, literally included everything at any time. Wine and Champagne in the mini-bar, not just house wine in the restaurants but a list of around 25 wines from around the world . The choice and quality of the food is wonderful, with live cooking stations in the main "Aqua" buffet restaurant.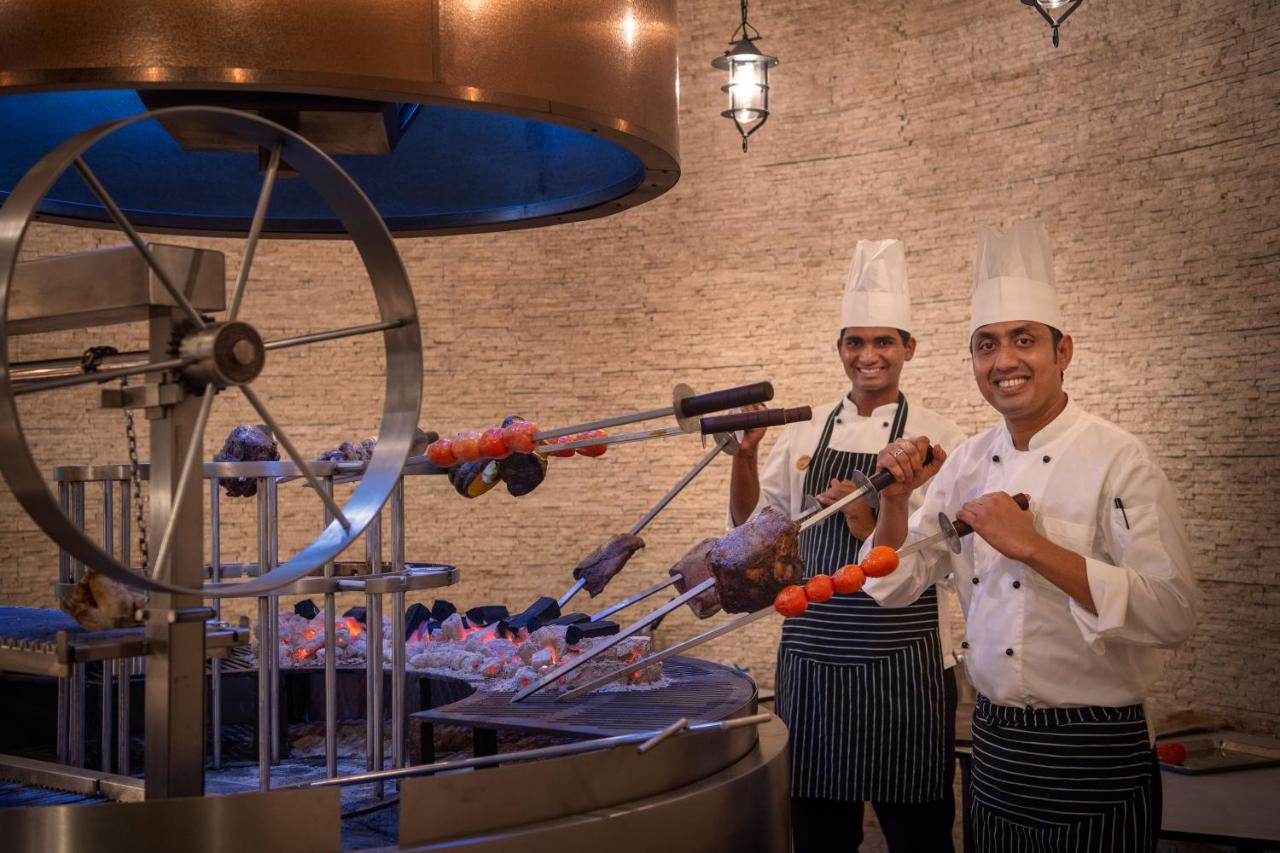 Childcare
KIDS CLUB "DOLPHIN CLUB" is 1500 sqm with large outdoor playground features Kids Restaurant and Kids Pool. From 4-12 years free of charge. The Kids Club offers a wild selection of activities for your children. The trained staff will make sure every single child spend their dream holiday playing and spending time with other kids, while the parents can enjoy their couple vacation.
In 2021 Emerald Maldives Resort & Spa launched new fun-filled and inspiring activities for families: from culinary classes, to meditation and yoga lessons designed for childrens, there are a wide array of opportunities, all included within the resort's new Family Offer. Read more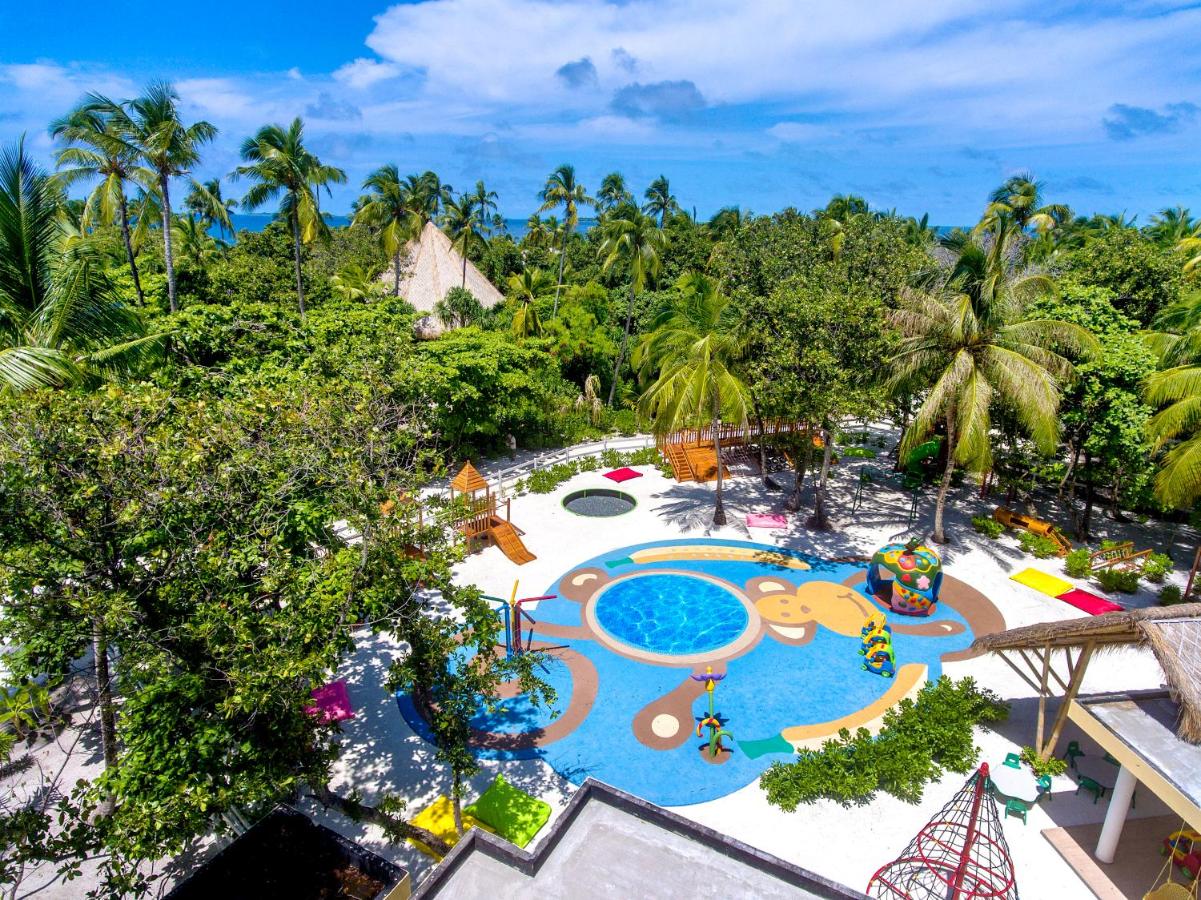 Diving and Sports
Diving and snorkeling in the Maldives is amongst the most spectacular in the world with stunning coral reefs and more then 1000 fish species recorded. Raa Atoll's scuba is popular for it's unspoiled world class dive sites and is suitable for beginners and advanced divers. Expect to spot pink soft corals, turtles, napoleon wrasses, reef sharks and mantas. The resort has the 5-star TGI Diving Center that's offers daily fun dive trips and diving cources all guided by certified professional instructors. TGI Maldives at Fasmendhoo offers a wide array of dive sites, 12 months diving, easy access/proximity to dive sites and abundant marine life! The diving school also will offer snorkeling excursions including the resort's house reef.
With 9 air-conditioned treatment rooms, The Emerald Spa is excellence, luxury and satisfaction escape for gueus to pamper thei feels. A menu offers a full range of Spa services tailored to satisfy every guest's needs. Come and enjoy a relaxing massage with our Thai, and Indonesian massage therapists. The Emerald Spa features a relaxation area with Indonesian style pool, steam bath, sauna, nine air-conditioned treatment rooms and a featured beauty salon.
GYM is available for guests an air-conditioned Fitness Center with Technogym equipment and personal trainers (at extra charge). 2 Tennis Courts (1 of which is convertible in football field) and 2 Paddle Courts.
The water sports are situated on the beach and guests are able to use Hobie-cats, kayak, kite and wind surf equipment under the eyes of our Waters Sport Team. Motorized water sports like jet skies are also available at extra charge.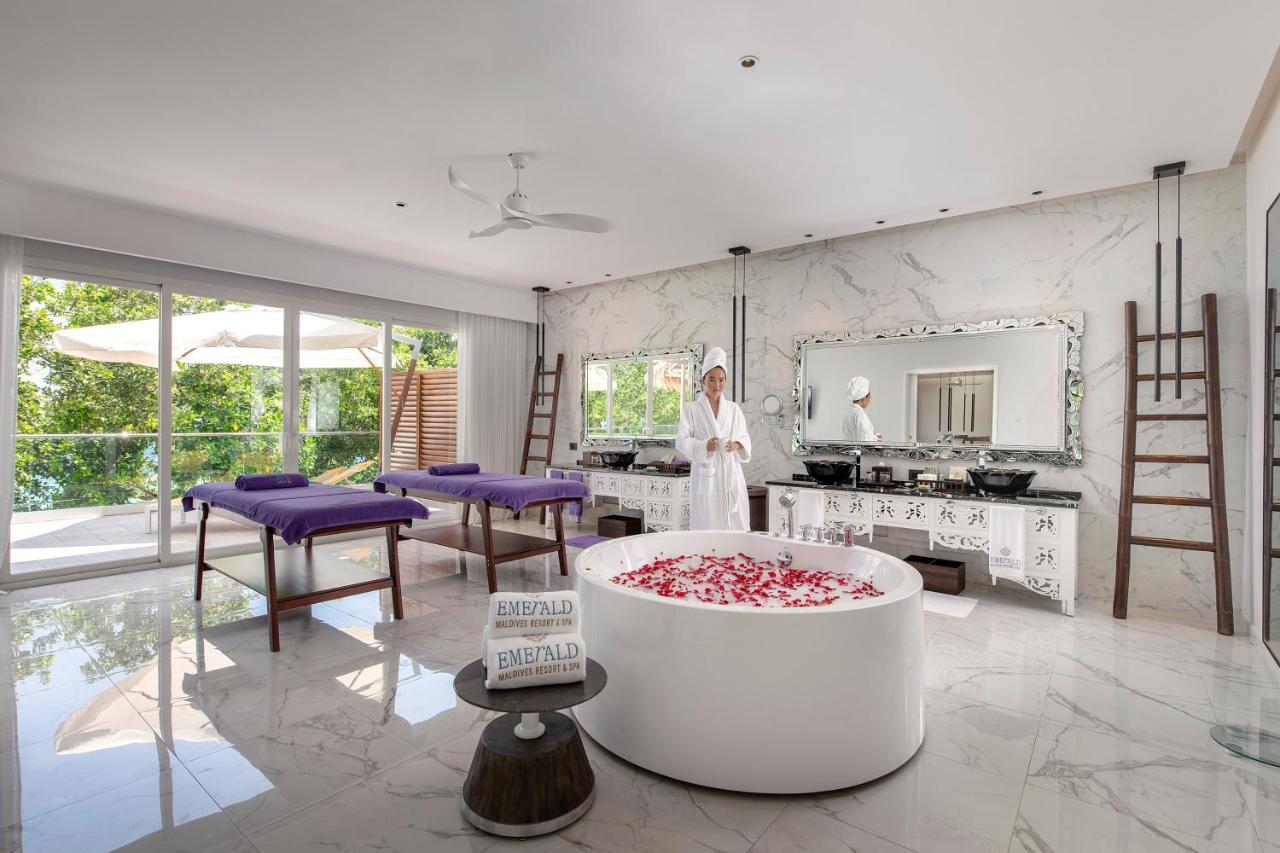 Reviews
Emerald Maldives Resort & Spa - Deluxe All Inclusive is the perfect destination for your holiday in the Maldives, whether you are looking for adventure, exploring the underwater wonders, or simply relaxation, enjoying the modern facilities, in-house dining venues and comfort of your villa. The Emerald keeps everything it promises. Just outstanding work - from the incredibly luxurious villa, to the great food, to the incomparable excellence of all services.
In our opinion, one of the best openings in the Maldives, in terms of facilities open and ready and the service given. It is new and they still have somethings they are waiting for and they need to build on their team of employees, but a fabulous first impression and we have no hesitation in recommending this resort to couples or families looking for all-inclusive, luxury at an affordable price
Amazing experience in a fabulous place with very professional and friendly staff; Emerald Maldives Resort & Spa is absolutely amazing, one of the best hotel I have been to so far;
Pros: What Guests Love
A wonderful warm greeting from the Management with a welcome glass of bubbles on arrival
The island is extremely beautiful
The Staff is helpful, polite, full of smile 
The rooms are perfect, very clean and with all the comfort you need
The food is of a high standard, even buffet restaurant is offering delicious meals.
The SPA facilities are fantastic
the free bicycles
The food and restaurants are amazing
The all inclusive package is outstanding. You really have all you need and more that required! Is all included
The cardio equipment at the gym is a top of the line and there is a generous free weights section
TGI Dive center PADI is a great, very professionally looked after and of course nice new gear!
Kids Club is awesome. The kids just loved every minute they spent there
Perfect internet connection

Things to Know Before You Go
The property is only accessible by the following modes of transfer: Seaplane transfer takes 40 minutes from Male International Airport. Domestic Flight transfer takes 35 minutes from Male International Airport + 15 minutes speedboat. 
check-in 2:00 PM - 12:00 AM; check-out Until 12:00 PM;
The resort time is 1 hr ahead of Male
Children of all ages are welcome.
Book All Inclusive to pay once and enjoy our holiday stress free,
Children under 13 years will eat for free based on the rules and meal-plan accompanied by an adult, excluding alcoholic beverages.
The resort's dive center requires you to take a Scuba Review course if more than six months have passed since your last dive
The TeppanYaki dinner is a must
The Amazonico Restaurant is the first of its kind in the Maldives, serving South American cuisine
The Beach Grill Restaurant serves delicious pizza's, steaks and seafood, with tables set out on the beach
The resort has a lively atmosphere, with regular DJ nights.
RAA Atoll is a great diving spot, as the Biosphere Reserve in Baa Atoll is not too far away
DELUXE ALL INCLUSIVE INCLUSIONS:
Free welcome drink upon arrival at the resort.
In-Room stocked minibar: Soft drinks, wine, beer and water.
Non-motorized Water Sport activities (private lessons at extra charge)
Snorkeling Equipment (Mask, Snorkel and Fins)
20 minutes guided group snorkeling twice a week (subject to weather conditions)
Excursions (subject to weather conditions:)
1 excursion per stay for minimum of 7 nights stay.
2 excursions are available for minimum of 10 nights stay.
Extensive wine and beverages options at the Bars
Emerald Maldives Resort & Spa - Winner of 2020 World's Leading New Resort!
Maldives Luxury Guide
Here's the best of Maldives for luxury travellers. We've compiled the finest recommendations of places to stay, ranging from the most celebrated five-star resorts to luxurious private islands Read More
Maldives Romantic Guide
The ultimate 'flop and drop' and honeymoon destination, the Maldives is the playground for the most amazing and finest utilization of each second of this extremely valuable and hopeful time with each other in tota Read More