Huvafen Fushi
Best Experience for: Honeymoon, Overwater Bungalows, Gourmet Dining, Undewater Spa, Beaches, House Reef Snorkelling
Updated February, 2023
The resort will temporarily close on 15th May 2023 for renovation project and will welcome back guests on 1st October 2023. MORE DETAILS ➤
Huvafen Fushi is glamorously grown-up Maldivian hideaway with incredible beaches, magnificent service and the world's first underwater spa. Located just 30 minutes by speedboat from the Male airport, Huvafen Fushi ideally mixes Maldivian style with hip and chic features; thatched villas on the outside and on the inside, unique amenities, sophisticated design, high-tech equipment, and last but not least cool events which all contribute to make Huvafen Fushi a truly dreamy island.
In the competitive world of the best resorts, where each new discovery adds something better or more to the word "Wow" or more than other hotels, the Huvafen Fushi meets high expectations - and widely recognized promises, like one of the best in the Maldives. Today, the island's 44 enrapturing, naturally modern villas – all with private pools – are refreshed and the ultimate in luxurious privacy and intimacy; Encircled by one of the best house reefs in the Maldives, this private island paradise is one of the most romantic resorts in the country and home to the famed spa resculpted and enhanced by celebrated wellness practitioners from PURE Massage to Teresa Tarmey. New culinary experiences include modern Japanese cuisine with a Latin twist at Feeling Koi and designer drinks dreamt up by mixologists from London's PURL, complimenting the established gastronomic lineup including subterranean wine trove Vinum, alfresco Italian Forno and relaxed deck dining at Celsius. Accented by pure island beauty and serenity, each moment at Huvafen Fushi is one to treasure forever.
The Island
You will be warmly welcomed at the Male airport and escorted to a luxurious lounge before speedboat transfer. The boat's staff is very friendly and informative. There is wifi on board, so you can share selfies with your family and friends on the way. Only 30-minutes speedboat ride later you arrive at the island to be met by a welcoming team on the jetty complete with cold towels and refreshments. No checkin as such as your butler takes you direct to your room.
The island itself is green and luscious and at the same time the epitome of chic – cool, classic, ultra-contemporary and stylish, one of the most iconic of all the hotels in the region, frequently copied but in our opinion, never surpassed. The trees and plants are well maintained and the sand white and powdery. If you want, you can kick your shoes off when you arrive and forget about them till you go home again.
The place is teeming with wildlife. On land, there are resident herons, Maldivian water hens and fruit bats. The reef is big, natural and, despite the loss of corals that has affected so much of this part of the world due to global warming, is alive with fish, sting rays, turtles and nurse sharks. And Hamid, the resident marine biologist, will tell you of - and indeed show you - a project the island is sponsoring in which coral is being deliberately grown in underwater nursery conditions and then reintroduced to the house reef.
Huvafen Fushi is placed in a special atmosphere of stylish laziness. It's about relaxation on the island, at its best. Virtually one can even say that ... do almost anything. Opened over a decade ago, Huvafen Fushi built a deserved reputation amongst dynamic connoisseurs, seduced by the sensuous embrace of this iconic island. Now in the arms of The Small Maldives Island Co, the perennial poise and allure of this fashionable global icon has been lovingly rekindled; reinvigorated for a new generation of sophisticates drawn irresistibly by the promise of a glamorously grown-up rendezvous.
For a small island, the facilities are incredible and include swimming pool – romantically star-lit at night, several intimate restaurants dotted around the resort so you can fully enjoy the amazing views, the funky bar usually with original 'Huvafen' chill out music mixed by some of the top name DJ's in the business. A full range of water sports and dive centre. 'Sensuelle' is Huvafen's own luxury dhoni style yacht, and can be charted for day tours, overnight (or longer if you prefer) private cruises.
And we have nothing against starting the day with a breakfast so generous and luxurious, and imperceptibly turning into a late one, with thoughts so that it does not end never. Then you can force yourself to go for snorkeling, or take a sun bath, or feed the rays and maybe relax in the spa. Ending a lazy day is best at sunset with a trendy drink in your hand, in the overwater stash of the Cafe Del Mar style. DOWNLOAD RESORT MAP
From the bar you can smoothly move to Salt restaurant, crowning it all, with some of the finest dishes that you have ever dine ... in the finale you will want someone pick up you to the villa. Real bliss.
While the resort has previously been for adults only, Huvafen Fushi will now be accepting children from 1 April 2019.
Let's make it clear: the boutique hotel Huvafen Fushi will not let you down. Wet your toes in a warm, ridiculously beautiful lagoon, dine in incredible places, try snorkeling on one of the best Maldives house reef or soak up the sun on your own site, like flour, sandy perfection. And it's easy, when you think that in this paradise there can be nothing better, you will stumble upon the first underwater spa in the world. The Lime spa is located at the extreme end of the resort and reached by a wooden boardwalk, several treatment rooms are actually built under the water, so you can enjoy Nemo's world whilst you are being totally pampered.
One of the things that in our experience sets Huvafen apart from other places is its staff. Almost everyone who works here is friendly and cannot do enough to serve. House-keeping and general island maintenance staff all do a fantastic job and have a smile and a "good morning" for you when you see or pass them. The restaurant staff is also superb. These people are passionate about what they do and simply love to be of service.
Location
North Malé also known as northern Kaafu is the main atoll in the Maldives, where in the first time in the country the tourism was launched. The capital of Maldives, Male City and Velana International Airport (MLE) are also located in the North Male Atoll. North Male Atoll is home to a great collection of luxury 5* star resorts and budget guest houses. READ MORE
To say that the Maldives is like a dream means a dangerous plunge into the world of tourist cliches, but the spectacle of aquamarine waters with patches of white sand crowned with tall palms is just a miracle picture and we let ourselves go. Huvafen Fushi is situated within the North Malé Atoll, only a 30-minute luxury speedboat ride from Malé airport and an award winning retreat renowned for its creativity in hospitality and superlative luxury. Set within its own lagoon, Huvafen Fushi is a naturalist's wonderland where the landscapes above and below the waterline are breathtakingly untouched.
Villas and Suites
Ultra luxury resort, no doubt, one of the most royal in the archipelago. 44 bungalows and apartments, all with a private pool inhabit a picturesque island. And all with pomp offer an unprecedented luxury and grandiose space: imagine the most modest bungalow in 125 m2! Villas can be smaller than other resorts, but their number is in fact proportional to the size of the island, and after extensive renovation in 2012, all the villas have been upgraded to the highest standards of luxury and packed with top of the art "high-tech". Each is a good distance from the next, affording lots of space and a great privacy.
There are some categories: 8 Beach bungalows have sun decks, indulging you to absolute laziness on comfortable mattresses, 8 Deluxe Beach Bungalows, even more spacious, 12 Lagoon Bungalows and 12 Ocean Bungalows are complemented by a Jacuzzi, and two Ocean Pavillions (330 m2!) On two levels are serviced by a butler, plus a Beach Pavilion of 800 m2, for real spenders!
All these magnificent cocoons of the luxury, comparable only with an art galleries, of course, have a comfy king size bed, a private pool (a plunge pool equipped with a small waterfall, private pools with a stunning lagoon view), a spacious outdoor bathroom, bar area and soft luxury sofas. In marriage with a wood, design and high-tech rule the dance here.
Beach Deluxe Bungalows right behind the white sand stripes have rightly gained their popularity due to the spacious private open area (rooms 9, 10, 12-15 close to the spa, if you need to do as few steps as possible after the procedures). In fact, the closer to a spa, the calmer. But some like the novelty in the form of water bungalows: strung on an egg-shaped pier from the island, Ocean and Lagoon bungalows offer maximum privacy.
Ocean Bungalow has a glass floor in the living room, giving you 24 hours of "reef TV", and if you are still on the sunset side, the drinks on the terrace next to the pool will go very romantic. Plus, if you like snorkeling, a amazing house reef right on the doorstep (do not step on the coral). Of course, the three remaining pavilions are simply incredible; The Beach Pavilion is a universal favorite. Everything in the highest category is literally - and you can add your own charter to your booking to sleep on board or on land; Sensuelle is a 68-foot luxury cruise boat with a wine cellar on board and a fire pole from the upper deck.
Dreaming of a true Luxury Maldives Penthouse? Where an unique clever exemplar of vintage nostalgia meets Modern Parisian living areas, true to the enigmatic character of New York, the Upper East Side style? Glamorously grown-up Maldivian hideaway Huvafen Fushi has it all. The Cube or The Grand Beach Pavilion is an exquisite architectural hymn to pleasure that weaves all your imaginations. The two-storey, 800 sqm beach house starts from USD 9,000++ per night for minimum four-night stays.
Upstairs, an open-plan chamber-cum-'playroom' features a centrepiece bed, oversized ocean view bath and wet area with steam and sauna. A panoramic west-facing balcony draws the eye over the burgundy floodlit lava-stone infinity pool and private jetty to sunsets over the house reef.
Accessed via a dramatic private courtyard, the ground floor is a fluid, unconstrained living and entertainment space. The lounge and dining area — think Bang & Olufsen sound system, plasma TVs and bottomless cocktail bar — and culinary gallery flow seamlessly out to the private deck. Daybeds, outdoor shower and a private BBQ area frame that striking infinity pool and the beach beyond.
Discerning pleasurists staying in the Cube arrive via a breathless dalliance with Huvafen Fushi's dashing 45' Italian luxury speedboat Veloce. Once ensconced in their private paradise, guests can expect to be pampered with 24/7 butler service courtesy of the resort's signature thakurus; enjoy a sensuous massage in PEARL, Huvafen Spa's legendary underwater treatment area, feast Exclusive Private BBQ once and discover a bespoke intimate gift box from Maison Mika.
Restaurants and Bars
The bar and six absolutely different restaurants nourish the strength of the guests. Whether it's international cuisine in Celsius, fish and seafood in Salt - a high-quality food is 100% healthy at Raw or pizza from a wood-burning oven, the taste buds do not stop being active before starting to work in a reinforced mode, after tasting the offering of the Vinum wine cellar, that has an unusual collection of 600 bottles of wine. Discover the finest international cuisine, from Asia to latino with the mediterranean between with this culinary adventure – where Huvafen Fushi as your base.
A lot of options: the fish smells around the Salt open kitchen, overwater restaurant in the pavilion; spa options at Raw; throughout the day, a laid-back Celcius with a sandy floor and a view of the lagoon; Good wines are picked up at the Vinum restaurant; pizza under the palm trees in Forno ... in short take 'full board'.
The super-cool UMbar shakes the deliciously dirty martini with its extensive list of vodkas, as well as champagne, cocktails, non-alcoholic cocktails, etc. on the menu. Try the taste of Asian Crouching Tiger (with melissa, lychee, sake, gin, ginger liqueur and jasmine tea).
Breakfast in Celsius, from 07:00 to 10:30; Raw is ideal only for lunch and closes at 15:30; Salt and Winum from 19:00 - 23:00. Booking is recommended. UMbar remains open until the last client.
The set menu is serviced 24 hours a day. Be sure to try the traditional Maldivian breakfast (sambol, curry and chapati); You can also welcome your own chef, who will cook fish, seafood or a mixed-grill on your deck.
Dress code: Heidi Klein, Melissa Odabash - light and comfortable models and jewelery slaps. A chic Panama and a cool linen for him.
In Salt you can see sharks if you are sitting outside - otherwise, try throwing a bait. Huvafen Fushi is famous for its service, and it can organize meals anywhere, on its own terrace at the edge of the reef, on the sandy bank.
Activities and Sports
At land, at sea or underwater discover perfect balance in a life changing getaway at Huvafen Fushi. From watersports in and over the ocean to cultural activities and stunning views, total relaxation and exhilarating beachfront fun await. Read more
The dives sites of North Male Atoll are well dived and among the best known dive sites in the Maldives. There are more than 50 dive sites in the area. The variety of marine life is amazing. The abundance of fish and corals make for spectacular dives that you will never forget. Expect a beautiful reef scenery and some of the best coral reefs in Maldives. Read More
Everything interesting is under water there: you can not snorkeling only over butterflies, fire groupers and other bright sea creatures of Huwafen Fushi's house reef, you can also relax your body and spirit in the world's first underwater spa in Maldives. Huvafen Spa - an ethereal realm of water, serenity washing over every space, two of the eight procedural rooms with glass walls with a view of the ocean level. The menu of medical procedures varies from iridodiagnostics and reiki to health rituals and salt scrubs. Let Huvafen Spa wrap you in healing arms, soothed by healing hands, ensconced in luxury.
Snorkeling excursion with the marine biologist of Huvafen Fushi, who will take you through the best sites of the coral garden and explain what you saw. Also the resort has its own diving center with a standard set of PADI courses, and popular dive options for certified divers. You can just cancel everything to swallow more fresh air in UMbar, where cigar aficionados can try the perfect selection of the best Cuban and Dominican cigars.
If you feel the need for more activities, other offerings include: excursions to Maldives Metropolis, the capital of Male, sunset cruises, culinary curry-master classes, wine degustation at the Vinum restaurant, fishing, feeding stingrays and sharks, yoga, windsurfing, sailing and wakeboarding ... let's say, you need to stay in Huvafen for a long term to get bored.
As regular gym users, you'll love the small but well-equipped overwater gym at Huvafen. Looking out over the turquoise reef and to the open seas makes working out seem so very, very much easier.
Reviews
In our opinion: the highly extravagant in the Ocean Bungalows is refreshingly simple, as a general impression: Huvafen Fushi has found an impeccable recipe for a relaxing holiday on a tropical paradise island... 'seasoned travellers so it is not often that we are surprised but the folks at Huvafen Fushi really raised the bar on what it means to provide good service. The water bungalow is spacious and beautiful, and we had an amazing time snorkeling in the turquoise waters teeming with fishes, sharks, stingrays and turtles'... Exceptional, Superb, "Perfect resort for our honeymoon!"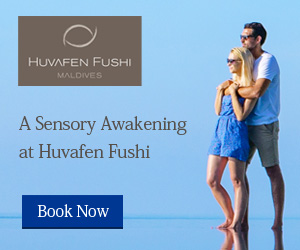 Pros: What Guest Love
A discreet, refined luxury and atmosphere. Even the local heron is unusually relaxed, posing for a photo at a very close distance.
Fantastic swimming pool, brilliantly lit at night.
The concept of underwater spa - sea life is fascina ting, but this show largely outshines why you came here for.
The place becomes magical in the evenings, with chill out music filling the warm air, and muted lighting in public places.
Sunset bar is located above the water, beautifully decorated and with creative cocktails.
Perfect service from the highest degree of kind staff.
House reef snorkeling is must! Right from the beach you can see a turtles, rays, a harmless sharks and even manta ray, if you lucky
With fantastic quality ingredients a food is one of the truly emphasized moments in Huvafen: for amazing seafood go to the Salt restaurant, and Celsius for lazy, relaxed, barefoot (sand on the floor!) breakfasts.
The natural setting of the villas, especially those on stilts, built above the water. With traditional thatched roofs, but the interiors are nothing, with features of the gallery in modern urban suites.
Set aside from the pier, that runs a hundred meters into the sea, two ocean pavilions (Ocean Pavilion) offer a separate category of accommodation. With a generous space, a some sun decks and an infinity pool that connects the interior with the terrace (an excellent place for parties) - they are a good option for extravagant guests.

What You Need to Know
Huvafen Fush is the member of Universal Resorts the most desirable Maldivian hospitality group.
Give yourself a sensuous escape to a world beyond imagination at Huvafen Fushi with the most exclusive Maldives hotel offers to make your holiday extra special
Your personal butler will meet you at Velana international airport (male), and after you expect a 30-minute trip by speedboat to the resort. Your butler is your main point of contact to book restaurants, spa treatments or anything else you need.
Transfers can be arranged 24 hours a day
In the midst of Covid it's lovely to be told that guests did not need to wear masks on the island and after a long-hour intnl flight wearing one You could be free. Throughout the stay you'll feel very Covid safe with staff always masked and guests temperatures taken regularly by the charming on site doctor.
Check-in from 14:00 hours; check-out until 12:00 hours;
Children of any age are welcome but there are no family facilities and kids club on the island. Children aged 12 years and above are considered adults at this property.
The hotel is very close to Male, and after a long international flight there is no need for another air travel - it is a relief - and very convenient for late departure: a night trip to Male by boat - very romantic!
The staff has some of the best working conditions in the Maldives and the turnover is very low: employees remain in the company for many years. Therefore, they all strive for excellence, making a huge contribution to the overall atmosphere of the island.
The Rays feeding is every day at 18:30.
If you are a passionate fan of nightlife and parties - Huvafen Fushi is not your place.
The underwater spa is the main recreation center for many, however the interior is divided into two areas (the curtain), that can be obtained by ordering individual packages, but this can somewhat affect the atmosphere and privacy. You can book all together (expensive) - or treatment in pavilions over the water, which are no less beautiful.
The luxury resort is a well-known place for discerning "celebrities", in the list of guests were George Clooney, Kate Moss, Tom Cruise and many others.
Make sure you sample lunch at Raw - We highly recommend the pizza and lasagne
Wine lovers will enjoy the amazing selection at Vinum - enjoy dinner with the island sommelier and experience both old and new world wines and some rare vintages too. A truly impressive wine cellar
Book a Dhoni - a traditional sailboat which is outfitted with state of the art facilities to explore the colourful reefs or even enjoy an overnight stay on one
An overwater gym set out on it's own Jetty, offers the most incredible views and a perfect place to work out
Be sure to try out one of the destination dining options - there are 10 available!
Watch the sunrise during a 60-minute complimentary yoga session on the overwater pavilion. Well worth the early start!
Be sure to enjoy the floating salt pool next to the infinity pool, it offers stunning views across the water and being sea water it is also great for your skin!
Head to the beach in the evening to feed the resident stingrays as the sun goes down!
Try the signature seafood platter at Salt, it's delicious!
The Ocean Bungalows have a better location for house reef snorkeling and much more private. They also can boast the sun all day and the most amazing sunsets. But the ocean side during the summer months is the windy, so depending on the weather the sea could be more or les more or les choppy.
Most of the Lagoon Bungalows lose the sun from their decks early/mid afternoon.
Check Availability and Prices in Huvafen Fushi
Maldives Luxury Guide
Here's the best of Maldives for luxury travellers. We've compiled the finest recommendations of places to stay, ranging from the most celebrated five-star resorts to luxurious private islands Read More
Maldives Romantic Guide
The ultimate 'flop and drop' and honeymoon destination, the Maldives is the playground for the most amazing and finest utilization of each second of this extremely valuable and hopeful time with each other in tota Read More