5 Reasons Why You Should Visit The Nautilus, Maldives' Best-Kept Secret
Best Private Islands in The Maldives
12 August, 2022
Still on Vacation Mode? As travel opens up, the world's must-see destinations beckon holiday-makers, explorers and those simply seeking a peaceful retreat from the world. The Maldives is a one-of-a-kind destination that answers every kind of travel wish – and to illustrate, The Nautilus has put together this little travel guide for you: Top 5 reasons why you should visit this Indian Ocean idyll. Start planning a dreamworthy end-of-year escape here, with The Nautilus Maldives.
1. Relaxation: Freedom in all its flavours
Just picturing the Maldives is enough to relax your body and mind. And when you set foot on these pristine shores, the sunshine lifting your mood and the tourmaline horizon settling the senses, blissful surrender is inevitable. The sheer natural beauty of the Maldives attracts visitors from across the globe, and against this backdrop, the cares of modern life are forgotten, and a sense of freedom is awakened.
This spirit of freedom is The Nautilus's speciality, as we encourage each of our guests to enjoy a respite from the world, to immerse themselves in the wonder of our piece of paradise. As such, everything we offer is designed to cultivate relaxation and freedom: freedom from time's relentless tick (you will not find any clocks or rigid schedules), freedom to dine whenever – and wherever – you like, freedom to do – or be – as you please.
Read More
2. Exclusivity: a Luxury in all Its forms
Luxury is synonymous with travel in the Maldives. With the size of islands naturally limiting visitor numbers, an air of exclusivity is the result. Maldivian hospitality takes this to the next level, with the country's reputation for excellent, dedicated service ensuring that guests experience special treatment at every turn.
This is certainly our endeavour at The Nautilus: ultra-luxury is the standard we maintain, something we promise by offering a very limited number of houses and residences on the island – spacious, secluded abodes fitted with gorgeous furnishings, private infinity pools and detailed personalisation – as well as the finest dining and VIP experiences. But we also believe in luxury in its less tangible, priceless forms: in special moments of reconnection with yourself and your loved ones alone, in tailor-made service – and our style of hospitality is shaped by this vision, and brought to life by your own 24/7 butler service.
Read More
3. Dining: Food for every taste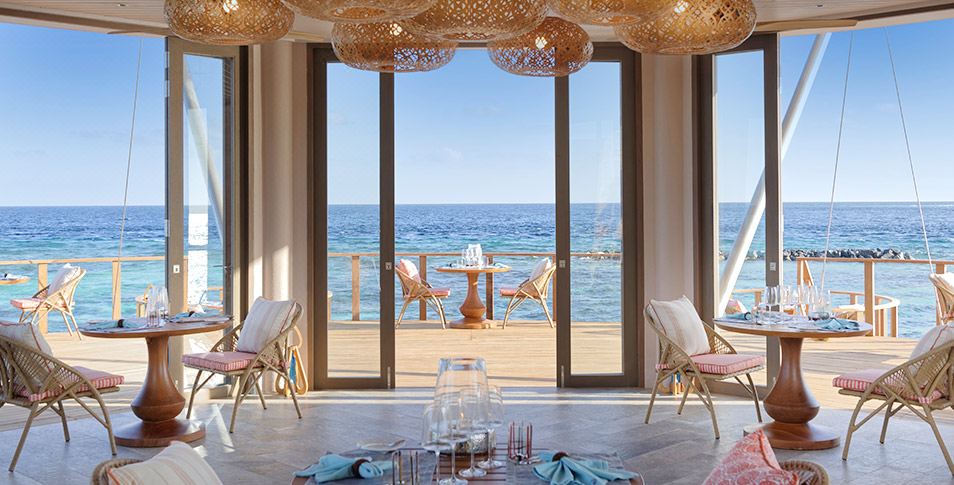 When you travel сuisine is a highlight of any holiday, as one explores a sense of place through its local flavours and traditions. And in the Maldives, the combination of world-class chefs; fresh, local ingredients, fish and seafood; and the rich heritage of the spice trade means that culinary excellence is the norm.
The Nautilus boasts a team of award-winning chefs who effortlessly fuse tradition with innovation and local flavours with global influences – always tailored to your tastes and mood. Our unscripted dining philosophy means that there are no dress codes, no closing hours and no strict menus; just exquisite gastronomy in any form, anytime and absolutely anywhere – whether at our bohemian-chic restaurants, on a remote sandbank, or even in your comfy bed.
4. Big blue: The sea in all Its depths
The Maldives is Ironically scattered across a superb site of natural heritage, 99% of which is the beautiful blue sea. These waters hold wonders in many dimensions: not just above – as you drink in the azure horizon from your sun deck, private yacht or big game fishing excursion – but also below. Warm tropical waters invite you to explore a spectacular underwater world, a world home to hundreds of coral species and 75% of the world's reef fish, as well as dolphins and turtles.
The private island resort lies in the heart of the Baa Atoll, a UNESCO Biosphere Reserve, which features a number of unique ocean marvels. Hanifaru Bay, for example, a feeding hotspot for manta rays and whale sharks, is reached within 15 minutes from The Nautilus. And closer to home, our house reef holds treasures to discover by diving, snorkelling or Seabob safari.
5. Celebrations: Life in all Its special moments
The Maldives makes an ideal destination for celebrations. It has long been a favourite for romantic escapes; its laidback, dreamy setting perfect for castaway beach weddings, honeymoons or anniversary getaways. But, of course, beyond romance, life is full of milestones big and small, which should be cherished at every opportunity.
We are experts at helping you mark these moments, whether it's a grand, lavish event or an intimate soirée you are planning, a birthday bash or a family reunion. For your convenience, we have dreamed up some curated celebration packages to choose from, but we are always keen to help you create your own bespoke event.
Find out more about the Maldives' many attractions on The Nautilus' website, or get in touch at [email protected] to begin creating a world of your own making.
From holistic family escapes to sophisticated epicurean discoveries and transformative wellbeing, The Nautilus offers liberating moments for every occasion and everyone at any time you please. Within a mindfully curated packages liberation remains at the core, allowing you to be led merely by our suggestion and interpret them however you please. All including daily sunset cocktails, The Nautilus' renowned 'anywhere, anytime' gastronomic experience and much more.
SEE ALL OFFERS
The Nautilus Maldives
Best Experience: New Ultra Luxury Resort in Baa Atoll, villas and houses, Family, couples, Beach, Spa, activities
New bohemian luxury, The Nautilus Maldives is a highly exclusive, fully private resort of 26 beach and ocean houses. A privately-owned island in the heart of the Baa Atoll UNESCO Biosphere Reserve, The Nautilus Maldives will be opening in January 2019 with the serious ambition of being noted as one of the leading luxury resorts in the world. A refuge beyond the bounds of time and expectations, where every moment is tailored to you. A celebration of the individual spirit, The Nautilus gives you space – to share, to meet, to be yourself and to shape your own personal journey. And, most of all, to celebrate the people you're with, in any way you choose.
Read More
Maldives
Best Hotel
Deals