JW Marriott Maldives Resort & Spa
Best Experience for: Couples, Families, Water Villas, Spa, Wellness
Updated March, 2023
JW Marriott Maldives Resort & Spa is set on the stunning island of Vagaru, Shaviyani Atoll. Just an hour from Malé airport by seaplane the crescent-shaped Island offers an unrivaled luxury in the stunning environment, a bright, modern villas are some of the largest in the archipelago, each one featuring a private pool and a gourmet cuisine stretches from classic Asian gastronomy – Thai, Japanese, Indian – to wood-fired Italian across seven restaurants.
Opened 1st November 2019 and designed for couples and families this 5-star luxury beach getaway in the Maldives is an ideal destination for guests seeking to be fully present, nourished and reconnected. The 60 villas on property have been created to look like inverted Dhoni boats, and each nclude its own private pool. The resort also features a Spa by JW, which house six double treatments rooms, one deluxe treatment suite with a private 'wet room', a unisex hair salon, manicure and pedicure stations, a wellness boutique, an overwater gym, and an open-air yoga pavilion.
The Island
Starting from Male airport checkin/checkout experience is great. A hotel attendant greets you and ushers you to your seaplane transfer. The JW uses a shared lounge, but they're getting their own soon. The seaplane transfer is about 55 minutes, and maybe you will make intermediate landings in both ways.
The resort is situated in the secluded untouched Shaviyani Atoll where a tropical island oasis meets crystal blue waters and is surrounded by undisturbed natural beauty and an abundant marine life.
With architectural design concept, interior design and art consultancy from Miaja Design Group (LUX* North Male and Ozen by Atmosphere), the resort takes design inspiration from nature and fauna, with a distinct emphasis on organic elements and modern lines. The interiors focus on comfort and lightness combined with unique experiences in a genuine Maldivian getaway atmosphere.
The resort's pristine white Arrival Jetty offers visitors a glamorous welcome, with hammocks and banquettes all along the perimeter. The resort's public areas follow suit, with a lounge-style residential environment. Since the resort is spread out, they do provide buggys/golf carts to transport guests around.
Today there are two main pools currently open. The first is near where you eat breakfast, the other is an 18+ at the tail end of the island. The primary pool has 4 shaded cabanas, 1 non-shaded cabana, and about 10 or 12 pairs of chairs, plus some table seating in the shade. The pool is lovely, and the cabanas are very comfortable. At any way, about 18-20 people are in the pool area, but the best spots at the pool are readily available.
The JW obviously puts a lot of effort into hiring good people, and then letting them be good and do good. With a smile and a quip, feeling like an old friend. The staff all feel that way. From your Thakuru to literally everyone else. The people you'd walk by that are landscaping and ensuring not a leaf is out of place. The wait staff. The bartenders. Literally everyone is lovely and pleasant, and You'll love hearing the stories from all the people about where they were from, how they got here, etc. They really deliver seamless and hassle-free service.
On top of being friendly, it goes with out saying that the level of service provided is far superior to anywhere else You stayed in the Maldives.
Location
Shaviyani atoll is one of the northern island groups of the Maldives lying about 270 km north of Male airport. Geographically, Shaviyani is part of the Thiladhunmathee-Miladhunmadulu great atoll, the world's largest structure of natural coral atolls encompassing more than 1,400 square miles. The seaplane transfer takes 55 mins with an alternate route possible via domestic flight to Hanimaadhoo airport. At the end of 2018 in Shaviyani atoll will open a new domestic airport on Funadhoo island. LEARN MORE
JW Marriott Maldives is located 190km north from Velana International Airport (MLE), Malé. The resort can be reached via a 55-minute scenic seaplane flight from Velana International airport. The resort's ambassadors will be delighted to welcome you and assist you to seaplane check-in counter, and accompany you to our dedicated JW Marriott seaplane lounge. Alternatively you can take a 30-minute domestic flight, followed  by luxury speedboat.
Villas
There are 60 luxurious beach and overwater villas, complete with private pools and plush interiors, perfect for couples and families alike. Contemporary in design with spacious and airy interiors creating the ultimate in privacy and tranquility. All villas have its own spacious private wooden deck with pool, outdoor shower, and modern amenities. Each villa comes with a 'Thakuru' (butler) service that's very personable and was always attentive.
The architecture of the water villas is constructed in traditional thatched style, adding to the authentic Maldivian experience. Structurally, they also pay tribute to the Heron bird, an emblem of good luck for many locals. The shape and lines of the thatched roof has a tip that resembles a beak of the bird, and the composition is slightly slanted, to portray the Heron dipping its head into the water to catch fish.
Inside both the beach and water villas the décor is light and airy. Furniture and finishes are made of woods and organic materials, with colour accents in the fabrics referencing the turquoise blue waters and pink-violet tones of the tropical flowers that adorn the islands. Download Resort Plan
Expect high quality linens, toiletries and furnishings inside and the most comfortable and private outdoor amenities. Each room has:
• 55" inch TV's • 40 international satellite channels • Luxurious linen • Air conditioning • Alarm clock • Electrical adapters • Bottled water: complimentary • Coffee and tea service • Bathrobes and slippers • Hair dryer
• Master Bathrooms in all villas are equipped separate bathtub, rain shower, double vanities, separate toilet and bidet • Individual climate control • Iron and ironing board • Safe • Minibar fridge • Wine fridge • Complimentary wireless internet
Five categories of accommodation: Overwater Pool Villas (19), Beach Pool Villas (16), Duplex Overwater Pool Villas (12), Duplex Beach Pool Villas (13), and one Royal Pool Villa
The resort has 29 secluded one-and two-bedroom beach villas nestled amongst the island's lush greenery, each with its own private beach area. For the guests who would like to fall asleep to the sound of the ocean there are 32 villas standing majestically on stilts over the glistening Laccadive Sea and one spectacular four-bedroom Royal Water Villa that will come complete with nanny's quarters.
Beach Pool Villas ( 248 sqm) offer the ultimate in space and privacy with either a sunrise or sunset option.Surrounded by lush tropical vegetation, each villa has its own pool and private beach access leading to the crystal waters of the blue lagoon. Duplex Beach Pool Villa (285 sqm) ia an ultimate in luxurious island living spread across two stories', offering 2 two bedrooms, 1 master king bed, 2 twin beds, separate spacious upstairs living area, 3 bathrooms (two downstairs and one upstairs) providing space for friends and family. Venture outdoors and guest will be treated to a large secluded garden sanctuary, pool, and with direct beach access to crystal-clear lagoon.
Duplex Beach Pool Villa is wonderful. The bottom level consists of a deck, outdoor lounge area, and small pool. Inside, there's a king bedroom looking right out (in other words, no privacy if you're sharing with another couple, but excellent if you aren't), a two bed room in the front, and a bathroom for each. Upstairs is another bathroom and a large activity area. This area could easily be another bedroom. The villa was a short walk to the beach, down a lovely, curving path of about 20 feet. This make the villa very private - it's not visible from the beach, and you can hardly see the neighboring villas. It feel like your own paradise. From a snorkeling perspective, there is little to see in front of the room.
Complete with modern yet unobtrusive design and luxury amenities, guests will indulge in a luxury island escape. The Overwater Pool Villas (234 sqm) are spectacular: very spacious with high ceilings, a massive bathroom and overall a great place to lounge. The over water villas have great view of the ocean from inside the room and of course for the deck area with direct access to the Indian ocean. Huge bathroom with shower and bathtub, two sinks and plenty of space. A mini-bar, dining table, couch, and huge bed! The sunset villas face away from the sea wall and are a bit away from where the waves break, so We'd recommend those over the sunrise ones.
Well appointed the rooms offer a private wooden deck and private pool with a sunset or sunrise option. The villas are far enough apart where it feels like you are isolated from the rest of the world. Having your own private pool and a deck which allows you to just jump right in the ocean is also a major perk especially you feel like a quick snorkel!
Duplex Overwater Pool Villa ( 274 sqm) category provides couples with a spacious master bedroom with the additional space of an upstairs lounge that has unsurpassed views of the Laccadive sea. Ideal if you have an additional guest or kids traveling, the upstairs lounge sofa can be converted into a comfortable bed. Maximum Occupancy: 3 guests, 3 adults or 2 adults plus 1 child.
Restaurants and Bars
Most guests prefer to eat at the main restaurant. While the meals can get a bit overpriced, the quality completely live up the price and We are certain prices are comparable to any other Maldives resort. You're going to have to suck up the prices, though, it's a remote island that's hard to stock. The food is never bad at this restaurant, but also never great - we found the best way to handle it was to order the items that least seemed aimed at Europeans. All in all, it was what we expected.
Open for breakfast, lunch and dinner, Aailaa is the resort's main restaurant. With the stunning ocean's views the guests can enjoy casual dining at relaxed surrounds. Expect authentic local and international flavors. Choosing from buffet, fixed menu or a customized special event dining experience allow You to explore and experience a gastronomic smorgasbord. Start your day with a delicious breakfast or join for an a la carte lunch and dinner with dishes that are lovingly craft by the Chefs and created with flavours of the region. A variety of ethnicities available to tempt your taste buds, and while each authentic, the chef adds his own wonderful subtle nuances with a smile. The buffet breakfast is outstanding. Plenty of options to chose from, prep stations for eggs, juices, waffles, pancakes and the like. There is an Asian food corner. They also afforde a take-away box that You can fill with snacks to have in your room.
Conveniently located in the heart of Aaliaa, your all-day-dining restaurant, the Wine Room is its own oenology of both new and oldworld wines featuring 1620 bottles and 320 labels from across the globe..
Kaashi is the Thai restaurant at JW Marriott Maldives Resort. Kaashi and Rum Baan are located in a very unique treehouse environment with panoramic views of the Indian Ocean. Open for lunch onlu, guests can snack on the vibrant flavours of Thai cuisine and indulge in Thai inspired rum cocktails and selection of 98 signature rums carefully selected from all corners of the globe. Positioned next to Kaashi in a unique treetop location, Rum Baan is a great place for sunset hours.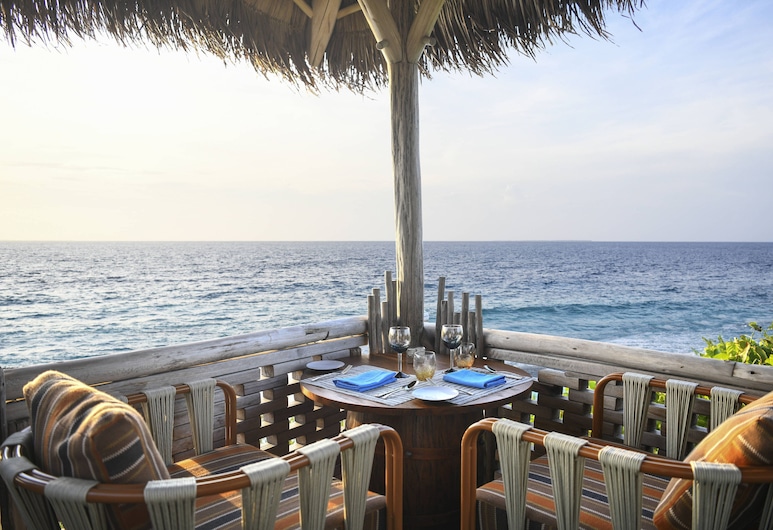 Savour a taste of Italy in the Maldives at Fiamma, al fresco Italian Bistro. Located next to the Horizon Pool in the island's heart, Fiamma serves authentic Italian fare, including woodfire pizzas, and other Italian favorites dishes to satisfy all taste buds.
A great Japanese restaurant, Hashi features the drama and flair with a teppanyaki grill. Hashi is certain to ignite the taste buds and excitement of all diners Enjoy with a Japanese inspired cocktail, Japanese whisky, sake or the resort's extensive wine selection. Open 6 days from: 18:30hrs – 22:30hrs and with a smart casual dress code, reservations are required there.
Service at all restaurants is great and staff is very helpful and know their guest well.
Dining by Design. The Riha is themed Indian restaurant where you can enjoy the traditional flavours of the region under the stars our signature curry pit with your own personal chef. Open for dinner only, reservations essential. In 2023 tte resort launched the opening a new RIHA destination dining concept promising a unique and private experience around a sunken outdoor Tandoor & Tawa.
Shio is the resort's signature overwater restaurant provides guests a modern grill room dining experience. Indulge in the finest prime cut meats and crustaceans that the world has to offer. The Sher Wagyu is to die for. A must try on any visit to Shio are the signature smoked cocktails.
There are two main bars. The first is Rhumn Bann, with a fantastic selection of rum where you can sample rums from all over the world while listening to the waves in one of the best spots on the island to enjoy the ocean breeze. The main bartender, Jonathan, is expectedly very knowledgeable of their unique flavor profiles and loves discussing them. The main concept of the bar, though, is that you tell the bartender what you'd like, he makes a cocktail based upon it, and you name it and enter it into the book.
Enjoy a refreshing tropical drink in the swing bar seats of Horizon. With unsurpassed views over the ocean, this is the spot to be to soak in the majestic Maldivian sunset and to enjoy local entertainment at night.
In-Villa Dining menu is available 24 hours a day, with a wide selection of local and international inspired dishes to satisfy all taste buds. The resort's team of guest service associates are available to assist guests with any orders or requests.
This signature JW Marriott experience is not to be missed. Simply select your dream location, whether a barbecue for two on the beach, an eclectic feast on the boardwalk, or a picnic in a palm grove and the chefs and butlers will take care of everything else.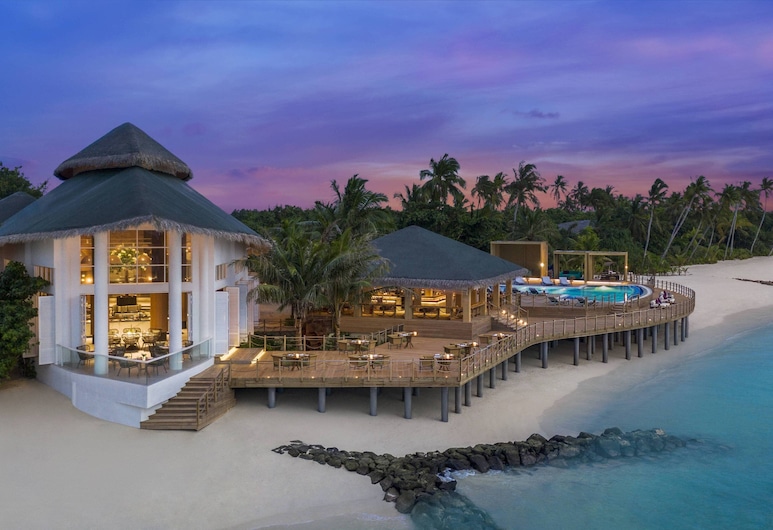 Childcare
Open for children from the ages of 4 to 9 years, the Kids Club by JW has a full range of fun and enriching activities to keep young guests occupied during their stay on the island. With their very own Kid's Club House, even the youngest guests will make new friends and enjoy their holiday just as much as their parents. Under the supervision of the Kids' Coordinator, children can take part in beach games, arts and crafts and an array of other activities to ensure they're always having fun.
The Little Griffin kids club welcomes the kids with a personal message and had a lot fun fun activities like cooking class and decorating cupcakes and more. The staff at the Kids Club really spend the time to play with the kids and have a lot of different activities for them to do each day. The parents can get a massage while the children are at the club. Each restaurant has a children's menu from pasta to mini steak.
Purposefully built with young adventurers in mind the pirate ship, fun exploring the magic of the underwater world turtle sanctuary and daily activities are certain to whisk them on an adventure of a lifetime. Babysitting services available upon request.
Activities & Pampering
Every day JW Marriott Maldives has many activities on offer in the gorgeous surrounds of the resort. The setting is tranquil, but recreation and fun are always close by. Whether your eager to learn the secrets of the Maldivian dishes, the professionals will be pleased to take you under their wings and reveal a few kitchen tips and secrets during a cooking class. For those who want to unwind you can do so with a session of yoga, either as a group or on your own. You can explore the underwater world and snorkel in the crystal clear waters or take a dip in the islands infinity outdoor pool. You can even go game fishing, canoeing, kayaking and diving, sailing, snorkelling and windsurfing, the options are endless.
Activities at leisure : water sports center, DIVE & MARINE biologist, outdoor cinema, photo studio, tennis court, and much more The resort provides complimentary paddle boarding, peddle boats and kayaks along with snorkeling gear. Be sure to use sunscreen while kayaking or any of the water activities.
Feel rejuvenated and inspired at Spa by JW. A wide selection of luxurious treatments are available along with express treatments, hair salon, spa boutique and deluxe treatment room to fully indulge in. Open daily. SERVICES & FACILITIES: 6 x Treatment Rooms, 1 Deluxe Treatment Suite with steam, Spa Boutique, Unisex Salon, Overwater Gym (age restrictions), Fitness classes available and oen Air Yoga Pavilion.
The turtle sanctuary provides a place of safety and rehabilitation for injured turtles while providing guests with knowledge through educational programs that highlight the importance of preserving this protected species for future generations. The resort's younger guests will be a part of the releasing of the turtles.
Restricted to adults only, Pool 18 offers a haven for guests seeking
tranquility and seclusion.
Lounge 18 is a Club House for 'Adults' comprising of a billiards table, cigar room, shisha room, karaoke room, and selection of board games from the past and present day.
Celebrate everlasting love on the secluded soft sandy shores surrounded by lush tropical vegetation and turquoise waters. Let the JW's team take care of all the arrangements for wedding or renewal of vowels ceremony making your dream day a reality.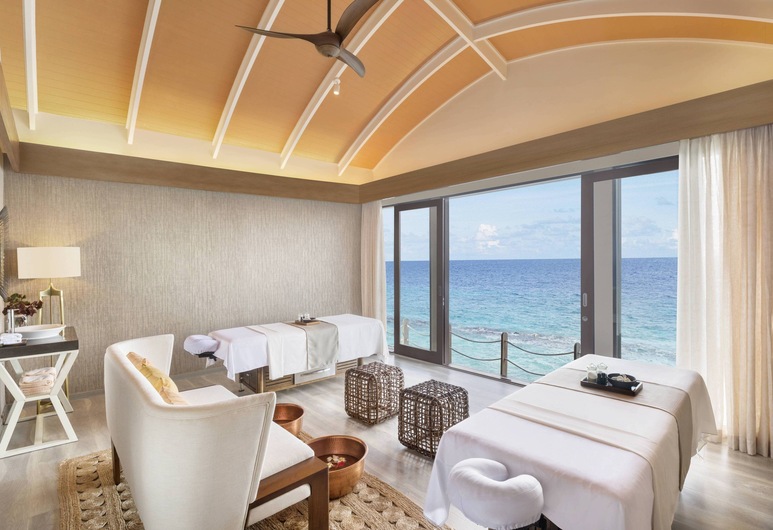 Reviews
If you are looking for a tropical family vacation or even a romantic getaway - JW Marriott Maldives Resort & Spa is an exceptional and unforgettable in every way. The luxury villas themselves are a pretty impressive rating, with guests loving every aspect, from the huge living space and complete privacy to the decor and views. The staff also receives high marks with statements including 'professional and attentive' and 'always incredible and available'. The most of the guests also praise the spa and kids club. The food is given high ratings along with the staff although many guests note high prices at restaurants and bars. Overall this appears to be a good choice among newest 5-star overwater villa resorts in the Maldives.
... Honeymoon in Paradise, Magical Place, An amazing and beautiful resort - Highly Recommended!, Dreamy vaccation, Exceptional property complimented by outstanding service!, a great honeymoon experience!, It was okay but way better options out there, Surpassed Our Dreams and Expectations!, Beautiful and relaxing!, Great experience for great price, Incredible intimate family resort, a solid 4.5 star hotel, wonderfully peaceful and relaxing. Some concerns around service and food pricing, JW Maldives - Best Vacation Ever, Peace and tranquility, An awesome holiday....
Pros: What Guests Love
Stunning location
The beautiful island with lush vegetation
Amazing hospitality. All the staff and butlers are very attentive. To say their service is excellent would be an understatement.
All villas are new, huge, clean and so nicely decorated
The overwater pool villas comes with unreal views including the serene sea view from your bed
Great and quality food
Japanese and Thai restaurants
Kids Club
The spa is incredible
Wide range of activities
If you are a Marriott elite member you get discounts on food, booz, and spa.
Things to Know before You Go
Take advantage of exclusive offers and seasonal packages that JW Marriott Maldives Resort & Spa has to offer, designed to bring you to focus on mind, body and spirit. View the deals
Upon arrival at Malé Int Airport, guests will be greeted by a resort host once you clear customs and exit the building. Guests will then take a 50-minute seaplane flight to Vagaru. Seaplane operates only during day time between 6:00 am and 3:30 pm and subject to weather conditions.
Please inform JW Marriott Maldives Resort & Spa in advance of your expected arrival time. You can use the Special Requests box when booking, or contact the property directly with the contact details provided in your confirmation.
Check-in from 15:00 hours; check-out until 12:00 hours;
Children of any age are welcome. Children under 8 years old stay free. Cot and Extra bed upon request.
There are family facilities and kids club at the resort
The best house reef snorkeling You'll find by far is on the sunrise overwater villa side of the island, past the row of rocks.
All villas are very spacious (from 248 m²) and they come with a private pool with a seaview and butler service
Food and drink prices are high but, come mentally prepared regarding this and be accepting of it.
The resort does provide complimentary bottled drinking water in the room but then charges $15 a bottle at meals. Recommend to bring your own water from your room to meals
The resort has three swimming pools including a children's
If you plan to dive or snorkel, bring your own mask. The masks are loaned not of high quality.
If You are Marriott Bonvoy™ Ambassador Elite member, You can get an upgrade to an Overwater Pool Villa Duplex and free breakfast every day of your stay. In addition, the resort' will provide a nice welcome gift of champagne, fruiit/cheese plate, juices and sweets. Make sure you ask.
Guests are required to show a photo identification and credit card upon check-in. Please note that all Special Requests are subject to availability and additional charges may apply.
Maldives Luxury Guide
Here's the best of Maldives for luxury travellers. We've compiled the finest recommendations of places to stay, ranging from the most celebrated five-star resorts to luxurious private islands Read More
Maldives Romantic Guide
The ultimate 'flop and drop' and honeymoon destination, the Maldives is the playground for the most amazing and finest utilization of each second of this extremely valuable and hopeful time with each other in tota Read More