OZEN LIFE MAADHOO - A Luxury All-Inclusive Resort
Best Experience for: All-Inclusive, Couples, Families, Underwater restaurant, Spa, Beaches
Updated October, 2022
With the incredible Atmosphere INDULGENCE ALL INCLUSIVE HOLIDAY PLAN, including diving the new OZEN LIFE MAADHOO is a home away from home found among the paradise islands of South Male Atoll in the Maldives. Having opened its shores to the world in 2016 - OZEN by Atmosphere offers discerning travelers an exceptional uniquely luxury all-inclusive experience where guests will experience the ultimate hassle-free beach holiday in the Maldives.
It may be a luxury hotel but there's not an ounce of stuffiness at Ozen by Atmosphere. Amidst the exotic turquoise hues of South Male Atoll discover a unique luxury experience with the all-inclusive plan at OZEN LIFE MAADHOO in the heavenly island of Maadhoo, Maldives. Staff shout greetings as they zip past on golf buggies and guests gather for a fun-filled fiesta on Saturday evenings. Add to that an underwater restaurant and a fabulous spa and you've got a winning combination. Located just 35-minutes by a Luxury speedboat (with air conditioning, Wi Fi and drinks) from Malé International Airport, on the idyllic island of Maadhoo in South Malé Atoll, OZEN brings a complete hassle-free lifestyle holiday offering, to those seeking a tranquil escape from the daily grind. As the key Tagline of the resort states "No Shocks. No Surprises. No Hidden Costs…JUST BLISS!"
The Island
OZEN LIFE MAADHOO is the third resort within the Atmosphere Hotels & Resorts portfolio. After the successful launch of Atmosphere Kanifushi Maldives in December 2013, the brand opened a wonderful & extremely popular fourstar superior resort – OBLU by Atmosphere at Helengeli in November 2015, OBLU SELECT at Sangeli All Inclusive in summer of 2018 and VARU by Atmosphere in October 2019.
Located in Maadhoo Island in the Maldives, OZEN MAADHOO uniquely offers a leading luxury all-inclusive 'Indulgence' plan, allowing guests total peace of mind and freedom during their stay.
A unique, luxury, all-inclusive resort in the Maldives, OZEN is a perfect blend of contemporary design and traditional Maldivian charm. From the moment your speedboat transfer is welcomed at the arrival pavilion, crafted from beautiful natural materials and featuring an illuminated glass floor over the turquoise lagoon, you know you are in for a special experience.
Two sandy oases linked by a wooden bridge – under which swim baby black-finned sharks, sting rays and multi-coloured fish – make up the communal areas. One island is the springboard to the overwater WIND villas, snaking across the turquoise water, as well the main restaurant, the spa and its RAW sushi bar. The lagoon is picture postcard beautiful and you'd have to go a long way to find a more idyllic swimming spot!
In 2022 a luxury all inclusive resort debuted its beach club, Hudhu Bay. On the menu are signature cocktails, relaxing unwinding sessions in the glow of the sunset, water sports, Mediterranean-inspired cuisine, and more.
Grab a bike from under a palm tree, or hail a lift in a golf buggy, and head to island number two where a modern, circular bar boasts spectacular views across the infinity pool, and serves drinks all day. From here, it's an easy journey if you're staying in an EARTH villa, hidden among the tropical foliage behind. The islands are so small that, thankfully, you're never more than a dozen metres from the unimaginably clear water. Download Resort Plan
With surrounding resorts boasting personalised butlers, private seaplanes and the likes, OZEN LIFE MAADHOO might seem limited on the luxury front, but there's no faulting the willingness and friendliness of the team.
Location
Beaches, as descended from the pages of glossy magazines, warm lagoons with turquoise water and one of the best diving in the Maldives - all this about the South Male Atoll. South Male Atoll (South Kaafu) is a group of islands in the Maldives, which lies just south of the North Male Atoll and is separated from it by the Vaadhoo Kandu channel. Showing the best of the Maldives, South Male region offers everything you can need for a memorable and comfy holiday. Read More...
Located in South Malé Atoll, Maadhoo is a north-south island, with its villas facing due east or west for the best sunrises and sunsets. It has a large lagoon and is close to excellent dive sites packed with marine life. OZEN LIFE MAADHOO is easily accessible from Male International Airport, just 45 minutes (35km) by speedboat. Free transfers are available 24 hours a day.
Villas and Suites
Located in the beautiful turquoise lagoon of Maadhoo island, OZEN by Atmosphere features 90 luxurious standalone villas. The decision lies between EARTH villas, situated on the beachfront with an outdoor bathroom and monsoon shower, or WIND villas on stilts over the water.
The Earth Villas (41) are located on the beach front with direct beach access and feature high slanted ceilings, traditional thatched roofs, spacious outdoor bathrooms and large terraces with manicured tropical gardens.
The Wind Villas (49) are located on the North of Maadhoo Island and are positioned over-water on creatively designed stilts, offering romantic cosy and warm interiors, seductive bathrooms, outdoor decking with lagoon access and over-water hammocks. The overwater accomodation offers a romantic & hypnotic experience ... really unforgettable.
All rooms are designed with top luxury & comfort, where modern interiors perfectly blend with the nature and atmosphere of the Maldives! Both feature fresh design elements and allow in lots of natural light through the large seaview windows. A nautical colour scheme of blue, green and white prevails and the look is clean, modern and ultimately restful. A well-stocked mini bar of various wines, beer, soft drinks and bubbles is replenished twice daily and pleasant toiletries are provided in the bathrooms. In other words - a luxurious lifestyle at its best!
Both categories have their merits, but with the overwater hammocks, a well-placed bath allowing the doors to be flung open and stairs leading directly to the water, the WIND villas make the stay extra-special. WIND and EARTH villas with pools are also available but are identical in interior design to their lower category counterparts.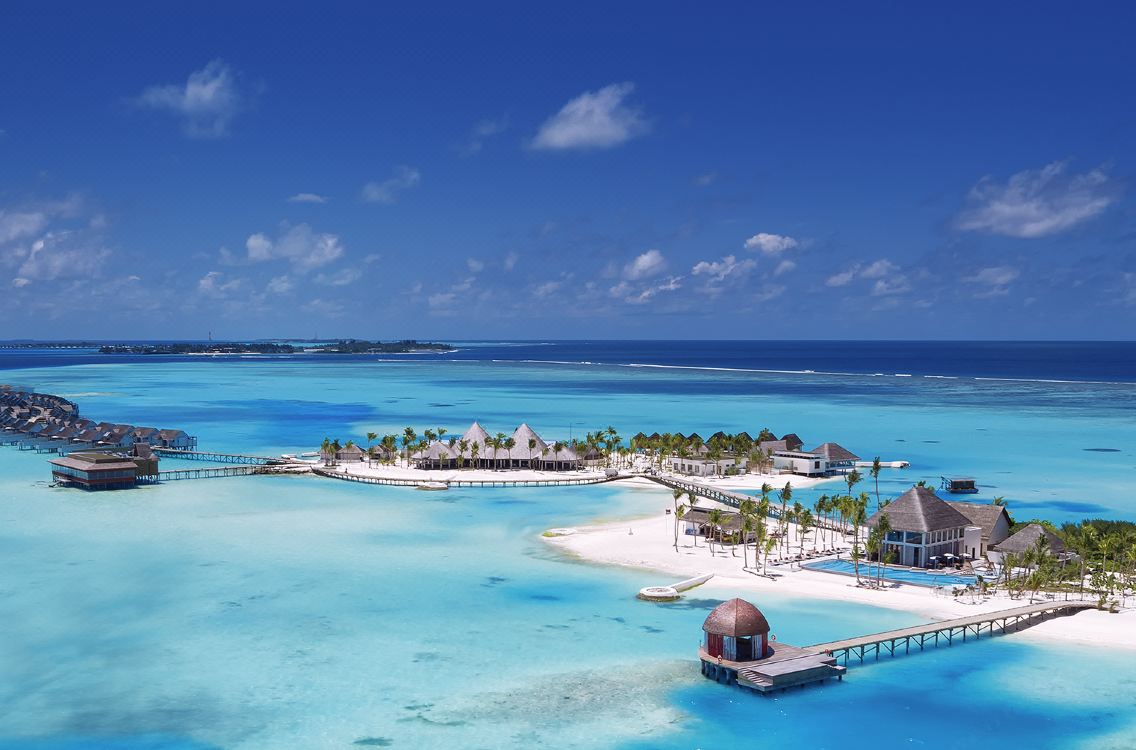 Earth Villas - Beach Happiness
There are 41 villas out of that 17 villas come with private pools:
Earth Villas - 14 Villas | 185 m²
Earth Villas with a swimming pool 8m - 17 Villas | 185 m²
Just bright, earthy and homely! These stunning private Beach Villas with high sloping ceilings come with luxurious interiors of warm earth tones and fresh flowers. Each villa has a large outdoor sun deck and a tropical garden along with an exterior spacious bathroom with a handmade bathtub and a monsoon shower. Just great refreshing!
17 of these Earth Villas will give you 2 additional features - a swimming infinity pool of 8 meters long (20 sq. m.) with fiber optic lighting, and overlooking the sapphire of the lagoon, as well as all villas guaranteed sunset view!
Earth Family Pool Suites - 10 Villas | 285 m²
Extensive areas with markedly fashionable interiors, Earth Family Suite with a swimming pool presents a 2 bedroom villa complex with a spacious master bedroom and a double room, along with a large private pool of 35 sq.m with fiber optic lighting. Each apartment has a separate living room and an outdoor lounge. Each bedroom has its own private bathroom. Paradise getaway for the whole family!
48 Wind Villas - Overwater Paradise
Wind Villas - 24 Villas | 85m²
Wind Villas with 8m pool - 24 Villas | 112 m²
New ones. Romantic. Enchanting! Winding the snake along the vast hypnotic lagoon - north of Maadhoo Island these absolutely romantic, individual water villas offer discerning guests complete privacy and an unforgettable overwater life experience! Each villa plays new & bright color tones, comfortable & warm interiors, and a seductive ellipse-shaped bathtub providing a continuous view of the horizon! Absolute admiration for all the senses!
24 of these Wind Villa are additionally equipped with an infinity swimming pool 8 meters long (20 sq.m) with fiber optic lighting, and each villa guarantees views of sunset and a beautiful lagoon!
OZEN Water Suite
Pamper yourself at least once in your life and immerse into a truly royal apartment! These luxuriously furnished, three-bedroom luxury homes are at the end of jetty with amazing views from every corner, including an infinity pool of 35 square meters. m. with fiber lighting, and also have: a personal gym, a butler, a small kitchenette, a dining pavilion in the open air and private bathrooms for each of the bedrooms. This majestic suite really deserves the 'top' prefix with inimitable ultra-luxury in all rooms! Just best of the best!
Restaurants and Bars
In 2022 OZEN LIFE MAADHOO announces a new addition to its inspiring gourmet concept restaurants, with LONU – a New Age Maldivian Concept. This new speciality restaurant, a part of the resort's INDULGENCE Plan, embraces the bounty of the Indian Ocean
THE PALMS (the restaurant is open all day)
The food in the resort's main restaurant is complemented by stunning ocean views and wide open spaces. Comfortable tables are placed in new bright interiors with high ceilings. The Palms offers a sumptuous champagne breakfast with a variety of cuisine from the world, lunch and dinner - with a wide selection of international dishes. From sushi and sashimi to open culinary stations, and fine dining from the a la carte menu.
THE TRADITIONS - Indo Ceylon (open for dinner)
Flavors and aromas of Southern Asia. IndoCeylon is open for dinner and serves authentic Asian speciality cuisine from Sri Lanka, India and the Maldives, offering enticing flavours and beautiful presentation with ethnic style platters.
THE TRADITIONS - Beijing (open for dinner)
Appetizing masterpieces of chefs - a culinary adventure to the sources of the Far Eastern cuisine. Qualitative methods of cooking in marriage with the best ingredients, demonstrate authentic Chinese dishes.
M6m (open for lunch & dinner)
Open for lunch and dinner M6m is exclusive underwater restaurant and it is without a doubt the jewel in the crown of the fine dining experiences at OZEN. This specialty seafood restaurant showcases beautiful underwater views whilst you enjoy exceptionally exotic modern seafood cuisine! This place is phenomenal and the whole experience is amazing from the bar upstairs to the underwater restaurant. Plenty of fish go by as you dine here with amazing degustation menu (one or two) 5 course meal and perfect wine combinations. Super service in fantastic surroundings. The staff as everywhere else at Ozen provide impeccable and friendly service, serving a beautiful range of food and wine at M6m.
Joie de VIVRE (09:00 - 01:00)
Means 'Joy of Life' in French; bar and pizzeria near the main pool with a relaxed atmosphere is a great place at any time of the day, and especially in the evening, with magnificent views of beautiful sunsets over southern Male Atoll! Joie de VIVRE is also a home for a sports and entertainment center, where you will find a fully equipped gym with hypnotic vistas Maldivian's horizon.

R.A.W (open for lunch)
Specializing in RAW food cuisine, R.A.W at OZEN opens for Lunch time offering a selection sumptuous sushi platters and healthy RAW food options and beverages!
Gin Is In
The first gin bar in the Maldives, Gin Is In is Ozen's prime, adult-only spot for gin based sundowners, with over 25 premium gin brands from around the world, an array of tonics and a menu of masterfully crafted signature gin cocktails.
The Atmosphere INDULGENCE ALL INCLUSIVE PLAN
Exclusive to OZEN LIFE MAADHOO, THE ATMOSPHERE INDULGENCE plan encompasses all elements of a lifestyle luxury holiday experience in the Maldives! NO Shocks, NO Hidden Extras, NO Surprises – All Included in ONE Price!
Dining:
Sumptuous OZEN Champagne BREAKFAST: 
At THE PALMS (Open until 11:00 hrs) 
- Wide variety of cuisine from world-over, 
accompanied by exotic Fruit & Cheese display of 
Fresh fruits, Assorted selection of Cheeses and 
Smoked Meats, Cold cuts & Crackers
LUNCH: selection of light meals & snacks: 
- Sandwiches / Burgers / Pizzas to Order 
- Salad Bar / Dessert Bar 
- Live Station with selection of Hot Dishes
DINNER: DINE-AROUND FINE DINING Experiences: 
- THE PALMS 
International World Cuisine with Theme Nights
THE TRADITIONS - IndoCeylon 
Authentic South Asian Specialty Cuisine from Indian, 
Sri Lankan & Maldivian dishes
THE TRADITIONS - Peking 
Specialty Chinese Cuisine - Far Eastern Theme
ALL-DAY: Delectable choice of snacks and pizzas 
at Joie de VIVRE - Poolside Bar & Pizzeria
Beverages:
• Premium selections at THE PALMS, Joie de VIVRE, 
THE TRADITIONS INDOCeylon & Peking, M6m 
- Selection of Champagnes 
- Selection of Whiskeys - All 15-18 year range 
- Selection of International Beers, Lagers & Draughts 
- HUGE Selection of branded spirits 
• EXOTIC Wine Collection 
- Over 80 labels of Exotic wines from renowned 
vineyards of the Old & New World 
• Atmosphere INDULGENCE Cocktails, Spirits & Beers: 
- Collection of internationally popular Cocktails, 
Signature cocktails, Mocktails 
- Collection of Exotic Beers from world-over 
- Fresh Juices, Milk Shakes, Soft Drinks, 
Mineralised water 
- Selection of Exotic Teas & Cofee varieties 
• Joie De VIVRE - Pool Bar (Open 09:00 hrs - 01:00 hrs)
Activities & Adventure:
Full Access Fitness & Recreation Centre services 
- Fully Equipped Gymnasium, Indoor & Outdoor Activities 
Excursion Menu per stay 
(weather permitting)
Sunset Fishing Excursion ONCE per guest per stay (weather permitting)
ZEN Kids Club 
- Children and Young Adults can enjoy a variety of daily 
organized activities, games, and exploration
Atmosphere Aqua Club at OZEN 
- Complimentary Snorkeling equipment for all guests during stay 
- UNLIMITED Snorkeling excursions during stay: 
2 Snorkeling Excursion Shuttles per day (09:30 hrs & 15:00 hrs) 
Arranged daily from a selection of 6 nearby snorkeling sites 
- Complimentary rental of non-motorized water sports 
Windsurfing, Catamaran, Canoe, Stand-up Paddle Board
OZEN Special Activities, Events - Weekly & Seasonally
ADDITIONAL SPECIAL SERVICES for ALL VILLA CATEGORIES within The Atmosphere INDULGENCE plan

Exotic Fine-Dining ine Dining Experience at M6m

Minus Six Meters - UNDERWATER Specialty Restaurant (Open for Lunch & Dinner)

**Eligible ONLY for ALL FOUR NIGHT stays and above 


In-Villa Mini Bar eplenished TWICE DAILY with:

Beers, Wines, Soft drinks & Snacks Selection

Exclusive Spa OR Dive Services for Guests: 
Choose from a selection of SPA service OR Dives** 
depending on the total number of nights** 
** Guest must hold a PADI Certificate 
**ELIGIBLE PER PERSON PER STAY: 
4-5 Nights Stay: ONE 60 Minute Spa OR ONE Dive 
6-8 Nights Stay: TWO 60 Minute Spa OR TWO Dives 
9-12 Nights Stay: THREE 60 Minute Spa OR THREE Dives 
13-16 Nights Stay: FOUR 60 Minute Spa OR FOUR Dives 
17 & above Nights Stay: FIVE 60 Minute Spa OR FIVE Dives
Activities
OZEN LIFE MAADHOO offers a wide range of activities, both included in and additional to the all-inclusive Indulgence Plan to keep guests entertained throughout their stay and ensure everyone visiting this island resort experiences all it has to offer.
ELENA Spa
ELENA Spa & Wellness Complex together with their team of professional masseurs and therapists, offer guests a wide range of therapies, rituals and other spa services. The 4 singles and 4 doubles tranquil over-water treatment rooms and fully equipped gymnasium overlook the lagoon with stunning views, and guests can also enjoy healthy and nutritious treats from OZEN's very own raw food bar.

Atmosphere Aqua Club
Scuba diving: Their PADI CERTIFIED Dive school consists of an experienced team of multi-lingual professionals well versed in the field. Chartering new exhilarating and unique dive locations within the near vicinity on a regular basis. Explore Manta points, swim with graceful whale sharks and visit shipwrecks!
Excursions: The Aqua Club offers a wide range of excursions that adventure lovers can choose from during their stay, with one included within the plan and any additional excursions charged at $60 USD per person. Excursions include: sunset fishing, dolphin watching, local village visits, sunset cruises and sandbank picnics. Unlimited snorkelling excursions are included in the plan with complimentary equipment for your entire stay.
Watersports: Also included in the plan is a wide range of watersports, including catamaran sailing, windsurfing, kitesurfing, pedalos, kayaks and stand-up paddleboards (SUPs).
Available at an additional cost, guests can also enjoy big game fishing excursions, personal tuition for sailing, windsurfing, kitesurfing and wakeboarding, and hire jet skis and fly boards.
Childcare
The resort is very family-friendly with a fantastic kids' club offering regular daily activities such as face-painting or movie screenings.
OZEN's Kids Zone, which is open every day from 9am to 6pm and is free for kids of all ages. The supervised club has a weekly programme of activities to keep the little ones entertained; nature walks to meet the hermit crabs, buggy trips around the island, treasure hunts, sandcastle building and plenty of indoor games, arts and crafts. The club also has table tennis, darts, table football, a sandpit and a large but shallow natural salt pool. The Kids Zone provides light sandwiches, snacks, cereals and ice cream. Children under 4 must be accompanied by a parent, guardian or babysitter.
Babysitting is also available at OZEN from 9am to 9pm at an additional cost.
Reviews
Reviews for the OZEN LIFE MAADHOO Maldives resort are very strong with many guests citing their enjoyable experience as one like no other. From the snorkeling and scuba diving to the fine dining, every single part of the luxury resort seems to be equally enjoyed by guests, making the resort a very well rounded one. In addition, staff members are also highly praised, with many guests stating that they go out of their way to help make sure your trip is as enjoyable as it can be...
Exceptional, "Amazing holiday", "Paradise ! Very Nice staffing team", "Excellent resort to spend a quiet and quality time.", "Paradise on earth", "Wonderful holiday", "I strongly reccomend to anyone", "Magic and romantic stay at Ozen"
Pros: Why Stay Here
The location is perfect. Close to Velana (Male) Int.airport
The luxury All inclusive package with mini bar, foods & drinks, Spa, excursions is solid
Service is outstanding
Friendy staffs add great value to this beautiful resort
high quality food and drinks
underwater dining experience at  M6m
There are 12 different pillow types from kapok to gel, goose feather to memory foam!
 There are also 80 labels of exotic wines, cocktails and mocktails to enjoy!
 in-villa mini bar is replenished daily, with wines, soft drinks and snacks
What You Need to Know
Start your travel with exclusive offers and special prices. Escape to an unforgettable stay at OZEN LIFE MAADHOO with the resort's all-inclusive package
35 minutes by speedboat from Male airport
A true all-inclusive island with no hidden surprises or hidden extras - all included in one price!
Check-in From 14:00 hours; Check-out Until 12:00 hours
All children under 12 years are charged USD 175 per night for extra beds.
There are also 80 labels of exotic wines, cocktails and mocktails to enjoy!
Fantastic for couples and families offering over water and on the beach accommodation
All non-motorised water sports are complimentary. For an additional cost you can try wakeboarding, jetblades and waterskiing
In-villa mini bar replenished daily
All guests can enjoy a sunset dolphin trip once during their stay, as well as a sunset fishing excursion - all part of the Indulgence Package
The island offers two complimentary daily snorkel trips to nearby reefs
Stay 7 nights and each person can enjoy two 60-minute spa treatments or two dives
At the Travelers' Choice Awards 2019, OZEN by Atmosphere at Maadhoo secured the 25th spot in the list of the Top Luxury Hotels in Asia and the third place in the list of the Top Luxury Hotels in Maldives. The resort was also ranked No. 7 hotel for service in Maldives.
Check Availability and Prices in OZEN LIFE MAADHOO - A Luxury All-Inclusive Resort
Maldives Luxury Guide
Here's the best of Maldives for luxury travellers. We've compiled the finest recommendations of places to stay, ranging from the most celebrated five-star resorts to luxurious private islands Read More
Maldives Romantic Guide
The ultimate 'flop and drop' and honeymoon destination, the Maldives is the playground for the most amazing and finest utilization of each second of this extremely valuable and hopeful time with each other in tota Read More