Kuda Villingili Resort Maldives
Best Experience for: Couples, Families, Spa, Activities
Aug, 2021
Kuda Villingili Resort Maldives is a newest luxury island retreat located in North Male atoll, a short speedboat ride from Velana International airport. With a chic Beach Club this mixed-use 5-star property features the Maldives redefined where time and space matter.
With four different accommodation types including beach and water pool villas, and luxurious penthouses, Kudavillingili is a unique, experience-driven concept to connect with your loved ones, make up for the time lost, strengthen friendships and create new ones in this slice of paradise.
Along with exciting food & beverage dining options, comprehensive amenities, chic beach club and a professional service team, the resort also is home to an idyllic beachfront spa, and an azure, spacious 150m pool, encircled by stylish sunbeds, cabanas and bars.
This spectacular resort providing prime access to one of the world's best surfing spots - 'Chickens' - as well as a host of daily activities and nightly entertainment such as lobster & champagne nights and sunset DJ sessions. Whether you are a solo traveller, a couple, a family or traveling in a group, this idyllic haven perfectly balances a sense of togetherness and inclusivity with utter privacy, safe and independence - the ultimate getaway to reconnect with nature, a paradise you can truly call home.
Learn more why Kuda Villingili Resort Maldives Should be Your Next Stop
The Island
Conceived by the Maldivian architectural firm GX Associates in collaboration with the Singapore-based interior design company URBNarcl, the beautiful island was designed with nature in mind.
The 95 spacious villas offer panoramic views of the pristine surrounding ocean, allowing for the natural sounds of the sea to awaken the senses. A powerful sense of freedom permeates the rooms: the freedom to redefine time and space.
The calming colour palette was inspired by both the ocean and the local flora's iridescent colours, whilst the resort's décor features custom, eco-friendly furniture and fittings (including carpets manufactured from recycled plastic bottles).
The traditional Maldivian art pieces and the expert use of natural materials enhance the harmony between the water, light and wind. The island's purpose is to give a new meaning to the concept of time and space; a place where bonds strengthen, connections sparkle and self-discovery awaits; a minimalist, understated, respectful compliment to the stunning nature that surrounds.
Location
North Malé Atoll is a happy ticket for a paradise holiday in the Maldives - expect the best hotels, stunning beaches and world class diving. An excellent bonus is the proximity of North Male Atoll to Male international airport that gives you the chance to get to your hotels by speedboats or ferries, bypassing seaplane transfer. Read more
Kuda Villingili Resort Maldives is North Malé Atoll, just a 30-minute speedboat jorney from Velana International Airport (MLE). Speedboat is the most convenient, comfortable, safe, and hassle-free transfer to the resort. Please inform the resort of your expected arrival time in advance.
Villas
All 59 beach villas and 36 water villas are inspired by the sprawling nature of the Maldives. While embracing and celebrating diversity of cultural expressions, Kuda Villingili Resort encapsulates timeless elegance. Drawing from the Asian eclectic style, the resort's design is further enriched by traditional Maldivian arts and fabrics. The resort features a variety of accommodations to meet the needs of a diversified audience: couples, solo travelers, families, and groups.
Beach Pool Villas (152sqm) are surrounded by the local greenery, and they are among the largest beach accommodation type in the Maldives. All rooms are one with the lush nature of the island, thanks to see-through glass walls, organic wood elements and stone furnishings that harmoniously coexist with the environment.
The resort's Beach Villas with Pool are located on the beach and feature private swimming pools for absolute enjoyment and intimacy. Relax in a bath with essential oils, before stretching out on your king-sized bed with the finest bedding, mesmerised by the view of the turquoise lagoon.
The resort' top accommodation category, the Water Villas with Pool are the ultimate Maldivian escape, a perfect retreat to unwind and create ever-lasting memories with your loved ones.
Boasting private swimming pools with incredible vistas, seamlessly connected with the sparkling Indian ocean, these overwater cocoons have shaded outdoor dining decks, lavish living-areas, sea-facing bedrooms with king-size beds, majestic bathrooms completed with luxe bathtubs. The minimalist design pays homage to the island's thriving nature.
Grouped in threes and with a private beach area these luxurious penthouses elevate amidst the palms, with 360 views of the stunning nature and the limitless horizon.
Offering sky-high living, the authentic interior design includes organic fabrics, rustic wood and glowing stone elements that infuse a sense of calm and balance. All rooms have a majestic king-sized bed and the spacious bathtub, while admiring the breathtaking sea view.
Restaurants and Bars
The diversity of cultures and cuisines is celebrated throughout the resort's outstanding gourmet offering. Kuda Villingili Resort offers the choice of three dining options, sure to appeal to everyone's palate.
The foodie offerings comprise the main beachfront restaurant open from breakfast to dinner, the poolside informal Beach Club and The Hawkers, an upscale three-stall food market that serves Indian-Arabic, Thai-Japanese and Italian-Mediterranean street food via an open kitchen.
A special mention also goes to the resort's cosy Cigar Lounge, where guests can unwind with a good book, the finest whiskies and cognacs, and a premium cigar.
With an idyllic beachfront view, the resort's signature dining venue The Restaurant – serves the freshest, handcrafted food for breakfast and dinner, in an exclusive, classy setting. Breakfast, flavored with soft and uplifting music to heighten the appetite is served in a dining area reminiscent of a lavish and beautifully designed club house.
The Restaurant features three different dining spaces, to reflect the three gourmet experiences available at dinner time. Guests can choose one of the three à la carte menus:
Fire - Inspired by the traditional American Steak House experience, this concept revolves around the art of the grill: flavourful, succulent meats grilled to perfection.
Earth - An Asian-style dining experience that celebrates natural and organic ingredients to enhance classic dishes like noodles and dim sums.
Ocean - A fine dining experience championing seafood specialties, prepared in the European way.
A South American take on the classic beach menu is available at The Beach Club, together with an extended list of refreshing frozen cocktails and rosé wines. Overlooking the Maldivian sunset, the Beach Club hosts daily live DJ sets that provide the ultimate play ground for a never-ending fun vacation.
Installed by the impressive swimming pool, The Hawkers is an upscale dining spot with a bar and three distinct restaurants, Spice, East and Med, that serve mouth-watering Indian-Arabic, Thai-Japanese and Italian-Mediterranean fusion street food through each restaurant's open kitchens.
Spice - Enjoy Indian-Arabic inspired flame-grilled kebabs, charcoaled tandoor, and delicious shawarma.
East - Indulge in Thai-Japanese delicacies such as robatayaki grill and sushi, and enjoy the chef's entertaining cooking skills.
Med - Relish in Italian-Mediterranean favourites with a savoury wood-fired pizza or opt for a selection of charcuterie and traditional Mediterranean dishes.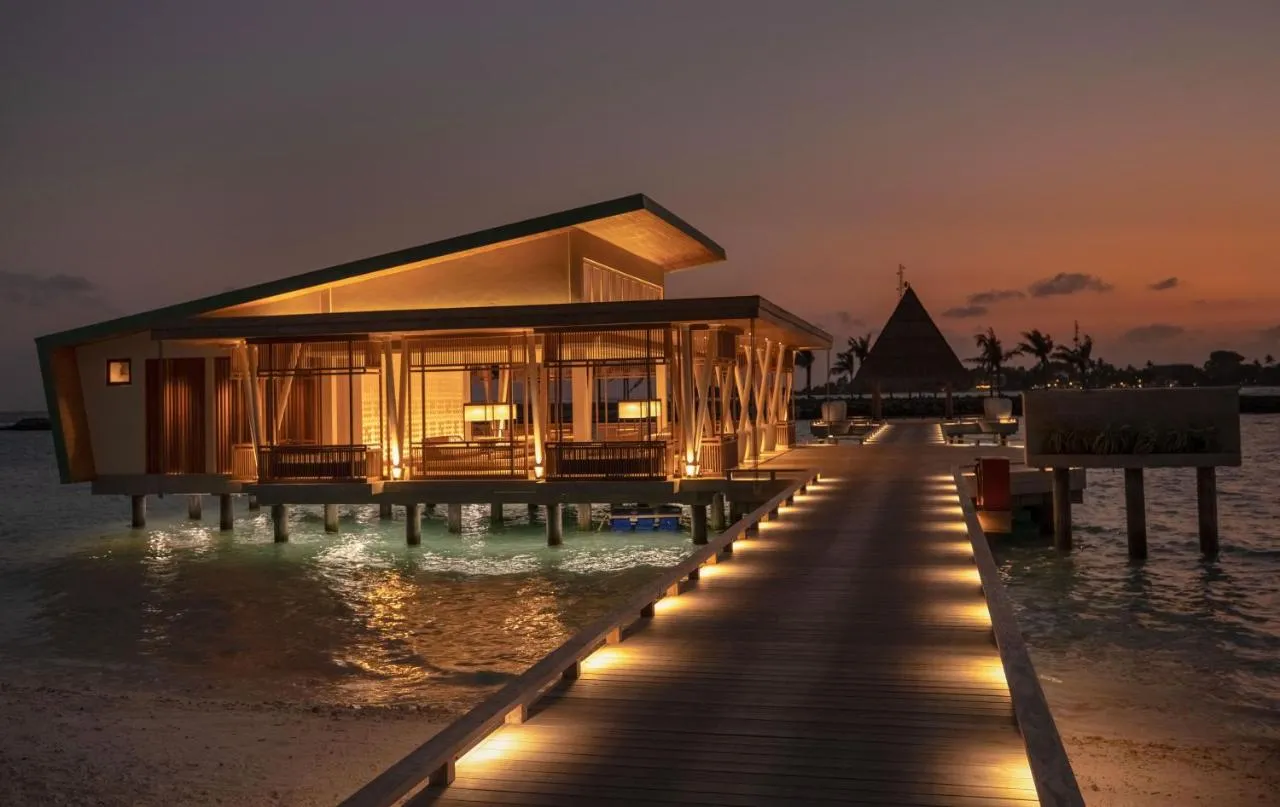 Childcare
Kuda Villingili is a famil-friendly resort too. A littlest ones will be spoiled for choice. The resort's experienced team will organize fun filled activities including crab discovery, treasure hunts, creative workshops and sandcastle competitions, all designed to ensure that your child's experience is as unforgettable as yours.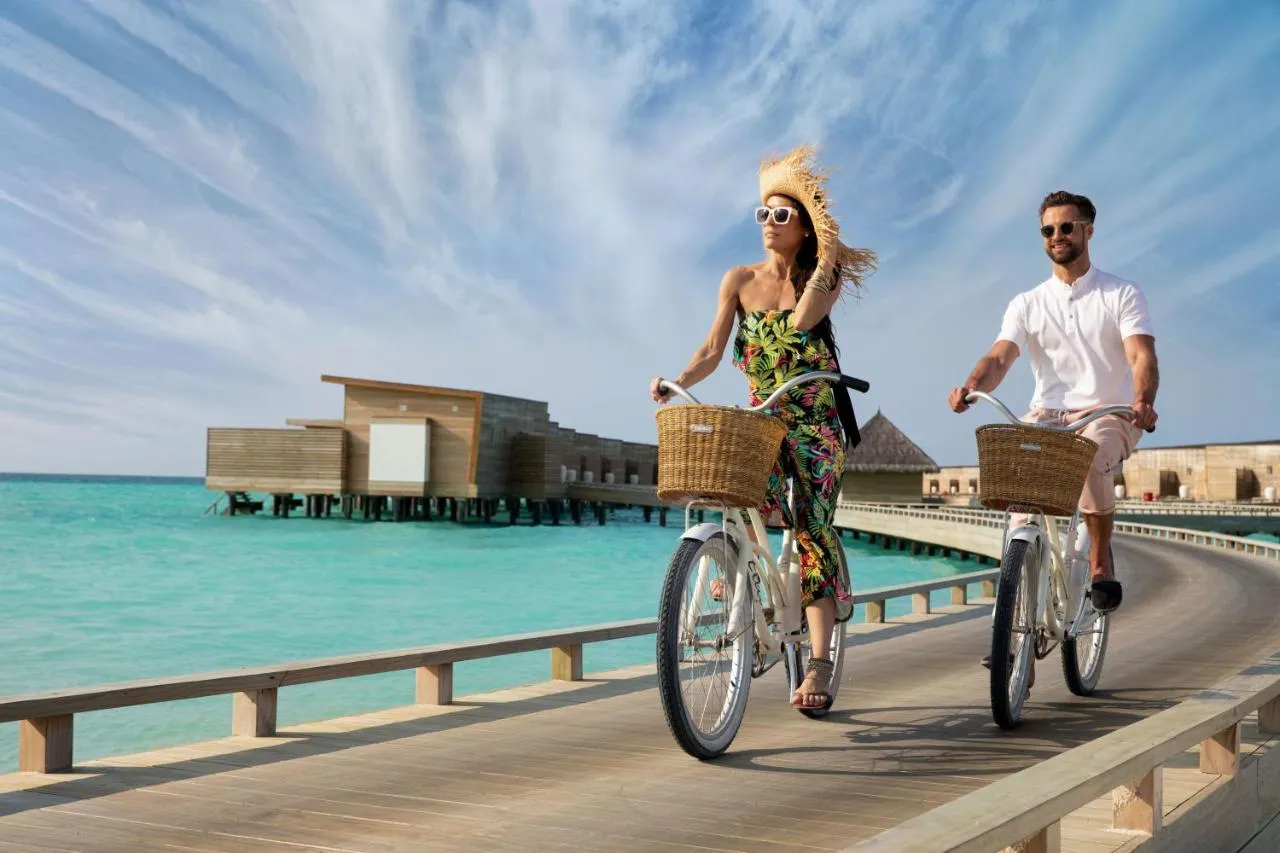 Activities and Pampering
From island excursions to stellar surfing, from stargazing to wildlife encounters, from sandbank dining to big game fishing, guests of Kuda Villingili Resort Maldives will never be in shortage of exciting activities.
You can snorkel amidst the majestic manta rays, reef sharks, colorful fish, hundreds of marine creatures and coral reefs and at sundown, they will be surrounded by the areas' unique fluorescent marine life.
Kayaking, wakeboarding, jet skiing, windsurfing and surfing the majestic waves at nearby Chickens surf-spot is also on offer. Back on land, sushi masterclasses, mixology courses, morning yoga sessions, fun-filled cardio lessons and tennis tournaments await – and they're included in the price of the villa.
The Villingili's extensive wellness facilities include a state-of-the-art spa, featuring eight self-contained oceanfront spa villas. In these suspended slices of paradise, experienced therapists will treat guests in the utmost privacy and seclusion, using only organic and plant-based products by VOYA. Facilities also include a spectacular gym with Technogym equipment and ocean views, an elevated yoga pavilion where guests can take individual or group classes, and a recreational space with tennis tables, billiard, karaoke and table games for young and adult.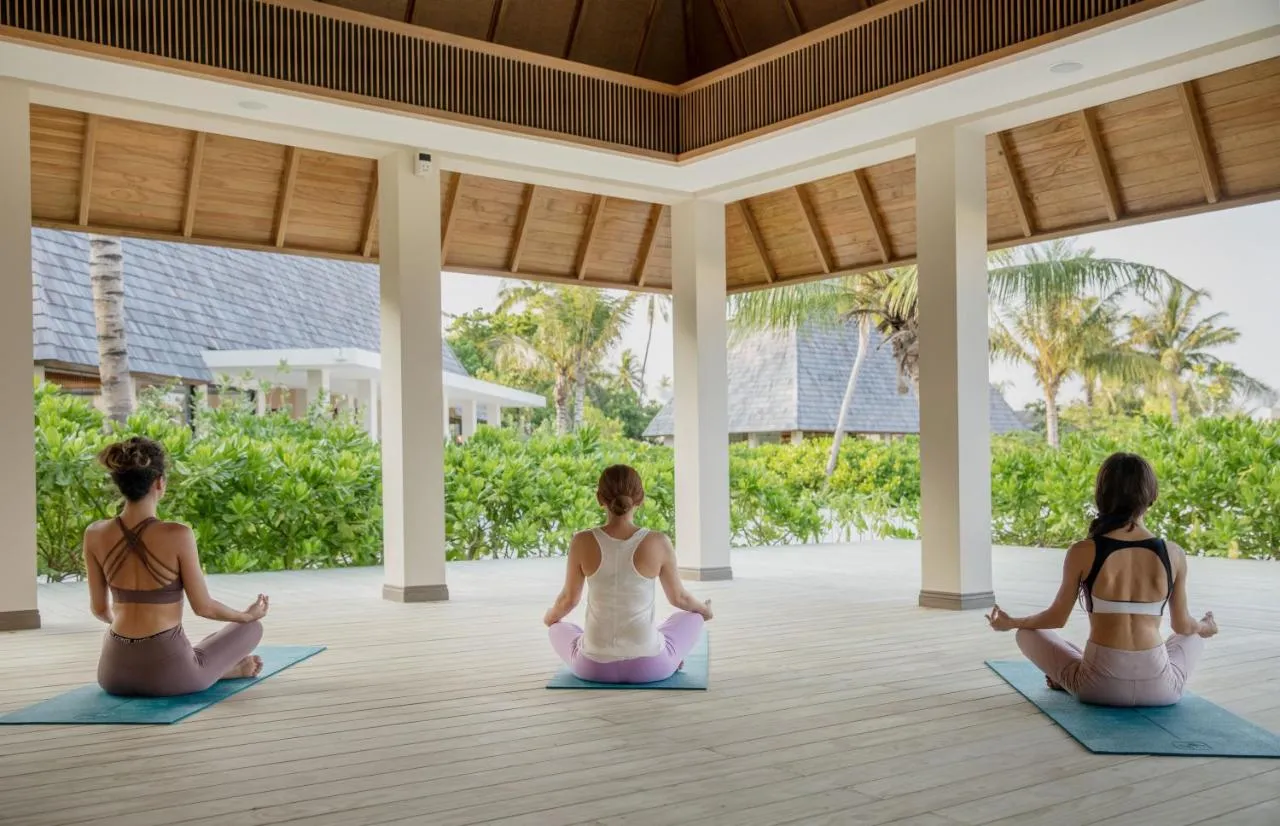 What You need to Know
The resort has appointment André Kretschmann as its General Manager
In response to the coronavirus (COVID-19), additional safety and sanitation measures are in effect at this property.
Check-in 2:00 PM - 12:00 AM; Check-out 12:00 AM - 12:00 PM;
Children of all ages are welcome.
Due to the coronavirus (COVID-19), wearing a face mask is mandatory in all indoor common areas.
Payment before arrival by bank transfer is required. The property will contact you after you book to provide instructions.
Maldives Luxury Guide
Here's the best of Maldives for luxury travellers. We've compiled the finest recommendations of places to stay, ranging from the most celebrated five-star resorts to luxurious private islands Read More
Maldives Romantic Guide
The ultimate 'flop and drop' and honeymoon destination, the Maldives is the playground for the most amazing and finest utilization of each second of this extremely valuable and hopeful time with each other in tota Read More