Dhigali Maldives - A Premium All-Inclusive Resort
Best Experience for: Couples, Families, All Inclusive, Value, Diving, Activities
Updated October, 2022
Innovation in design and breathtaking landscapes, Dhigali offers a rare island experience in the amazingly distant part of the Maldives. Dhigali is a beautiful island with a romantic atmosphere, green interior and a wide choice of accommodation options. A slender coral cay in the Raa Atoll, the resort is pure Maldivian bliss. Ringed by coral and kissed by the sun, this is a luxury hideaway with a difference.
It is suitable for both honeymooners and families, and can also offer their guests a lot of adventures, including water sports, night snorkeling and island hopping. Surrounded by a pristine house reef and crystal clear lagoon, this resort - as well as the Maldives by and large - is all about water. Regardless of whether you choose a beach bungalow or villa scattered under the canopy of palm trees or a water villa, the incredibly turquoise Indian Ocean's views of are really impressive.
The Island
One of the newest resorts in Maldives (opened in June 2017), Dhigali is located in a remote Raa atoll, and the private island can be reached in 45 minutes by seaplane from Male airport or short domestic flight (20 minutes) to Ifuru/ Dharavandhoo Airport followed boat transfer (50 minutes) to the island. In Malé, you will be greated by the resort's staff, that will help you with luggage and check-in for an domestic flight to Dharavandhoo Island. While a speedboat trip you will be offered water, wi-fi and a cool towel.
Dhigali is a relatively new resort. The best way reached from Male airport by seaplane and a first impressions are great. The island itself is lovely. It's large enough to demand a good walk around its beautiful beaches, but small enough to be intimate. There is also a regular buggy service to take you around. The island is full of vegetation and has its own pristine jungle, you can walk along the edge, periodically all the paths are cleaned by special staff, there are no mosquitoes, and in general the health of the local flora is monitored very well.
There are four main restaurants (including the main buffet-style Capers), the Café and two bars - East and Haali. Haali is the iconically-shaped 'sunset bar' at the tapered end of the island, which is quite beautiful. There are also three attractive swimming pools, plus other facilities including wi-fi throughout, PADI dive centre, watersports centre, spa, fitness centre and kids' club. The beaches are the white Maldivian sand that you expect, with a sheltered lagoon-style beach close to the main bar (East). Sunbeds and parasols there are of good quality and there is plenty of these to go around.

Raa atoll is famous for it's great dive sites the reefs are generally in very good condition. Divers as well as snorkelers can experience great underwater fauna.
Thanks to a minimalist, modern design, Dhigali has done away with the traditional Maldivian thatch architecture style and instead show modern box-shaped villas with flat white roofs and shabby interiors. Around the resort the vive is laid-back and convenient, with bright splashes of color in everything from colorful cushions at the restaurants to orange towels by the pool and unusual extras, including curved chandeliers that swing in the breeze and a collection of maldivian swings perfect for Instagram. DOWNLOAD RESORT MAP
The staff is friendly, smiling and pleasant, whether it's replenishing your minibar, a ride in a buggy passing by, or remembering specific dietary requirements at dinner.
Location
Raa atoll or North Maalhosmadulu is one of the northern, most visited atolls in the Maldives, separated from Baa atoll by Hani Kandu is a canal 5 km wide. Almost 70 km long and 30 km wide there are 88 islands in Raa atoll, 15 of which are inhabited. Raa atoll is home to a some luxury hotels include: Emerald, Kudafushi and an ultra luxurious Joali Maldives. Read More...
The island of Dhigali is a 40-minute journey by seaplane from Malé Airport. It takes 1 hour and 10 minutes to get to the island from Ifuru/Dharavandhoo Airport, including a transfer by speedboat.
Villas and Suites
The hotel has 180 rooms, eight categories to choose from beach bungalows to water villas in the lagoon with private pools. Dhigali's elegantly designed villas are located in areas of unspeakable beauty. The décor is clean and minimalist with modern furniture, natural textiles and warm earthy tones. Everyone stay on the beach has spacious open-air bathrooms with the largest villas and suites offering pleasant baths. The interiors are understated, but comfortable, from beds from which you do not want to get up to well-stocked mini-bars and terraces with a beautiful view of the ocean.
All rooms, whether on the beach, in the lagoon or on the sea, are just a few steps from the Indian Ocean and include comfortable sun loungers. Color palettes are neutral, mostly white, beige and brown, with occasional color splashes in the pillows on the bed or a bright lamp.
There are only 3 Beach Suites with a swimming pool that are set at the end of a sandy beach, offering the oceanfront hideaway with plenty of space and luxury amenities. An indoor/outdoor bathroom opens up to the skies boasts a large bath and shower, and in front of the suite you will find a wide veranda with a small pool overlooking the horizon.
Dhigali's 24 water villas in Maldives are elegantly located over crystal water within just paddling distance to the colourful house reef. Each villa consists of an oversized wooden sundeck stepping down to the sea, where exciting excursions await. The chic white water villas offer some of the most tranquil views of the turquoise lagoon. Villa Water has fresh interiors and a well-equipped bathroom with a rain shower and a beautiful view of the ocean. Each bungalow has a king-size bed, audio installation, bedside table, wardrobe, minibar, tea / coffee making facilities, boutique toilet and Nespresso coffee machine.
For those who want to impress their loved one, choose the luxurious Dhigali Suite - the equivalent of a penthouse hotel. These are real royal mansions: with its own courtyard, an open-air bathroom and a large infinity pool. Dhigali Suite also has a wide terrace, a private bar, a home theater system and a personal butler. In short, romance is guaranteed to you.
Restaurants and Bars
Dhigali has five restaurants and two bars, from casual in the Capers-style snack bar thath is open for a delicious breakfast, lunch and dinner to the romantic Asian serving at Battuta. Kids will enjoy spending leisurely time in the open all-day Jade restaurant where you can cook up your own pizza, pasta or salad, while thirsty seafood and carnivores should head to Faru Grill restaurant where you can combine fish or meat of your choice with a variety of sauces and spices in accordance with your tastes and methods of preparation. The dining space at Faru is an open area overlooking beach sand whilst providing jaw dropping sunset views in the evening.
Café is a place to stop by for a quick refuelling or for all day dining, standing out among restaurants in Maldives for amazing combinations of gourmet cuisine and snacks offered to suite different dining moods.
Also known as the Sunset Bar, Haali is the perfect entertainment and dinners spot overlooking the stunning sandy beach. It's a playful place with its swings and comfortable beanbags dotted on the beach giving it a feeling of simple relaxation. For stunning views, book a table on the top of Haali for a better view. A rare case when you like everything and like to everyone. The value and result is great.
With swings and seat bags, the most favorite place in the resort, like a bird's nest under a thatched roof is Haali bar, especially at sunset hours when guests enjoy cocktails while admiring the sun drowning in the Indian Ocean.
An open area overlooking beach sand, Faru is the grill restaurant offering continental cuisine, grilled meat and fresh succulent seafood.
Excellent vibes among the coconut trees, East is the main bar in Dhigali, offering an exceptional view of the horizon and serving tropical cocktails, classic wines and beers. Guests can unwind by the pool with an exotic drink in hand, while taking in the island's breathtaking views.
On Nov 2019 Dhigali Maldives has opened a new beach bar. The new Dhigali Beach Bar is located on the eastern end of the island, and offers exotic cocktails, classic premium wines and beer.
What's Included
From 1st December 2020 Dhigali Maldives launches the new Premium All-Inclusive experience. The Premium All-inclusive package is the ultimate way to experience everything this verdant paradise has to offer.
Unlike most all-inclusive packages, at Dhigali Maldives your entitlements start from the moment you arrive until the moment you depart. No more frustrating limits. The instant you touch down at Velana International Airport, your every need is taken care of.
Guests will actively relish every second of their stay at Dhigali. The all-inclusive premium experience means every element of the holiday has been carefully crafted to ensure it is as fun + stress-free as possible
The package includes:
a personal meet + greet service plus escorted transfer as well as complimentary VIP lounge access.
Breakfast, lunch + dinner is included in the premium all-inclusive offering.
A selection of premium wines + spirits are also part of the package.
Minibar.
Little details, from complimentary cake for those celebrating birthdays + anniversaries to free Kids Club for children aged four to 12, will make your stay even more tranquil.
A breath-taking array of activities are available to those on the premium all-inclusive package, from snorkelling to non-motorised boat trips to group yoga sessions to access to the Fitness Centre + more.
Guests can even enjoy one dolphin cruise excursion + one glass bottom boat trip during their stay at no extra cost.
Things to Do
As for activities, Dhigali has it all. Delicate flora, vibrant reefs, Maldivian culture and a stunning postcard panoramas. Experiences here are endless, from sunset and dolphin discovery tours to local island experiences that showcase the Maldivian way of life.
The staff is very friendly, cheerful and helpful, whether it is to replenish your mini-bar, offer a buggy ride or remember specific dietary requirements for dinner. The facilities are diverse and numerous, especially for those who love water, with three swimming pools, a lot of water sports and a Euro-Divers center where, in addition to a fun diving, guests can also take standart PADI courses. The hotel has a fitness center, jogging paths, morning yoga and a personal trainer.
Dhigali Maldives is surroundede by a beautiful house reef with good coral life and a lot of different fish species can be found, including rays, sharks and turtles. The reef starts in about 3-4 meters from the beach quickly dropping to a depth of around 20-25 meters. Dhigali's house house is definitely a highlight for everybody loving the marine life. Snorkeling gear for an extra fee ($8-10) and there are many snorkelling excursions on offer, including a trips to Hanifaru Bay (swimming with manta rays)
With indoor and outdoor fun activities, Kids Club is free at Dhigali's Children's Club. Young guests aged 4 to 12 years are invited into exciting activities and endless discoveries that let them learn and have delight at the same time. Dhigali Maldives is proud to be the very first resort in Maldives to partner with the Institute for Counselling & Psychotherapy and Dhives institute for the Certificate in Child Care course conducted for our team members. Families staying at Dhigali Maldives will benefit from the latest training techniques when the young guests interact with the team during club's daily activities.
Surrounded with a rustling palms and distant waves, Dhigali Spa is a green retreat in the island's heart invites to deep relaxation. Comfy daybeds, an outdoor pool and 12 modern, minimalist treatment rooms cocoon guests in absolute bliss. Efficient therapies draw on indigenous traditions to heal and energise. Guests can prolong their visit in the steam room with relaxation lounge, or pamper themselves with a manicure/pedicure. There is a boutique on on site that sells spa products. Dhigali Spa team introduce a Spa Tour every Monday between 10:30 – 11:30 am. The guests can meet the Spa Team and they will provide a full presentation of the range of services the spa offers. It is an opportunity to talk about spa's treatments, explain products they use in the treatments and their origin. At the end of the Spa tour we offer 10 minutes complimentary neck & shoulder massage for the guests.
From 2019 the resort's team introduce complimentary group Yoga classes – now 6 days a week for the guests. The yoga session is perfectly located on a sunrise facing beach from 6:00 am in the morning and 18:00 in the evening.
Reviews
...The most magical place I have ever been, Fabulous, Perfect island, Easily one of the best vacations my family has ever had!, Legendary hospitality, flawless resort (great design), outstandingly beautiful island, We've had the best stay ever and we loved the outdoor bathroom, Everything..... just everything was GREAT !!!, Paradise on Earth, Strongly recommend, Most relaxing holiday, Paradise in reach for everyone to experience!...
If you base your resort choice on reviews, then you'll find this resort easily reaches the top of your list. With raving reviews right and left, the Dhigali Maldives Resort impresses all that visit. From great dining to a wide variety of activities, you'll find everything here. The overwater rooms are said to delight with stellar views and easy access to the water below. Guests also seem to really enjoy the private pool saying that it gives them an option when they don't feel like swimming in the ocean.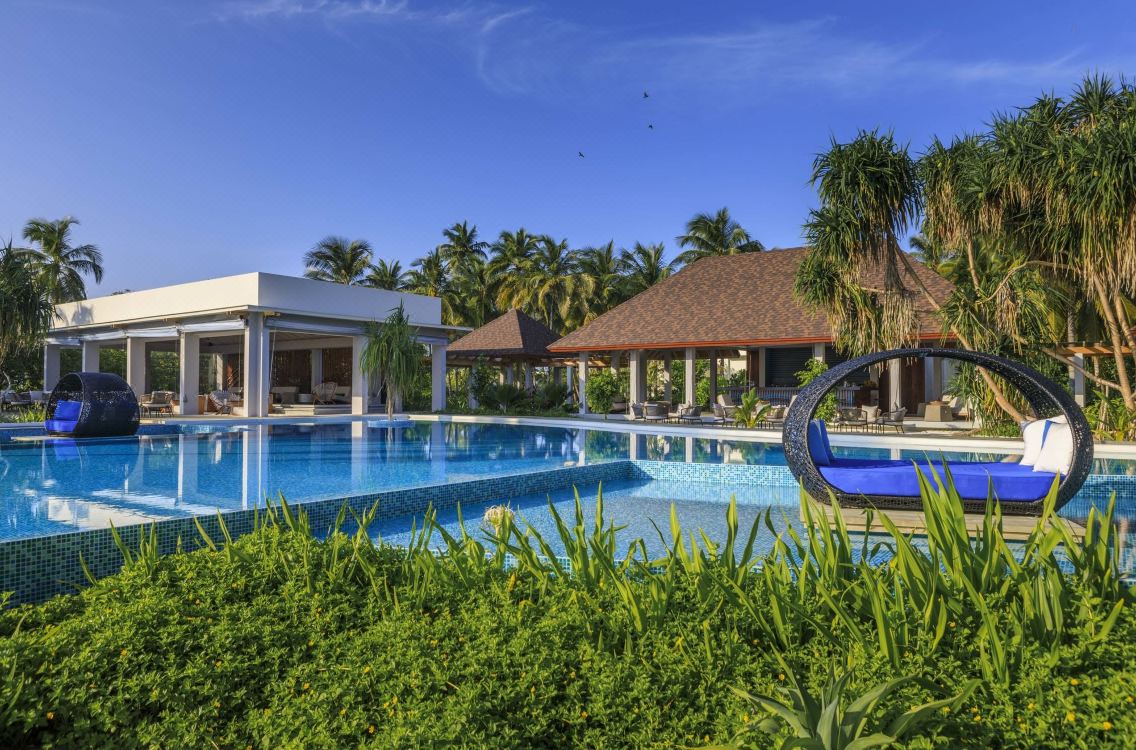 What Guests Love
Beautiful and clean island
Perfect environment
Privacy and quietness
The staff is absolutely wonderful
food is fantastic - especially Battuta restaurant. Belgium chef will spoil You with excelent food
modern-clean-comfortable-luxurious accommodation
all-inclusive meal plan- it was totally worth it.
The house-reef is no more than 50 meters away from watervilla jetty
The Dive center
Many activities all day long.
spa massage
Haali bar
Good all-inclusive wine list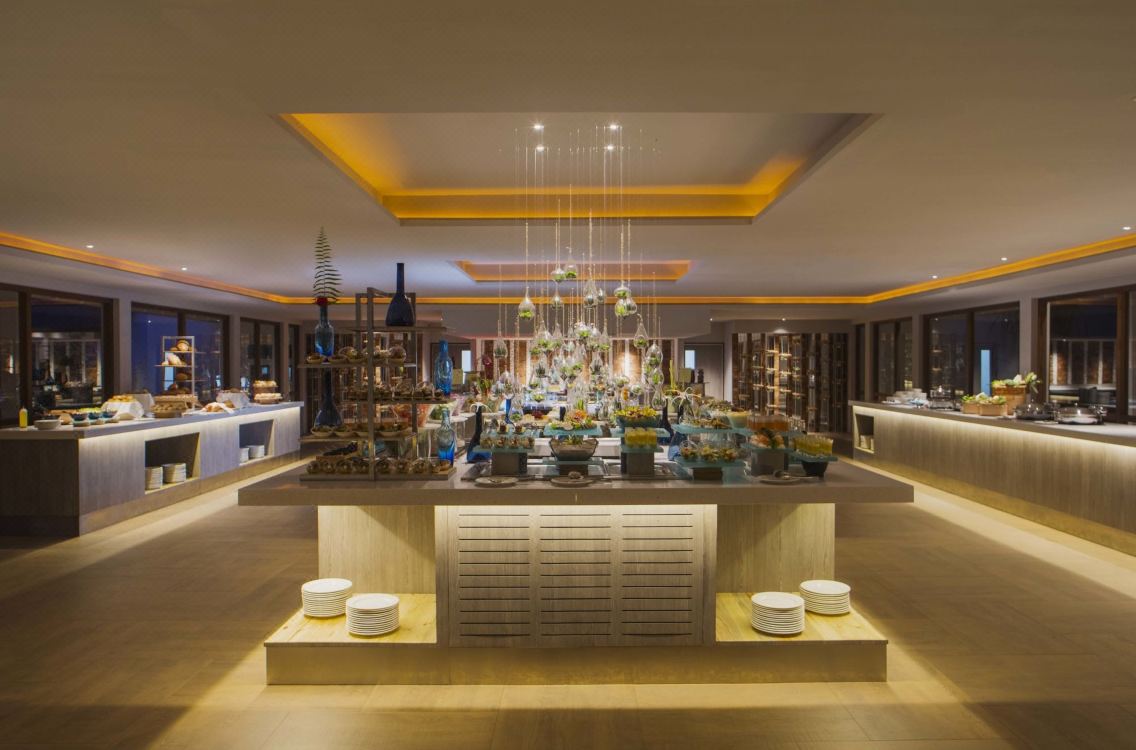 What You Need to Know
Safety and wellbeing for the guests is highest priority.
Dhigali Maldives Deals & Special Offers: Book Now
Dhigali Maldives is the part of Universal Resorts the most desirable Maldivian hospitality group.
Dhigali resort is located in Raa Atoll one of the best dive spots in the Maldives
Check out at 12:00. The earliest check-in time is 14:00.
all children are welcome
The beach near Beach Bungalow is a mixture of hefty snags, a land drop, piles of sandbags and exactly zero strip of sand
Beach villas have a bit more space and there is a chic bathtub in the center of the bathroom
WiFi is a great and the TV has YouTube and a large jbl speaker
Another important note is the coral . It's badly bleached and will impact on what you see.
Would strongly recommend a sunset facing water villa .
Only 2 liters of water per room per day
Food is overprised - take All Inclusive
In 2021 new executive chef appointed at Dhigali Maldives.
Kayaking in see-through Kayaks and lovely walks on the golden sands bare feet along with the Jungle walk... unforgettable moments.
The island is home to harmless flying fox
Barbecue evenings in the main restaurant is must
snorkeling equipment free of charge for the entire stay
Dhigali Maldives has been awarded as Tripadvisor 2020 Traveler's Choice Winner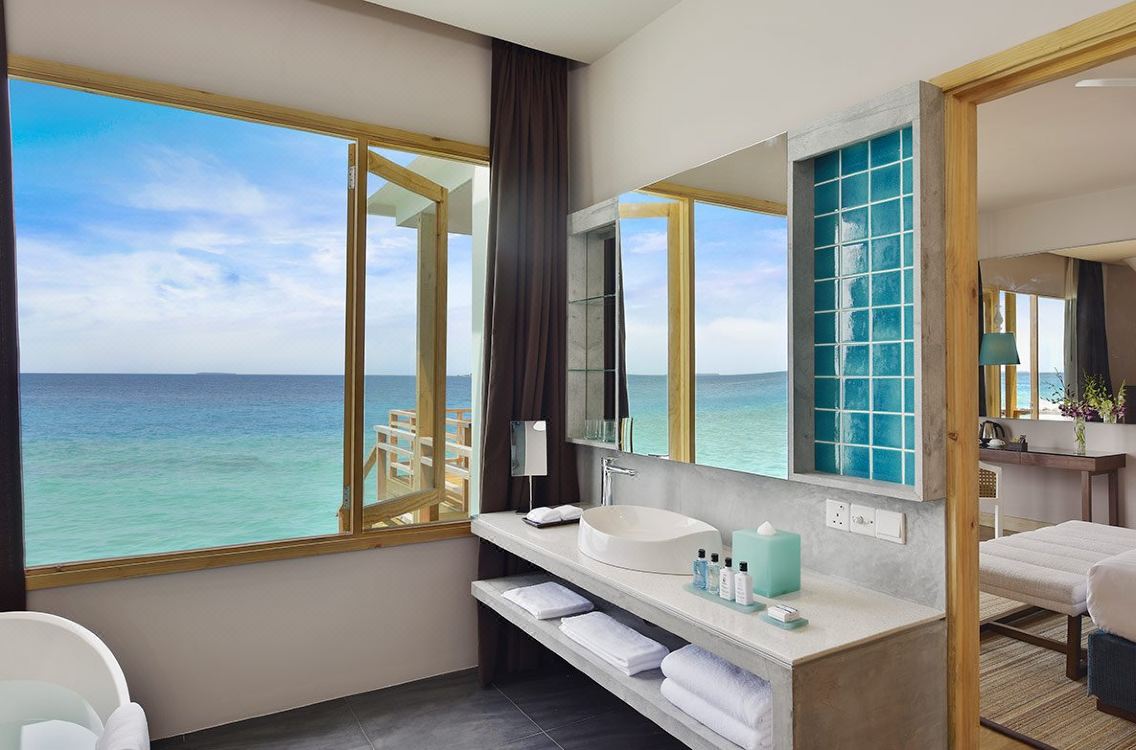 Check Availability and Prices in Dhigali Maldives
Maldives Luxury Guide
Here's the best of Maldives for luxury travellers. We've compiled the finest recommendations of places to stay, ranging from the most celebrated five-star resorts to luxurious private islands Read More
Maldives Romantic Guide
The ultimate 'flop and drop' and honeymoon destination, the Maldives is the playground for the most amazing and finest utilization of each second of this extremely valuable and hopeful time with each other in tota Read More