Kuredu Island Resort & Spa
Best Experience for: Couples, Families, Diving, Activities, Value
Updated July, 2023
The most popopular with divers, Kuredu Island Resort & Spa situated on the north reef of Lhaviyani Atoll, an area known for its unrivalled beauty and tropical marine life. With established, laid-back vibe the resort offers guests the ultimate luxury island retreat and is one of the larger islands in the Maldives.
Originally opened in 1989, the island was packed with fun-loving young people that was big on diving and Kuredu offered its guests over-water Sangu villas. After the island's east end has been added modern 'O' beach villas, and really private Sultan Villas took a place in the heart of Kuredu. It's loaded with restaurants and bars (14 in total) and has plenty of space for large amenities like a soccer field, golf course, two spas, and three pools.
Famous Kuredu Express and Kuredu Caves sites are right on your doorstep the island offers exciting diving opportunities on some of the most vibrant reefs in the Maldives. From the outer reef's overhangs to the underwater islands, from beautiful marine reserves teeming with life and colors to thila and giri where depp blue water is patrolled by larger fish - Kuredu has everything.
Kuredu isn't as intimate as some smaller resorts, and it's a pricey, 45-minute flight from Male. Still, affordable rooms and impressive food make Kuredu an outstanding overall value; travelers will be hard-pressed to find a better upscale resort especially one offering all-inclusive packages that include alcohol at these rates.
The Island
Opened two decades ago, Kuredu is one of the oldest and largest resorts in the Maldives. The resort runs wonderfully smoothly and the staff are calm, organised and friendly. Not overly friendly in a trained sort of way but genuine, as befits a no fuss, no frills place.
To make the island more manageable, its 383 guest rooms and facilities have been divided into three sub-resorts Sangu, Koamas, and 'O' Resort each with its own restaurant, bar, and pool. 'O' Resort is exclusively reserved for families with kids over 12, and Sangu Resort is adult only area. All guests are welcome at Koamas, which is closest to the main lobby and has the bulk of the property features. Guests can navigate the mile-long island by foot, free shuttle, or rental bicycle. With so much space, over-crowding and long lines are rarely a problem. DOWNLOAD RESORT MAP
The island lies more or less east-west, with a bulge on the eastern end and tapering to a point as it goes west. The long south side faces into Llaviyani atoll and has the fine beach. The long north side faces open water and has occasional beaches protected by low walls and tetrapods.
Despite its age, Kuredu's rooms and facilities are well maintained and look almost new. Most of the resort's restaurants and bars have sandy floors, and many guests go barefoot throughout their stay. Most dining venues feature high ceilings made of palm leaves and large floating lights shaped like seashells, jellyfish, and manta rays.
The island's vibe varies by sub-resort. Sangu is more romantic, with overwater accomodation and no children policy, while Koamas and 'O' Resort have more families and groups of friends. Most guests are from France, England, and other European countries.
Location
Kuredu Maldives Resort & Spa is located on its own private island in the Lhaviyani Atoll, 145 kilometres north of Velana international airport, Male. After arriving at Male Airport, guests are instructed to wait in a private lounge for a seaplane transfer to the island. The 35-minute scenic air journey adds to the allure of your Maldives experience and provides an amazing views of one of world's most distinct seascapes. Time on the island is one hour ahead of Male time an artificial time zone difference that many resorts use to make the days feel longer.
The immense archipelago of the Maldives lies south-west of the southern tip of India and spans a large area of the Indian Ocean. Comprised of coral reefs, the Maldives 1,192 islands are scattered into atolls that form unique rings of sandy islands and sapphire lagoons.
Villas
As a larger island, there's a real choice of accommodation, ranging from the traditional, simply furnished Garden Bungalows to the romantic Jacuzzi Beach Villas with four-poster bed and outdoor Jacuzzi bath, and the Sangu Water Villas sitting on stilts over the lagoon. Kuredu has seven room categories in a variety of shapes and styles.
The original resort room is still the core of the Bonthi beach bungalows. These are basic enough but very economical and perfectly fine. All the Koamas, Sangu and 'O' villas share the plain, functional elegance of Scandinavian design, with walls and floor of light timber and furniture of black metal. The 'O' rooms might be seen as a little more feminine in design. The key difference between the rooms is really their position around the island, with their access to good beach, the snorkeling and the various pools, bars and restaurants.
All rooms feature tropical décor, a king size bed, tile or wood floors, porch with furniture, air-conditioning, overhead ceiling fan, sitting area, Mini Bar refrigerator, Nespresso machine with tea/coffee facilities, IDD telephone, CD player, personal safe, bathroom with bath accessories, hair dryer, nightly turndown service and complimentary use of chaise lounges at the pool and beach and beach towels. Electricity is 220VAC, 50HZ
The south side of the island has 'O' Jacuzzi Beach Villas which have swimmable access to the snorkeling reef, as well as decent corals inside the lagoon and the better privacy than most of the other rooms. The Koamas Beach Villas and Jacuzzi Beach Villas take up most of the rest of the south shore, either side of the jetty from which the snorkeling is accessed. The western end houses the Sangu Jacuzzi Beach Villas (and around the narrow end to the Sangu water villas).
The Sangu Water Villas are built into the lagoon on the north side, with the Honeymoon Suites (125 sqm of living space) at the sunset end. The rest of the north side is taken up by Bonthi Beach Bungalows and when these move inland they become Bonthi Garden Bungalows. In front of them have been built 'O' Beach Villas. The 'O' beach villas are right on a good section of beach and the Sangu water villas have steps down to the lagoon but the snorkeling is not great on this whole side due to some persistent sea grass and because there is often a bit of current and/or rough water.
Kuredu is a gregarious sort of resort, a place where hideaway privacy for two is not its raison d'être. The only rooms that have real privacy are the 9 Sultan's Villas. These premium rooms with their 10 metre pool and extensive decking are enclosed by walls and surrounded by greenery in the middle of the island.
Restaurants and Bars
Kuredu is a large tropical island with an abundance of amenities such as restaurants, bars and shops. Guests can enjoy a choice of four sumptuous 'all you can eat' buffets as well as a la carte options which serve Mediterranean and Japanese Teppanyaki cuisine. The four buffet restaurants that are quite good - Bonthi, Koamas, "O," and Sangu - and each is reserved for guests staying in the related room types across the resort. The restaurants are open for breakfast, lunch, and dinner. For a splash of romance guests can choose a special candlelit dinner on the beach.
The main restaurant allocation system at Kuredu needs a little explaining. Bonthi , Sangu , 'O' and Koamas are the buffet restaurants included in the All Inclusive Plus package, offering up local and international cuisine. One of these will be allocated to you depending on your room type. Bonthi is situated within the signature building in the centre of the island, and is the designated restaurant for Garden Bungalow and Beach Bungalow guests. Koamas is located in the same signature building, and is for selected Beach Villa and Jacuzzi Beach Villa guests. The 'O' restaurant has an overwater deck, welcomes guests over 12, and is the allocated restaurant for selected Beach Villas, but can be guaranteed for Jacuzzi Beach Villas at a supplement. The adults-only Sangu is the restaurant for Sangu Water Villa guests, but can also be guaranteed for Jacuzzi Beach Villa guests at a supplement. Guests staying in Beach Villas, Jacuzzi Beach Villas and Sangu Water Villas can also dine in other buffet restaurants subject to reservation and availability.
In response to the growing, health-conscious, and ethically-minded guest profile, in 2021 Kuredu Island Resort & Spa launched a new menu inspired by 'produce-to-plate' ethos. LEARN MORE
The resort's F&B manager, Florian Niessing constantly on the lookout for ways to create unique and enjoyable experiences that leave a lasting impression. A rarity in the Maldives and the Indian Ocean, Kuredu takes pride in having its own range of spirits.
Each signature batch of Kuredu Vodka and Kuredu Gin is a single-origin liquid journey, handcrafted by macerating a unique blend of spices that are then infused with high quality spirits. Be sure to try some of the four seducing organic gins and vodkas aged to perfection on Kuredu. Those of you who prefer rum will love the aged spiced rum (12, 15 and 23 years) and the very unique Falernum. No tropical holiday is complete without good cocktails, so the 15 bespoke aged cocktails available at Sangu, O and Babuna bars will be a delight!
What's more, there's great news for those of you who love spirits but wish to abstain from alcohol: meet Wa'La, a range of spirits, found exclusively at Kuredu. Bottled right here on the island after blending with pristine Maldivian water, this unique selection adds carefully curated beverages to the offering as a response to the increasing demand for healthier, non-alcoholic drinks.
There's nothing more comforting and relaxing than a delicious cup of tea, a good book and dreamy ocean views, and Sai Kotari, perched at the end of the Jetty at Kuredu Maldives resort, is the perfect place to enjoy them!
Your days at Kuredu Maldives Resort will be a dreamy mix of excitement, relaxation, and gastronomic treats and for a perfect end to a day in paradise there is a tempting collection of exquisite 'Dine By Design' experiences to elevate your stay even further.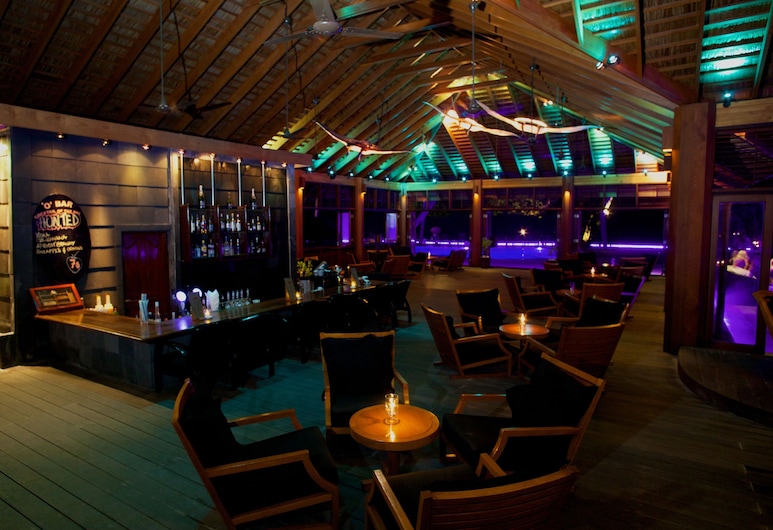 What's Included
Full Board • All meals in your allocated restaurant.
All Inclusive Plus
• All meals in your allocated restaurant • Selected drinks by the glass in your allocated bars • Afternoon tea 3-6pm • Minibar refilled once daily (selected items) • 50% discount at à la carte restaurants • 1 scheduled sunset cruise • 1 x 30-minute group snorkelling lesson, group windsurfing lesson and group golf driving range lesson • 3 group yoga classes per week • Use of kayaks, windsurfs and the fitness centre
All Inclusive Gold
As the most generous in the Maldives the All-Inclusive Gold package is a popular meal plan at Kuredu. Its inclusions extend far beyond the 'unlimited drinks' concept most commonly found at resorts.
Meanwhile, Kuredu is also introducing an all-inclusive concept based on the room category; four colours of bands with straightforward lists of benefits when it comes to buffet restaurants, bars, pools, afternoon snacks and similar.
The resort is keeping the popular All-Inclusive Gold for those who are looking for even more freedom and less hassle when it comes to making reservations and discovering Kuredu's lively wine and dine scene.
It's worth sampling the à la carte restaurants at least once. The Beach serves up a vegetarian menu, The Far East specialises in Japanese flavours, and Franco's has a range of fresh fish and grilled meats alongside Mediterranean dishes with herbs and spices from Kuredu's greenhouse.
At the end of 2018, The Far East restaurant at Kuredu Resort Maldives has introduced a revamped menu. Bringing together the very best Asian cuisine staples along with thoughtfully selected beverage pairing, dining at The Far East is undoubtedly an experience you should add to your Kuredu bucket list.
Executive Chef Paul and his team have made The Far East menu even better, allowing you to indulge in an even wider selection of regional delicacies and to enhance your meal with a cherry-picked choice of Japanese sake (tip: try the subtly fruity and refreshing Jozen Mizuno Gotoshi Sparkling Sake!), shochu (we love the lusciously sweet Shochu Lichiko Kogane No Imo!) and whisky, and Korean soju.
If just thinking about sampling Maldivian Reef Fish Sashimi, Maldivian Lobster Uramaki Roll, Coconut Fried Prawns and Thai Green Chicken Curry makes your taste buds dance, we better not even mention the Warm Green Tea Lava Pudding! And enjoying a good meal on the beach in the starlight in the Maldives is not too bad in and of itself either!
What's more, if you fancy having a theatrical element added to your dining, you and your date will surely be fired up if you reserve a spot at the teppanyaki table!
Guests don't have to walk far to find a bar at Kuredu. The resort has one large bar in every sub-resort: Babuna Bar (the main bar), 'O' Bar (no children under 12), and Sangu Bar (no kids allowed). Of the bars, the Sai Kotari tea house is possibly the loveliest, located at the end of a jetty and conjuring up creative coffee-inspired cocktails after dusk. Smaller bars include the Main Pool bar, beachside Akiri bar, Raalhu beach bar, and a Golf Club bar. All-inclusive packages include a good variety of alcoholic and non-alcoholic drinks (plus most minibar drinks), though fresh fruit juices and specialty coffee drinks aren't included. All-inclusive guests also get half-off premium liquors and cocktails. A scenic teahouse is located on the end of the arrival jetty
Diving
Kuredu is the home of Prodivers' PADI 5 Star Instructor Development Centre – one of the largest and longest running diving and snorkelling companies in the Maldives. Prodivers offers a full range of daily excursions and courses for beginners and experienced divers and snorkellers alike. In 2022 Dive Magazine has listed Kuredu amongst the 10 best dive resorts in the Maldives.
Approximately 50 dive sites are scattered throughout Lhaviyani Atoll with new sites regularly open so far. More than 15 species of sharks were seen in the atoll, 6 of which are regularly observed by divers. Rays are very common, and seasonal winds and currents attract huge Mantas.
The dive center is not only professionally managed, but with an easy comradeship spirit that contradicts the complexity of the operation. Guests range from hard-core, single-minded divers who really know what they want, down to the anxious and uncertain first-timers. But this doesn't seem to cause a hiccup in the system. There are enough instructors, boats and dive sites to keep everyone satisfied.
The center also takes care of the organization of snorkeling. A separate fee with the introduction of snork and a lot of information, details of programs and activities. Daily cources are free, as is snorkeling from the beach to an excellent house reef. At the top of this - regular snorkeling exursions for half a day and a whole day with guests well prepared for what is on offer.
Kuredu Resort boasts an enviable location, not just in the Lhaviyani Atoll but in the whole of the Maldives – the nations largest population of green sea turtles lives on the reefs around the island. LEARN MORE
Childcare
The new 'Max, Mermaids and Pirates' kids' club is one of the Maldives' largest kids' clubs, with an indoor play area for games and an outdoor playground. The kids' club is complimentary for ages 3-12 from 9am-6pm (from 6-10pm there's a local fee). Under 3s can use the facilities when accompanied by a guardian and babysitting is available at extra cost. Koamas restaurant is the venue for family dining, where a children's buffet is provided.
At Kuredu Resort Maldives you will find a vibrant island that allows your holiday to be as action-packed or relaxing as you choose. Families that holiday here at have told us their kids beg to return year after year as they have so much fun and freedom. READ MORE
Things to Do
Kuredu has three beachfront pools, each accompanied by a bar. The Main Pool is located near the lobby and most of the restaurants, and it's home to a toddler-sized kids' pool. Located on the eastern tip of the island, the 'O' Pool has daybeds and two-person-sized loungers. 'O' Pool is reserved for guests 12 years and older. On the opposite end of the island is the Sangu Pool, which tends to be the most tranquil of the three pools (no children are allowed). This pool has a scenic infinity edge and a modest hot tub.
Meeru and Kuredu are the only two resorts that offer golf. The Kuredu course is larger and there is also a putting green and a 200 metre driving range with traps. And a real golf pro too. This may all sound inappropriate for the Maldives but it really works. It is helped by the fact that it is so well hidden inside the island that you would walk straight past it if you didn't know it was there.
Like most resorts in the Maldives, Kuredu is surrounded by lovely white-sand beaches and a clear, turquoise lagoon. Guests can take their pick from a number of plastic lounge chairs (some come with palapa umbrellas), and beach towels are provided in rooms.
Guests are invited to relax at Duniye Spa. Focusing on wholeness, health and purity, the spa offers a wonderful range of holistic treatments using all chemical free, organic compounds. Indulge your senses with a tailor made spa experience for optimum pampering in paradise.
Kuredu has The Ocean Watersports Centre that rents kayaks, catamarans, floats, wakeboarding, banana riding, snorkeling gear, etc. Bicycles are also available for rent. Popular excursions include a day on a deserted island, local island tours, sunset cruises, and diving trips. Guests can also go fishing and kitchen staff will prepare their catch for dinner. A free shuttle runs regularly throughout the island. A free 30-minute photo session and with one free photo is included for all guests. A weekly sushi-making class is hosted by the Main Pool to raise money for a local Maldivian charity. Room service is available, and private dinners can be arranged on the beach. By night the fun continues at the main Babuna bar with DJ disco, Maldivian dance shows, crab races and movies.
On December 2019 Kuredu Resort Maldives has introduced three new excursions:
Innahura snorkelling safari: A two-day trip onboard a fibre boat. Snorkel a variety of reefs in the Lhaviyani atoll and spend a night at the picturesque and easy-going Innahura Maldives Resort in the pristine south-east corner of the atoll.
Luxury sunset cruise: Enjoy a beautiful sunset with your loved one onboard a sailing yacht whilst indulging in a glass of sparkling wine and fruit.
Sunset snorkelling: Explore one of the reefs close to Kuredu as the sun sets over the Indian Ocean. A great time of the day to be snorkelling!
Reviews
Kuredu Island Resort is ideal for guests seeking a luxury holiday in an exotic island setting. In addition, it is the perfect place for an unforgettable honeymoon or wedding. Reviews for the Kuredu Island Resort are generally quite positive, which is a bit unusual for such a large resort with such a wide range of rooms. Most guests were quite pleased with the setting and the rooms, as well as the food in the all-inclusive restaurants. There are also guests that state that even despite the resort's size, it's very romantic and relaxing. A few guests remarked that the size of the resort can be a bit inconvenient, as some features, such as the pools, are a long walk from the water villa side of the island. Considering this is a moderately priced 4-star resort, the reviews are quite reassuring, even if they are not 100% positive.
..."Total Paradise!", "Absolutely amazing in every way", Fabulous, "Kuredu Resort - Magic in the Maldives!!!", "Had an amazing stay! Highly recommend", "Magical and unforgettable", "Dream holiday", "Stunning beaches and fantastic marine life", "Kuredu - the beautiful relaxing maldives holiday destination - with no risk of boredom!", "Perfect holiday on paradise island", "Amazing honeymoon destination!", "Highly recommend for a honeymoon stay! Loved every minute."...
Why Stay Here: What Guests Love
A beautiful private island with white-sand beaches and a turquoise lagoon
Friendly staff attitude, ambience, convenience
Spacious and clean villas with private patios; The concept of Jacuzzi Beach Villas
Excellent diving; Snorkeling excursion
Dining options; The food served was really nice
Two All Inclusive options
Three swimming pools
Children's pool and occasional kids activities
Sub-resort for adults only available
Spa
What You Need to Know
View Kuredu's SPECIAL OFFERS
Download the resort's Health & Safety Guidelines
The resort is located in Lhaviyani atoll, approx. 35 minutes by seaplane from Malé airport. Guests must send arrival and departure flight details directly to the property at least 72 hours prior to arrival.
Check-in from 13:00; Check-out untill 12:00
Children of any age are welcome. Children aged 3 years and above are considered adults at this property.
A pricey flight is required to reach the resort
Fee to use Nespresso coffee pods (in lower-tier rooms)
Large resort can be hard to navigate on foot
HONEYMOON BENEFITS:
Complimentary sparkling wine, Jar Macaroons, Jar of Heart Shape Sweets, Honeymoon T-shirt and flower decoration once per stay on arrival.
If you like snorkeling, then great. Near the island lives the largest colony of turtles in the Maldives.
Kuredu has installed 4500m 2 of highly efficient solar panels, which produces 20-25% of the resort's total electricity
Fresh fruit juices aren't included in all-inclusive packages
Due to safety and privacy concerns the operation of unmanned aerial systems or drones by any of guests including model aircraft by recreational users and hobbyists is prohibited.
Check Availability and Prices in Kuredu Island Resort & Spa
Maldives Luxury Guide
Here's the best of Maldives for luxury travellers. We've compiled the finest recommendations of places to stay, ranging from the most celebrated five-star resorts to luxurious private islands Read More
Maldives Romantic Guide
The ultimate 'flop and drop' and honeymoon destination, the Maldives is the playground for the most amazing and finest utilization of each second of this extremely valuable and hopeful time with each other in tota Read More