Learn to Cook in the Maldives: A Guide to Cooking classes
Things to Do In the Maldives
October, 2023
Aside from sugar beaches, sparkling waters, world-class resorts and stunning sea life, there is another thing this island country is hard to imagine without is Maldivian cuisine. Experience cooking classes while holidaying in Maldives to learn chop, cook and serve like a master chef. The lessons are fun, educational and entertaining, and are perfect for a rainy day or just as a fun thing to do on vacation with family or friends.
A home to some of the world's best michelin starred chefs and gourmet restaurants the top luxury Maldives resorts offer Maldivian and Thai cuisine cooking classes to guests, and these classes are among the most popular activities for every type of traveler in Maldives. They offer everything from ingredient scouting to traditional preparation and must-try dishes across the luscious landscapes to give you a real taste of Maldives. This experience is not just for cooking enthusiasts who enjoy learning how and what to cook; even regular foodies who love indulging in new flavors can get a kick out of joining the cookery classes.
Go on, treat yourself! So to help you get your fix, here's our pick of the Maldihves best.
SPICE SPOONS at Anantara Kihavah Maldives Villas
Prepare internationaql and local delights in Spice Spoons cooking class at Anantara Kihavah Maldives Villas with the guidance of resident master chef. Engage with the rich and diverse culinary culture through an immersive cooking class. With a myriad of influences from trading nations, Maldivian food is a delight to experience.
Or choose a menu of Thai, Indian and Japanese dishes. Learn skills to impress friends back home from our friendly and talented chefs. Choose your preferred dishes for a tailored class using local ingredients. Enjoy your creations with a glass of wine, appreciating the natural beauty of your surrounds. Leave with your newfound skills, recipes, a certificate and Spice Spoons memorabilia. Prior reservation is required. Please contact your Villa Host for more information or to make a reservation. Minimum 2 guests per class. Budding chefs can discover the art of local Maldivian, Indian, Thai, and Japanese-inspired culinary delights. Learn new skills and tricks and explore world-renowned dishes with our passionate professional chefs. Savour your creations for lunch and return home with new recipes to try out.
BOOK NOW
Reethi Beach Resort
Learn to cook at Reethi Beach. The resort's Maldivian Executive Chef takes pride in his cultures and traditions. Follow his steps and let him take you on a culinary journey of his culture and traditions to experience the richness of Maldivian Cuisine. Get to know the variety of spices used in the local cuisine and learn how to use the fresh-grown herbs and spices of the Reethi Garden. Enjoy your special meal in the Saima Garden afterward as you embark on this culinary journey, experiencing flavors you haven't met before.
BOOK NOW
FOOD PLAY at Niyama Private Islands Maldives
Food Play at Niyama Maldives unveils the secrets of the island's native chef whizzes with tailored cooking classes for small groups. Master the balancing of flavours and techniques of celebrated culinary traditions. Chop, sizzle and sauté in the most stunning of the world's kitchens. Savour your creations for lunch and return home armed with a spice box and recipes, ready to dazzle your nearest and dearest with your newfound skills.
BOOK NOW
PRIVATE COOKING CLASS at COMO Cocoa Island
Learn to make a dish from Cocoa Island's restaurant menus or healthy COMO Shambhala Cuisine. Learn to make a dish from our restaurant menus or healthy COMO Shambhala Cuisine – we try our best to tailor the recipes to your preferences, just reach out to us with any requests. Private class – US$95 per person  Group class - US$75 per person 
BOOK NOW
Cooking classes at Naladhu Private Island Maldives
Using traditional methods and modern technology, Naladhu' culinary guides will help inspire your inner chef whether you are an accomplished cook or novice, and even teach you how to lay the perfect table ready to dazzle your loved ones.
Choose your favourite Thai or Maldivian dishes, and learn how to whip them up in style. Start with a tour of the chef's herb garden followed by a virgin coconut freshly picked. Head out over the lagoon for a step-by-step tutorial adjusted to your tastes. Enjoy your dishes for lunch, and enhance your repertoire with garnishing and table set-up classes.
BOOK NOW
Learn a Dish at Oaga Art Resort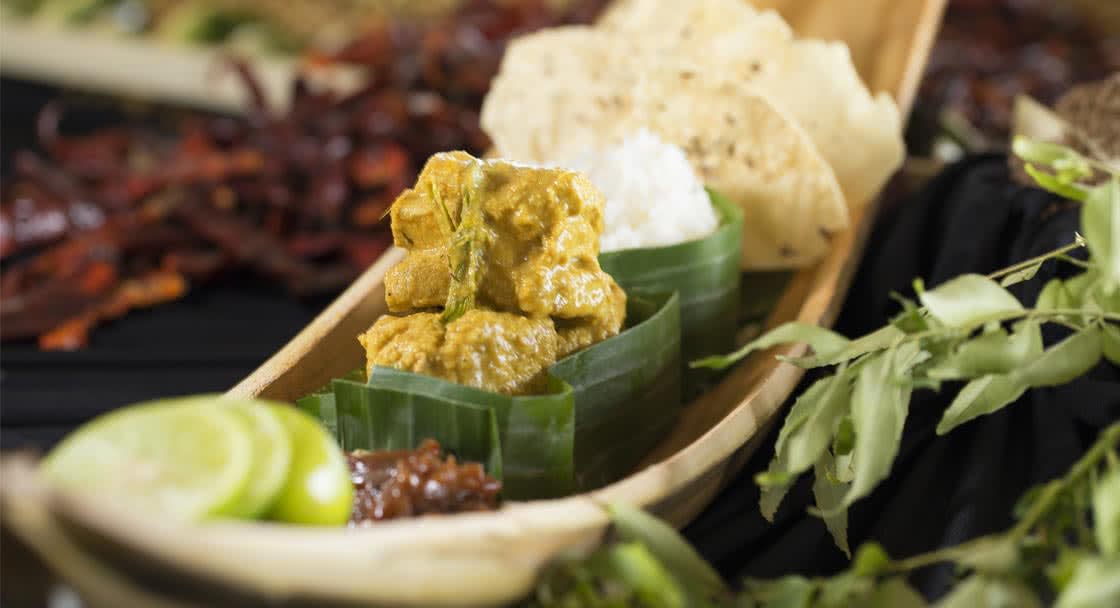 The learn a dish experience at Oaga Art Resort is an interactive and hands-on cooking class where you can learn how to prepare a variety of dishes from the chefs. You will have the opportunity to learn about different cooking techniques, ingredients, and presentation skills, and also get to taste the dishes you have created!
BOOK NOW
Cooking Class at Six Senses Laamu
Laamu's international culinary team is ready to give you insights on Indian, Maldivian or Sri Lankan cuisine. Join one of the resort's specialists who will share their secrets on the cuisine of your choice. Get acquainted with the fresh ingredients that are used, learn the cooking style of your preferred cuisine and create your own dish in easy steps.
BOOK NOW
Anantara Dhigu Maldives Resort
A spicy tuna curry. The four flavours of tom yum goong. Both Thai and Maldivian cuisine feature fresh seafood and an abundance of coconut milk. Discover the chef in you, with step-by-step cooking classes at Anantara Dhigu held by an executive chef. Savour a freshly picked coconut as you dice, pound and stir. Enjoy your feast for lunch, then follow up with garnishing or table-setting classes
Like mum and dad, kids can also enrol at Spice Spoons. Roll up your sleeves for pizza spinning and sushi rolling. Get creative and make a mess, with lots of time for savouring later
BOOK NOW
Interactive Cooking Classes at Dusit Thani Maldives
Explore authentic flavours with expert chefs at Dusit Thani Maldives and earn your cooking certificate in Thai or Maldivian Cuisine. Learn about the ingredients, craft delicious dishes and enjoy every bite in an unforgettable lunch made with your own hands. Take away your recipe cards so you can try it all again at home.
BOOK NOW
Anantara Veli Maldives Resort
Learn to whip up your favorite culinary experiences from your stay at Anantara Veli Maldives resort. Choose from Thai, or simply create your own menu. After a tour of the chef's herb garden, head out over the lagoon for a step-by-step tutorial with an executive chef. From Tom Yum Goong to Maldivian tuna curry recreate authentic flavors by hand. Savor your creations for lunch, heading back home with new skills to delight with for a lifetime.
BOOK NOW
Maldivian vegan cooking class at Mirihi
Catering to the ever-growing number of vegans around the world, Mirihi Island unveils a new completely vegan cooking class, allowing guests to discover the art of Maldivian vegan cuisine either during the day or under the twinkling stars of the night sky.
BOOK NOW
Cooking classes at Baglioni Maldives resort
Surrounded by shimmering sapphire waters with a powder soft sands, Baglioni Resort Maldives is an idyllic retreat for honeymooners and families alike in the Dhaalu Atoll. The five star resort offers a variety of cooking classes, from Maldivian to Italian and Japanese cuisine. Learn how to cook pasta & more with the Chef of the Gusto restaurant. Discover the typical Maldivian dishes as you explore the gastronomic culture of this fascinating country. Uncover all the secrets of Asian cuisine and take Japanese cooking class and learn how to make traditional sushi rolls and cook a Teppanyaki dish at Umami Restaurant.
BOOK NOW
JW Garden Cooking Class
Following the launch of the JW Garden, JW Marriott Maldives Resort has introduced an exclusive new culinary experience for guests. Learn more about the varieties that grow here, as you hand-pick herbs. Following a tour of the garden, your edible bounty will form the basis of a healthy, hands-on cooking class at Aailaa with Chef Bir, who has taken inspiration from the garden and the surrounding waters of the Indian Ocean to create a menu that is grounded in the local environment.
BOOK NOW
Fairmont Maldives Sirru Fen Fushi
Discover authentic Maldivian cuisine, aromatic herbs and cooking techniques at Fairmont Maldives Sirru Fen Fushi under the guidance of the resident chef. This fun and interactive cooking class caters to both adults and children, perfect for a fun-filled activity during your holiday. Fish is typically the order of the day - and why not when you can enjoy freshly caught tuna from the abundance of the Indian Ocean. You could also request other recipes from a chef during your cooking class.
BOOK NOW
Related stories
Maldives Luxury Guide
Here's the best of Maldives for luxury travellers. We've compiled the finest recommendations of places to stay, ranging from the most celebrated five-star resorts to luxurious private islands Read More
Maldives Romantic Guide
The ultimate 'flop and drop' and honeymoon destination, the Maldives is the playground for the most amazing and finest utilization of each second of this extremely valuable and hopeful time with each other in tota Read More